We were on our way back from some shopping at Parkway and I noticed out favourite guy was back in business at the hawker there. Sadly they have been shut for some time for refurbishment and cleaning. Any way he is open again. Off we go to secure some of his famous roast pork, and as I munched on a bit or two an idea came to me for Sunday Roast – Asian style.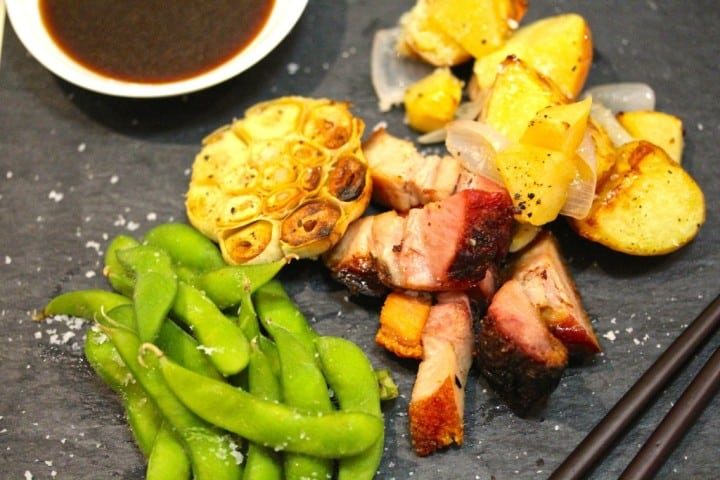 Here you go for another for at least 5.
First up you will need to secure some roast pork bellies from your local hawker food court choice – I procured $20 worth, to allow for the kids and I picking at it on the bus journey home – luckily I did that.
Next you'll need buy some edamame – lovely little green soy beans – that you cook in the shell in very salty water for 5 minutes or so from frozen. Place in a bowl and sprinkle with a little more flaky salt. Set aside.
Whack your oven up to 220 degrees and let's get the rest of the roast sorted.
Place some silver foil in your baking tray – yep lazy me, saves washing it up right!!! And this is what you will need spread randomly all over the baking tray;
1 packet of small red potatoes, leave on the skins and cut in to quarters – put these on the boil in salty water until soft, drain
4 small red onions cleaned and roughly chopped
2 whole bulbs of garlic literally cut in half as bulb
2 red apples cut in to segments, peeled and chopped
Drizzle all this with a good glut of olive oil,
Add a good pinch or two of salt and black pepper
Whack this all in to the oven and leave it for 20-30 minutes until all are browned nicely and cooked through.
Sprinkle a little more salt and you have finished your roasted veg, and then whack the pork in the oven for 5 minutes to warm and crisp the crackling again – not too long though as you don't want to dry the meat out.
I did mine plating all a tad arty this time by serving on a slate platter, edamame up front with roasted garlic, pork behind, then the veg and with a dark gravy made from the hawker Uncle's (simply added some chicken stock and a little more salt – hey presto sticky sauce became Sunday roast gravy – nice!)
There you have it my Sunday Roast with Asian spin! Nice huh!
Enjoy…