Roasted Lamb Crown
Want to look like a professional chef? Have a pop at this one. This is my Roasted Lamb Crown. I did this for Christmas dinner 2015, but you could do this any time of the year for your Sunday roast and emerge a hero in the culinary stakes. This got oooohs and aaaaahhhs when I took the covers off. And believe me this is actually quite easy.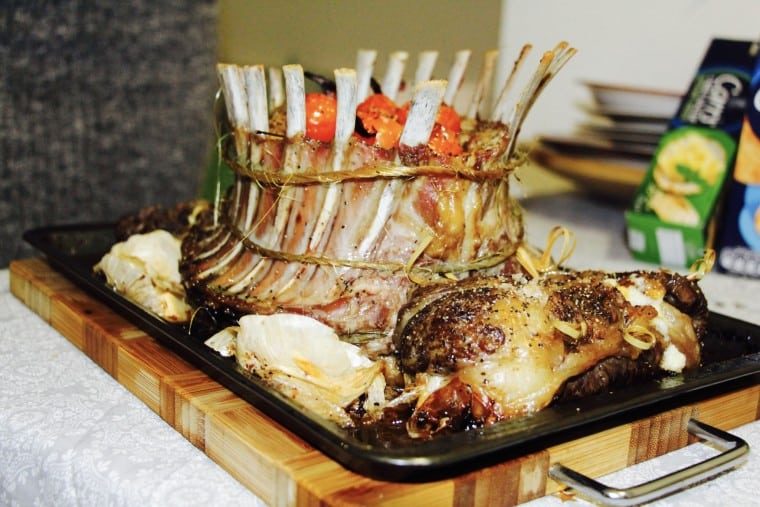 Quick apologies for the photos as I did do two dishes on the same day. The beefy thing in front is Japanese Wagyu stuffed with cheese. But this is just the Roasted Lamb Crown for this recipe – go to the link for the other recipe. Have to say though that was an absolute cracker as well.
I learnt a lot on this cooking experience, so this is my revised recipe based on the learnings for my Roasted Lamb Crown first time of cooking. I am keeping a secret the things that went wrong, ha ha. Actually when I say things went wrong, I mean a minuscule situation that needed one immediate correction – but when that correction was done and the meat was served 5 minutes later, the chops literally flew off the plate. As in gone in 30 seconds. CRAZY!!!
So to make this you will need;
2 lamb racks – mine had 19 total chops all up;
1 packet of oregano;
1 packet of mint;
1 packet of coriander;
2 packets of vine cherry tomatoes;
6 garlic bulbs – simply cut in half;
2 tablespoons of roughly chopped garlic;
4 Jalapeno chilis cut in half – leave the seeds in;
Salt and cracked black pepper; and
You'll need some help for this one.
Give each lamb rack a good drizzle of olive oil and rub with a good pinch of salt and pepper on both the meat and skin side. Ask a friend to mould the two lamb racks in to a circle (like the picture) and then use some string to tie it into that shape. I did three tie offs – top, middle and bottom. That should keep it in the circle shape nicely.
Place the lamb crown and halves of garlic bulbs on a baking tray and whack it in the oven for 20 minutes at 180, then zap it at 220 for a further 20 minutes to crisp up the fat and char the meat. You want in nice and charred but pink inside. When you have removed from the oven, cover it with silver foil and a couple of tea towels on top. Leave the meat to rest for 40 minutes – the same time you cooked it for. As this will make the meat pink, not bloody, tender and moist. Move the garlic bulbs to one side.
Whilst the meat is resting pop in to a fry pan the oregano, coriander, mint, tomatoes, roughly chopped garlic, tomatoes, Jalapeno peppers, a good pinch of salt and pepper and some Olive oil. Simply fry that down until the vegetables are cooked – you don't want mush though, you want crunchy vegetables, so I would say 5 minutes tops.
Now pop the Roasted Lamb Crown on to a serving tray, and add the roasted vegetables in to the centre of the Roasted Lamb Crown. Serve that bad boy up like this for effect, and of course carve in to individual lamb chops when you are ready. This just looks incredible. It truly got oooohs and aaaaaaahs when I took the foil off. It also tasted incredible – meaty but with subtle overtones of the tomatoes and herbs. Have a go it will make you look like a top chef – ENJOY!!!