ChillaxBBQ Stay@Home Roast Delivery – Just Add Green Stuff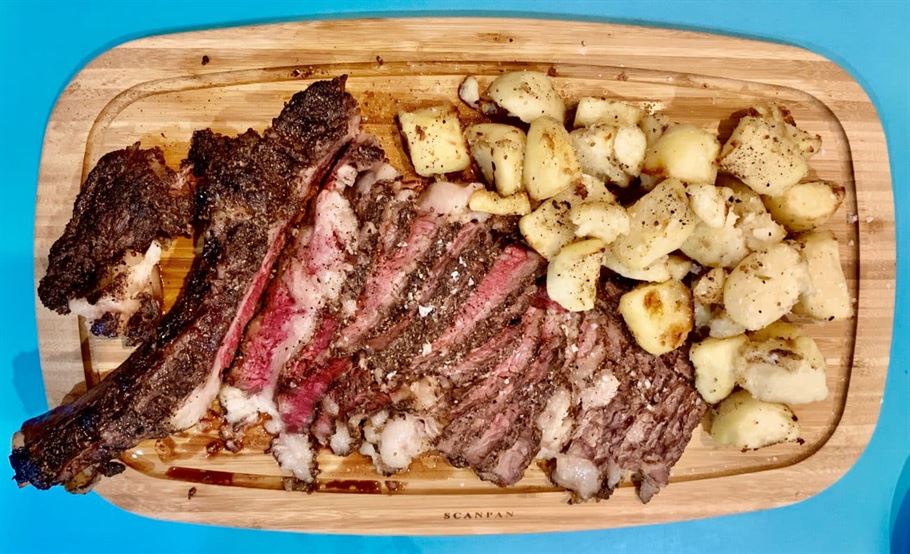 ChillaxBBQ Stay@Home Roast Delivery – Just Add Green Stuff
Now we move to full lockdown the crew at ChillaxBBQ have been thinking (I know it surprised me too – especially as no alcohol was involved). All our events are obviously cancelled for the foreseeable future, but we still love to cook. We have come up with this concept and wanted to float it by you. ChillaxBBQ Stay@Home Roast Delivery – Just Add Green Stuff. Yes, we will roast meats to your doneness preference at our place and pop in a taxi to your home in time for your lunch or dinner. It's a little Hobson's choice as you'll get the meat, roast spuds and a baggie of gravy, hence 'just add green stuff'. Come on, you know us by now. We are a long way from doing any greenery and veggie options. So meat and roasts it is. It is what we're good at after all #knowyourboundaries.
I am making a trial run of this with a friend this week over the Easter Weekend to see how the meat arrives from Siglap to Sentosa. 1.6Kg Wagyu Toma, from our mates at OrcaMarketing, with Roasted Spuds and Super-Beefy Jus (AKA gravy FFS). The plan is to send this smorgasbord in a taxi to your home just before you are ready to eat. So literally all you do is pop it on a platter, carve the meat, season and eat. We'll also share some sea salt & Kampot cracked black pepper for you to sprinkle on the carved meat for that final season.
We'll need 24-hour notice, and about 2 hours notice prior to when you actually want to eat. So for example, tell us Friday what you want to eat, and that you will want to be eating at midday on Saturday. Hey presto about 1145 on Saturday you should have a taxi arrive at your place with the goods. All you need to do is pay us, the taxi and then eat. That's the concept for; ChillaxBBQ Stay@Home Roast Delivery – Just Add Green Stuff. It's a lock-down special for our friends and customer-friends. I did one for the family yesterday and it did make a great family lockdown dinner all sat together eating.
If you also want to be a guinea pig, or you are interested in this concept then please pop me a WhatsApp – I can also then advise how much we're talking for a delivery. Next weekend is a practice run and to garner feedback session. If it goes well I'll let you know if we are to move to more 'production-grade' for this little idea.
+65 9724 6236
CLICK HERE to watch some #foodpornvideo of the process behind it to cook to your desires individually.
So we are thinking, as a starting point for this idea;
1.6Kg Roast Wagyu Toma, Roast Spuds & Gravy
1-2Kg Roast Pork Belly, Roast Spuds & Gravy
1-2Kg Roast Rack Lamb 'w' Mint Sauce, Roast Spuds & Gravy
1-2Kg Roast Dorey 'w' Jalapeno Butter & Roast Spuds
(More options will follow if it works.)
Have a think about it folks. It's literally just an idea at this stage, but I am liking the idea. Even more so if it works this weekend for my mate and his family. My big concern though is the transport time from my pan to your home so nothing it committed yet, it truly is a concept. This is not like walking from the kitchen to the table in a restaurant. ChillaxBBQ Stay@Home Roast Delivery – Just Add Green Stuff coming to your house near you soon (potentially). Watch this space. I'll let you know how Andrew and his family got on with it on Friday, and if they did or did not – ENJOY!!!
Is Life a Recipe YouTube Channel
(Visited 68 times, 1 visits today)