Scrambled Egg & Ham Brekkie Bagel
Yeap, it's that time again, it's Sunday morning and the beasts are starting to leave their bedrooms. They look hungry. Should I be scared? Nah, I have a fully stocked fridge and therefore I was rocking with a cracking brekkie dish for today and I created this Brekkie Bagel Recipe. Simple, and simply delicious and the kids loved it.
Very positive feedback from the kidlets for this Brekkie Bagel Recipe, so a very happy Mummy & Daddy because the kids are now all set up for the day.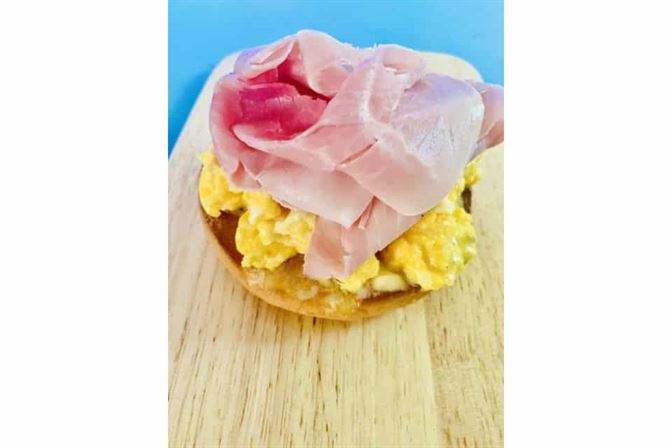 Come on, surely you know? Really…? You don't?
A bagel is a type of bread known for its crisp, shining crust and deep, chewy centre. Traditionally associated with the Jewish community of the USA, the bagel can be enjoyed for breakfast or as a snack with a variety of fillings, such as cream cheese and smoked salmon.
Flour, yeast, salt, and sugar are the essential constituents of bagels. Rolls made with high-gluten flour are chewy and spongy and can be made lighter by adding eggs, milk, and butter.
For a traditional method, the dough is rolled out by hand, sealed by boiling in water for a few minutes, then baked. There is no longer a need to boil the rings in modern mass production.
Either way, a lustrous crust is achieved by brushing on an egg yolk or milk glaze before baking, and before baking, seeds and spices can be added. Bagels can also be created with flavourings, vegetables, nuts, or fruits included in the dough.
Whole-grain and rye varieties are also available now. For this Brekkie Bagel Recipe, I just used plain Bagels.
Now, this is going to be quick folks, 1, 2, 3…
Cut the bagel in half and get that toasting
2″ knob of butter in a saucepan and crack in the eggs
On the heat and stir with a plastic spatula
On the heat for a bit and stir, then off the heat for a bit and stir, and repeat, and repeat
This method will nicely melt the butter and allow the eggs  to come together slowly
When it is nearly done (still a little wet looking but holding together) take the pan off the heat
Stir in a little grated Parmesan about 2 Tbsp
Season with sea salt & cracked Kampot black pepper
Stir that through and the heat of the pan should also then finish off the egg cooking and melt the cheese nicely
Butter your bagel halves
Spoon over a nice dollop of the scrambled eggs on each slice
Arrange your beautiful ham slice on top of the eggs and serve on a platter, as per the pic
That's it my friends, your very own Scrambled Egg & Ham Brekkie Bagel, a cracking Brekkie Bagel Recipe. The kids loved it.
Try cooking the eggs the way I explained. No oil, just butter, more care and attention to the cooking process and season after cooking not before. Believe me, these will be the best-scrambled eggs you have ever eaten.
The kids confirmed so this morning. I think it looks great and it sure does taste great.
ENJOY!!!
Here is our new Brekkie Bagel with a British Twist
In this article, we will be sharing our recipe for a delicious and easy-to-make brekkie bagel that is sure to impress your friends and family.
Our recipe is inspired by our love of cheese and pickle sandwiches in the UK, but we have added our own unique twist to make it stand out from the rest. With our detailed instructions and tips, you can make a perfectly cooked and flavourful bagel that will leave your taste buds wanting more.
Ingredients:
1 avocado
2 bagels
4 slices of Cheddar Cheese
4 tablespoons of chutney
2 eggs
Instructions:
Preheat your oven to 180°C and line a large baking tray with baking paper.
Cut your bagels in half and toast them in the oven for a few minutes until slightly crispy.
Mash your avocado and spread it onto the bagel bases, then top with chutney and Cheese.
Place the bagel bases onto the prepared tray.
Crack an egg into the bagel hole, positioning the yolk over the hole.
Place the bagel tops onto the tray and bake in the oven for 10-15 minutes, or until the egg is cooked to your liking.
Tips:
To make the bagel more filling, you can add some sliced tomatoes or sautéed mushrooms.
You can also experiment with different types of chutney to add a unique flavour to the bagel.
Make sure to keep an eye on the bagel while it is in the oven to prevent overcooking or undercooking.
We buy our cheese from The Cheese Shop Singapore
Here's some more non traditional Bagel recipes from ISLIFEARECIPE, talk about variety...