Old Satay Mee Goreng | Gluttons Bay | Makansutra | Singapore Hawker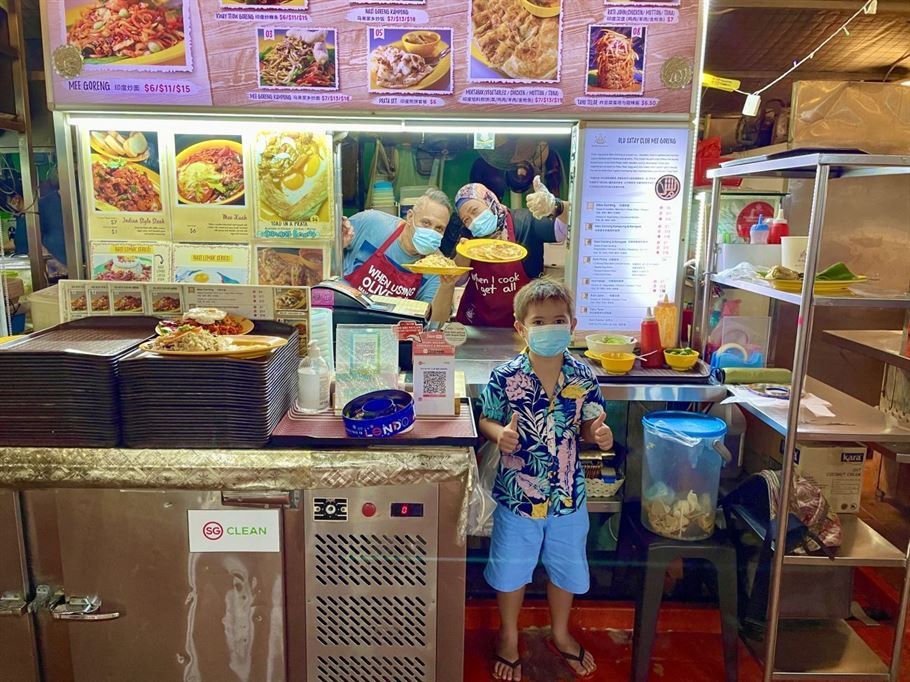 We had left Mum as she was off to work. I was taking Jude Jude and Strawberry to some TV show audition thing that actually turned out to be a bit of a con – shocking Premiere – as it was basically you end up paying up to 12k to join their club. Massively sold in a wrong way – akin to fraud.
So, we were at Marina Bay Sands Convention Centre – the usual thing happens. Nearing 1800, where to eat? I had in my head Pakistani curry – so the decision was made to go to Gluttons Bay. On the way, we were able to take in the amazing blowup doll AKA crap bouncy castle – also AKA Kaws Companion. It's a big balloon…
And then we arrive at Gluttons – sadly to see many shut. Come on folks SUPPORT YOUR LOCAL HAWKER. I am so hoping that the Govt opening to families of 5 dining in hawkers will have a positive impact here for KF Seetoh and his amazing crew of hawkers.
Double sadly was that the Pakistani boys were one of the stalls that are shut. Damn. In its place was a new Halal Italian/Pasta joint, including a cheese wheel – intriguing as this new offering was, I now have my curry head on (so does Jude Jude – and so we ended up with our new BFFs at Old Satay Mee Goreng. The most incredible Mutton Murtabk and curry sauce – so much so that Jude Jude even stated it was NEXT LEVEL.
I love that about my little food explorer. We go on these food adventures together and I love him for that.
Old Satay Mee Goreng | Gluttons Bay | Makansutra | Singapore Hawker Absolutely superb food!!! SHIOK!!! #BeProudSeetoh.
I think Jude Jude wants the curry sauce in a drip bad stuck in a vein so he can just walk around with it wherever he goes.
Old Satay Club Mee Goreng. Alluring Singapore Muslim Indian fare at its best!
They offer locally loved icons from Roti Prata with Chicken Curry, Murtabak to Tahu Telor (egg and tofu tower with sweet spicy sauce). Their signature Mee Goreng is also a must try – noodles fried in sambal and tomato sauce flecked with meats and greens. Devour them all in Makansutra Gluttons Bay, next to The Esplanade, Singapore!
We'll be back, that is for certain. Have to see our new BFFs again.
ENJOY!!!
Old Satay Mee Goreng Location
Address: 8 Raffles Avenue #01-15 at the Esplanade
_____________________________________________________________
The Traditions of Satay Mee Goreng
Traditional Peranakan cuisine Old Satay Mee Goreng consists of satay and noodles. Stir-fried noodles are slathered in a spicy hot sauce before being served with charred onions, tomatoes, and ikan bilis (anchovies).
Combining traditions from Indonesia and China resulted in the creation of this unique meal. Over the last 30 years, the Donggong family in Penang has been providing this meal.
The Padang region of West Sumatra is where Satay Mee Goreng originated. Tauco, tauco sauce and shrimp paste are among the ingredients in this spicy tomato-based sauce that includes noodles and veggies. In certain regions, ikan bilis or curry leaves are added to enhance the taste of the dish, while in others it is eaten as is.
Singaporeans are known for eating Satay Mee Goreng. Traditional fried noodles are called "mie goreng," while "satay" refers to the spicy peanut sauce. In the evening, you may buy this meal from hawker vendors. Wheat flour and eggs are used to make fried noodles.
Traditional Malaysian food Old Satay Mee Goreng is widely offered by street sellers and hawkers in Kuala Lumpur. They are usually comprised of wheat flour, crushed shrimp paste, and eggs. They are then cooked and served with soy sauce and spicy peanut sauce.
Satay mee goreng is a meal that many Indonesians associate with their childhood memories. In the 17th century, Chinese merchants brought the dish to Indonesia. Noodles, veggies, and frequently meat or chicken are stir-fried in soy sauce and served with satay sauce in this dish.
The meal is available in a wide range of restaurants around the nation, although it may be pricey at more upscale establishments.
Satay sauce, noodles, and fried onions make up Satay Mee Goreng, a cuisine from the Southeast Asian country of Indonesia. In a wok or frying pan, water is added to the ingredients and they are cooked together. Typically, the noodles are first boiled in boiling water until they are tender and ready to be served. Adding them to a pot of boiling water or just cooking them on high heat for ten minutes is an option.
Satay Mee Goreng is a meal that includes noodles, Satay sauce, chopped onions, and oil-fried onion rings. Wok or frying pan is then used to combine the items with water. Typically, the noodles are first boiled in boiling water until they are tender, then drained and cooled. Adding them to a pot of boiling water or just cooking them on high heat for ten minutes is an option.
Mee Goreng Recipe
Sauce for Mee Goreng
Soy sauce is used in the preparation of the Mee Goreng sauce. If you're looking for an alternative for caramel dark soy sauce, this is the sauce for you. The Mee Goreng sauce has a thick viscosity, similar to caramel dark soy sauce, but it is not sweet in the same way that sweet soy sauce is. Neither is it salty in the way that mild soy sauce is.
Alternatively, a mixture of dark soy sauce for colour and light soy sauce for flavour may be used for saltiness.
Chili Sauce 
In Singapore, you may get hot and sweet chilli sauce from supermarkets and convenience stores. Thai chilli sauce is less sweet than Sriracha, while Sriracha is less spicy than Thai chilli sauce. If you want to create your own, blend equal parts Sriracha and Thai chilli sauce in a 1:2 ratio.
Noodles
Only Yellow Noodles will do for authenticity but you may use flat rice noodles or any other fresh noodles of your choosing for this recipe.
What is the best way to lessen the degree of spice?
Chilli paste is used in step 1 to give it an additional kick. The amount of heat in the dish is determined by the amount of chilli paste used, which is also known as cili boh dry chilli paste. Fill in the blanks with anything you choose. If you wish to manufacture your own chilli paste from dried chilies, follow the instructions on this page to minimize the spiciness of the paste.
4 tbsp vegetable oil
4 garlic cloves
3 tbsp chilli paste
3 tbsp chilli sauce Spicy & sweet
100 g chicken meat
6 fish balls
2 fish cakes
4 tbsp Soy Sauce
400 g yellow noodles
Add salt to taste preference
1⁄4 cup
bean sprouts
1⁄4 cup choy sum
If you enjoyed this Old Satay Mee Goreng | Gluttons Bay | Makansutra | Singapore Hawker and want to keep up with the channel be sure to Subscribe: The Angmo Cooking Show
Connect with me on Socials:
➤Facebook: https://www.facebook.com/islifearecipe
➤Twitter: https://twitter.com/Islifearecipe
➤Instagram: https://www.instagram.com/islifearecipe/
➤Tumblr: https://www.tumblr.com/blog/view/islifearecipe
➤Facebook: https://www.facebook.com/chillaxbbq
You'll see many many other recipes on the channel and heaps of restaurant and hawker reviews too.
(Visited 23 times, 1 visits today)