Best BBQ Recipes
What to do this weekend? How about inviting a newbie to Singapore, a newbie to Telstra Singapore, a newbie to East Coast living, a colleague and a friend. Yep let's do that, so I did. We cooked for Michael and his family to show him the sites of Siglap and East Coast living. A big BBQ for neighbours and friends and visitors. Mr James McCartney fossicked and grubbed to gather the meat for me, a quick top up at Cold Storage and we're off – I created the following Best BBQ Recipes.
Pork loin Fillets, with foie gras and bacon
Take the loins and give them a good bash with a tenderize hammer. Spread a nice layer of foie gras on top. Then lay some slices of streaky bacon over the foie gras. Grill them on the BBQ bacon side down first to crisp it up, then flip them over to cook through the pork. It shouldn't take too long because of the hammer action you did, 5-10 minutes tops. Let it rest for a bit and then slice it nice and thinly and serve it up – YUMMY!!! One of the best Best BBQ Recipes.
Prawns with lime and Spring Onion
Again this is so flipping easy. Skewer the prawns through the tail, through the body and out through the head. Lay on a baking tray, drizzle with Olive oil, a good sprinkle of sea salt and cracked black pepper, squeeze 2 limes over the top, and they lay on some cleaned Spring Onions. BBQ these for about 2-3 minutes in each side until the prawns are pink and puffed up.
Steak with Salt & Pepper
So so simple. Zip lock bag. Throw in the steaks, a drizzle of oil and a very good pinch or two of sea salt and cracked black pepper. Yes I used Kampot of course for that special treatment. Let that sit for a few hours to soak in. Then on the BBQ. Sear it quick on both sides, and then move to the outer areas to cook slowly. Let it rest for 10, then thinly slice. Yummy!!!
Lamb rack with rosemary, lemon and garlic
Rack of lamb. 5 or 6 sprigs of fresh rosemary. A squeeze of a lemon. 5 slices of lemon, and a good sprinkle of sea salt and cracked black pepper. Let that marinade. On the BBQ again like the steaks for a flash charring/searing on both sides, and then move to the less heat intensive part of the BBQ to slow cook. Let it rest and then chop up the chops. It should be nice and pink and ever so juicy, just like the picture. Ding Dong!!!
Snapper stuffed with sage and lemon
One gutted snapper. You'd be gutted if someone just ripped your insides out and de-scaled you. Stuff that with some finely chopped garlic, some sprigs of sage and 3-4 slices of lemon. Sprinkle with sea salt and cracked black pepper and a drizzle of Olive oil. Wrap in silver foil and get that bad boy on the BBQ. Let it sit in the foil for 10 minutes on each side, then out of the foil to char the skin up and finish off the cooking. This is a cracker – all loved this.
Asparagus and bamboo shoot
Too easy. Foil, add in trimmed asparagus and thinly sliced bamboo shoot. Olive oil, sea salt and cracked black pepper. Grill it until the asparagus is charred. Hey presto!!!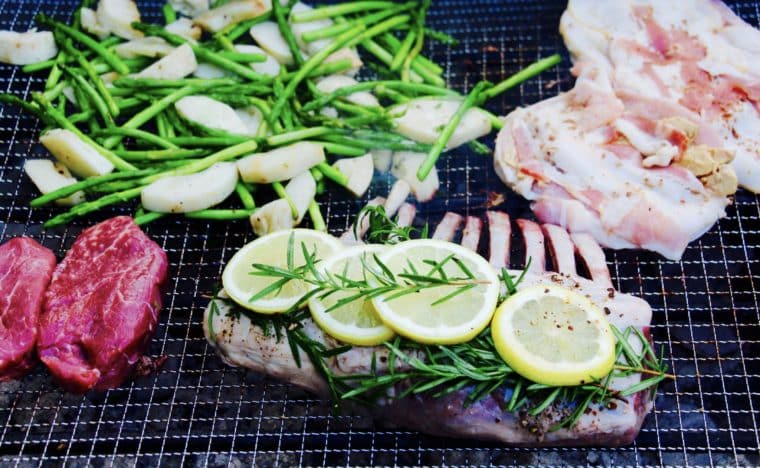 3x Stuffed Mushrooms;
Duck rillette;

Horseradish & Garlic Butter; and

Korma curry butter.
So simple this concept. Buy 12 big chestnut mushrooms and pull out the stalk. Then in to the cavity put the above. So some of the mushrooms I just stuffed with duck rillette, drizzle with some oil and a sprinkle of sea salt and cracked black pepper. Some of the others I put a teaspoon of garlic, a knob of butter and a teaspoon of horseradish. In the final few I put a knob of butter and a teaspoon of Korma curry sauce. Again a wee drizzle of oil and the obligatory sprinkle of sea salt and cracked black pepper. I popped all these in to a muffin tray and roasted on the BBQ until nicely cooked through. So simple, so effective so delicious.
And here are the happy customers – newbies to Eastside Singapore – welcome to The Burke's.
So there you have it folks, the Semi-Naked Chef strikes again with his Best BBQ Recipes for you to consider. They are such simple recipes, I think you'll have to agree. But they come out so impressive and super tasty. Anyone can cook these. For best results try to leave marinading for half a day or so. That will get those flavours nicely in to the food. Go on, go on give these a try, my guest this day did and loved every mouthful, you should too – ENJOY!!!
Is Life a Recipe YouTube Channel