Pork Loin with Bacon and Duck Rillette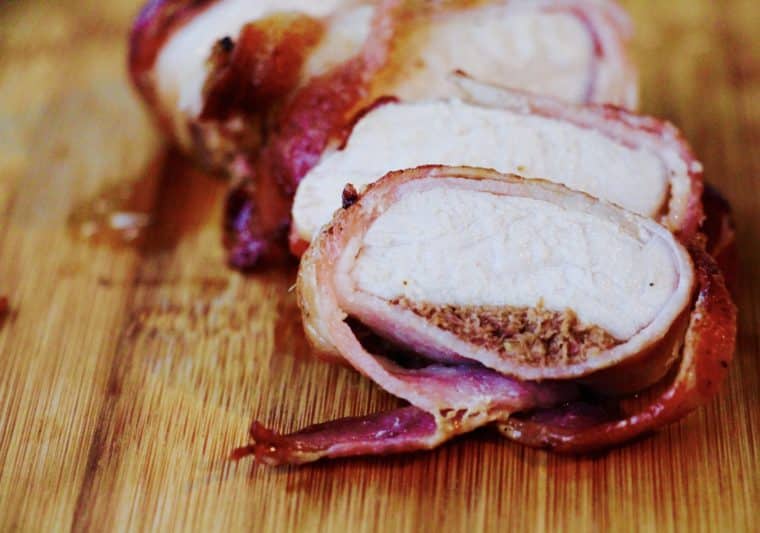 Pork Loin with Bacon and Duck Rillette, can you believe it? This takes minutes to prep, same to cook, and within minutes it will be off the plate. It is so so bloody good. What a recipe this is. I actually did version #1 of this at my mates BBQ, but I used foie gras not duck rillette. I literally had people queuing to get more of it, as I was cooking it. There's a good demonstration of how good this is. So this time, on a BBQ Sunday with the family, I thought I'd have a little change to some of the key ingredients, well one. And there was born;
Pork Loin with Bacon and Duck Rillette
This really is just so simple – and is easily enough here for 4-5 people;
Take 6 pork loin fillets and give them a little sprinkling of sea salt & cracked black pepper;
On one side of the pork spread some duck rillette (or foie gras), a good dollop of it; and
Take some rashers of streaky bacon and wrap them round to cover the pork and the rillete, repeat this until the pork is evenly covered in bacon.
Wow that was hard – NOT!!! Then bash those bad boys on the BBQ until the pork is nicely cooked through and the bacon is nice and crispy. Slice on the angle and serve that up, stand back and watch out for snapping teeth. These will fly off the plate, I absolutely guarantee it. This is a MUST TRY folks…
Pork Loin with Bacon and Duck Rillette. Deliciously simple – ENJOY!!!