Coastal Settlement @ Changi
Is this a classic case of location, location, location? Read on. This came as a referral from one of #1's mates. I found out afterwards that a number of mates have also been but all thought that it was closed now. Clearly not. It's a little bit like Colbar with the old-school decor, retro design and Nik-Naks. It's hard to book so we ended up trying our hand with a walk-in and we were lucky. We got given a beautifully shady table, sat down and immediately relaxed. It's so cool (as in temperature) and you sit in this garden of rainforest trees and butterflies. It really is stunning. The indoors is crazy with so much retro gear on display it is uber-cool. Check the video out to see the entrance to the place. Yes, I REALLY like it here.
The seating was amazing, although no cushions on those metal seats were an arse-ache after a while. Jungle scenery is also incredible. Wagyu is on the menu, so like that too. This could be good. This could be really good. But, and there is a BIG but… Read on.

How nice is this seating area? In a shady little glen to ourselves. It is boiling hot sunny out, but here shaded in the jungly bits it is just awesome. But, there will be lines across my arse-cheeks from that chair for a week or so…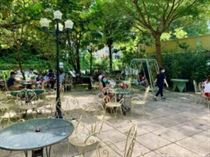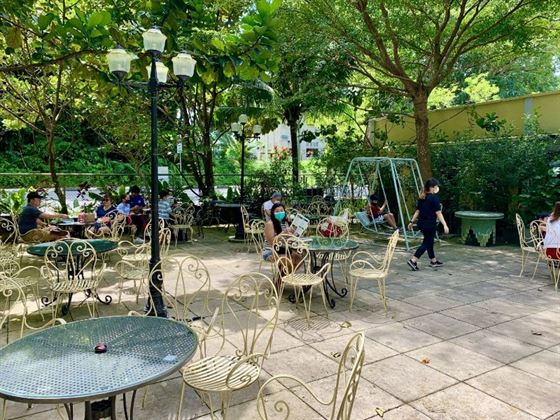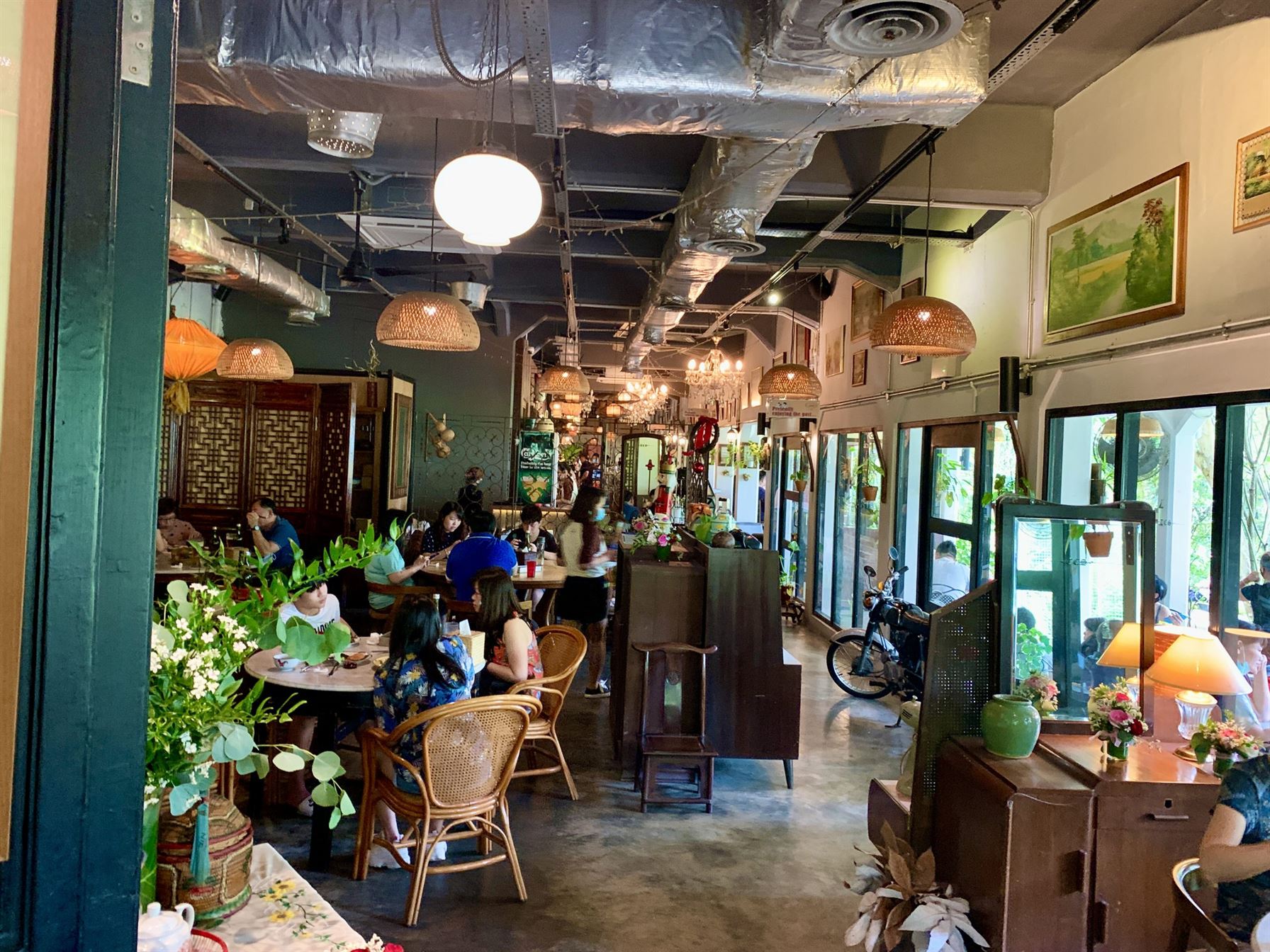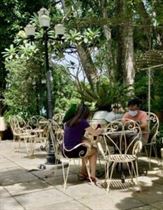 And here comes the But.
Worst service ever.
It was like they had never run a restaurant before. On the table, you have a little clicker to order or pay the bill. Clearly allocated to the wrong tables. Also not one of the server staff knew the menu or the table numbers it seemed. It goes like this;
Countless times of plates of food being brought to us; "Did you order the…?"
"No, we did not!"
And then it would happen again and again and again and again… the same process over and over again.
Then randomly someone would come with a bill halfway through your food; "Can I ask you to confirm what you have ordered so far…"
Then you'd order something and nothing would show, so you'd press the 'call-button' and someone would show up with a dish of food to ask if you had ordered it, or ask you to verify another bill not actually bring your food order.
We watched this comedy of errors happening over and over to every single table. Shockingly bad. Cringe bad in fact. They would literally come from the kitchen with a plate of food and walk around each table asking if it was theirs until someone said yes. EVERY SINGLE TIME.
Then 5-minutes later the exact same process with a series of bills, despite the fact that no one had asked for their bills. This happened 4-5 times to us.
On the dessert frontage, it was a classic. We pinged the call button. No response for 10 minutes. Click again and also click for the bill. Surely that will spurn them into action? Nope. I had to grab a girl that came to ask us if we had ordered some random dish (yep it happened again) and I asked if we could order dessert and get a menu. We ordered 3 varying gelatos. 10, 20, 30 minutes pass and nothing. I again hit the call and pay the bill buttons and people come and guess what the answer was, almost 20-30 minutes after ordering; "Sorry Sir we don't have any gelato today."
You have to be kidding me.
That really summed up just how bad service is at this place. It was a shame to ruin the experience.
At that point I just wanted to exit from the place, enough is enough!!!
I was feeling embarrassed for them and that is not good as a paying customer.
And so to the food at Coastal Settlement @ Changi
I am probably going to be a little more critical here than normal due to the above service experience, which really has jaded the whole thing sadly. It's an OK experience. It's not a WOW. More seasoning is needed on everything. I also challenge their Wagyu. What was served was a nice steak for sure, but is it really Wagyu? If it is a cheaper Australian Wagyu, call it out and name the farm.
Would we go back? I reckon we would for the feel of the place and the stunning surroundings. Wifey was the one happiest with her food today. We left here for a walk along the Changi Boardwalk and ended up dining at one of our favourite Sea Grill @ Changi Beach. A few new items on the menu for Xmas that were of absolute quality and the service was exceptional. So Coastal Settlement @ Changi, I do hope you guys read this. Massive potential but boy oh boy you need to resolve the service, it was shockingly bad. For me to feel embarrassed for you due to the table by table walking by the staff trying to find the home for a plate of food or ask if we'd ordered something every 5-10 minutes is just wrong!!! You need to fix it guys, especially in our rather challenging Covid world. People order with their feet, as in they will go elsewhere. The ambience and the surrounding thorough were ace and we really did
 ENJOY!!!
Connect with Us on Social Media
(Visited 267 times, 1 visits today)