Sandwich Saigon Cafe @ Katong
I wrote about this place years ago. Do you remember? All about how incredible the owner is, and her making her own baguettes every day and her own soy and fish sauces. Clearly it has been years and it was time to re-visit. Wifey and I had the chance to have lunch too as I was working from home this day after the trip to Melbourne for work. Stars aligned and so did the food stars at Sandwich Saigon Cafe @ Katong.
Everyone raves about Long Phung down Joo Chiat, as I have before in other blogs. But prepare for the queue and prepare for the cash-only payment, which has burnt me once before with a lon sweaty walk to the nearest ATM, 1km away. So all you East Coasters, look no further and get your arses here to Sandwich Saigon Cafe @ Katong. I had forgotten just how good this place is and the food they pump out at lightning speed. It is exceptionally good and well worth the visit.
Oh yeah did I mention? 24x7x365 Happy Hour on Sapporo's @ $5 only. Happy hour = Happy days… WEEEEEEE
CLICK HERE for that first Blog Review I did – check the kids out ha ha – yes a long time ago!!!
It was only wifey and me today, but we did get takeaway for Jude. So let's have a looksie shall we?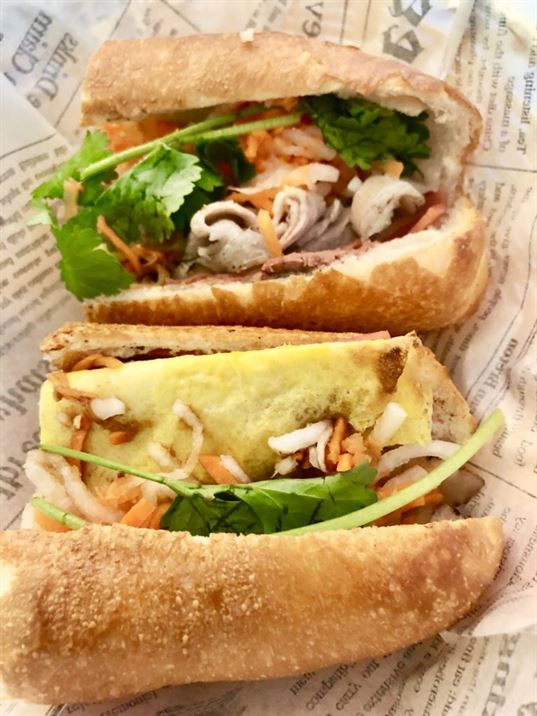 And there you have it folks, my re-review of Sandwich Saigon Cafe @ Katong. What an absolutely cracking lunch for wifey and me. It was seriously off-the-charts good. All of it. Jude ate every last little scrap of his sandwich too when we collected him from school. Big thumbs up from the wifey too. This is 'die die must try'food folks believe me. Get your bum on a bus or bike and go chow down in here.
Let me just advise too that all the food above, and two drinks for wifey and I came to only $48.20. I kid you not. How incredible is that for value for 1st-class food. It is WOW!!!
Some of the very best Vietnamese food I have ever eaten. In fact, I will say that the Siagon Special Bánh mì is actually the VERY BEST I have ever had. Exquisite with a little of their home-made fish and soy sauces, with that light, fluffy and super crunchy baguette. Heavenly. Try it – ENJOY!!!
Is Life a Recipe YouTube Channel
(Visited 122 times, 1 visits today)