Miso Butter Corn & Edamame 'w' Skirt
You'll maybe have seen from the other recipe this week that I had a huge hunk of beautiful Skirt steak from my BFF Shaun @ Orca. Again, click the logo in the partner's section to go to his website and check out the produce. Some belters in there. This is #NotBillWallaceFriendly and also #NotKnibbsyKiddleWagyuFriendly as I had to go to the supermarket to buy all the ingredients and the skirt was not Wagyu. Hey Ho. It is still an absolute;y cracking recipe made up of some rather surprising food bedfellows.
You might have re the restaurant review for Fat Po @ Punggol? I ordered two plates of this Grilled Sweetcorn 'w' Miso Butter, it was just so bloody good. So today I came up with this little recipe to create a sauce of that concoction for a meat dish. Therefore it is my recipe and my idea – RIGHT? No arguments now.
Miso Butter Corn & Edamame 'w' Skirt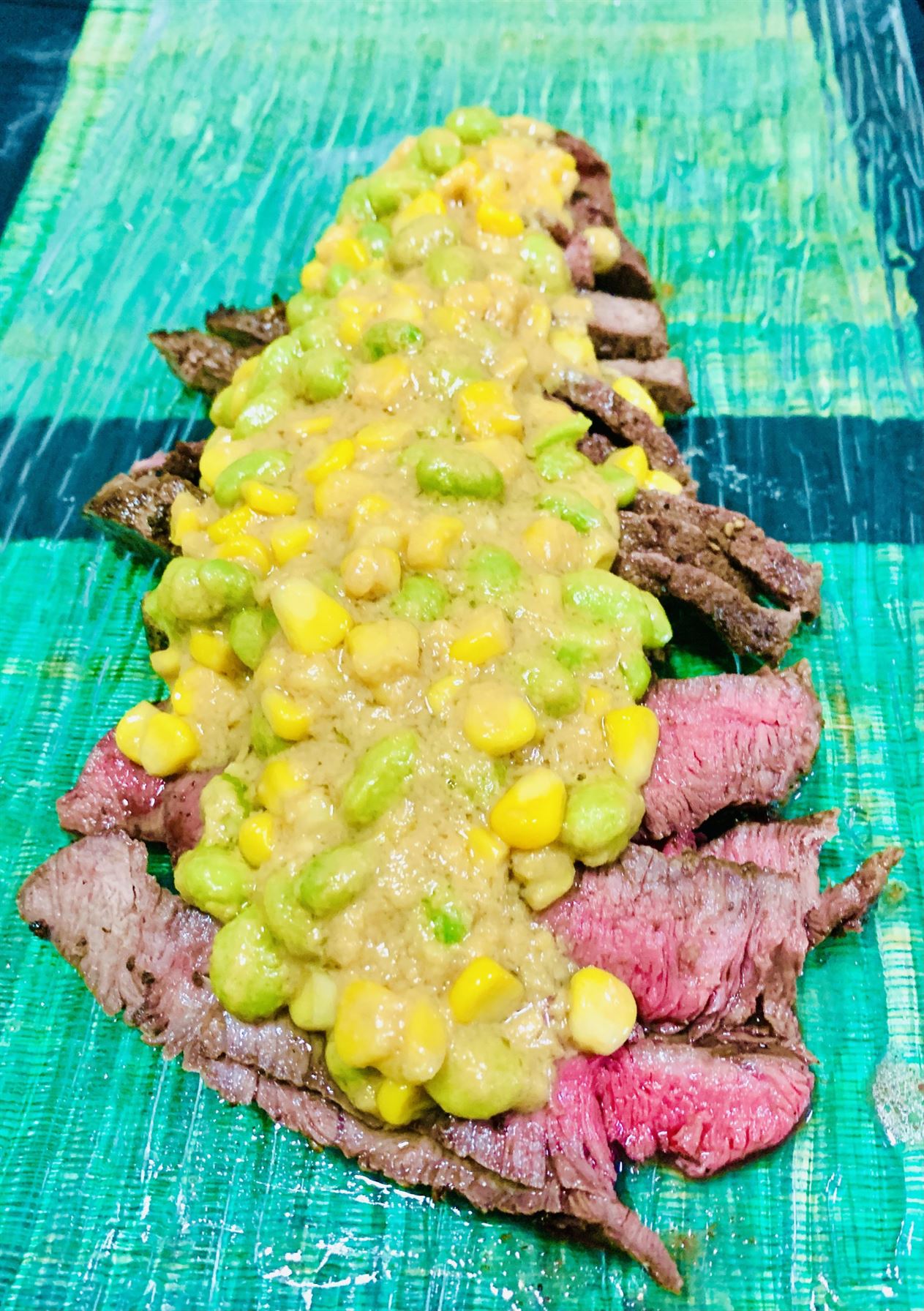 Here we go;
Skirt;
I am assuming you have already trimmed this up and it is a beautiful slab of the finest skirt steak;
Season that well with sea salt & cracked black pepper on both sides;
Heat up a skillet pan on high heat – I added a little of the Wagyu beef dripping (rendered fat) to add to the flavour and to get things going;
In with the steaks and cook for 4-5 minutes each side and rest for 5-20 minutes – should be Pink2Pink medium-rare then;
Slice thinly and plate;
Sprinkle a little more sea salt & cracked black pepper over and await the sauce…
Sauce;
In a saucepan add;

Tin of drained sweetcorn kernels;
1 cup of Edamame beans;
3″ knob of salted butter;
4 heaped Tbsp of white Miso paste;
A pinch of cracked black pepper;

Slowly melt that down until all the flavours have muddled;
Spoon the sauce over the steak – just like in the picture…
This was just awesome. If you like salty & savoury with steak, then look no further. This is the dish for you. I'll be adapting the sauce to have as a marinade for chargrilled sweetcorn on the cob, but as a steak sauce, this is the one to follow. This is an absolute belter of a sauce. It has flavours popping all over the place and is perfect on top of that super-beefy medium-rare skirt steak. It has insane flavour burst in fact. This is Miso Butter Corn & Edamame 'w' Skirt. It's a cracker – ENJOY!!!
(Visited 87 times, 1 visits today)