Baked Sambal Prawns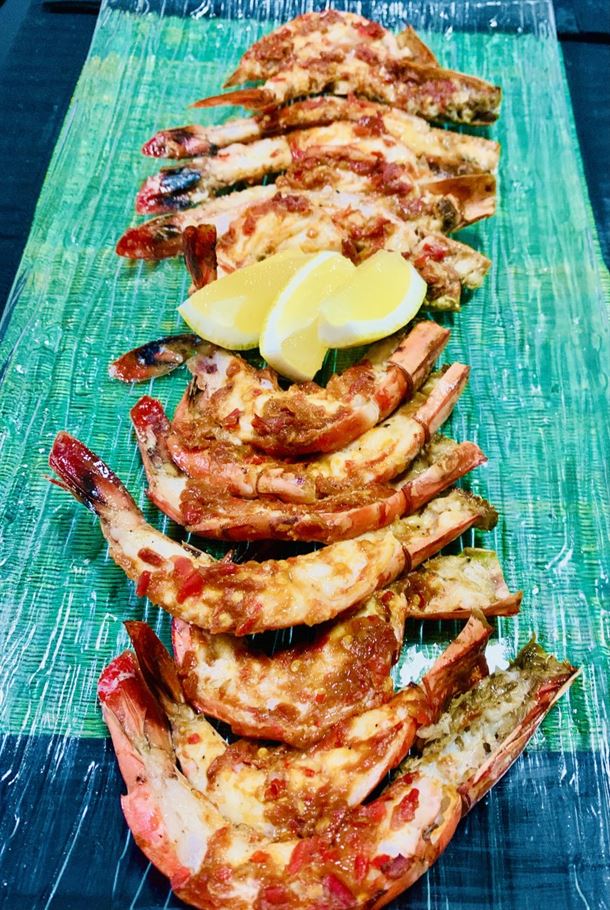 Oven-baked Sambal Prawns
These little fuckers will burn your cat a new arse if you fed it some, so be careful. They are indeed VERY pokey if you use what I used. But, the heat factor for this dish can all be determined by you of course. I picked up this little pot of home-made sambal from the local hawker in Siglap. Little did I know this little plastic tub contained sambal made on the surface of the sun. The first bite of one of her prawns nearly knocked poor Wifey off her chair haha. So be careful if you buy from where I did, which was the hawker near the drainage channel next to Siglap centre – the drinks Uncle has it on sale at the till. I promise I will make my own next time, so watch a blog for that recipe soon. I can't face my little wifey's bright red face and steaming ears again – so I will be creating my own.
But for today I go with what I bought. Sambal Lava.
The prawns were MONSTERS. Sourced from my BFF Andy @ New Zealand Fresh. Click their logo in the partner's section to go to their website and shop away folks. Amazing produce there – always an inspiration for me to cook something new.
Oven-baked Sambal Prawns
I also asked #1 to take a picture of the small banana tree across the road to see if there was a suitable leaf I could cut to bake these on. I think he misheard me as he took a photo of the banana tree that is about 30′ tall. What am I going to do #1 fucking shimmy up using my belt to cut a leaf… Come on you know Dad. FatMan can hardly walk up the walk-up stair let alone climb a bloody banana tree. Suffice to say, I did not bake these on a  banana leaf today.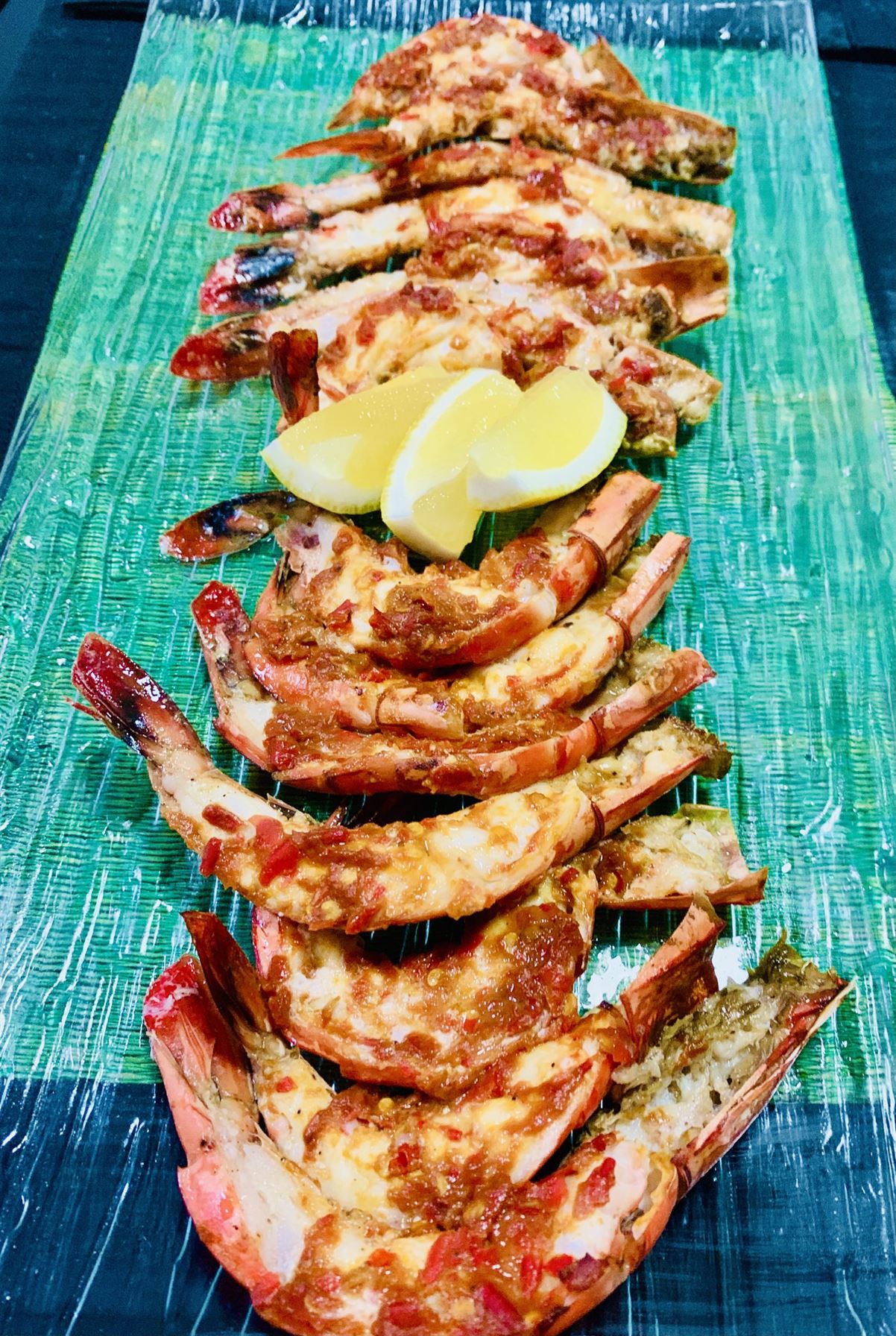 Here we go;
Rinse the prawns and using your cleaver cut them in half lengthways;
I also trimmed off the head-end (leaving the head-fat though) and the legs for a much neater plating;
You can de-vein them if you like, but these from New Zealand Fresh were super clean anyways – nice;
Lay they skin-side down in a roasting tin;
Drizzle with olive oil and a sprinkle of sea salt & cracked black pepper;
I have a squeeze of fresh lemon all over too;
Then, putting on my safety gloves and goggles I opened the Sambal and smeared each prawn with about 1/2 Tsp;
Whack this in a pre-heated oven at 190 degrees for about 10 minutes until the prawn meat has gone pink and puffed up;
Plate as above with another wee squirt of fresh lemon;
Add some fresh lemon slices for the fam to adjust the citrus to their liking, or use to put the fire out in their mouth.
Pretty simple right? I'll make the recipe more complex next time by making my own Sambal I promise. But for now, this was hawker-grade home-made Sambal. As hot as a drag-racing cars break-linings after a race. Like licking the devils arm-pits. But #1 was man enough to survive and said he loved them. Wifey wimped out due to hospitalisation warnings. MAN UP. Try this. It's good. Oven-baked Sambal Prawns. ENJOY!!!
(Visited 23 times, 1 visits today)