Delicious BBQ Prawns Recipe 2023
This recipe features in ISLIFEARECIPE.net's Ultimate NINETEEN Prawn Recipes​
Delicious BBQ Prawns Recipe 2023 is another ChillaxBBQ recipe Delicious BBQ Prawns Recipe. Here comes ChillaxBBQ BBQ Prawns. This was a first for us when we did our pop-up at Jags Gastro Pub, something different. We, boys, are renowned for our meat, so a chance to branch out to something different. I have to say it worked really well, and to be honest at the Jags gig we could not cook and serve these fast enough.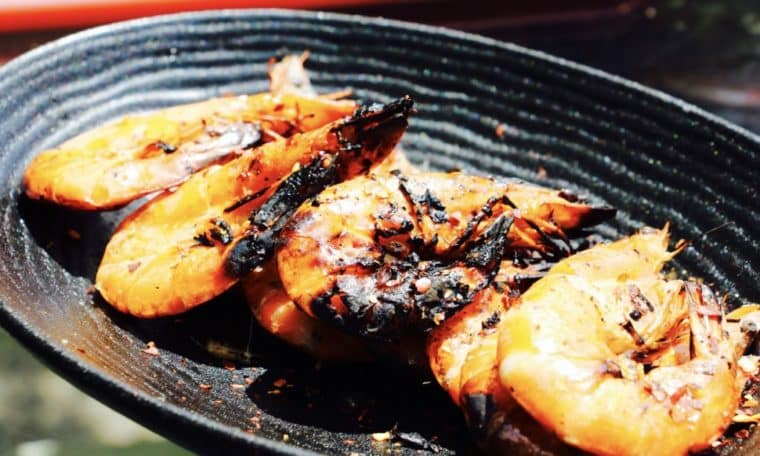 So how did we do these bad boys, this Delicious BBQ Prawns Recipe?
ChillaxBBQ BBQ Prawns go like this.
Now we were cooking for about 60 people, so align yourself to how many you have come by reducing the ingredients in equal amounts of course. We went large, well we had to. We cooked them on soaked skewers and then pulled them off when cooked to serve them on nice platters. I did give a wee sprinkle of chilli flakes too, to tart up and make it all a Chef-like presentation. Quick one; do NOT be put off by the blackening, that is just charring – do not forget there is a thick skin on the prawn, the meat is just being flavoured by this!!!
In a big container throw in at the same time;
2 Kg of fresh prawns with all the shells on them still;
2 tablespoons of finely chopped garlic;
2 tablespoons of finely chopped ginger;
Squeeze the juice of 4 limes over them;
A good sprinkle of cracked black pepper and sea salt.
There you have it my lovelies, ChillaxBBQ BBQ Prawns. Let that marinade for about 2 hours, and give it the occasional stir to keep the liquids and bits on the prawns. When you are ready skewer them up on pre-soaked bamboo skewers and get them on the coals until charred – should take about 2-3 minutes on each side. BOOM!!! Delicious BBQ Prawns Recipe.
Another delight for you. Secrets pouring out now from ChillaxBBQ. This is our ChillaxBBQ BBQ Prawns. I think you will agree so so simple. The outcomes are delicious. Don't forget that Chef tip shit of a wee sprinkle of dried chilli flakes – colour, flavour, presentation all in one. Give these bad boys a go, I categorically know you will – ENJOY!!!
Connect with Us on Social Media