Siri House – Valentines Day Lunch Restaurant Review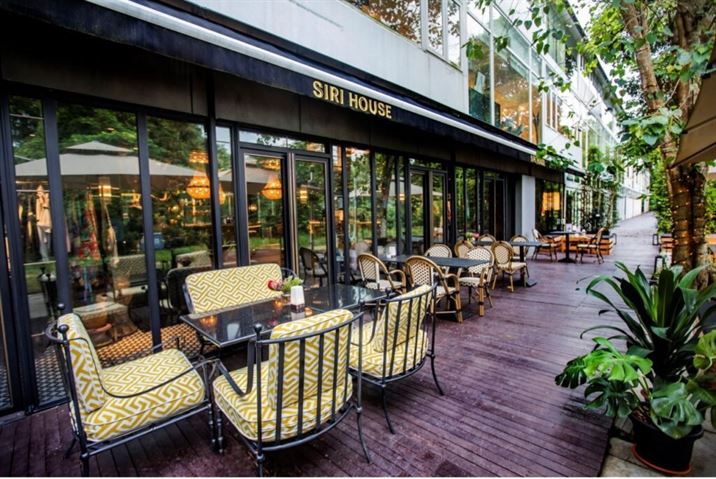 Location, Location, Location
Siri House is located in Dempsey Hill and it's probably the furthest is back from the main road entrance than any other restaurant venue. Once you finally find 8D Dempsey Hill, then have to attempt to find the entrance to Siri House. Thankfully the rain had stopped by this point but I must add that we would likely have been drenched had the downpour continued but thankfully it was dry when we arrived. After some twists and turns we found an entrance and once we walked in it was from there the true experience began for this Siri House Review.
Siri House Review – The Decor
Siri House interior is black and gold themed art deco, elegant throughout with quality furnishings, we later found out the owner is a property developer, more on that later.
We were escorted to a stunning black marble table with a sofa seat to snuggle up on and as it was Valentine's Day, the setting was most romantic. The view from the sofa gave us a full view of the entire restaurant kitchen that was directly in front of our eyes across the room, the bar to the left and the outdoor seating to our right.
The selection of chairs are just magnificent, the materials used are so eye-catching. The chandeliers give it that sparkle it so deserves.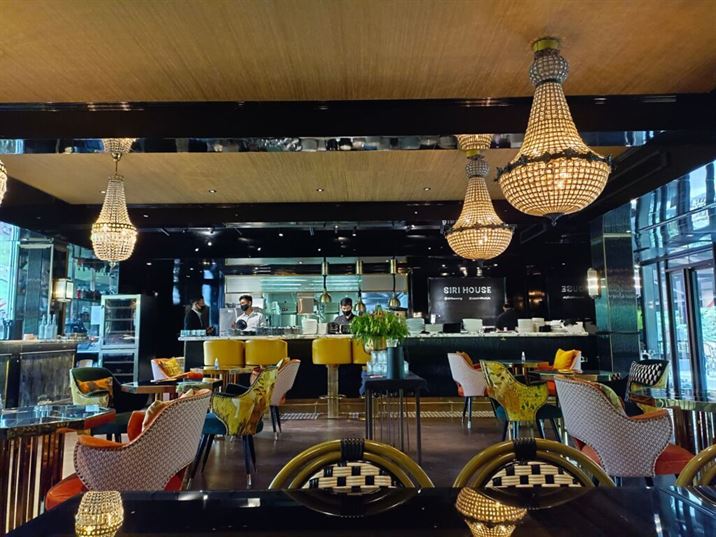 Siri House - Valentines Day Set Lunch Menu
Once we were sitting comfortably, we are handed a set menu that had been prepared especially for Valentine's Day.
The moment I set eyes on the specially crafted Siri House Valentines Day menu I couldn't find fault in any layer of this five-course menu, which by the way was the sharing menu. It had a variety of different elements that met at least my minimum requirements from the first gaze.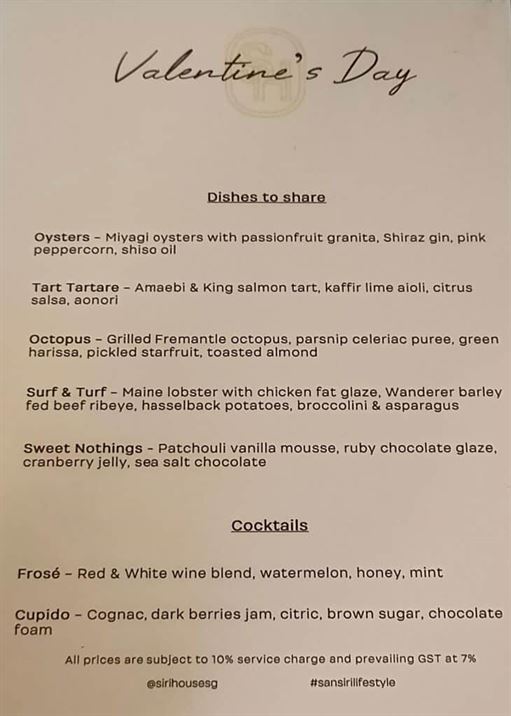 You can check out the regular Brunch Menu below
Siri House - Opening Cocktail
Two cocktails came as part of the Valentine's Day set lunch menu, the first was a Frosé which is made from red and white wine blended together with added watermelon honey and mint. A Frosé is usually made from Rosé wine but in this instance, the Siri House Bartender Elson had cleverly paired a red and white together to create this Slush Puppy for Adults.
My only complaint here was it was over chilled due to them making them in advance, my wife had the patience to wait for it to defrost whilst I went for the head-freeze effect draining the ice of any liquid. Still a nice touch! I will touch on the 2nd cocktail as that came later in the meal.
The first-course oysters were Miyagi oysters with Passionfruit Granita, Shiraz Gin. Pink Peppercorn and Shiso oil. Normally I prefer to take my oysters naked (not me naked the oysters) but I've been making exceptions to the rule of late and found these additional ingredients to be most delightful.
The sweetness of the passion fruit with the light heat from the peppercorn and the nuttiness from the shiso oil which washed down with the Shiraz Gin made the first course set the tone at the highest level for the rest of the meal.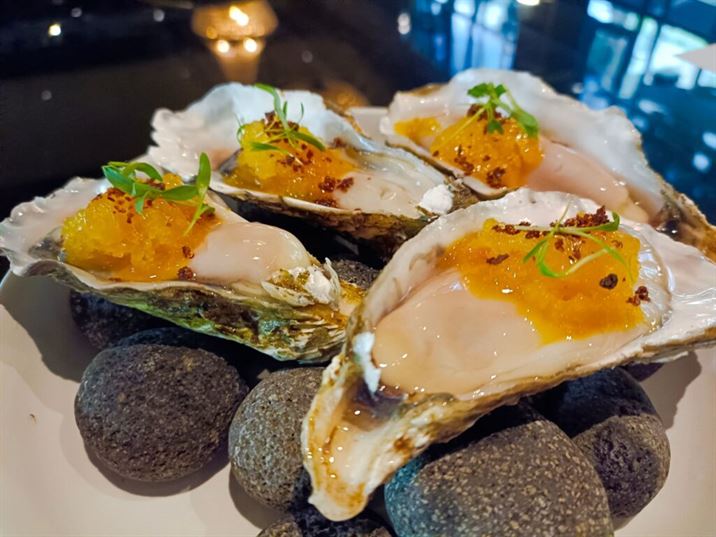 Next up for the second course is the Tart Tartare, Amaebi & King Salmon Tart with Kaffir Lime Aioli, Citrus Salsa and Aonori. The Amaebi shrimp laid bare across the Salmon Tartare sweetened the tart whilst the Kaffir Lime Aioli and Citrus Salsa gave it's a little Zing and the Aonori seaweed added a high-end salty taste to the tart crust. Light yet satisfying, this was a great dish.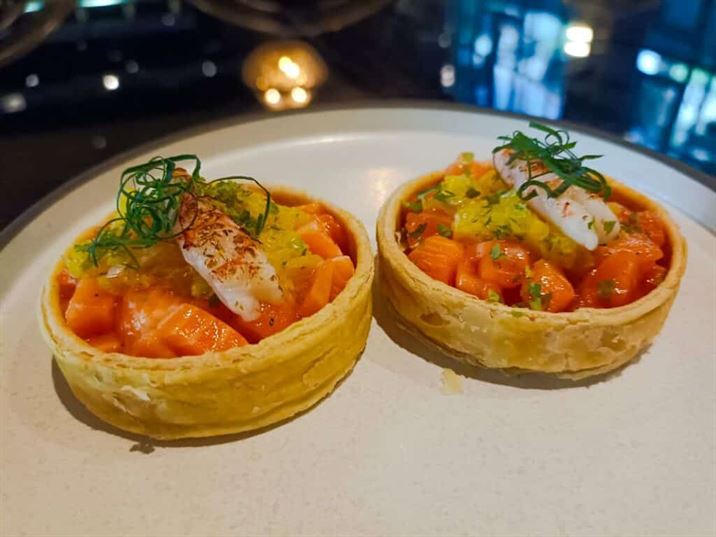 At this point I hadn't yet ordered any other drinks, assuming that the next cocktail would be coming soon after I'd finished the first, so I immediately asked for the wine list which was presented to me by Naz the restaurant manager.
Naz offered a good choice but the wife wanted a different bottle of wine, so we (she) opted for the Maison Castel Côtes du Rhône Grenache – Syrah which retails online for around $35 online (not available online at the time of checking) but the restaurant price was $100 which was fine and in line with our expectations and budget.
Vivino rates the Maison Castel Côtes du Rhône as a 3.6 but honestly its all about your personal taste in wine and we gave this a 4 at the very least.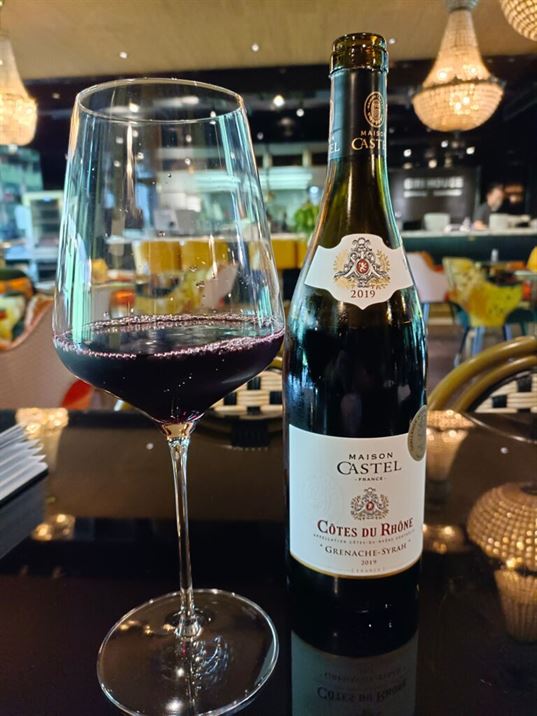 By the 3rd Dish, I knew this was not a meal for Brian Kennett (he hates seafood of any kind) but for us, we love the stuff, so the grilled Fremantle Octopus with parsnip celery puree, a dash of green harissa (a type of green chilli sauce), pickled star fruit and toasted almonds was not going to be missed.
As many people know octopus typically when served in restaurants is overcooked and chewy but not in this case, it was soft in the centre and nicely charred on the outside enough to give it balance.
The parsnip celery puree of green harissa added heat and complexity to balance out of the dish but for me the star of this dish was the pickled star fruit (pun intended)!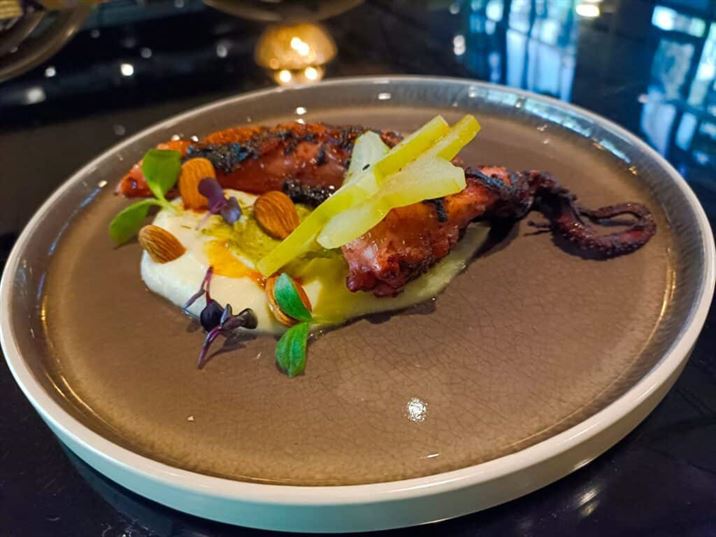 Siri House Valentine's Day – Main Course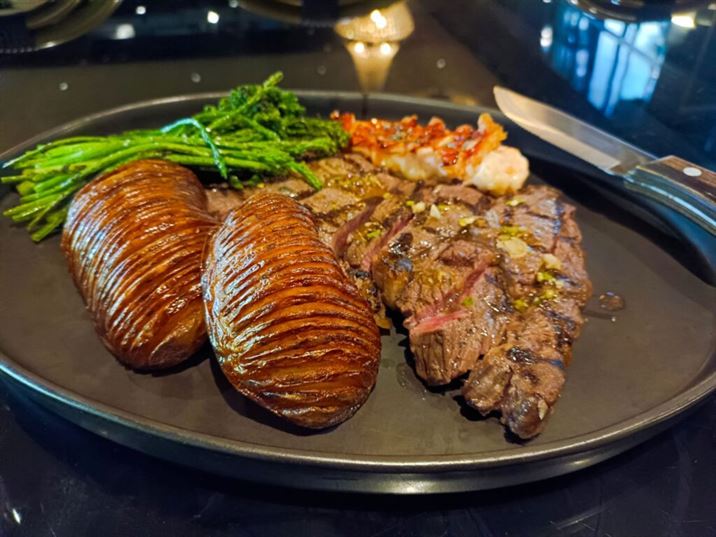 Main course up next, old school Surf and Turf but there was nothing old about this dish. The Maine Lobster was glazed with chicken fat, crispy on the outside and delicate and sweet on the inside. Hasselbeck potatoes were browned off on the outside, sliced finely and again the inside of the potato was sweet to taste but you still had the earthiness of the potato running through them. 
For the vegetables broccolini and asparagus were well paired and a great accompaniment to the overall main course, but the headliner was clearly the wanderer barley fed beef rib eye which was cooked to perfection and when washed down with that cheeky bottle of Cote de Rhone it was delectable. The Côtes du Rhône Grenache blend with Syrah was a perfect match for this beef which was cooked medium rare and pink2pink perfection as Brian likes to call it.
The Final Cocktail or is it?
We spoke to Naz the restaurant manager after our main course and he said they had 70 covers to prepare for the evenings sold out Valentine's dinner and the staff would be in full prep but we could sit around and take a cocktail or two from Elson the barman who by now was ready to serve us the last of the cocktails from the set menu once we had finished our dessert, that was music to my ears (more on the music later). This cocktail is called the Cupido and consists of Cognac, dark berries jam, citric, brown sugar, chocolate foam and a sprinkling of lavender.
Now I wont spoil here what comes up for the dessert but Elson had known about the dessert upfront and had masterfully paired the final cocktail to match the Sweet Nothings dessert. Elson talked to us about the ideas behind the drink and was continuing to be experimental but keeping in mind the meals overall budget, he spared no expense trust me. 
The 1er Cru de Cognac was by Pierre Ferrand. The Ferrand estate is situated in the middle of the Grande Champagne growing region, Cognac's most prestigious appellation. Cognac Ferrand's headquarters and blending hall are located at the Chateau de Bonbonnet in Ars, France, in the Cognac region of the country. The Chateau de Bonbonnet, now occupied by Cognac Ferrand's Master Blender A. Gabriel, was formerly owned by the Martell family. You really must try a drop of this if you ever have the opportunity.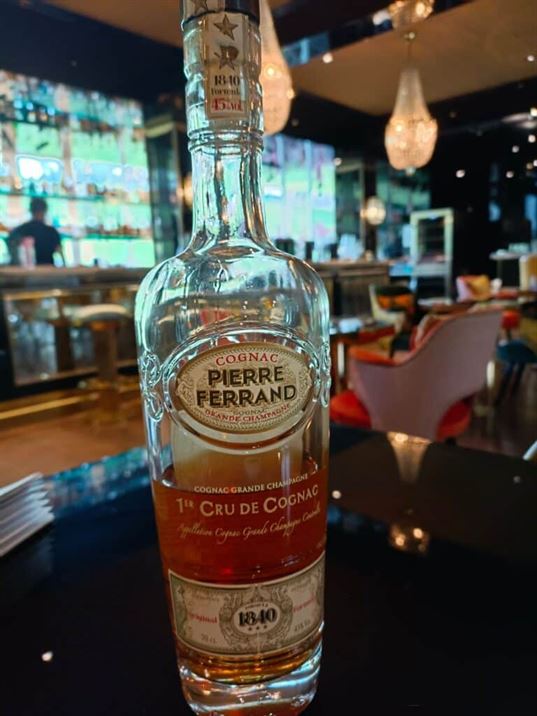 Valentines Day Whispering Sweet Nothings
Now on to the Sweet stuff. Chef Aleka came over to explain her creation called Sweet Nothings and boy had she put some thought into this part of our meal and it was more Sweet Somethings than Sweet Nothings. A Patchouli Vanilla Mousse, Ruby Chocolate Glaze, Cranberry Jelly, Maldon Sea Salt Chocolate Biscuit Base.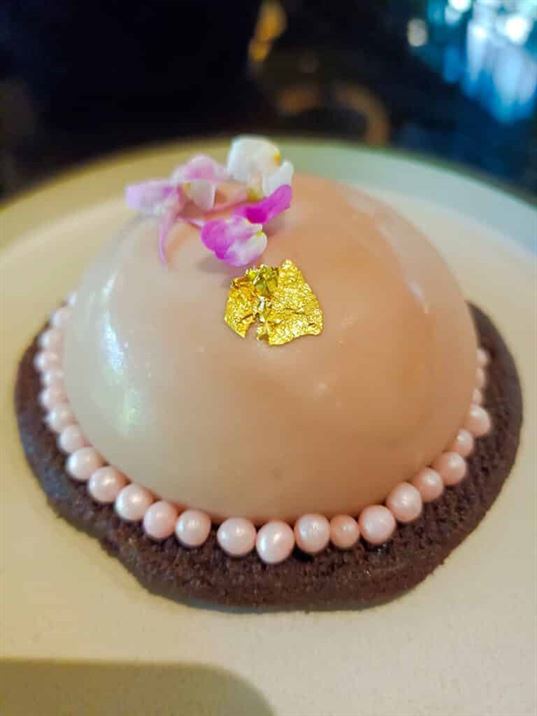 There is more to this Dessert than meets the eye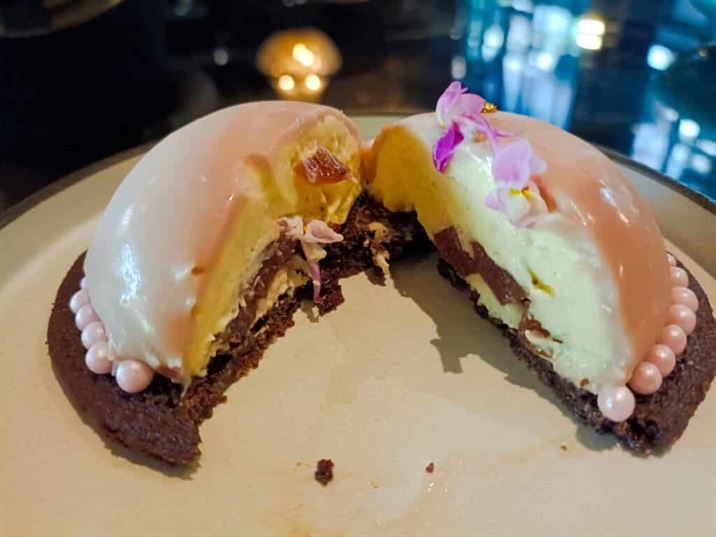 Chef Aleka explains the Patchouli was in fact an aphrodisiac and my wife clearly knew that as she had worn a perfume with Patchouli in it for the day! Double Patchouli whammy! Google Patchouli Aphrodisiac and you will know what it is all about (see also Sprinkling of Lavender in the cocktail above)! But what Chef Aleka did not explain becomes all apparent a little later, so read on!
The dessert was incredible, the perfume coupled with the cranberry jelly sweetness was a perfect match, ringed with a pearl necklace but when eaten together with the Maldon sea salt biscuit base you get a female and masculine dish for an end to a perfect Valentine's Day lunch! Well thought out Chef, bravo!
Valentine's Day – Cocktails and Dreams
Naz came back over post dessert to check in on us and to see if all went well with the meal, the feedback was a much shorter version of the above but Naz was glad to hear we had enjoyed ourselves and offered us an after meal cocktail, handing over the menu I jumped right in and ordered the Scotch Honey (mostly because my wife calls me Honey) plus I like Scotch! 
The wife settled for the Achaar Pickle Fizz, mainly because she likes bubbles but also spicey! The Scotch Honey packs a punch but the honey tones soften the blow. On the other hand, the Achaar Pickles Fizz was not to my liking but the wife was pleased with her choice.
Scotch Honey is made up of Scotch (Obviously), Fernet Branca (which is a style of amaro originating in Italy), Honey (Obviously).
The Achaar Pickle Fizz has Pickled Lime Gin, Chilli & Passionfruit – Singapore tasting drink genius! Beats a Singapore Sling any day for a real taste of Singapore.
By now we had finished the red wine and the last cocktail when Naz offered us a private tour of the venue, only glad to see what else they had to offer we jumped at the chance. Just around the corner was originally a show flat for the property developers to show off their apartments for sale in Bangkok, which you can see from the skyline in the picture below and they had converted this into additional dining areas for guests, a lot had changed since Brian and his family came here before, check out Brian's blog post on Siri House.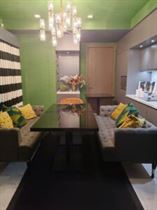 Next up was a collaboration space that a group called Good Vibes had taken over for 3 months (turn away now if you are a prude) but Good Vibes is run by Meryl Lim & Jacqueline Kee who offer sex toys to Singapore through ways that remove the previous taboo topic. 
Good Vibes has a small space adjacent to the restaurant (don't let that put you off, you can't try before you buy). Good Vibes run a small workshop on Wednesday for anyone that's interested. For the record we did not make a purchase and this post is not yet sponsored by Good Vibes (wink/ wink)! 
You can Google Good Vibes yourself and have that turn up in your search history like it does in mine now!
Now this is where Chef Aleka comes back into the picture, Good Vibes has a Bath Bomb called Sex Bomb. Personally I thought it should be called the Tom Jones but I feared the generation gap was too much for everyone that was present. It looks almost identical to the Sweet Nothings dessert, coincidence? I think not!
Siri House Drinks, Drinks and More Drinks
After that little 'hot' tour we are now back at the table and it's circa 4pm, so why not one for the road. We delve back into the menu and ordered a Fools Gold and a Junebug. The Fool's Gold consists of Oloroso Sherry (Oloroso means scented in Spanish), it's a dark and nutty flavoured sherry which by itself is moreish, Orange Caramel, Bourbon, Bitters and that added biscuit on top with the sea salt chocolate mousse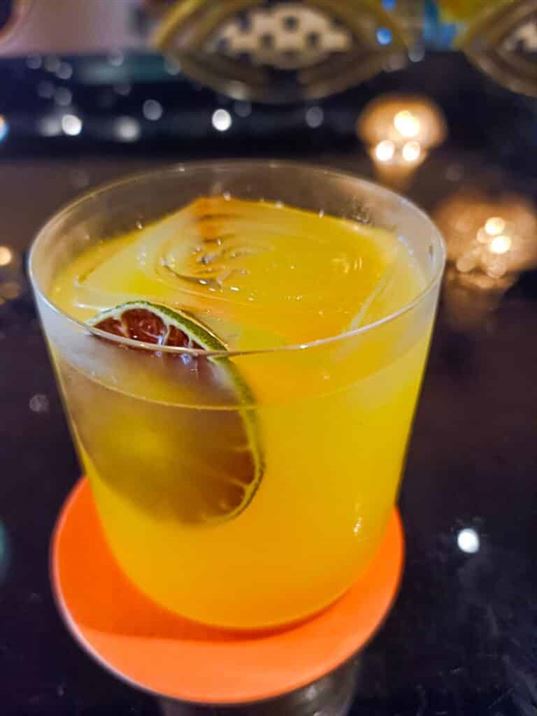 Siri House – Ambient Ambience
Don't think for a moment I forgot about that music, well the play list was everything from John Legend (Wife's favourite), Frank Sinatra, Adele to Sam Smith. 
The team had really thought this through and gone to all the trouble to make this occasion special for anyone that had booked Valentine's Day with Siri House. Whilst only 4 tables took lunch it was a Monday, but they had 70 covers for dinner and this was their day off as well. Valentines is a Day a restaurant should like a Florist make Bank! 
I truly hope Naz and the team managed to deliver on the night as they all deserve a round of applause for a job well done and not just those mentioned in the above post!
Thank you for the incredible lunch and top service levels, we will be back for more!!
Happy Valentines to my Wife, a great lunch with such an amazing lady!
We hope you enjoyed this Siri House Review as much we did at Siri House but if you didn't then make sure you look them up and drop by for an incredible dining experience.
Address: 8D Dempsey Rd, #01-02 Dempsey Hill, Singapore 249672
Phone: +65 9487 1552
Website: https://www.sirihouse.com/singapore/restaurant
Connect with Us on Social Media
(Visited 97 times, 1 visits today)