Stay@Home Recipes: ChillaxBBQ Surf & Turf
As one is now under house arrest and back to work I thought I would start to properly take lunch breaks. My work is spiky busy in the morning getting to the stuff that came in overnight from Europe when sleeping, then another big spike from 16:00 to 22:00 when Europe is awake again. So lunch is on the cards, especially as I have 2-weeks of this in mandatory lockdown quarantine in the condo with the family. Plus I have my brand new SCANPAN gear to get going. So, I feel a series coming on and here is the first of that series ChillaxBBQ Stay@Home Recipes #1.
I am not saying I will get to do this every day of course. But man I think I will be bored shitless, especially over the weekend. I also need to keep idle hands busy as I am also going for a 'dry' 2 weeks in 'the cooler'. So today for the family lunch I made a ChillaxBBQ Surf and Turf and also got Strawberry Blonde to do some video for you.
CLICK HERE folks for some video of the cooking process, and also to see those SCANPANs in action. I am in love with these again, as this is my 1st time actually using them. They are so good, and the knife and the serving platter. Daddy is a happy boy!!!
The video will show you four stages of cooking both the fish and the steak for ChillaxBBQ Stay@Home Recipes #1. It's me crammed into my tiny kitchen being filmed by Strawberry Blonde. Hey, it is what it is, no professional film studio shit here – this is REAL home cooking.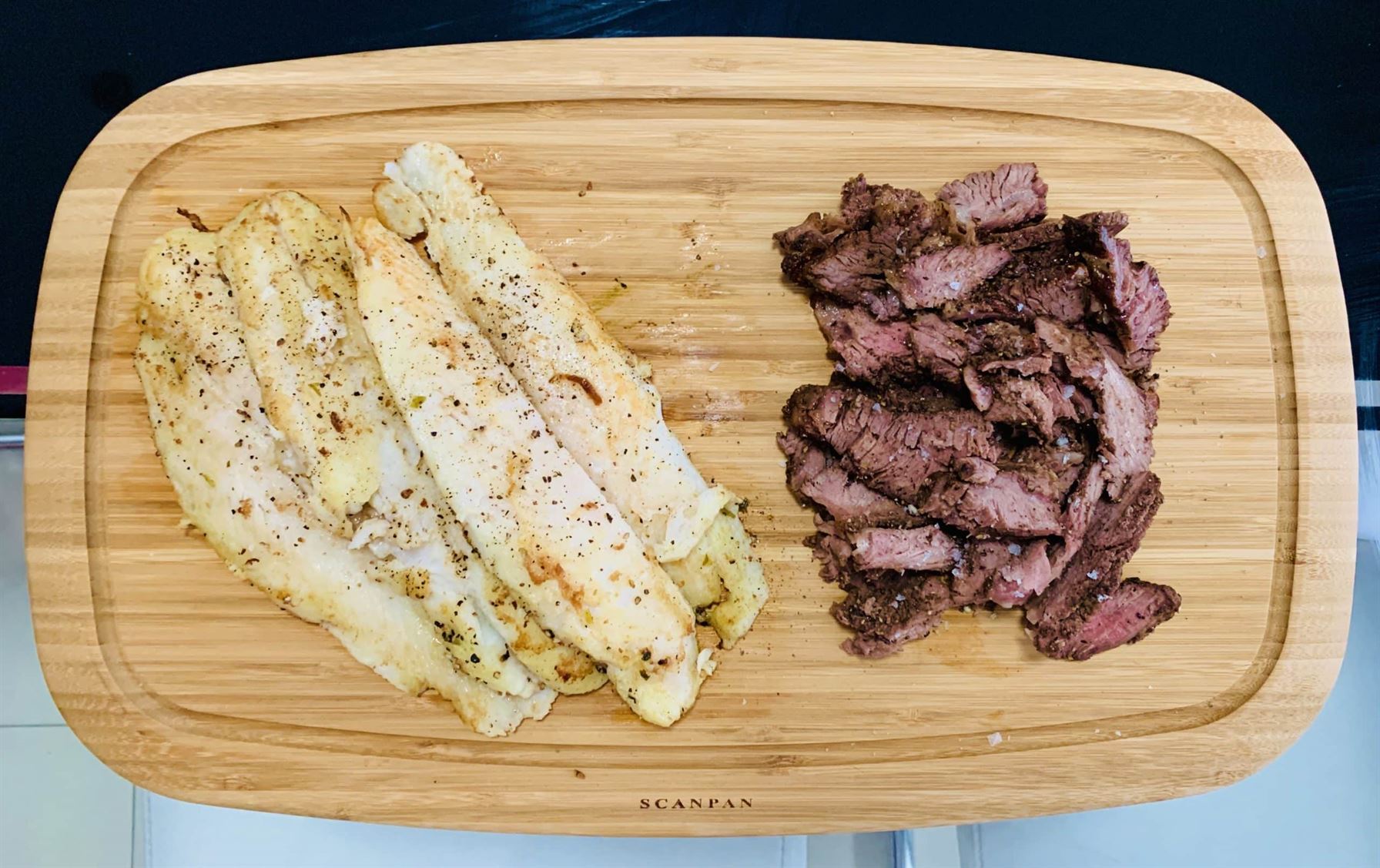 So there it was ChillaxBBQ Stay@Home Recipe: Surf and Turf. I really am delighted with my new acquisitions from my mates at SCANPAN. They rocked today. Best fry pans I have ever had, and I really am not just saying that – they really are. The food came out wonderful. Tomorrow I have the rest of the ribeye on the bone to cook, so watch a blog coming to a website near you soon. Well, basically here on this website.
It's going to be a monster. I am doing something I have never tried before. But just to finish this recipe off for today, please have a crack at this dish. Come on you're likely stuck at home too. Give it a go. It is pretty simple I think you will agree, and I am quietly confident you'll love the combination and the flavours. Just get on with it, you know it makes sense – ENJOY!!!
Is Life a Recipe YouTube Channel