Delhi 6 @ Katong V. Review
Hands up who likes tandoori? Me, Me, Me… If you do, I think I just found one the very best I have ever tried, and it's just down the bloody road too. Amazing. 2 years they have been open and I never heard of them. They are Delhi 6 @ Katong V, at Katong V Mall, #01-12/13. A weird affair as it is almost a cafe, cum restaurant in a mall, but don't let that put you off. It is a die die must try. Believe me. Actually found by my Mary, this little mecca of taste now becomes a Semi-Naked Chef friend.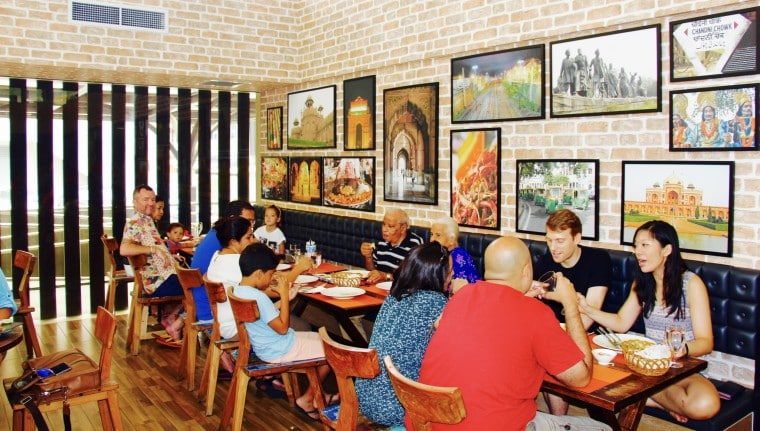 Let me tell you a little about Delhi 6 @ Katong V, as I knew nothing until now. A little plagiarism from their menu and sign board, but hey, I'm sure they won't mind…? These guys are bring back long forgotten food styles and recipes from the North West Indian provinces. During the Colonial times, yes when the white man was being very naughty trying to conquer the world, it was called The North West Frontier Province of Undivided India or TNWFPOUI for short (not!!!). Their very own description of their food style is simply rustic and robust – now I like that a lot.
What else does Delhi 6 @ Katong V say about themselves? They practice a simple cooking style. Marinate sparingly and cook at very high temperatures in a clay tandoor. The secret is is high temperature cooking = charring for flavour, searing of marinades, preserving the flavours, and keeping the meat/fish/vegetables super juicy and tender. And guys these guys knock this style out of the park – you want full flavoursome, smoky, crunchy, charred, juicy/every so juicy meat – you gotta get here. I'll say it again, it is without doubt one of the best to cross these lips – and I've had a few!!!
Now before I start on the food review, let me ask you all a question. iPAD menus? Love/Hate? I love the concept but also I find it bloody hard to 'browse' the menu. I get the digitisation or the order, enhancing service etc. But you know old-fashioned me still likes to browse. Just an observation.
But now to what did we eat – maybe easier to assess what we didn't eat. But here we go;
Or as it is know in the menu as Zafrani Fish Tikka. This dish was gone in the blink of an eye. Mary even commented on the quality of the fish, let alone the amazing taste of the tikka. She really was impressed with this dish. It just looks like it is going to be so good too, and that it was!!!
In fact the very best Gilafi Seekh Kebab I have every had. Back to the keeping the meat moist by cooking it fast and at high temperature. I tell you this lamb kebab was moist, succulent in fact. A balance of spice in there that was to die for. Dip in the yoghurt dip and boom a new level is reached. Damn this was good. This version originates from the Royal State of Oudh. Nicely done Delhi 6 @ Katong V this is a cracker!
I was going to save the best to last, but my fingers couldn't wait to write about this. If you just came for one dish at Delhi 6 @ Katong V come for this. Tis is without a doubt the very very best chicken tandoori I have ever ever had. These are the Tangri Kebabs. Smoky, spicy, succulent. Basically these are SEX in a chicken tandoori form (didn't last long). OMG, I could have eaten plate after plate after plate of these. You simply must try these, you must. You will NOT be disappointed. So flipping delicious. WOW!!!
In comes Amy and Baby Jude now. Not too spicy please was the remit. They ended up with Chandi Murg Tikka, a boneless chicken tikka, low on the spice. Marinated in yoghurt and burnt garlic. Again just wonderful flavours, and so juicy the meat was like butter. Great choice kids. Delicious.
Apart from our Naan breads, a Burani Raiti, a Kulcha Onion and several beers and Lassi's later, this was our last dish. This was Multani Barrah Kebab. Basically a lamb rack cut in to 3 pieces, so two chops per serving. Again marinated and then slung in the tandoor. This actually had cinnamon overtones, quite an incredible flavour to the lamb. Again so moist this thing was dropping. The charred edges gave it a crunch that was just sublime. Again you just gotta try these at Delhi 6 @ Katong V. Winner Winner Lamb Chop Dinner. A must!
You really have to come to Delhi 6 @ Katong V. If you, like me, are a tandoori fan then this is the place for you. I had this taste on my lips for hours after. Sublime, it really was. Still dreaming now of the tandoori chicken, and the lamb chops. OMG. It's certainly on the list for new top 10 reviews for East Coast for me, and it should be on yours. You have to try it.
ENJOY!!!
If you enjoyed this Delhi 6 @ Katong V. review and want to keep up with the channel be sure to Like and Subscribe: ISLIFEARECIPE
Connect with me on Socials:
Not forgetting my personal cooking YouTube channel at The Angmo Cooking Show
You'll see much more family fun, many many other recipes on the channel and heaps of restaurant and hawker reviews too.