Cambodia Killing Fields Curry
Once again great fortune came my way and I departed a few years back on the ongoing experience of a lifetime. Namey, Tabitha Foundation and House Building for the less fortunate in the most beautiful country of Cambodia. This year with my great mate from Melbourne, and a virgin to this experience, Mario. Whilst on a trip to The Killing Fields just outside of the city, we decided to eat at a local hawker-style joint and consumed an amazing curry. Like an OMG moment curry that was so unexpected when you sort of consider where we were. I have called that Cambodian Killing Fields Curry, but believe me this is like no KFC you'll ever have again. You have to get into this one.
The linkage to the Killing Fields is that this tiny little restaurant was in the car park of the Killing Fields, Phnom Penh. I had just been showing Mario around this harrowing place, and we needed to get some air and espied this cool-looking place sitting right there. It was clearly fated!!!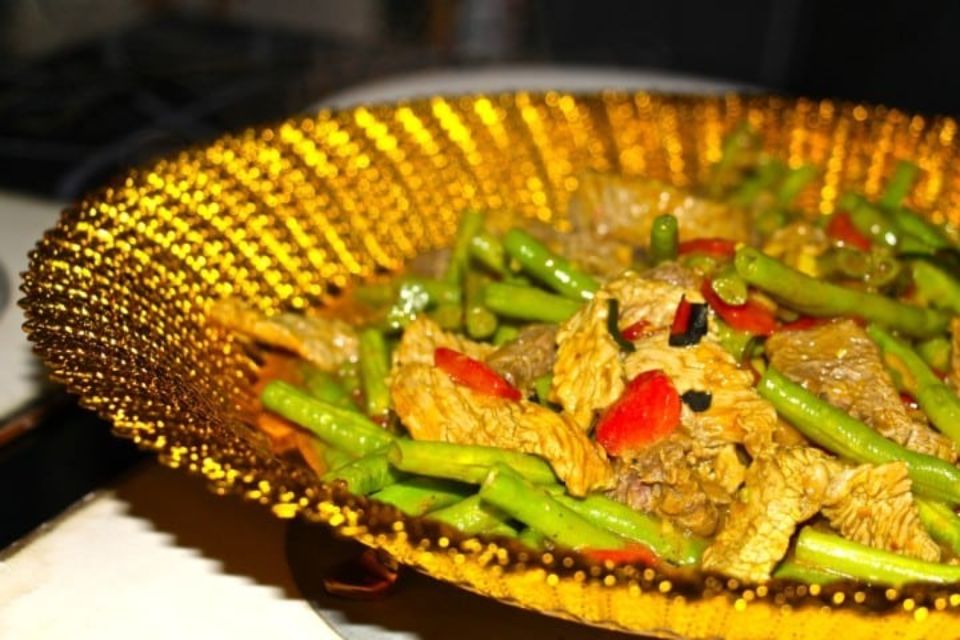 I decided to have some 121 times with Mario, rent a tuk-tuk for the day, and go exploring. What a great day we had. Here we are with our tuk-tuk driver, the husband and wife team, and owners of the restaurant. Pretty damn wonderful people. And incredibly good food that she was churning out as head Chef. It was so absolutely fresh, fragrant and super savoury and all made to order right there and then. As you will see.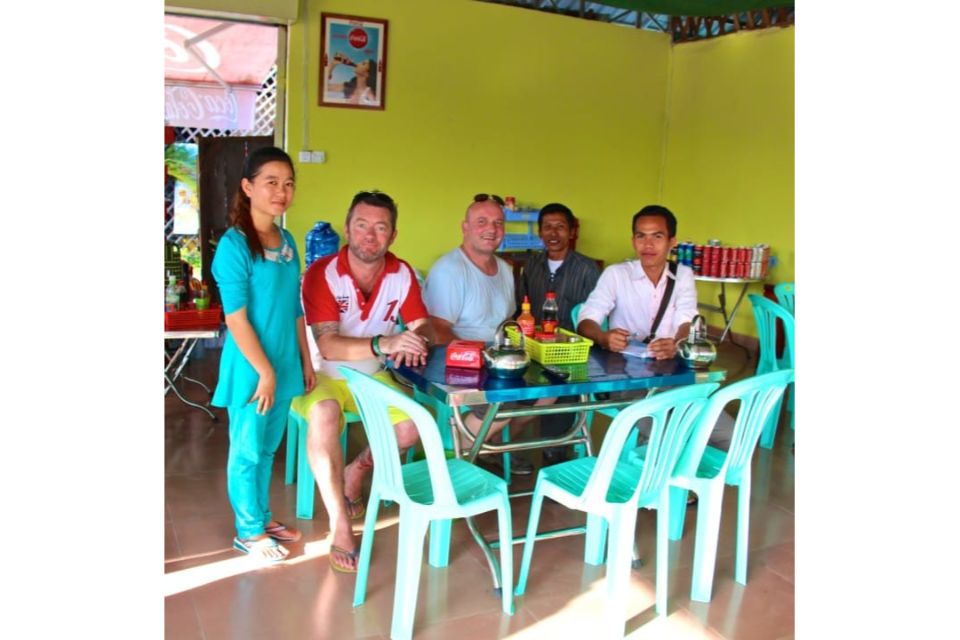 Here is the wife, and cook / Chef. This place was like a sauna, truly, as it was a baking hot day, and the kitchen is a corrugated metal tin room. I still am truly amazed by this young girl, cooking in the intense heat, with very basic tools, but with incredibly delicious outcomes. Absolutely blew me away in fact.
Her husband then said; "Let me get her to cook you my favourite dish…"
So she did – and BOOM!!! Ladies and Gentlemen I now give you my version of that dish Cambodian Killing Fields Curry, in honour of that lovely lady. The picture below is her version, which I have tried to recreate after watching her cook this from start to finish in her shed. It's a cracker!!!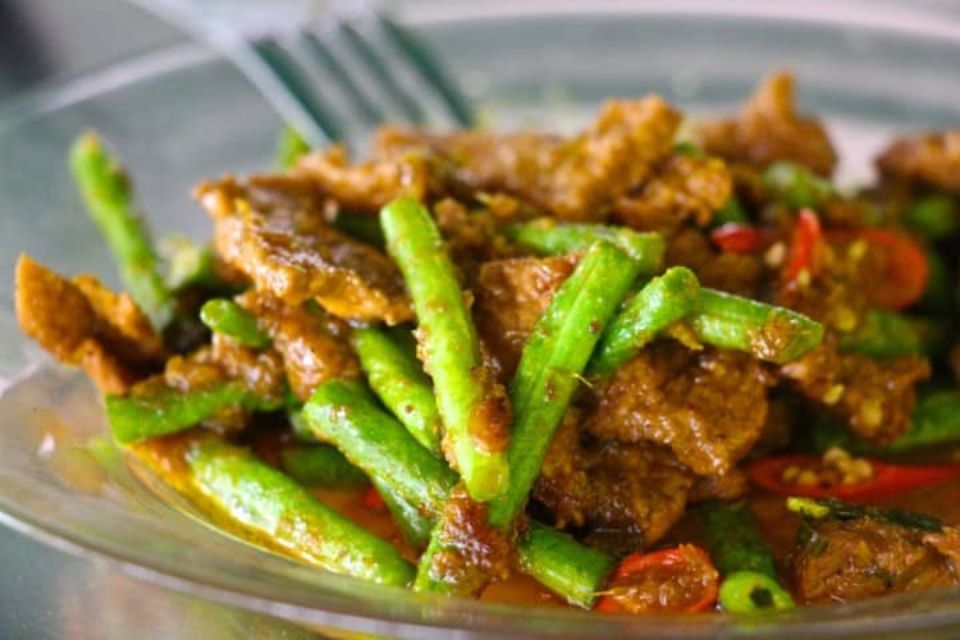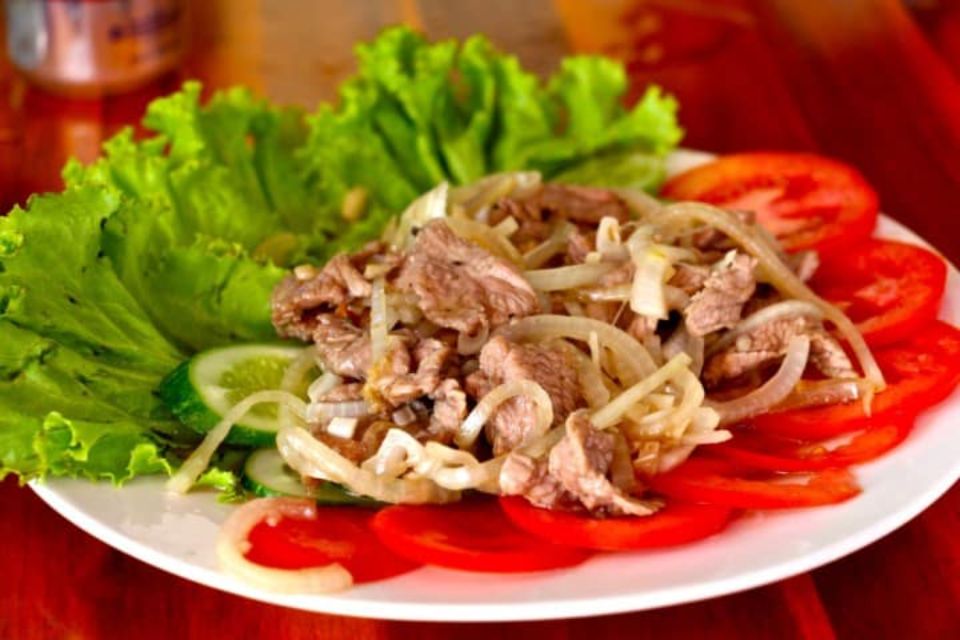 Here is the recipe for Cambodian Killing Fields Curry
Here we go folks -  1st up is the curry paste;
This you will need bash in a pestle and mortar until it is a smooth paste.
2 roughly chopped lemon grass stalks – chop the top and bottom off, and peel a few outer layers of first;
1 good pinch of salt;
2 teaspoons turmeric; and
2 chicken stock cubes.
Throw all these in a pestle and mortar, and bash them up until they are a fairly smooth paste. Have a wee smell of that, YUM. Set this to one side.
2nd up is the main ingredients;
2 rib-eye steaks, thinly slice these and remove a lot of the denser fat. I then bashed with my tenderiser mallet to make that meat soft and buttery when cooked;
2 finely chopped Kaffir lime leaves;
3 finely chopped garlic cloves;
1-inch knob of young ginger finely chopped;
2 tablespoons of fish sauce;
2 cups of warm water;
2 packets of long beans sliced into 4″ lengths;
2 red capsicums – I blackened these on the gas hob, then placed them in a bowl. Cover with cling film. Let these sweat for 5 minutes or so, to make it easy to peel off the black skin and then roughly chop up the flesh;
1 or 2 finely chopped chill padis;
Some corn starch is mixed into cold water to thicken the gravy later; and
Some Ghee or butter.
Bring out your wok, bash it on a high heat and melt that Ghee, and then fry off the paste to release the flavours;
Then I added in the beans, garlic, ginger, chill padi, Kaffir lime leaves, and capsicum and let that go for 5 minutes or so;
Then in with the hot water, and the fish sauce, stir for a minute or two; and
Then in with the beef and fry that off until the meat is cooked through.
I did indeed add a little corn starch to thicken up the gravy. I popped that into a communal serving bowl. I could have sprinkled some fresh herbs on top, maybe even a little coconut cream, but I really wanted to keep it to what I witnessed that day in Cambodia. I think the photo similarity reflects that.
Serve with some plain white rice, and sit back and await praise.
You have finished now there is your Cambodian Killing Fields Curry.
This is a BELTER, and I would not have been able to create it without the lovely lady. You are just going to love this recipe, my Cambodian Killing Fields Curry.
ENJOY!!!
Address & Telephone Number
Due to Covid we have not been back for house building with our friends at Tabitha Foundation sadly. Hoping that we can fix that in 2022 or 2023. So, I could not tell you if that little restaurant is still there. It was heavily reliant on tourists, due to its location. I just hope they survived. One thing you'll learn about Cambodians is that they are one resilient country of people. Just show the below to your tuk-tuk driver.
ផ្លូវជើងឯក, Phnom Penh, Cambodia
More details about the Killing Fields of Phnom Penh
Choeung Ek is the site of a former orchard and mass grave of victims of the Khmer Rouge – killed between 1975 and 1979 – in Dangkao Section, Phnom Penh, Cambodia, about 17 kilometres south of the Phnom Penh city centre.
Open every single day of the week from 07:30am – 17:30pm
Phone: +855 23 305 371
Here are some more ISLIFEARECIPE Cambodia recipes and curry recipes for you to enjoy...
I cannot say enough how much this will change your cooking life, but it will. It is Unesco Heritage protected and it is THE BEST PEPPER ON THE PLANET, so floral and fragrant – it is

Kampot Pepper from Cambodia

Cambodian Fish Curry in a Coconut

– another dish I learned to cook in Phnom Penh when I attended a cooking school one year
A massive family favourite, and one that appeared in the cookbook I write to raise money for the Tabitha Foundation, this is

Cambodian Chicken Pomelo Salad