Blu Jaz Cafe @ Bali Lane
We have not been to this area for an age. My tattooist, Derrik, moved from Haji Lane, and work moved from Gateway Towers, so we have had no real reason to be down here. But today I was visiting the boys at Hounds of the Baskervilles, for a wee beard trim and we decided to have dinner at my old favourite haunt; Blu Jaz Cafe @ Bali Lane.
So glad we did this. It was packed to the rafters for the 3-4 hours we were there. Mobbed in fact. This whole area has become the hipster place of Singapore, and we will be back for sure. We had dinner here, and it was really good, like really good.
Ollie went for the Beef Shish Kebabs and he said they were excellent. They look bloody good.
Mary and I chose the dish that looked most like a kebab. These little beauties are called Lamb Shawarmas. I when I say beauties I mean that most sincerely. They look incredible, and taste sublime. Drizzled generously with a smoky chili sauce that sure pack a punch, and packed with moist, tender lamb, shredded lettuce and tomato. Blu Jaz Cafe @ Bali Lane, great job on these.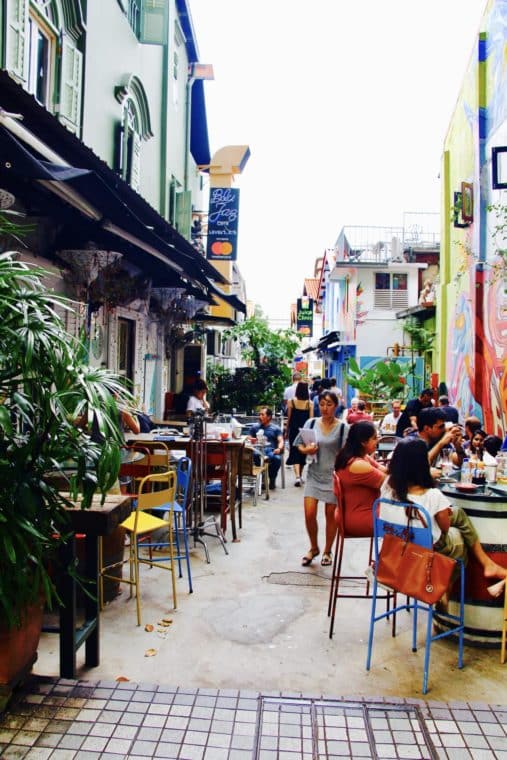 So come on down folks. Come to Bali Lane, Haji Lane and the laneways criss-crossing them. It truly is hipster for the locals, and packed with tourists snapping photos continually. It's brilliant, almost London suburb feeling to it, and if I were you I would get myself sat down at Blu Jaz Cafe @ Bali Lane, grab a beer and a Lamb Sharwarma and people watch until you drop!
ENJOY!!!
If you enjoyed this Blu Jaz Cafe @ Bali Lane post and want to keep up with the channel be sure to Like and Subscribe: ISLIFEARECIPE
Connect with me on Socials:
Not forgetting my personal cooking YouTube channel at The Angmo Cooking Show
You'll see much more family fun, many many other recipes on the channel and heaps of restaurant and hawker reviews too.