Lapsang Souchong Tea Noodles
How quick is this dish to make. This is my Lapsang Souchong Tea Noodles. Sounds a tad exotic right – cooking with tea. It could not be simpler.
This Lapsang Souchong Tea Noodles dish is a "blink and you'll miss it" dish. This is banging it really is. So quick and yet so very delicious. In seconds! I hope you have a tea-pot? If not a normal saucepan will do.
This is enough for 3-4 people – you will need;
1 litre chicken stock;
Chicken stock concentrate;
2-3 Lapsang Souchong tea-bags;
A handful of young ripped up celery leaves – the light green coloured leaves;
2 diced tomatoes; and
A handful or two of vermicelli noodles simply blanched for a minute in some boiling water.
Boil the stock and pour into a tea-pot with the tea bags. Add in some chicken stock concentrate, about 3 tablespoons should do. In individual bowls, place some of the celery leaves and the tomato pieces. Blanch the noodles in some boiling water and add those to the bowl.
When you are ready serve the bowl with the tea-pot and a strainer. Then simply pour the chicken and tea soup over the tomatoes and celery leaves. This will cause them to cook slightly, wilt slightly but whilst retaining a nice crunch too.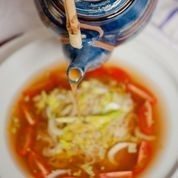 Yep, told you not to blink as Lapsang Souchong Tea Noodles, is a fast fast dish. A fast dish to both prepare and to eat. It's a cracker guys, it really is, and so impressive when you serve with the teapot all restaurant like. Give it a go – ENJOY!!!