Fish in a Blanket – Lemon Sole in Pastry
One for the ladies today. My ladies that is. A lovely light lunch. Quite lovely to look at I think. Very healthy and all from the fridge and freezer so absolutely Bill Wallace Friendly. This fish comes from Australia and is a beauty of some Lemon Sole from our Partners and BFF's at Orca Marketing. Have not had my hands on a Lemon Sole since living in the UK. It's a delicate fish, so I thought I would protect it in some pastry. And that is as simple as a recipe invention is sometimes, and how I came up with ChillaxBBQ Stay@Home Recipes #37 – Lemon Sole in Pastry.
You will need the following for 2 people serving;
2 Lemon Sole fillets – about 250g
1 fresh lemon, sliced thinly and de-pipped
4 sprigs of fresh Thyme
1 sheet of frozen short-crust pastry
Black truffle Oil – or equivalent – mine is in a spray can
Sea salt & cracked black pepper
It's as easy as 1, 2, 3…
Rinse the fish fillets clean water and pat them dry with some kitchen towel
Season with sea salt & cracked black pepper on both sides
Spray with the black truffle oil on both sides
Lay down the pastry sheet and wait for it to soften as it thaws
Pop the fish fillets on top of each other in the middle of the pastry sheet
Lay half the lemon slices on top of the fish and 3 sprigs of Thyme
Fold the pastry up over the fish and seal it gently with your fingers into a parcel
Spray the outside of the pastry with truffle oil and lay that down on some foil in a baking tray
Pop that in the oven for 15-20 minutes at 190 until the pastry is nicely browned
Plating
That's it folks – it doesn't get much easier than that right?
Take it carefully off the baking tray and serve on a platter with the remaining lemon and Thyme – it's a Chef thing;
Slice this as per the photo and get it. on a plate for eating.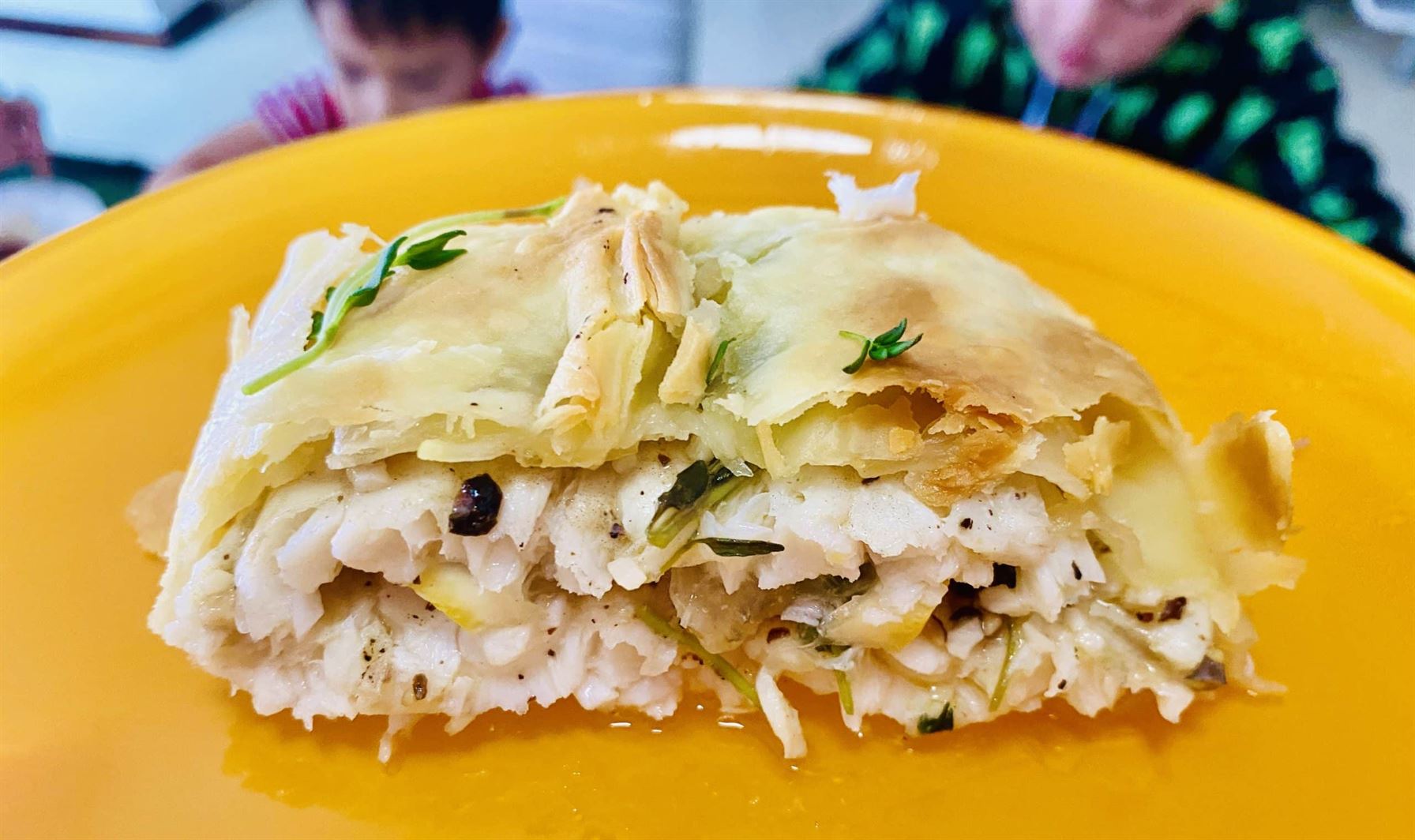 ChillaxBBQ Stay@Home Recipes #37 – Lemon Sole in Pastry was yet again a cracking new recipe. Such an easy dish to prepare, cook and serve too. And when plated she is a beauty, that I am confident will impress the dining guests of your cooking prowess. Give it a go. Follow the steps. It really is easy and it clears out some space in your fridge and freezer too. I really do love cooking fish, if only I could bloody well eat it. Damn it. Anyway, I hope that you can and do eat fish, and if you do then please – ENJOY!!!
Connect with Us on Social Media