Chanrey Tree, Siam Reap
Thanks to Mark and his mate for recommending this joint. What an absolute cracker it is guys. We came to Chanrey Tree, Siam Reap for a late lunch. A late lunch that turned in to one of the best meals of the holiday. Read on folks. I would suggest that you book ahead if planning an evening meal. This place is likely to get mobbed later in the evening. It was not too bad at 1330 when we arrived. We were dusty, sweaty and tired after a full morning at Angkor Wat, but what a morning that was, see here.
Reach out to them here;
+855 63 767997 or info@chanreytree.com
This place is a bit of a complex actually. Well small complex. You have Chanrey Tree – Khmer Cuisine, next door is Sokkhak River – French Fusion, and behind is Sokkak Boutique Resort & Spa. Nice. A really up market place this. Price-wise was OK in comparison to Singapore, but maybe you would expect cheaper in Cambodia. But the food sung out to us and made the USD investment very much worthwhile. I would say Chanrey Tree, Siam Reap is a must do when visiting Siem Reap, and I hope you will understand why from the below.
Here we go for what was a truly amazing lunch!
Al Fresco of course. Hot but no humid here in Cambodia, so any offer of sitting outside is welcomed with a positive – YES please! This place is uber cool, very funky indeed.
Come on check that dish out, how beautiful is that? Prawns from a place called Sihanoukville, stir fried with calamari and green (un-roasted) Kampot pepper, garlic and onion. Even as a no-fish lover, I have to say this looks absolutely incredible and so so tempting for me to 'convert'.
Kampot pepper goes in to pretty much everything. It is a black, white, red and green peppercorn depending on how it is roasted. The pepper is floral. Give the pepper a good smell to test the floral tones before you throw it in to your food. It is, quite literally, the very best pepper you will will ever buy. Go to the Old Market and hunt down stalls that sell this by the kilo. Ollie found one for me and we purchased a Kilo for $10 USD, which is a STEAL, believe me.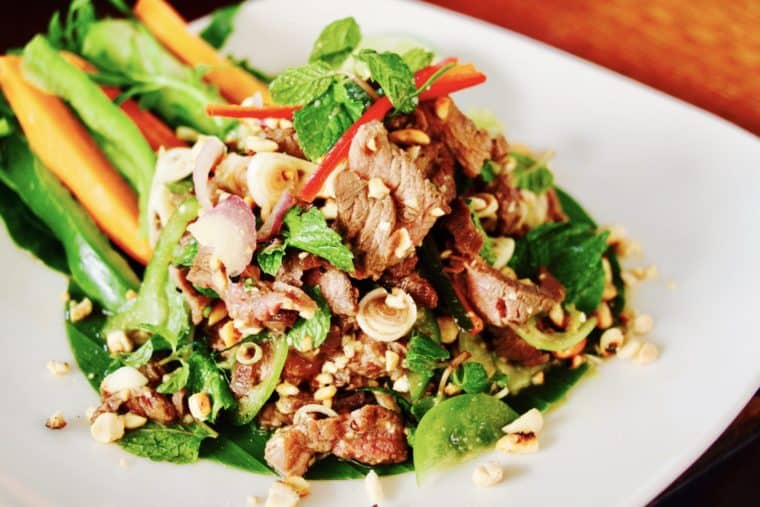 Chanrey Tree, Siam Reap's Cambodian Beef Salad is awesome. Grilled tenderloin beef, lemon grass, garlic, shallots, roasted peanuts, fresh fresh herbs with a Khmer dressing. This dish is sweet, sour, savoury and spicy. Goodness me this was intense and so delicious. It is a must try!
I tell you what, for some of the best vegetables you will ever eat, make sure you order this dish! It is quite literally insanely good. The stalks reminded me of my favourite vegetable dish here in Singapore, broccoli stalks that have been steamed in garlic and a light sauce. You must try this one if you are eating here!
Taking the normal Cambodian Spring Rolls and deep frying them to change the dish to something different. They also change the ingredients to reflect the different cooking style…
In to these puppies goes; cooked minced pork, chicken, river shrimps, rice noodle, taro, yum bean, lime leaves, carrot and coconut. All served up with a lemon grass and peanut sauce, and deep fired rice noodles. Yummo!!!
This came out and received ooohs and aaahs from the table. How good does this look. This has minced pork, Khmer fermented fish paste, coconut cream, tamarind, Kaffir lime leaves, galangal accompanied by a steamed vegetable crudite. Come on Chanrey Tree, Siam Reap you are knocking it out of the park guys!!!
This was the Cambodian Beef Skewers. Sorry to say Lagoon Hawker but you have been surpassed. If you want to have the very best beef satay you will ever have in your life, jump on a flight right now and come to Chanrey Tree, Siam Reap right now. Deep- fried marinated beef fillet with Khmer paste, peanuts, wrapped in pork belly, long beans and Kamplu leaves and served with a green papaya pickle and roasted tomato relish. Holy shit, this was incredible. Beef butter and explosive flavours. Lagoon Hawker will never be the same!!!
Oh boy. I think you know me by now. I am not a sweet dessert lover, but bring on savoury any day of the week. And this one achieved that on steroids. Khmer white sticky rice, with ripe and juicy mango, accompanied by Jackfruit and Longan with a sticky gooey sauce. Heaven, absolutely bloody heaven!
So my friends at Chanrey Tree, Siam Reap, you are getting a massive thumbs up from the Kennett clan. Our lunch today was exceptional. We will be back again and again when we frequent Siem Reap again, and believe me we will be singing your praises for others to visit who are there or coming. It was just a wonderful meal. So to the readers of this, make sure you try. Thanks to Mark and mate for the recommendation. Now to you to – ENJOY!!!