Thai Beef Satays
I made these for a mate's BBQ once and his wife asked, nay demanded that I share the recipe. And here is that recipe for my Thai Beef Satays duly shared. Pia this one is for you. I made this one up to be Thai in style so that hot, sweet, sour experience a going on of course. If you are having a BBQ I reckon you should whack these on as you will seriously get some head-turning and questions on who cooked these, and how – just as I did this day.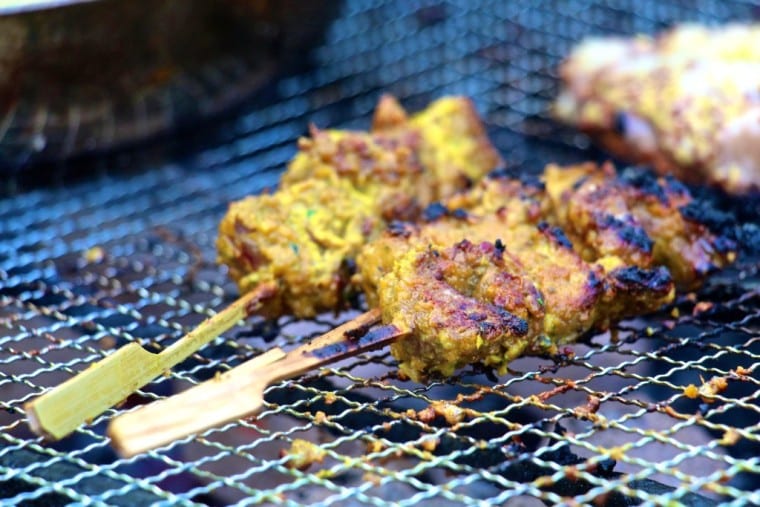 Here you go Pia – the Thai Beef Satays recipe for you. There are three elements to this dish, the satays, the meat and the dipping sauce.
I'll start with the dipping sauce. Simply mix together in a serving bowl;
1 cup of plum sauce;
2 tablespoons lime juice; and
A handful of crushed salted peanuts (pestle and mortar time, or bash them in the bag with a rolling pin).
Now the meat;
Take 3 beef flank steaks and give them a good bashing with your tenderiser hammer. Slice these across the grain quite thin, and then feed them onto bamboo skewers or the metal ones, and lay them in a roasting tin. Now if you are using bamboo skewers make sure you soak them in water first to stop them burning so fast when on the BBQ. You'll probably get about 20 individual satays with these ingredients, so soak 20 skewers for my Thai Beef Satays.
Now to the meat marinade;
If you could leave this overnight to would be the very best flavour outcome, as the marinade will really soak into that meat and also tenderise it. But if not, just try to marinate for as long as possible. Also tenderising the meat will help let the flavours get in there too as it breaks the fibres apart somewhat.
In to a blender goes;
3 small red onions, just give them a rough chop first;
5 garlic cloves, again just give them a quick chop;
2 cups of coconut cream;
1 packet of Thai yellow curry paste (yep cheating);
1″ knob of young ginger, simply peel it and roughly chop;
5 roots of coriander, you can get these at most supermarkets – but ask for Chinese Parsley and they usually come with the roots still attached. Peel off any muddy bits and chop roughly;
1 tablespoon of dry coriander spice;
1 tablespoon of ground cumin;
1 tablespoon of ground turmeric;
2 tablespoons of Olive oil;
2 tablespoons of light soy;
1 tablespoon of fish sauce;
2 good pinches of salt; and
2 good pinches of sugar.
Blitz all that up in your blender until it is smooth-ish in texture. It really does not need to be super smooth for my Thai Beef Satays because you want them with little bits stuck to them, as these will char when you cook. Remember the last satays you had from your hawker, well folks here they are. Pour this marinade all over your beef skewers. Cover with silver foil and whack in the fridge for as long as you can. Let that soak in to those little beef bundles.
When you're ready for your BBQ take the meat out of the fridge and let them warm up to room temperature, as you don't want to be cooking meat from cold. Fire up the coals and get them on. They should only take minutes to cook through due to the tenderising and thickness of the meat. We like ours with a little char for extra flavour. Thai Beef Satays are soon to be with your guests.
Crack a cold beer open as soon as you start to consume.

Beer+Thai Beef Satays = An absolute must! This is an absolute belter, and I demand you cook it for your next BBQ, my friends. It is shiok. It is winner winner Thai Beef Satays dinner. I loved this one and will do this again and again. ENJOY!!!