An Introduction to Cambodia for Beginners
Welcome to our comprehensive guide to Cambodia tourism, where we invite you to explore the richness and cultural heritage of the Kingdom. Cambodia, located in Southeast Asia, is a captivating country renowned for its ancient temples, vibrant traditions, stunning landscapes, and warm hospitality. In this article, we will delve into the enchanting attractions, historical wonders, travel tips, and essential information you need to plan an unforgettable journey to Cambodia.
Unveiling Cambodia's Cultural Treasures
Ancient Temples of Angkor
At the heart of Cambodia's tourism lies the iconic Angkor Archaeological Park, a UNESCO World Heritage Site and one of the most magnificent archaeological wonders in the world. The park is home to the awe-inspiring temples of Angkor, including the world-famous Angkor Wat, Angkor Thom, Bayon Temple, and Ta Prohm. Marvel at the intricate stone carvings, imposing architecture, and mystical atmosphere as you step back in time to the Khmer Empire's golden era.
A guide to Temples of Angkor
Angkor Wat is the epitome of the Khmer Empire's architectural genius, a statement of their power, faith, and culture. Constructed under the reign of King Suryavarman II between 1113 and 1150, this temple is the world's largest religious monument and is recognised as a UNESCO World Heritage Site.
Angkor Wat is uniquely oriented to the west, contrary to the common eastward direction of other temples. This led scholars to infer that it served both as a temple and a mausoleum for Suryavarman II. This dual purpose is reflected in the intricate bas-reliefs and carvings which cover almost every inch of the temple. However, it's worth noting that the King was not laid to rest here, as he fell in battle.
The temple is famed for over 3000 individual apsaras, or heavenly nymphs, etched on its walls, each boasting a unique form and hairstyle. Over time, these carvings have been damaged, but they are currently under restoration by the German Apsara Conservation Project.
Our journey takes us next to Angkor Thom, the fortified city that was the last and enduring capital city of the Khmer empire. Established in the late twelfth century by King Jayavarman VII, this city includes several popular and historically important temples and structures.
The most notable among them is the Bayon Temple, positioned at the very heart of the city. The Bayon is known for its multitude of serene and massive stone faces on the many towers which jut out from the upper terrace and cluster around its central peak.
Moving on, we visit the atmospheric temple of Ta Prohm. Unlike most Angkorian temples, Ta Prohm is left in much the same condition in which it was found: the photogenic and atmospheric combination of trees growing out of the ruins and the jungle surroundings have made it one of Angkor's most popular temples with visitors.
One must not forget that Angkor's beauty isn't solely derived from its temples. The site also boasts a massive water management system of artificial canals, dikes, and reservoirs. These marvels of engineering formed an integral part of the overall site design, remaining faithful to religious symbolism.
The Angkor complex's story is one of glory, grandeur, and eventual abandonment for reasons yet unknown. Despite theories suggesting defeats in battle or shifting religious practices from Hinduism to Theravada Buddhism, the mystery remains unsolved.
Remember, there's more to Angkor than can be expressed in words. As you wander these sites, take a moment to appreciate not just the magnificent architecture, but also the enduring tales of Cambodian history and legend. The whispers of the ancient stones and the rustle of the sacred forest are waiting to share stories from a long-lost era.
Cambodian Food Culture
Cambodian cuisine, a culinary tradition that's often overshadowed by its more famous neighbours but is distinctly delightful in its own right. With a wide array of unique and flavourful dishes, Cambodian food reflects a rich blend of history, culture, and the local abundance of fresh ingredients.
Undeniably, the heart of Cambodian cuisine is rice, be it in the form of the steamed rice served with almost every meal, or 'Bai Sach Chrouk', a popular breakfast dish comprising of tender grilled pork and rice. Other favourites include 'Fish Amok', a creamy curry-like dish traditionally steamed in banana leaves, presenting an explosion of lemongrass, turmeric, and kaffir lime flavours.
Then there is 'Lok Lak', a delicious stir-fried beef served with a tangy lime and pepper sauce, often accompanied by a bed of fresh greens and a side of rice. Not forgetting the famed 'Kuy Teav', a noodle soup typically served with pork or seafood and a lavish assortment of herbs.
For those who crave a crunchy bite, the Cambodian deep-fried spring rolls, 'Cha Gio', stuffed with a mix of minced pork, vermicelli and vegetables, are a must-try. Similarly, 'Nom Banh Chok', also known as Khmer noodles, provides a refreshing burst of flavour with its delicate rice noodles topped with green curry and an assortment of fresh herbs.
And for a sweet finish, indulge in 'Num Chak Kachan', a layered dessert of coconut milk, tapioca, and pumpkin, or 'Borbo Skor', a Cambodian-style caramel flan. These delightful desserts epitomise the fusion of simple local ingredients to create something utterly delightful.
Cambodian food is an unforgettable journey of diverse textures, fragrances, and flavours, each dish echoing the nation's rich culinary heritage. To truly know Cambodia, one must savour its cuisine, a vibrant symphony of taste that beautifully mirrors the spirit of this charming Southeast Asian nation. WE wont dig deeper into this topic as we have many pages (see links below) and more content to follow on Cambodian food.
Cambodia Travel – Best Places to Visit
Cambodia, of markets and insects
Cambodian Killing Fields Curry
Cambodia's Captivating Cities
Beyond the ancient temples, Cambodia boasts vibrant cities brimming with culture, history, and modern developments. Phnom Penh, the capital city, offers a blend of traditional markets, colonial architecture, and significant historical sites like the Royal Palace and the sobering Tuol Sleng Genocide Museum. Siem Reap, the gateway to Angkor, captivates visitors with its charming Old French Quarter, bustling markets, and a lively nightlife scene.
Cambodian Cities to Visit
Phnom Penh
The capital city of Cambodia, Phnom Penh, offers a fascinating blend of the traditional and the modern. Visit the grand Royal Palace, the sobering Tuol Sleng Genocide Museum, and indulge in a rich culinary experience with numerous restaurants, bars, and cafes. A boat trip along the mighty Mekong and Tonle Sap rivers is also a must.
Exploring Phnom Penh, the capital city of Cambodia, can provide a unique experience rich in history, culture, and tradition. From the grand Royal Palace to the sobering Tuol Sleng Genocide Museum, a variety of tours are available to suit different preferences and interests.
A variety of guided tours are offered, allowing you to explore Phnom Penh. The options are broad, from adventure type groups, private, to self-guided tours. Some tours focus on different themes such as exploring, river cruising, in-depth cultural tours, and even more niche ones like hiking, trekking, and culinary experiences. The tours can be fully guided, partially guided, or self-guided and are available in various languages including English, German, French, and Spanish.
For a more personalised experience, ToursByLocals offers tours guided by locals. They offer 13 unique and customisable tours, providing an opportunity to experience Phnom Penh through the eyes of a local. These tours cover city trips, out of town adventures, first-time visitor experiences, food and wine excursions, hiking and walking activities, and museum/cultural and religious heritage tours.
Some of the best tours in Phnom Penh, based on traveller feedback include sunset cruises, bus tours, full-day tours, cooking classes, shore excursions, and night tours. These tours come with a flexible cancellation policy, allowing a full refund up to 24 hours in advance.
While in Phnom Penh, don't miss out on a boat trip along the mighty Mekong and Tonle Sap rivers. Savour the local cuisine by indulging in the city's rich culinary scene with numerous restaurants, bars, and cafes. Whether you're a history enthusiast, a foodie, or a nature lover, Phnom Penh has something to offer every traveller.
Siem Reap
The city of Siem Reap is the gateway to the magnificent temples of Angkor, a UNESCO World Heritage Site. Despite its popularity, Siem Reap retains a charming small-town feel. The city is bustling with cafes, bars, boutique shops, and a vibrant nightlife scene. A visit to the floating villages on the Tonle Sap is highly recommended.
Over the years, Siem Reap has artfully maintained its quaint small-town charm whilst adapting to its increasing popularity. The vibrant life in the city, a beautiful blend of traditional and modern, will leave you enthralled. The aroma of traditional Khmer cuisine wafting from bustling street-side stalls will tantalise your taste buds, while an array of modern cafés, offering you the perfect blend of Cambodian and Western flavours, promise to satiate your gastronomic cravings.
A night in Siem Reap is a spectacle in itself. The buzz of the city's nightlife is infectious. Bars and pubs, alive with the beat of music, thrumming with friendly locals and fellow travellers alike, create a warm, inviting atmosphere. For shopaholics, a multitude of boutique shops are brimming with local arts, crafts, and unique souvenirs – each carrying a tale of this city's rich cultural heritage.
Our journey is not confined to the city's border, though. A day trip to the Tonle Sap lake is a must for any visitor. Here, you can discover the intriguing floating villages that rise and fall with the water level of the lake. Observe the rhythm of life on the water as you interact with locals, who manage a unique aquatic lifestyle with resilience and grace.
However, the crowning glory of Siem Reap is undoubtedly the Angkor Wat complex. As you wander through the ancient stone corridors, you'll find yourself in awe of the intricate carvings and grand architecture that have stood the test of time. Every corner of this monumental edifice has a story to tell, a thousand-year-old tale of an empire that once was. As the rising sun bathes the temples in a surreal glow, you'll understand why Angkor is considered a symbol of Cambodia, a testament to the country's rich historical legacy.
With Siem Reap, every day is a new exploration, a new story waiting to unfold. And as your guide, I promise to unravel the enchantment of this city, one mesmerising experience at a time. Are you ready for the journey of a lifetime? Welcome aboard!
Other Cities and Attractions
Apart from the two main cities, Cambodia offers several other attractive destinations. Battambang, the country's second-largest city, is known for its colonial architecture and growing art scene. Kompong Cham, Eastern Cambodia's largest city, has an attractive waterfront lined with colonial buildings.
For the beach lovers, the country also offers many quiet, paradise-like beaches that will make you feel as if you're on your private beach.
Exploring Cambodia's Natural Beauty
Pristine Beaches and Islands
Cambodia's coastline along the Gulf of Thailand is a hidden gem, boasting pristine white-sand beaches, crystal-clear waters, and a tranquil ambiance. Sihanoukville, a coastal town, serves as the gateway to Cambodia's beautiful islands, such as Koh Rong, Koh Rong Samloem, and Koh Thmei. Immerse yourself in tropical paradise as you relax on sun-kissed shores, snorkel amidst vibrant marine life, or embark on thrilling water sports adventures.
Sihanoukville
Sihanoukville, also known as Kampong Som, is a bustling coastal city in Cambodia, nestled at the tip of an elevated peninsula on the Gulf of Thailand. The city is renowned for its almost uninterrupted stretch of golden beaches and tropical islands, with a growing attraction for individual travellers, students, and backpackers. Here is a guide to help you explore the best of Sihanoukville.
Places to Visit
Beaches: Sihanoukville is famous for its beaches. Otres Beach, in particular, is highly recommended for its clear waters and tranquil atmosphere. You'll find plenty of space here to carve out your own quiet spot by the sea.
Islands: A variety of sparsely inhabited islands, administratively under Sihanoukville, offer a serene escape from the mainland. A moderate level of development on these islands has made them increasingly attractive for backpackers and travellers.
Ream National Park: East of Sihanoukville, you'll find Ream National Park, marked by coastal marshlands and a diverse range of wildlife.
Kirirom National Park: While it's not exactly in Sihanoukville, this national park is worth a visit for its stunning alpine scenery, crisp mountain air, and unique flora and fauna.
Activities
Motorbike Tours: Taking a motorbike into the jungle provides an exciting adventure for those wanting to veer off the typical tourist trail. Prices vary depending on the tour package chosen.
Local Culture
Visit the shrine of Yeah Mao, or Black Grandmother, at the Pich Nil pass on the NR4 south of Kirirom. Cambodian motorists often halt their journey to make offerings at this shrine, believed to protect travellers and fishermen.
Koh Rong Island
Koh Rong is among Cambodia's most popular islands, which is known for its beautiful white sand beaches, placid aquamarine surf, and the vibrant nightlife at Koh Tuch village. Its 78sqkm area is packed with diverse activities, including diving, snorkelling, and jungle trekking. In spite of development plans, many parts of the island remain untouched, offering tranquil solitude.
Koh Rong Samloem
The neighbouring island of Koh Rong Samloem offers a more tranquil environment. Its Saracen Bay, famed for its wide sheltered beaches, hosts small-scale bungalow resorts that blend harmoniously with the surrounding jungle. Further north, the secluded Sunset Beach provides a more isolated experience. While the accommodations can be slightly pricier, Saracen Bay also features budget options.
Koh Thmei Island
Koh Thmei, located off the shore of Ream National Park, is another serene destination. Known for its ecologically-minded setup, the island's resort offers a peaceful retreat. The island is also home to rare bird species and vibrant coral reefs, providing ample opportunities for wildlife observation and snorkelling.
Koh Ta Kiev Island
Koh Ta Kiev, another island close to Sihanoukville, is only an hour offshore. It provides rustic accommodation and camping options, offering a unique and immersive island experience.
The mainland also boasts beautiful beaches, such as those found in Kep and the Otres Beaches near Sihanoukville. However, recent developments around Sihanoukville have reportedly damaged some mainland beaches.
Overall, Cambodia's beaches and islands remain among the most stunning and relatively unspoilt natural treasures in Southeast Asia, offering unique experiences ranging from quiet relaxation to vibrant parties. However, it's worth noting that these pristine spots are facing the threat of future developments, so those wishing to experience them in their relatively unspoilt state are encouraged to do so as soon as possible.
Enchanting Cambodian Countryside
Embark on a journey to Cambodia's enchanting countryside and discover its picturesque landscapes. Explore the stunning rice terraces of Battambang, cruise along the serene Tonle Sap Lake, or embark on a wildlife expedition in the lush Cardamom Mountains. Immerse yourself in the local way of life as you visit traditional villages, witness traditional crafts, and interact with friendly locals.
Sun bears, also known as 'honey bears', reside in the captivating Cardamom Mountains of Cambodia, a biodiversity hotspot known for its dense wilderness and minimal human activity. In these mountains, they use their exceptionally long tongues to extract honey and insects from deep within rotting logs, showcasing their unique adaptation to their environment.
Their black coats, decorated with a light, often crescent-shaped patch, offer perfect camouflage in the mountain's dense tropical rainforests. Despite their dwindling numbers due to deforestation and hunting, these fascinating creatures contribute to the rich biodiversity of the Cardamom Mountains.
Essential Information for Your Cambodian Adventure
Cambodian Visa and Entry Requirements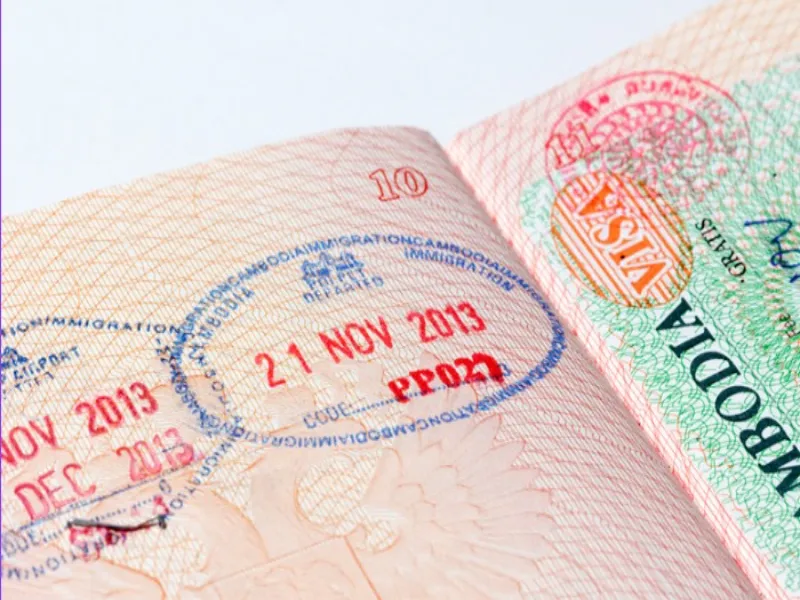 To facilitate travel, the Royal Government of Cambodia has waived certain travel requirements. International travellers arriving in Cambodia no longer need to provide a COVID-19 PCR test certificate or undergo a rapid test upon arrival. Visa-on-Arrival services have also been reinstated for all travellers by air, land, and sea. However, it's important to present a recognized vaccinated card from your respective health authorities. Unvaccinated travellers are still eligible for Visa-on-Arrival but will be subject to a 14-day state quarantine.
Passport: Your passport must be valid for at least 6 months beyond your intended stay in Cambodia.
Visa: You will need a visa to enter Cambodia, unless you are a citizen of one of the following countries, which are exempt from visa requirements:
ASEAN member states (Brunei, Indonesia, Laos, Malaysia, Myanmar, the Philippines, Singapore, Thailand, and Vietnam)
China
Japan
South Korea
Russia
Ukraine
European Union member states
United States
Canada
Australia
New Zealand
If you are not a citizen of one of the above countries, you can apply for a visa in one of the following ways:
* Online: You can apply for an electronic visa (e-visa) through the Cambodian government's website. The e-visa is valid for 30 days and costs USD35.
* On arrival: You can also apply for a visa on arrival at any of Cambodia's international airports or border crossings. The visa on arrival costs USD30 for a single entry and USD35 for a multiple entry.
Other requirements: In addition to your passport and visa, you may also be asked to provide the following documents when entering Cambodia:
A completed immigration form
Two passport-sized photographs
A proof of onward travel
A proof of sufficient funds
Please note that these are the general visa and entry requirements for Cambodia. The specific requirements may vary depending on your nationality and the purpose of your visit. It is always best to check with the Cambodian embassy or consulate in your country for the most up-to-date information.
Here are some additional tips for entering Cambodia:
Arrive early: It is advisable to arrive at the airport or border crossing early, as the visa process can take some time.
Be prepared: Make sure you have all of the required documents, including your passport, visa, and proof of onward travel.
Be patient: The visa process can be slow, so be patient and polite with the immigration officials.
Transportation and Getting Around
Navigating Cambodia is a breeze with various transportation options available. Domestic and international flights connect major cities such as Phnom Penh, Siem Reap, and Sihanoukville. Taxis, tuk-tuks, and buses are readily available for convenient travel within cities. For a unique experience, take a boat ride along the Tonle Sap River or hire a bike to explore the scenic countryside.
Accommodations and Tour Packages
From budget-friendly accommodations to luxurious 5-star hotels, Cambodia offers a wide range of options to suit every traveller's preferences. Whether you're seeking a cozy guesthouse in Siem Reap or an upscale resort in Sihanoukville, you'll find the perfect place to relax and unwind. Additionally, various tour packages are available to help you make the most of your Cambodian adventure, allowing you to explore neighbouring countries and immerse yourself in Southeast Asia's cultural tapestry.
If you're new to this beguiling country, allow me to impart some of my wisdom, particularly on the subjects of accommodations and tour packages that will truly allow you to immerse yourself in this Southeast Asian gem.
First, let's talk about accommodation. In Cambodia, the accommodation options are as varied and enticing as the local cuisine. The country offers everything from wallet-friendly guesthouses and hostels for the budget-conscious backpacker to opulent five-star resorts for those seeking a touch of luxury such as the Raffles Hotel Le Royal. No matter your budget or your preference, you're guaranteed to find something to your liking.
The major cities like Phnom Penh and Siem Reap boast a wide array of choices. You'll find a selection of boutique hotels, furnished with local artefacts, nestled in bustling streets, and luxurious resorts that offer tranquillity amidst verdant gardens. For a more relaxed seaside sojourn, Sihanoukville is known for its high-end beachfront resorts. Regardless of where you choose to stay, Cambodian hospitality is universally warm and inviting, ensuring you have a comfortable base to return to after a day of exploring.
On to the subject of tour packages, there is a wealth of choices on offer. Whether you're looking for a short and sweet trip that hits the major highlights or a lengthy, in-depth journey, you'll find a tour package that suits your needs.
Budget and duration can greatly vary, with daily rates ranging from $85 for a 10-day adventure, $119 for a 6-day excursion, or even $195 per day for a truly luxury experience. The options are almost limitless, so you can choose the one that suits your style and travel objectives. A noteworthy feature of many operators is their flexibility: many allow you to rebook your dates or tours for free, waiving change fees. This is incredibly useful in these unpredictable times!
If your interest leans towards a culturally immersive experience, you might consider fully guided tours which are designed with different adventure styles in mind. These range from in-depth cultural tours, river cruises, to hiking and trekking adventures. The age range of travellers also varies, so you'll surely find a group that you'll blend right into.
Lastly, while enjoying your trip, it's crucial to respect local customs and traditions. Cambodians are generally liberal towards travellers, but modest dress should be adopted, especially when visiting temples or monasteries. When entering religious buildings or even guesthouses, it's polite to remove your shoes. Please remember that ethical tourism is highly valued, so avoid giving out pens, sweets or money, as it fosters a 'beggar mentality' that can harm local societies
Do you need Travel Insurance for Cambodia?
There are several reasons why you may want to consider purchasing travel insurance for a trip to Cambodia:
Unpredictability of International Travel: Travel insurance provides coverage for potential disruptions or mishaps that might occur during your trip. These disruptions can include travel delays, missed connections, or even sudden changes that necessitate an early return home. Though travel insurance isn't required to enter Cambodia as of April 25, 2022, it's always a prudent choice considering the uncertainties associated with any international travel.
Healthcare Coverage: Travel health insurance for Cambodia typically includes coverage for emergency medical treatment, dental care, medical evacuation, and provides access to 24-hour traveller assistance hotlines. This is especially important as healthcare facilities and standards in Cambodia may not be as robust or high quality as you're used to in your home country.
Reimbursement for Lost Baggage or Other Unforeseen Expenses: Travel insurance can provide reimbursement for lost baggage, which can be a significant issue particularly on international trips. It can also cover various other unforeseen expenses that might arise during the course of your trip.
Covering Special Concerns: Insurance plans can be customised to address specific concerns such as coverage for pre-existing conditions or special activities. For instance, if you're planning to ride a motorcycle or motorbike during your trip, there are specific coverage options that you might want to consider.
COVID-19 Coverage: In light of the ongoing global COVID-19 situation, travel insurance plans such as the one offered by Grab, provide additional COVID-19 benefits. These benefits reimburse you for trip curtailment, overseas hospital confinement, and other quarantine benefits.
**Bear in mind that the cost of travel insurance for Cambodia will depend on a variety of factors including the duration of your trip and your age. However, considering the potential risks and associated costs with international travel, having travel insurance can provide invaluable peace of mind.
Cambodia Travel Guide Conclusion
Cambodia, with its ancient temples, captivating cities, natural wonders, and warm-hearted people, offers a remarkable travel experience. From the awe-inspiring temples of Angkor to the pristine beaches and charming countryside, this Kingdom has something to enthral every traveller. Embrace the rich history, immerse yourself in vibrant traditions, and embark on unforgettable adventures in this extraordinary Southeast Asian destination. Plan your trip to Cambodia today and unlock the hidden treasures of this enchanting land.