Jamon Scrambled Eggs 'w' Wagyu Dripping Fried Bread
Scrambled Eggs next level, It's a holy trinity. Not only is this recipe #BillWallaceFriendly but it is ALL from the fridge this morning. But, it is also #KnibbsyKiddleWagyuFriendly & #BillWallaceFriendly at the very same time as it uses Wagyu beef dripping (rendered and solidified fat). BOOM!!! It was a beauty this morning. I have been waiting a really good reason to use my new Wagyu rendered beef fat. Today was that day, and so became Strawberry Blonde's and Jude Jude's brekkie for this Sunday;
Jamon Scrambled Eggs 'w' Wagyu Dripping Fried Bread
This was one of those classic dishes; eating the parts alone = yummy. But, eat together = STOP THE BUS!!!
Looks pretty nice too I think…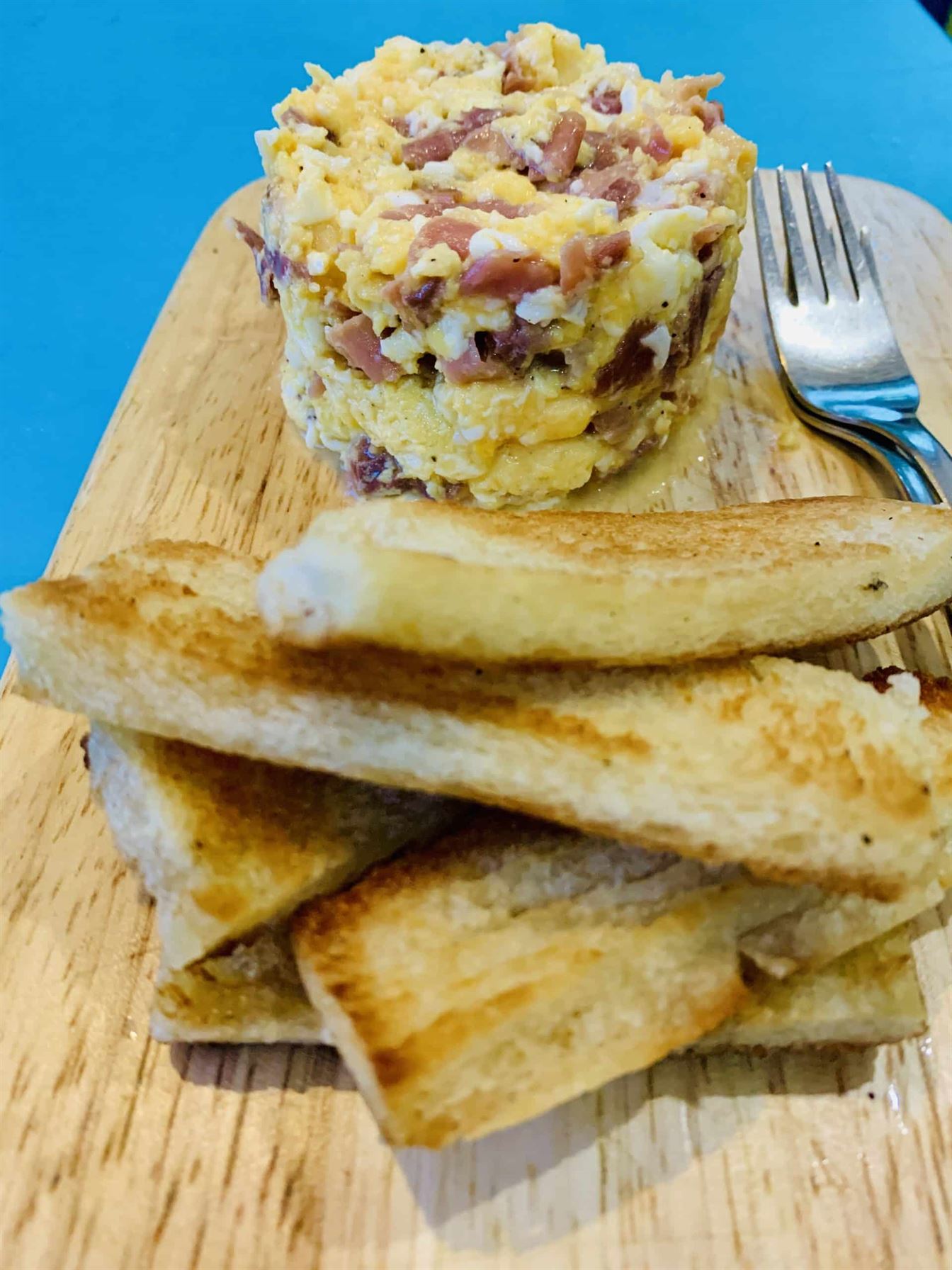 Here we go – there will be enough here for 2 hungry mouths;
3 eggs
1″ knob of salted butter
Sea salt & cracked black pepper
2 slices of white bread – cut off the crusts and cut into soldiers
4 slices of Jamon of equivalent (any ham basically) – cut into little pieces
2 Tbps of rendered Wagyu beef fat (dripping) – or equivalent (oil)
ABC, it's easy as 123;
Crack the eggs into a saucepan, add the butter and get that over medium heat;
Every 30 seconds or so take it off the heat and stir it around with a spatula;
Back on the heat for 30 seconds, then off again and stir it around;
Repeat this until the eggs are binding together but still a little 'wet' – off the heat;
Season with a sprinkle of sea salt & cracked black pepper, throw in the chopped Jamon and stir it all through;
I used stacking rings to plate this – yeah all sort of restaurant like;
In parallel take a frying pan and melt the Wagyu dripping, in with the bread soldiers and fry those off until golden brown on both sides;
Pop the soldiers on some kitchen towel to remove the excess fat and then stack them on the platter with the eggs;
Get that out soonest to your awaiting hungry chicks…
It's a cracker, an absolute cracker. I had a taste of the combination and it was pretty damn amazing and the kids thought so too. Jude Jude even shouted to Strawberry Blonde that he had to have the egg on his fried bread. Yes, he also was a combination convert for this dish. There is no 'i in team'. There is no Jamon Scrambled Eggs without Wagyu Fried Bread, or so it seems. This was Jamon Scrambled Eggs 'w' Wagyu Dripping Fried Bread – ENJOY!!!