Anchovy and Gherkin Dip Recipe
Yep, I hear you, I hear you – you are probably all thinking what is he up to now right? Let me tell you this little Anchovy and Gherkin Dip Recipe with French bread crostinis came out sweet. Mary and Ollie were my testers and they lapped up two bowls each of my Anchovy and Gherkin Dip Recipe. A little made-up number, as always with inspiration, but not a recipe in sight and no ability to taste test, as man do I hate anchovies – unless on a pizza.
Prepare to have your taste buds enticed by a dip that will elevate your snacking experience to new heights. The delightfully flavorful anchovy and gherkin dip will be the star of your next get-together or solo munching session. This blog will delve into the world of this delectable dip, tracing its history, offering stories that will make your mouth water, and giving you an easy-to-follow recipe. So gather your preferred dippables and let's indulge in the goodness!
Anchovy and gherkin dip will improve your snacking experience because it is flavorful and zesty.
Learn about the unusual flavor harmony that this delicious dip combines.

Learn about the history and cultural significance of anchovies and gherkins through amusing anecdotes.

Learn how to create this dip from scratch step by step, with helpful hints and modifications.

Investigate the dip's adaptability and discover several ways to enjoy it, plus a lot more!

This blog offers all the information you need to know about our anchovy and gherkin dip, whether you're a fan of strong, salty flavors or you just want to wow your visitors with a fun and tasty appetizer. So get ready to dunk, indulge, and enjoy each bite!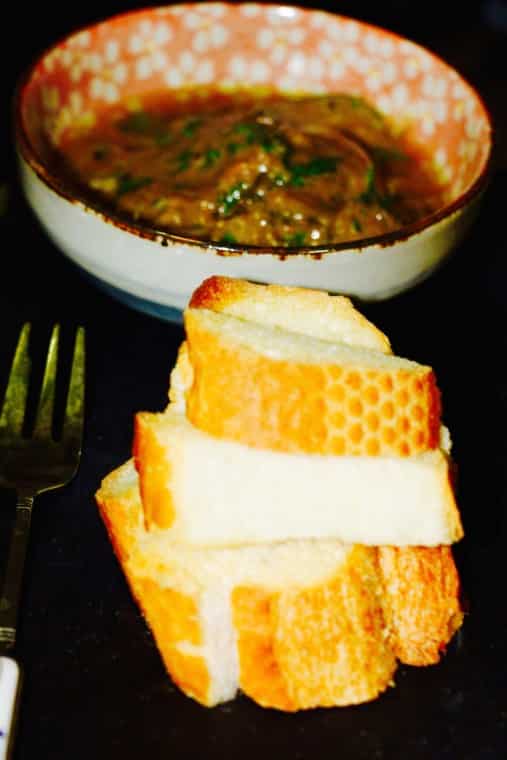 Get in there – my gang did and loved every last little drop of this – I had to get more crostinis made up. Clearly, this Anchovy and Gherkin Dip Recipe is a winner.
This is enough for two little bowls and about 6 slices of crostini – say two people.
1 French loaf – sliced on the angle to give a bigger surface, toasted on both sides, and sliced to crostinis – then set aside.
Into a pan throw in the following ingredients for this Anchovy & Gherkin Dip Recipe;
2 tins of anchovies in olive oil;
A teaspoon of Ghee or normal butter;
6 or so largish gherkins sliced as thin as you can;
2 heaped teaspoons of white wine Dijon mustard;
2 teaspoons of red wine vinegar;
2 finely chopped shallots;
You could also add a wee chili padi here if you wanted – your choice – it would 100% work with the other ingredients without a doubt; and
A good pinch of salt and cracked black pepper.
Upon finishing you will need a nice handful of finely chopped English parsley, or I suppose Chinese parsley (coriander). Ready?
Into the pan tip the anchovies (+ oil), ghee, shallots, mustard, vinegar, gherkins, and salt & pepper. On to the heat. You are not cooking this, merely encouraging the anchovies to disintegrate into a velvety sauce, that's infused with all the other ingredients. A few minutes is all you need as you'll see the fish disappear completely and you end up with a greeny brown silky smooth liquid.
That's nearly it – you have nearly made The Semi-Naked Chef's Anchovy and Gherkin Dip Recipe.
Stir in the ripped or chopped parsley (or coriander) and spoon into a little bowl. Serve up with the little crostinis and let your guests dip away. I might recommend a wee beer with the Anchovy and Gherkin Dip Recipe as it is a little salty, but therefore perfect bed-fellow with a few scoops of cold refreshing beverage.
Plus as a complete cheat, to accompany the Anchovy and Gherkin Dip Recipe – I quickly toasted up some remaining French loaf, again cut on the slant. Took some duck rillette with foie gras, and spooned it onto the top. Turned the grill to top grill only – and toast the rillette/foie until just browning. And service like below – easy peasy, but bloody good and makes you all chef-like.
So come on folks if I can you can. You know I dislike most fish, especially when cooked. And anchovies, man oh man they pack fishiness to another level. But thinking about things carefully the ingredients gelled so well together. For the fish lovers that read my blog, you really should try this one, my Anchovy and Gherkin Dip Recipe. Both Mary and Ollie gave this a huge thumbs up, make it so, ENJOY!!!
Anchovies are a type of tiny fish that live in salt water and are frequently used as a seasoning in a wide variety of cuisines. They have a robust flavor that is somewhat salty because they are typically kept in oil or salt. It is common practice in Italian cooking to use anchovies as a topping for pizza and as a dressing for pasta salads. Anchovies are also a popular element in Italian cuisine.
They are also frequently used as an ingredient in meals from the Mediterranean region, such as tapenade and puttanesca sauce, and can be prepared in the same manner as sauces such as Worcestershire sauce. In addition to being rich in Omega-3 fatty acids, anchovies are also a good source of a number of essential vitamins and minerals.
Gherkins are a type of little pickled cucumber that are typically consumed in the form of a snack or condiment. They are typically pickled in vinegar or brine, which gives them a flavor that is sometimes sour and sometimes acidic. Gherkins are often used as a garnish for sandwiches, burgers, and salads and are a popular ingredient in various types of relish.
Gherkins are frequently referred to as cornichons in Europe, where they are also a common ingredient in classic meals such as tartare sauce and paté. The word "gherkin" is also frequently used to refer to a specific variety of cucumber that is specifically developed for pickling because it has a crisp texture and a sweet, mild flavor. This type of cucumber is known as a "gherkin cucumber."
Here are some other Dip Recipes from ISLIFEARECIPE...