Incredible and Fun Breakfast Recipe for kids
Daddy is up and being asked to do Breakfast for the kids. Hmmm thinks I, let's try something a little different and make a breakfast that both Jude and Amy would like and hopefully share. So here is the creation, a breakfast recipe for kids that is a smiley face. 
Well it all disappeared so I assume the face thing worked – what a cracking breakfast recipe for kids.
The first thing you should eat in the morning is breakfast because it is the most important meal of the day, so they say, and it may really set the tone for the rest of your day. It not only provides you with the energy you need to face the challenges of the day ahead, but it also sets the tone for a productive and healthy day.
In this blog, we'll provide you with a mouthwatering breakfast recipe for kids that is simple to prepare and will keep the kids feeling full and content right up until lunchtime.
But for us adults, here are some other breakfast recipe ideas;
Toast topped with avocado and a fried egg recipe
Toast topped with avocado is a time-honored and straightforward breakfast choice that can be adapted in a myriad of different ways. To prepare it, just lightly toast your preferred bread, then spread it with mashed avocado, and finish it off with a fried egg. Just a few shakes of salt and pepper, and you'll have a breakfast that's good for you and will keep you full for hours.
Yogurt Parfait Recipe
Try whipping up a yogurt parfait the next time you need a nutritious and speedy breakfast on the fly. To begin, take a jar or cup and top it with Greek yogurt, your preferred granola, and pieces of fresh fruit. Continue to stack everything up until you reach the very top, and then dig in.
Peanut Butter and Banana Smoothie Recipe
Smoothies are a fantastic choice for hectic mornings when you don't have the time to sit down and eat a real breakfast. Smoothies are a perfect alternative. To prepare a peanut butter and banana smoothie, simply combine peanut butter, bananas, milk, and a touch of honey in a blender and process until smooth. To increase the nutritional value of the dish even further, try mixing in some spinach or kale.
Eggs Benedict Recipe
Try your hand at making eggs Benedict as a treat for a weekend morning. This traditional dish is made with a toasted English muffin, your choice of ham or bacon, eggs poached, and hollandaise sauce. It's a luxurious and delectable breakfast option that's sure to leave a good impression on your guests.
French Toast Recipe
A classic breakfast favourite, French toast is the kind of dish that lends itself well to leisurely mornings on the weekend. To create it, simply mix eggs, milk, cinnamon, and vanilla extract together in a bowl using a whisk. Cook bread slices on a griddle until they are golden brown by first dipping them in the mixture and then cooking them. A meal that is both sweet and filling can be made by topping it with syrup, fruit, and powdered sugar.
Brekkie Bagel Recipe
This RECIPE is a beauty.
Come on, surely you know? Really…? You don't?
A bagel is a type of bread known for its crisp, shining crust and deep, chewy centre. Traditionally associated with the Jewish community of the USA, the bagel can be enjoyed for breakfast or as a snack with a variety of fillings, such as cream cheese and smoked salmon.
Flour, yeast, salt, and sugar are the essential constituents of bagels. Rolls made with high-gluten flour are chewy and spongy and can be made lighter by adding eggs, milk, and butter.
For a traditional method, the dough is rolled out by hand, sealed by boiling it in water for a few minutes, then baked. There is no longer a need to boil the rings in modern mass production.
Either way, a lustrous crust is achieved by brushing on an egg yolk or milk glaze before baking, and before baking, seeds and spices can be added. Bagels can also be created with flavourings, vegetables, nuts, or fruits included in the dough.
Whole-grain and rye varieties are also available now. For this Brekkie Bagel Recipe, I just used plain Bagels.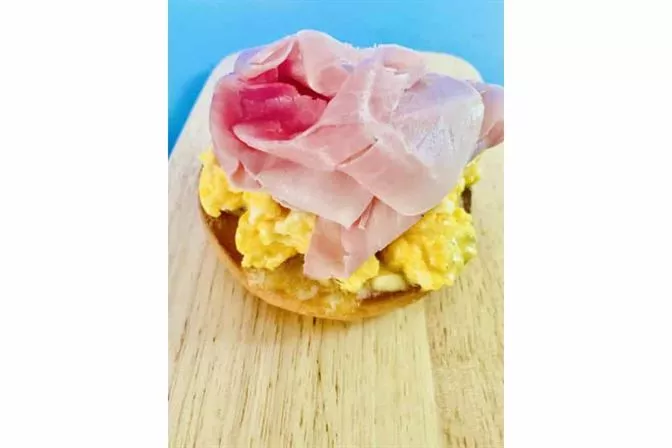 In conclusion, the above breakfast recipes are only a few of the numerous mouthwatering breakfast recipes that are available to you. There is a breakfast recipe available for everyone, regardless of whether they are pressed for time or have the luxury of sitting down to a leisurely meal. So, what are you waiting for? Give one of these breakfast recipes a shot today, and you'll be well on your way to having a productive and successful day!
Actually, this is just so simple to do but really did work well to encourage the whole plate to be emptied. Back to what I have said before if you involve your kids in the cooking or make food fun, guess what – yep they'll eat it, greens and all. I kid you not!
I probably shouldn't need to give this breakfast recipe for kids, because this as so simple, but;
Hair – 3 rashers of streaky bacon, fried until crispy;
Eyes – two fried eggs, that I did use rings for to keep them round – and add a dot of tomato ketchup;
Eyebrows – two asparagus tips that I simply fried;
Ears – I cut a round shape in a slice of bread and then fried that off, cut it half, and hey presto;
Nose – simply fried button mushroom; and
Smile – some Japanese mayonnaise.
And that is that, a simple but wonderful Breakfast recipe for the kids. Give it a go. Have the kids help you with it – ENJOY!!!