A Celebration of Spirit: The Rum Festival 2023 at The Capitol Kempinski Hotel Singapore
Rum Festival 2023: An Introduction
If you're a rum enthusiast or even a curious spirit looking for an adventure, the Rum Festival 2023 at The Capitol Kempinski Hotel Singapore was a brand event on the booze calendar! The event was held on the 8th and 9th of July 2023, this festival served as a delectable journey into the world of rum with over 20 of the top rum brands participating.
Picture yourself savouring the rich, Caribbean flavours while you mingle with fellow rum enthusiasts, indulge in mouth-watering food, and sip on tantalising cocktails. If this sounds like your kind of event, let's delve into the details of how it went down!
Rum Festival Skip to your Favourite Brands!
The Venue: The Capitol Kempinski Hotel Singapore
The festival takes place in the prestigious Capitol Kempinski Hotel Singapore, located at 15 Stamford Road, Singapore 178906. The Capitol Kempinski boasts luxurious rooms and suites, an array of dining venues, and exceptional service, providing the perfect backdrop for a rum festival that's set to become a Singaporean tradition.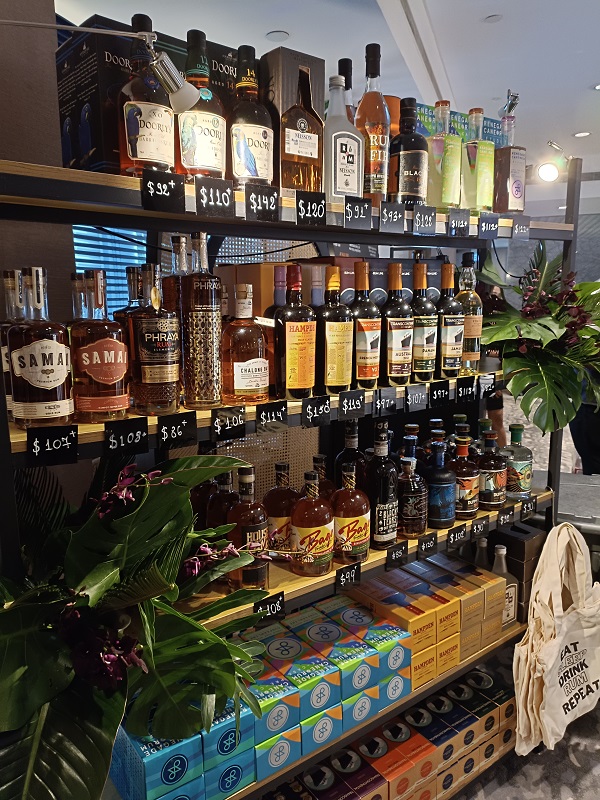 Kick off time!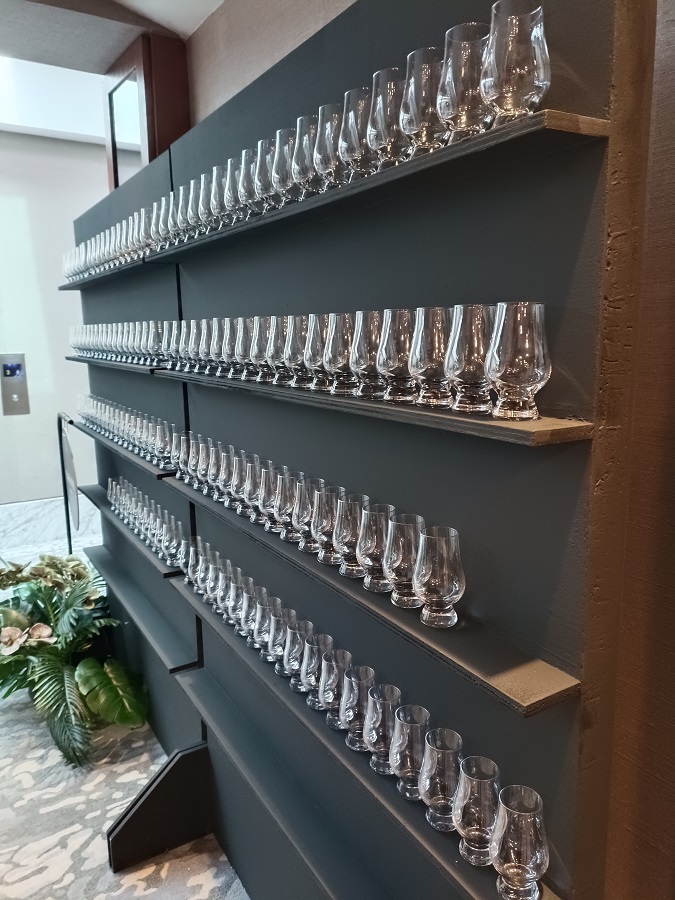 The event started at 12 noon until 7pm, in true kiasu style I rocked up with a friend of mine Steve who knows his rums better than most, to maximise the days events, with 20 different brands (each brand having at least 3 styles) it was going to be a big day for me and my liver!
Rum Brands You Can Expect
A Plethora of International Brands
Prepare yourself to be greeted by some of the best rum brands in the world, from Bacardi and Mount Gay to Doorly's, Hampden, Neisson, Black Tot, Renegade, TCRL, Black Tears, and La Progresiva. This is an opportunity like no other to explore and compare the profiles of a vast array of internationally renowned rum brands. Whether you're a seasoned rum connoisseur or a novice eager to learn, you're sure to find a tipple that tickles your taste buds.
Spotlight on Southeast Asian Rums
In its inaugural edition, the Singapore Rum Festival isn't just about the global powerhouses of the rum world. The festival also aims to shine a spotlight on regional Southeast Asian rums. Look forward to discovering the unique flavours of Cambodia with Samai and exploring the Thai rum scene with Phraya and Chalong Bay. By featuring local brands, the festival ensures that attendees get a taste of homegrown spirits alongside international stalwarts.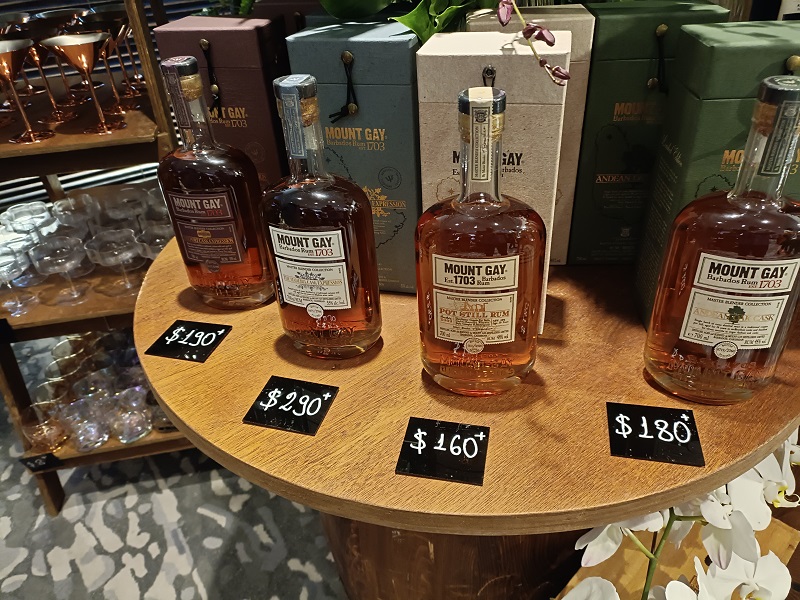 A room full of Rum Distributors, what can possibly go wrong?
First up Stephanie and Jeremy from Distilled who are sole distributors for 3 brands of quality rums pictured below. We probably spent more time with Jeremy and Stephanie (whom we just met the week before at the Cellar Fiesta event) because their hospitality was hands down so good. Within a few tastes they had nailed the complete polar opposite tastes Steve and I have when it comes to drinking!
So what did they serve up in the rum department?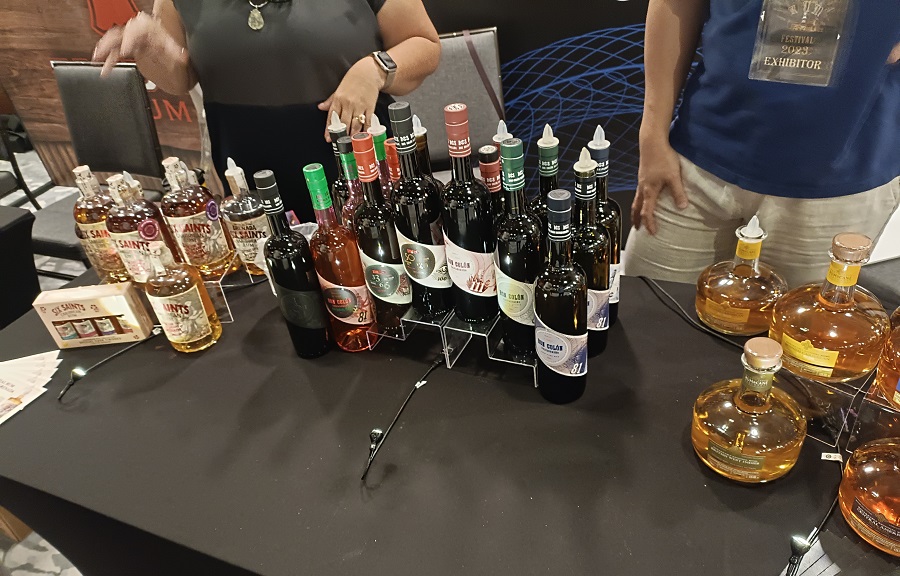 Six Saints
Grenada has been secretly producing Six Saints rum for almost 200 years. This is a natural rum, made in the traditional manner, and named for the six holy parishes on the island.
Six Saints rum is produced using just molasses and is aged to perfection in previously used bourbon barrels; it has no added flavours or colours.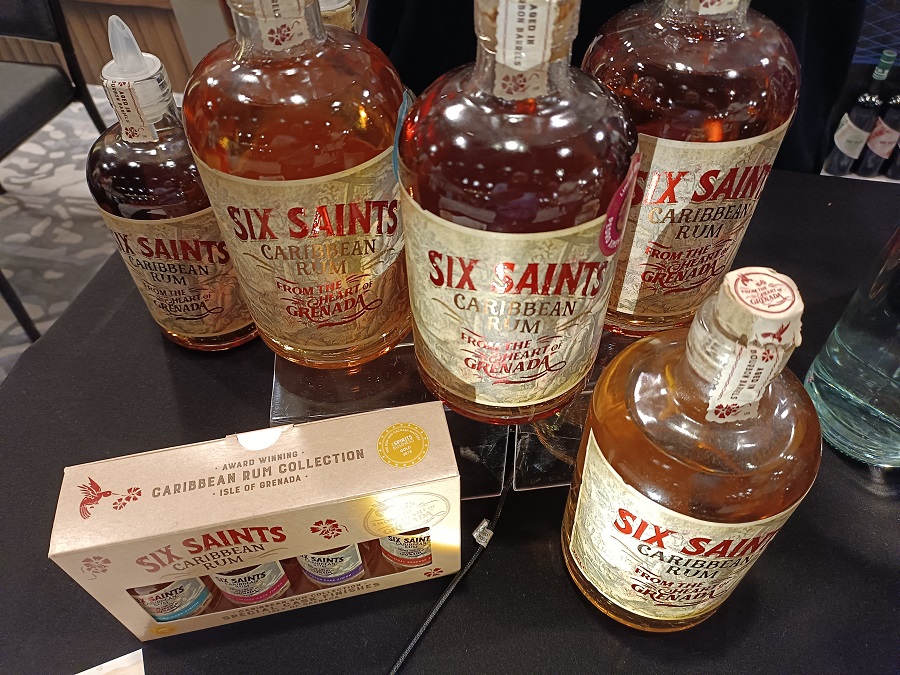 Cane and Rum
Each Rum and Cane release is a single barrel from an obscure distillery. Both caramel colouring and chill filtering are avoided in order to maintain the integrity of these rums.
A marriage of rums from various distilleries in the same location, showcasing the unique character, flavour profile, and terroir of that region; part of the Rum & Cane series of five expressions. The rums in the single barrel series come from unusual distilleries or islands and are bottled once they have reached their full maturity.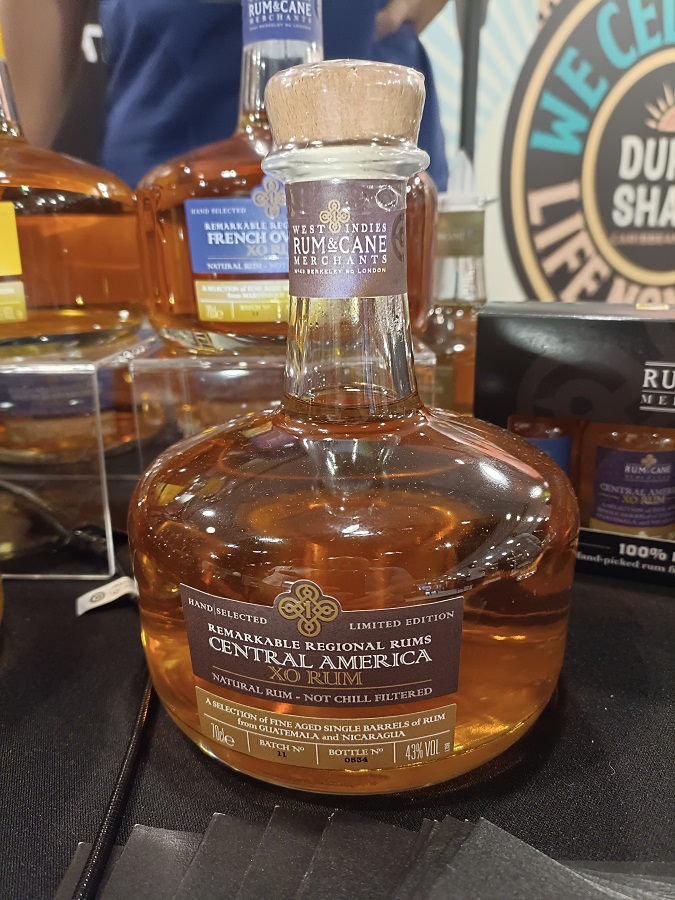 Both of our favourite despite polar opposite tastes was the Rum & Cane Central America! Buy recommendation on that for sure!
Salvadoreno Ron Colón
The savoury Ron Colón Salvadoreo rum is a combination of three different types of Jamaican rum: 15% unaged pot stilled rum from the Worthy Park, Hampden, and Monymusk distilleries; and 70% 3-year-old Jamaican pot stilled rum from the Worthy Park estate.
The Jags Head coffee used in Ron Colón Salvadoreo Coffee Infused Rum has been cultivated by the same hardworking family for over 150 years. To guarantee the highest quality from "farm to cup," they hand-sort and individually approve every bean.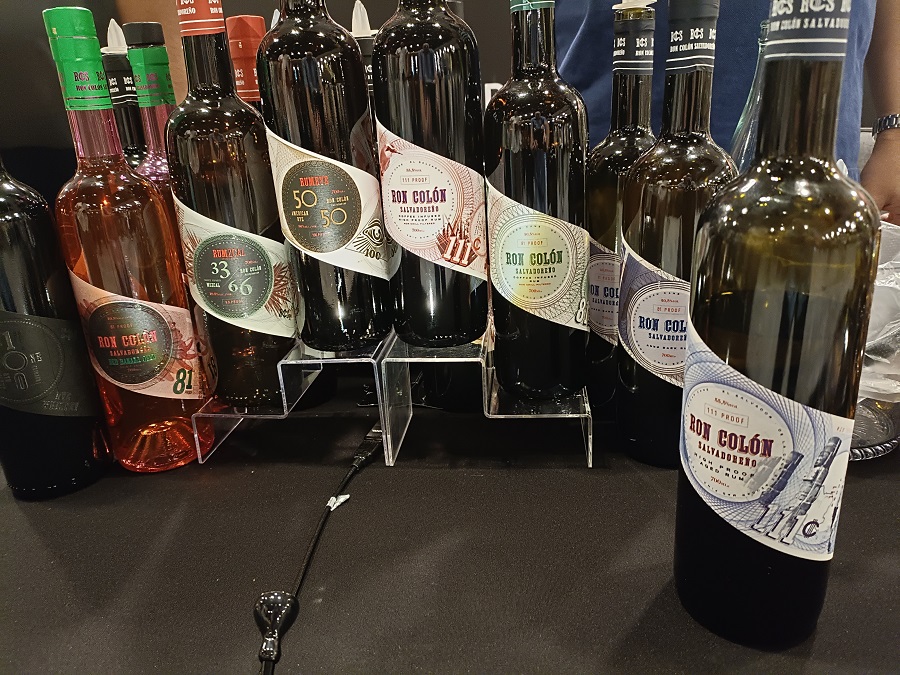 Michael and I know each other well so I skipped this stand as we had recently drunk their Philippine Tanduay double rum at the recent Cellar Fiesta event, so fast forward on this one! Sorry Michael!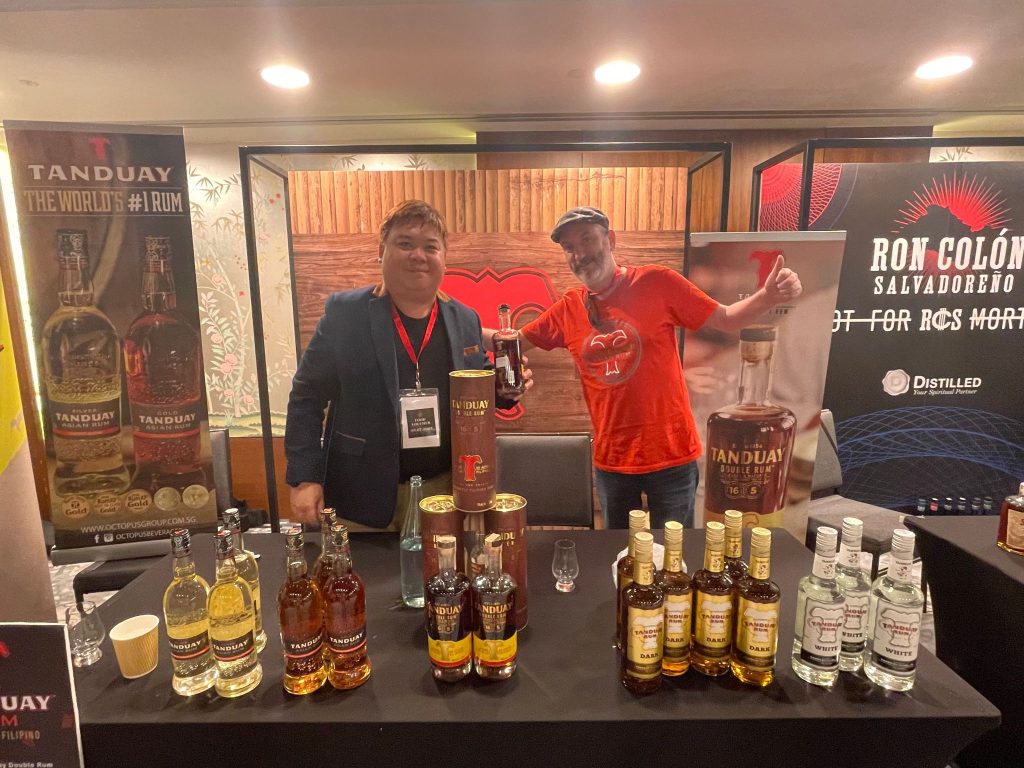 Simone took care of us guiding us through a UK range of rums they carried that day, there are other brands available on the link on their name above.
My favourite from the 3 below was the Duppy White, a really funky and very interesting but tropical fruit rum not to Steve's liking though.
Duppy White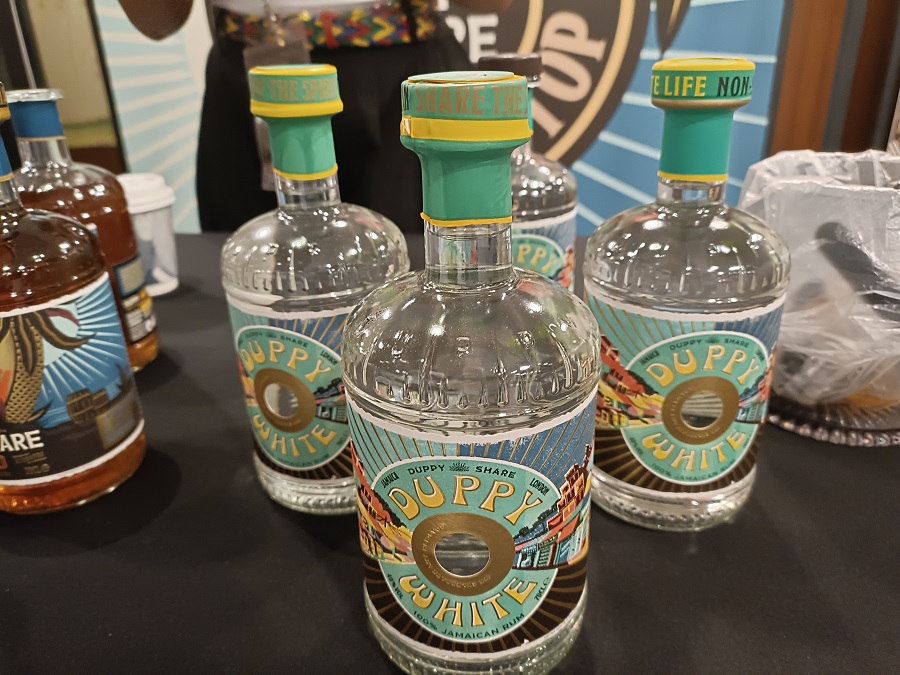 The Duppy Share presents a sensational tasting experience with their 100% Jamaican white rum. Bursting with the authentic flavours of mango, pimento, and fresh thyme, this rum truly embodies the essence of Jamaican culture.
On the nose, the aromas transport you to the heart of Jamaica. Bright notes of banana, mango, and green thyme fill the air, invoking a sense of tropical delight and evoking memories of the island's vibrant atmosphere.
As you take a sip, the journey continues with a harmonious interplay of flavours. The smooth caramel sweetness and lively tropical fruits greet your palate, paving the way for the distinctive kick of pimento spice. The finale showcases the character of pot still rum, leaving a lively and memorable finish.
Crafted with 100% Jamaican rum, The Duppy Share's Duppy White is a testament to the unparalleled richness and authenticity of Jamaican flavour.
Duppy Share XO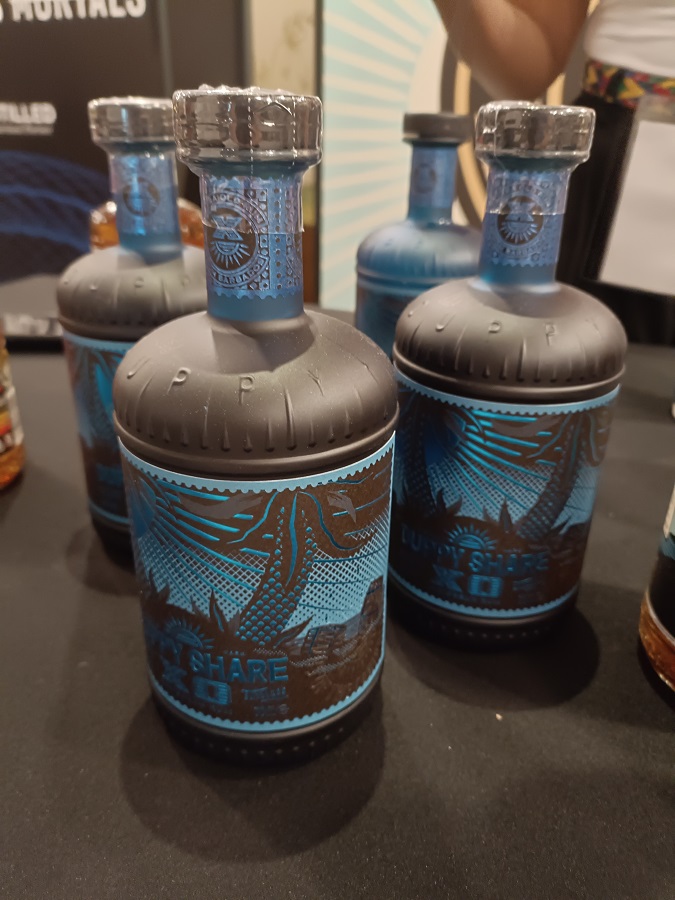 The Duppy Share's blend of 5, 8, and 12-year finely aged 100% column still rums from Barbados in the 3rd person is as follows:
This remarkable blend showcases the craftsmanship of aged Barbadian rums, carefully selected for their distinct qualities. The combination of 5, 8, and 12-year-aged rums results in a sensory journey that balances rich, indulgent flavour notes with lighter, more chocolatey-sour undertones.
On the nose, the aromas are a testament to the complexity of this blend. One can expect to encounter rich notes of velvet caramel and tamarind, which are perfectly balanced with lighter and floral tones of toasted coconut and violet.
When it comes to the palate, prepare to be indulged by a symphony of flavours. The initial sip reveals the luxurious tastes of butter fudge, caramel, and condensed milk, gracefully entwined with accents of apricot, vanilla, and nutmeg. This delightful fusion of flavours showcases the expertise behind the blending process, where the younger and older rums harmoniously react to each other.
Designed to be a super-premium offering, this exceptional liquid transcends expectations and redefines the XO category. Its exceptional character and depth make it a true delight for rum enthusiasts and connoisseurs alike.
Duppy Share Aged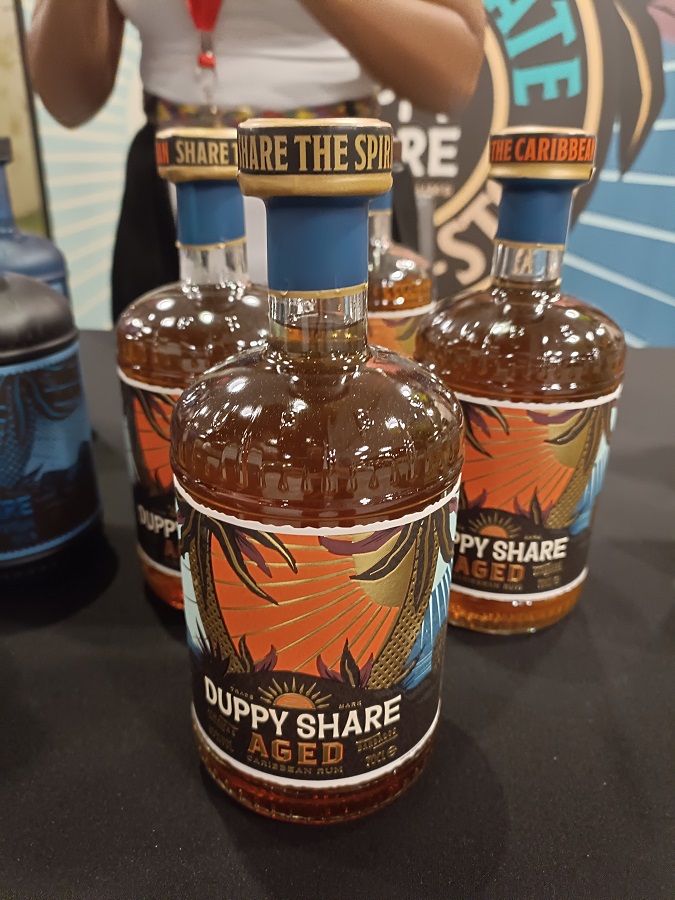 The Duppy Share's perfectly balanced, award-winning blend of Aged Caribbean rums goes as follows:
This exceptional blend showcases a harmonious combination of Aged Caribbean rums sourced from two of the most prestigious distilleries in the world. It features a 3-year-old 100% Pot Still rum from the esteemed Worthy Park Distillery in Jamaica, along with a 5-year-old 100% Column Still rum from the renowned Foursquare Distillery in Barbados.
The aroma entices the senses with hints of tropical fruits and subtle spice, setting the stage for a truly indulgent tasting experience. On the palate, the initial sip delivers a fiery and vibrant burst, reminiscent of the Caribbean's rich flavours. The tropical punch is followed by a velvety smoothness, revealing buttery undertones and the distinct oaky finish from the Barbadian rum.
What sets this blend apart is its remarkable versatility and balance. Crafted with precision, it has been specifically designed to flawlessly complement a wide range of rum cocktails. Whether it's a classic Mojito, a refreshing Daiquiri, or your own signature creation, this exceptional blend enhances the character of each drink, taking it to new heights of taste and sophistication.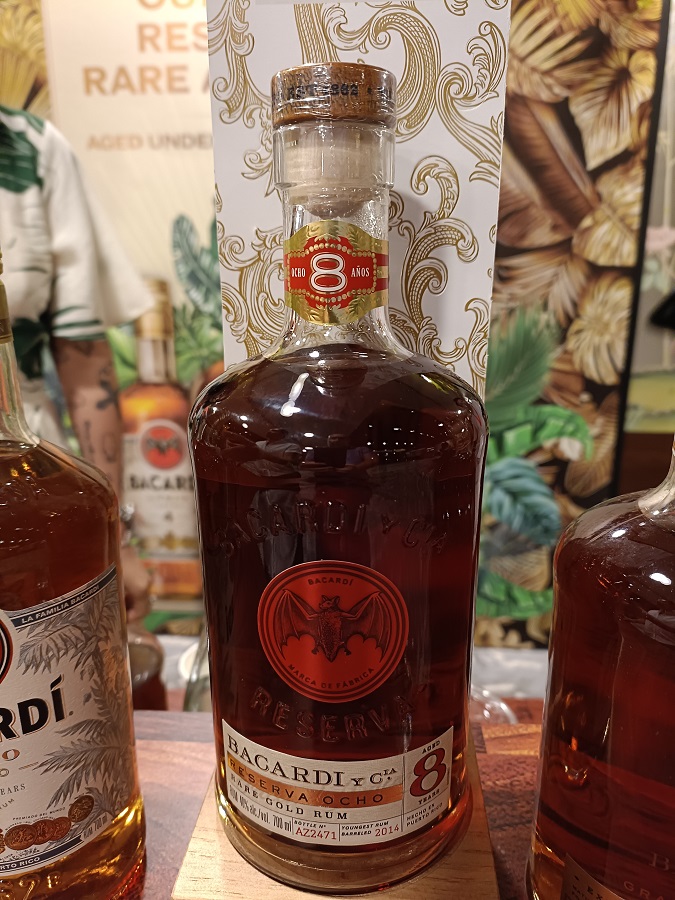 Many people have had an experience with Bacardi through a misspent youth but before you move on give me a moment here! Remember I said I was with Steve who knows his rums, well he had previously had me blind taste an 8-year-old Bacardi rum and it was very surprising just how good it was. They had a 10 year which I also tasted but to be honest based on price and taste the 8 year old Bacardi is good enough for you home drinkers! Ok so that's enough of that one!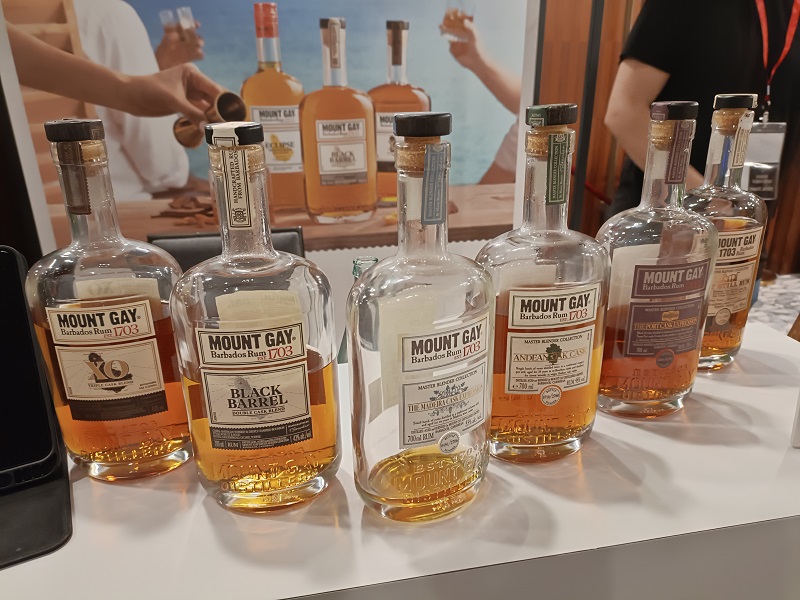 Yes another top level brand was there but we wasted no time drinking here as we both are familiar with their Rum selections! No offence, its great rum but so many rums so little time!
Chris from Spun Spirits had only one Rum on show that day, the Bago Founders Batch. This is a rum where they teamed up with our friend Chris (yes another Chris) the founder from Lime House to create their own in-house rum.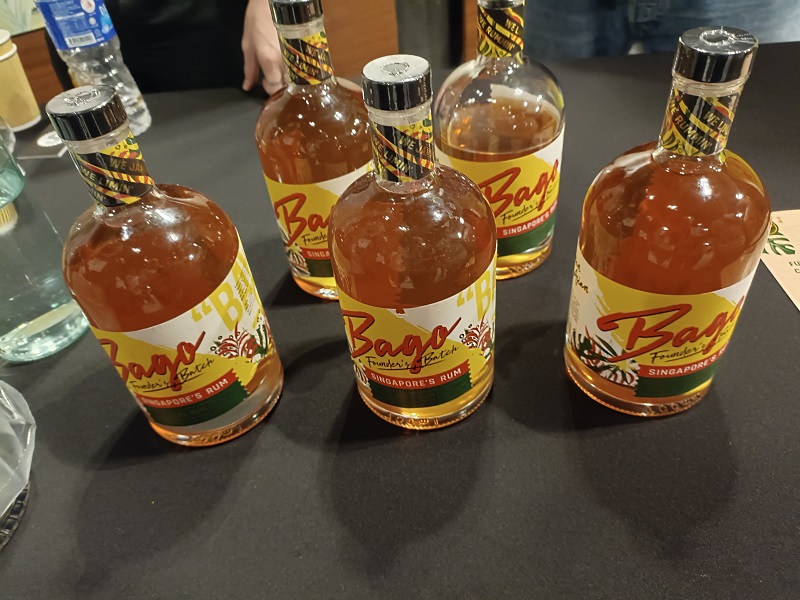 Bago presents a harmonious blend of predominantly aged dark rum from the Caribbean and 23-year-old Asian rum, resulting in a truly exceptional experience.
As one indulges in the aromatic journey of Bago, the nose is greeted with a familiar and inviting scent. Hints of tropical fruits like pineapple, banana, coconut, and lime dance in the air, creating a captivating sensation. The bouquet also reveals notes of grassy esters and spice, providing depth and complexity to the experience. These enticing aromas seamlessly transition to the palate.
On the palate, Bago continues to delight with a rich tapestry of flavours. The smooth texture carries nuances of brown sugar and chocolate, evoking a sense of indulgence. The waxy and slightly oily mouthfeel adds depth and character, creating a truly satisfying taste experience. The rum's complexity is further enhanced by the lingering presence of grassy esters and spice, ensuring every sip is a journey of delight.
The finish of Bago is a testament to its exceptional craftsmanship. The oiliness lingers, leaving a velvety sensation on the palate. Surprising hints of coffee and orange emerge, adding layers of complexity to the rum's lingering presence. It's a captivating conclusion to a remarkable tasting experience.
Bago exemplifies the artistry and dedication put into crafting an exceptional dark rum. With its exquisite blend and captivating flavours, it promises a sensory journey that will delight rum enthusiasts and connoisseurs alike.
So for the Rum Festival event La Maison Du Whisky rebranded to La Maison du Rum! A Gorilla marketing tactic at its finest! The LMDW team know their stuff and on this fine day we caught up with Diego as we caught him leaving, we managed to chat more with Rachel their On-Trade Manager, now I have to tell you whilst I am not an expert in Rum, Steve was extremely impressed with Rachels knowledge. I am personally attending a Korean Whisky launch this week at LMDW with Brian so won't go into too much detail on that here.
Exceptional Appleton Estate Rums
The Appleton Estate, nestled in Jamaica's picturesque Nassau Valley, is renowned for crafting premium rums. These rums, like the Appleton 21-year-old 1999 Hearts Collection Singapore, exhibit a splendid fusion of profound age, intense flavours, and luxurious textures.
LMDW had another stand just for Appleton, check out the The Grand Finale – Appleton 1984 which we finished our day on below!
Papalin Haitian Rum: A Taste of the Caribbean
Papalin, with its 4-year-old Haitian Rum, offers a distinct Caribbean flavour profile. Its vibrant palate is testament to Haiti's rich cultural heritage and the country's robust sugarcane industry.
Celebrating Diversity with TCRL Rums
TCRL, or 'Transcontinental Rum Line', brings a unique collection of rums that traverse the globe. These rums, like the TCRL 6-year-old 2015 Panama, TCRL 5-year-old 2016 Jamaica, and TCRL 7-year-old 2014 Australia, provide a sensory exploration of the various rum-producing regions.
The Exquisite Saint James Rhum
Saint James, a renowned Rhum Agricole brand from Martinique, offers the 1998 Single Cask. A sip of this reveals the nuanced elegance of Rhum Agricole, with its fresh, grassy notes and delightful complexity.
The Lavish Neisson Nonaginta
The Neisson Nonaginta, also from Martinique, represents the upper echelon of Rhum Agricole. Its commanding price tag of $2,888.00 is indicative of its superior quality and scarcity. (this was not available for tasting but wanted to feature it here to show the price of some rums out there).
Barbados Rum: A Vestige of Spanish Heritage
The Barbados 2000 Edition No. 18 Rum Sponge D.D.is a prime example of Ron, representing the heritage of Spanish rum-making techniques. Its rich, layered palate is a testament to its quality and precision in distillation.
Joseph and Benedict had the job of telling me all about how Angostura did not just make bitters which its most famous for in my opinion. The guys really walked us through the selection in order!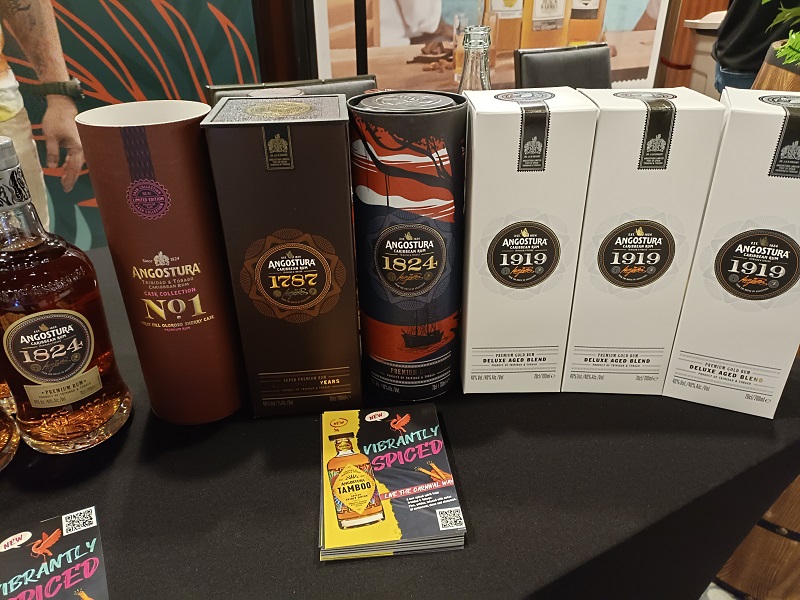 Here is a bit about The House of Angostura
Angostura Rums, best known for its famous Angostura bitters, offers a diverse range of rums that cater to various palates and preferences. The brand's long-standing reputation in the spirits industry is a testament to the quality and craftsmanship of their products.
The House of Angostura, located in Trinidad and Tobago, has a rich history dating back to 1824 when German-born Dr Johann Siegert created his iconic bitters. The company later expanded into rum production in 1949, despite already having a foothold in the blending industry in the early 1900s. Today, Angostura offers a wide selection of rums, ranging from aged premium blends to clean-tasting white rums and limited editions.
Angostura rums are known for their meticulous craftsmanship and commitment to balance. Each expression in their portfolio showcases the artistry of the distillers and the unique characteristics of Trinidad rum. The rum-making process at Angostura involves blending molasses-based, continuous-distilled rums, resulting in well-balanced and flavourful spirits. Whether you prefer a smooth, aged rum like the Reserva or the 7-Year-Old with its rich chocolate and coffee notes, Angostura offers a range of options to suit different tastes.
Angostura's rum portfolio includes not only their core range but also limited editions and super-premium expressions like the 15-year-old 1787. These rums are carefully crafted and aged in American oak bourbon casks, resulting in delightful aromas and flavours. The Angostura 7-Year-Old, for instance, exhibits notes of butterscotch, vanilla, fine pipe tobacco, and orange zest, making it a highly enjoyable sipping rum.
At Destination Beverage, they curate a diverse range of high-quality rums to cater to the preferences of rum enthusiasts and connoisseurs alike. Let's take a closer look at some of the exquisite rums in their collection:
Today they showcased St James Rum, a renowned brand hailing from the beautiful island of Martinique. St James Rum has carved a name for itself as one of the premier rum makers in Martinique, renowned for its commitment to craftsmanship and tradition. With a proud heritage and a willingness to push boundaries, St James has consistently produced exceptional rums that captivate the palate and leave a lasting impression.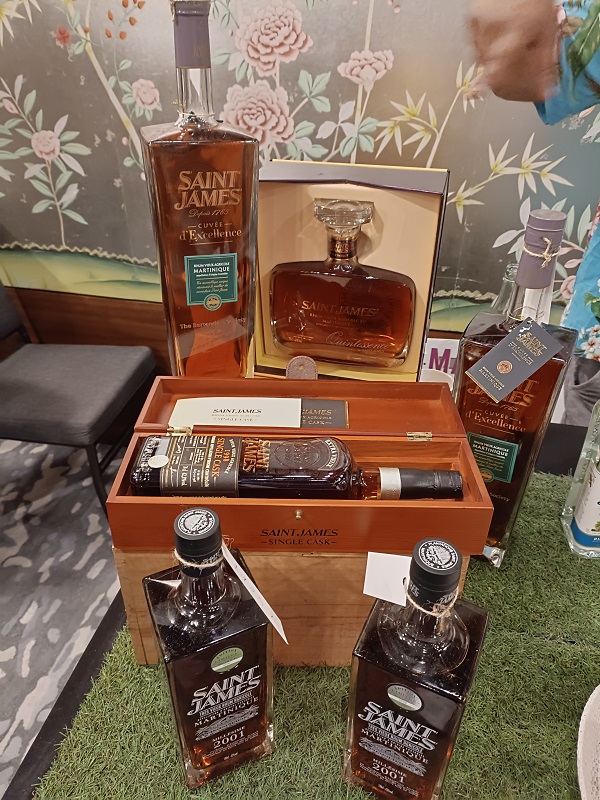 Among the impressive lineup of St James rums, one particular gem that stands out is the Fleur de Canne. This special edition rum takes enthusiasts on a unique and experimental journey, showcasing the distillery's ability to innovate while maintaining the essence of their craft. Crafted from cane juice harvested exclusively during the dry season, the Fleur de Canne boasts a robust and fruity flavour profile. Its distinctive character sets it apart from the standard line of rums, enticing rum connoisseurs with its exceptional quality and depth of flavour.
Here are 8 other rums that Destination Beverage carries…
1. Arcane Extraroma
Arcane Extraroma is a true gem among rums. Crafted with precision and passion, this rum offers a delightful blend of flavours that will transport you to a tropical paradise. It boasts a smooth and velvety texture with notes of exotic fruits, spices, and a hint of sweetness. Whether enjoyed neat or in a classic cocktail, Arcane Extraroma promises an unforgettable experience.
2. Coruba N.P.U 40 Rum
Coruba N.P.U 40 Rum is a testament to the rich heritage of rum-making. Distilled with traditional methods and aged to perfection, this rum showcases a depth of character and complexity. With its robust flavours of caramel, vanilla, and oak, it provides a truly indulgent sipping experience. Coruba N.P.U 40 Rum is a must-try for any rum aficionado.
3. Don Q Gran Anejo
Don Q Gran Anejo is a premium rum that exemplifies elegance and refinement. Crafted in small batches using the finest ingredients, it offers a harmonious blend of flavours that will captivate your senses. This rum exhibits a rich profile of caramel, toffee, and dried fruits, culminating in a smooth and satisfying finish. Don Q Gran Anejo is the epitome of luxury in a glass.
4. House of Cane Rum
House of Cane Rum is a hidden gem in the world of rum. Produced with meticulous attention to detail, this rum showcases the artistry and craftsmanship of its creators. With its balanced profile of sweet and spicy notes, House of Cane Rum is perfect for those seeking a versatile and approachable rum. Indulge in its smoothness and let the flavours transport you to the Caribbean. More on House of Cane below…
5. La Progresiva
La Progresiva is a rum that pays homage to tradition while embracing innovation. Handcrafted using time-honoured techniques, it combines the best of both worlds to deliver a unique and unforgettable taste experience. This rum presents a symphony of flavours, including hints of chocolate, caramel, and tropical fruits. La Progresiva is a true testament to the evolution of rum-making.
6. Lamb's Navy Rum
Lamb's Navy Rum is a classic that has stood the test of time. With a heritage dating back to the 19th century, this rum continues to be cherished by rum enthusiasts worldwide. Its full-bodied and robust profile features notes of molasses, spices, and oak. Whether sipped neat or mixed in a timeless cocktail, Lamb's Navy Rum is a true staple in any rum lover's collection.
7. Old Monk 7 Years
Old Monk 7 Years is a rum that embodies the spirit of tradition and craftsmanship. Distilled and aged with care, it offers a rich and complex flavour profile that unfolds with every sip. This rum exudes warmth and depth, with hints of caramel, vanilla, and spices. Old Monk 7 Years is a testament to the art of rum-making and a perfect companion for moments of relaxation and contemplation.
8. Ron Abuelo 12 Years
Ron Abuelo 12 Years is a premium rum that exemplifies the pinnacle of excellence. Aged for over a decade in oak barrels, it acquires a remarkable depth of character and complexity. This rum delights the palate with a harmonious fusion of flavours, including caramel, dried fruits, and toasted nuts. Ron Abuelo 12 Years is a true masterpiece that demands to be savoured.
In the spring of 2021, the idea of an Asian-Caribbean rum was sparked by Jarek Iwanowski, Chief Rum Officer & Founder of House of Cane. With a staggering 26 years of experience in the food & beverage industry under his belt, Jarek set out to unite his extensive knowledge of spirits and flavours across Asian and European continents into a singular, compelling creation.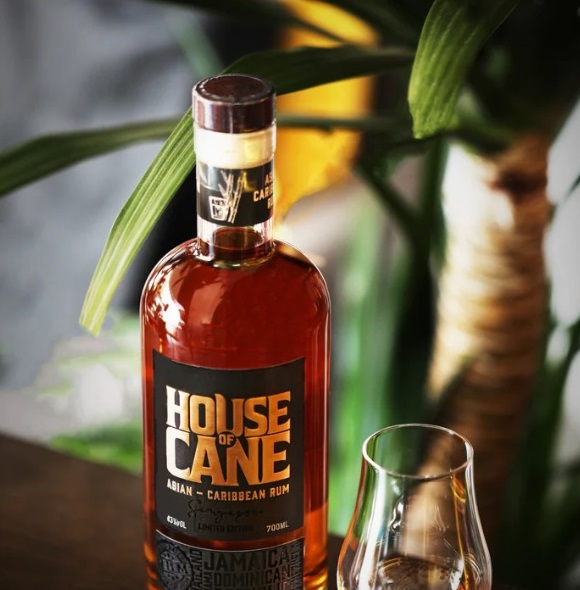 The concept was not without its complexities. Iwanowski dove headfirst into the intricacies of rum, a spirit steeped in centuries of history and rich cultural influences. The journey led to the creation of a spirit that harmoniously wove together the tastes of two distinct worlds and cultures, perfectly balancing elements of tradition and innovation.
House of Cane came into existence through the meticulous blending of naturally aged premium rums. Each rum used in the blend is carefully selected to express the unique character of its origin country. The brand's signature flagship rum is an enticing blend from the Dominican Republic, Jamaica, Panama, Venezuela, and Thailand. The collective heritage and traditions from these diverse locations are beautifully encapsulated in each bottle of House of Cane.
With unwavering support from industry peers, Iwanowski's brainchild came to life in the autumn of 2022. Iwanowski's personal touch extends to every bottle produced, from carefully selecting blends – whether it be from the Single Cask Finish or the Single Barrel Collection – to ensuring only the best quality rums are sourced. Each rum chosen showcases the unique character of its local origin, a testament to House of Cane's commitment to authenticity and quality.
As a tasting review, House of Cane is a sensory journey that celebrates the diverse flavours of Asian and Caribbean cultures, expertly crafted by a passionate founder with a deep understanding of spirits. Its range, from the Single Cask Finish to the Single Barrel Collection, showcases a symphony of quality rums that each tell a unique story of their local origin. This truly elevates the House of Cane experience to an exploration of two worlds united in a single bottle.
Jarek Iwanowski Chief Rum Officer at House of Cane went the extra mile!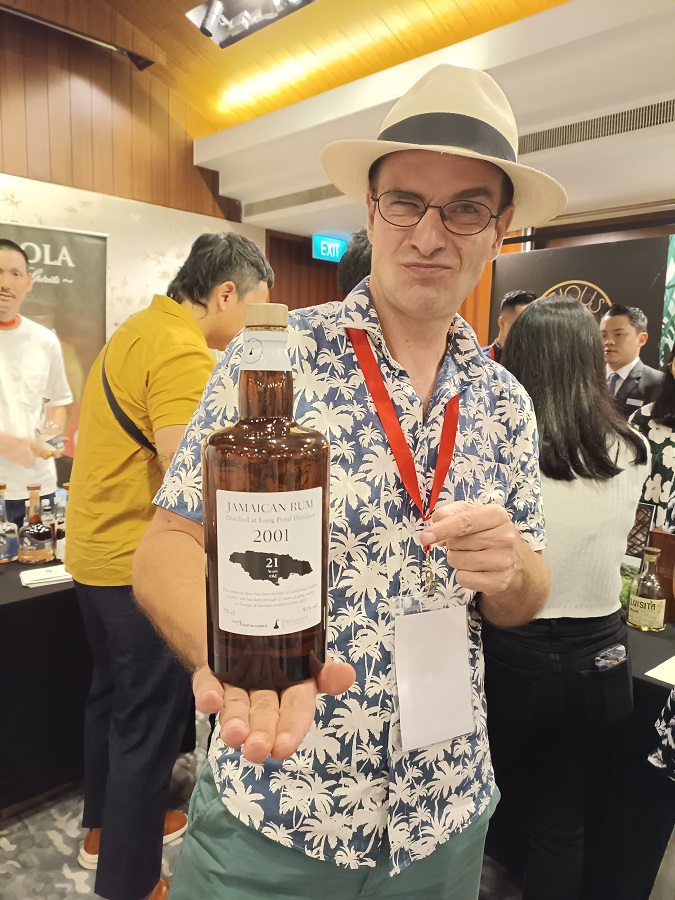 Jarek wanted to give us a full and well-rounded experience at the event and so brought us to meet the owner of Luisita Rum and then over to Precious Liquors for some aged rums that are top draw.
Paco Cojuangco owner of Luisita Rum was in town for the event presenting their Luisita Single Barrel 2183 which has a 58.8% ABV. When we tasted this (bear in mind it was close to the end of our drinking day) it quickly became the top tipple of the day, Steve even looked to buy a bottle to his already mountainous collection at home.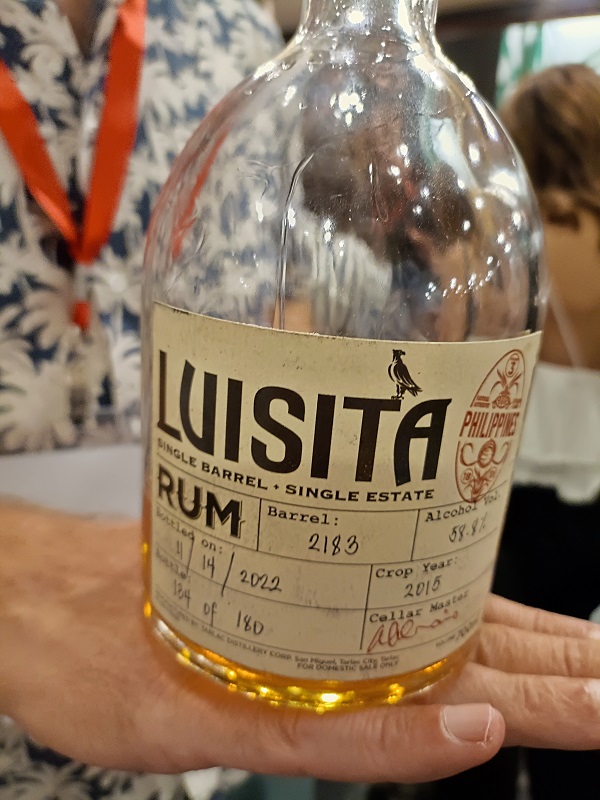 Here is some background on Luisita Rum:
In the realms of artisanal spirits, Luisita Rum stands tall. A testament to the inimitable spirit of its creator, Paco Cojuangco, Luisita Rum is a product of tradition, community, and, above all, a passion for crafting superior rum. The rum is birthed in the fertile lands of Tarlac at the Tarlac Distillery Corporation (TADISCO), an operation that encapsulates the essence of its surroundings into every bottle.
The uniqueness of Luisita Rum arises from the local sugarcane varieties used in the distillation process. These varieties are chosen not merely for their rich sugar content but for the unique environmental conditions in which they thrive. The sugarcane is carefully nurtured, watched over until the stalks grow heavy and are ready for harvest.
A notable feature of the Luisita Rum production process is its commitment to tradition and sustainability. The century-old mills used since 1928 extract the juice from the harvested sugarcane, while the remaining fibers, known as bagasse, are used to fuel the boilers. A testament to the brand's commitment to environmental stewardship, this closed-loop system ensures that no energy is wasted and keeps the process free from any grid dependency.
The "Farmer Behind the Brand", Paco Cojuangco, strives to keep the production of Luisita Rum authentic and premium. This ambition is not purely profit-oriented but stems from a desire to uphold the heritage of the estate and contribute to the global Filipino pride movement. He believes in the pursuit of flavour and maintaining a sense of fun in the production process, which he feels translates into quality.
When it comes to tasting, Luisita Rum is an intriguing, sensorial experience. The rum represents the historic lineage of TADISCO, which has been distilling spirits since its inception in 1958. The brand's choice to use a column still that has been in operation since 1928 adds a layer of authenticity and links Luisita Rum to a storied past.
In conclusion, Luisita Rum is more than just an artisanal spirit; it is a celebration of heritage, authenticity, and the richness of Filipino sugarcane. With every sip, one savours not just the rum, but the meticulous process, the commitment to sustainability, and the unwavering passion that has gone into creating this distinct spirit. Cojuangco and his team at TADISCO have indeed succeeded in showcasing the capability of the Philippines to produce world-class, premium rum.
Joseph (aka Joe) had a bottle of the New Yarmouth 1994 27 YO open for tasting, one of but not the oldest rum in the room and boy did it drink well for such a high ABV.
New Yarmouth 27-Year-Old 1994 Jamaican Rum, an extraordinary tipple that elicits profound admiration among rum aficionados.
A rare gem hailing from the illustrious New Yarmouth distillery in Jamaica, this rum is matured to perfection over 27 years in a solitary cask. It is bottled by the independent and reputable Hunter Laing and forms an integral part of the distinguished Kill Devil collection. With an age statement as grand as 27 years, this exquisite spirit is a testament to the artistry and time-honoured tradition of rum crafting.
Its robust profile, with a potent cask strength of 60.3% ABV, is distilled from Molasses using a Column Still. With a limited release of just 296 bottles, this rum is truly a collector's delight and offers an aromatic ensemble of notes that captivate the senses. It unveils layers of vanilla, woody undertones, and raisins, with a hint of coconut and varnish. The palate greets you with a symphony of woody, dried fruit, and caramelised tones, interlaced with a balance and complexity that is indeed a treat for rum enthusiasts.
On the palate, this rum evokes a rich tapestry of flavours, revealing layers of clove, oak spice, and cinnamon, elegantly offset by the undercurrents of leather and black tea. Subtle hints of milk chocolate and vanilla cream add a touch of sweetness that rounds up the tasting journey.
Its medium-length finish lingers, allowing the medley of caramel, fruits, coconut, marzipan, woody tones, oak, baked apple, milk chocolate, almond, and honey to unfold beautifully.
To sum up the New Yarmouth 27-Year-Old 1994 Jamaican Rum is an incredible offering, steeped in tradition and mastered over time. It is a joyous celebration of its origins, showcasing the best of Jamaican rums. A magnificent sipping experience that transports you to the Caribbean with each sip, it is indeed a pleasure to treasure.
Next up was the Jamaican Rum 2001 distilled at Long Pond Distillery
Jamaican Rum 2001, a single cask rum meticulously crafted at the renowned Long Pond Distillery and brought to life through the hands of time.
This opulent spirit boasts an age statement of 21 years, matured patiently in a solitary cask to absorb all the sublime flavours that the oak has to offer. The rum was brought into existence in 2001 and it was only after 21 years that its cask was uncorked by the independent bottler Wealth Solutions, resulting in the birth of The Colours of Rum series. A limited edition, it holds within only 245 bottles, each boasting a robust 56.4% ABV.
The aromatic profile of this exceptional rum is a mélange of mellow tropical fruits and dried mango, harmoniously blended with a medley of complex spices, malt loaf, and a touch of oak.
On the palate, one will find an array of captivating flavours, intertwining pineapple, mango, papaya, lime, and pastries to form a palate of exquisite complexity and depth. The finishing note reveals a plethora of sensations – tropical fruit, woody essence, dark chocolate, and spice all coalesce in a sophisticated aftertaste that lingers on the palate, creating an enduring finish.
This rum provides a unique drinking experience for rum aficionados, with its balance of rich, fruity, and complex elements, coupled with the charm and gentleness often compared to that of Hampden rum. The harmony of cooked bananas, ripe mango, melons, apricots, and a pleasant spicy complexity leaves an impression on the palate that is truly unforgettable.
The Jamaican Rum 2001, distilled at Long Pond Distillery, is a testament to the sublime marriage of time, tradition, and craftsmanship. It invites you to appreciate the beauty of aged Jamaican rums and savour the magnificence that unfolds with each sip. An extraordinary rum with an extraordinary story, it indeed offers a sip of Jamaican tradition and a taste of rum perfection.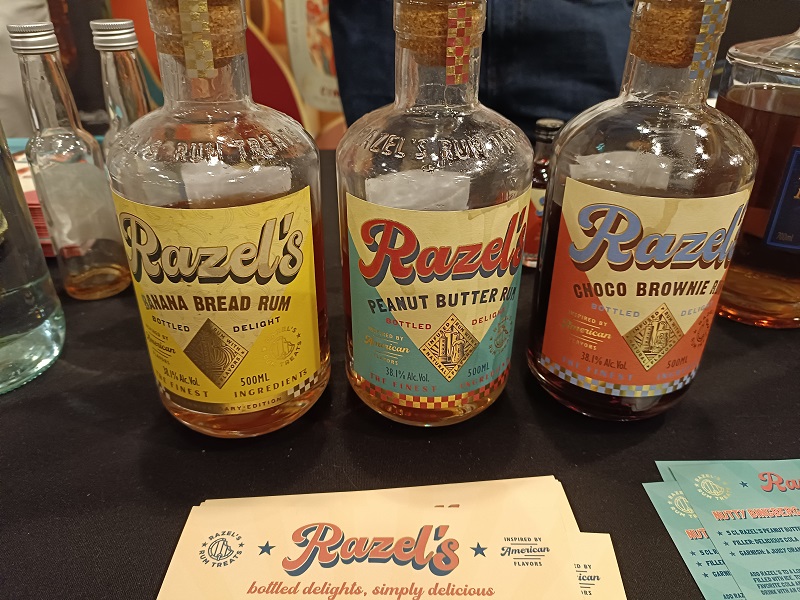 Met with Arno the MD at Perola however at Perola I only got to taste the flavoured rums but in the most bizarre way. A young lady who was nearby suggested I try the rums but all 3 flavours at the same. Now imagine 3 of your favourite dessert flavours Banana Bread, Peanut Butter and Choco Brownie but all as flavours in a glass with 15ml of each rum. OMG, what a rush! It was like hitting dessert jackpot! This would be such a great end of meal combo!
Sadly I did not try anything else on this stand as I was whisked away to another stand for, yes you guessed it more Rum!!
The Rumgasm!
Flor de Caña pitches itself as a sustainably produced rum, naturally aged without sugar!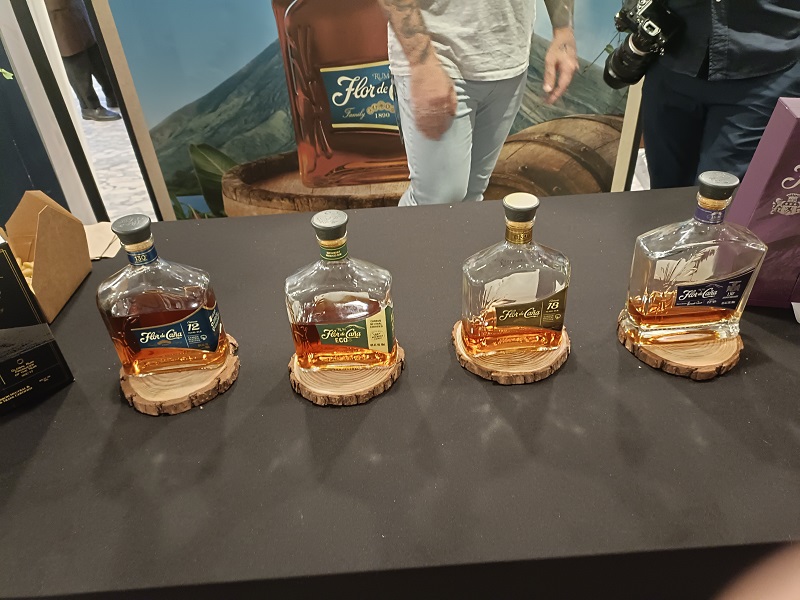 Now I did not see this coming (pardon the pun). We skipped the 12 year upfront (but did circle back), we hit up theFlor de Caña ECO first and whilst everyone was talking away I was off in heaven, the world stopped for a brief moment and someone in the Appleton stall with a camera was so memorised by my expression that he did not even take a picture of the moment but then got everyone's attention referring to my Rumgasm! It was a kodak moment for sure, thankfully not captured.
Flor de Caña 18 Years Old:
The Flor de Caña 18 Year Old Centenario carries quite a bit of barrel influence, layered with an abundance of over-ripened fruit that closely follows. The dominant tropical influence, especially ripe, almost fermented pineapple, combined with some coconut syrup notes, makes this variant particularly exotic. Just like its 12-year-old counterpart (see below), it struggles to fully harmonise its coffee and black tea characters with the abundant fruitiness.
Flor de Caña 12 Years Old:
This rum marks the beginning of the "Centenarios" family, Flor de Caña's highest-end bottlings. Its character deviates from the usual course, embarking on a heavy fruit-infused journey not exhibited by the other variants. The mix of over-ripe banana, coconut, cherry, and apricot gives it a fruit cocktail characteristic, in contrast with the subtle coffee notes that appear with time. Its finish seems to be engaged in a tug-of-war between the fruit and coffee notes, leaving the palate with an interesting experience when compared to the ECO (see also Rumgasm!).
The Rum Festival Grand Finale – Appleton 1984
1984 how apt for Singapore! By the time we finished drinking it felt very Orwellian as everyone had pretty much closed up and was heading home (its now after 7pm and yes we are still rolling)!
Appleton Estate 1984 is certainly the oldest rum in the room (I was only 14 and had probably started drinking beer in the UK at that age) and with this extraordinary age and heritage, it holds the distinguished honour of being considered the oldest 100% Pot Still Single Marque Rum ever released, aged entirely at source in the tropical climate of Jamaica.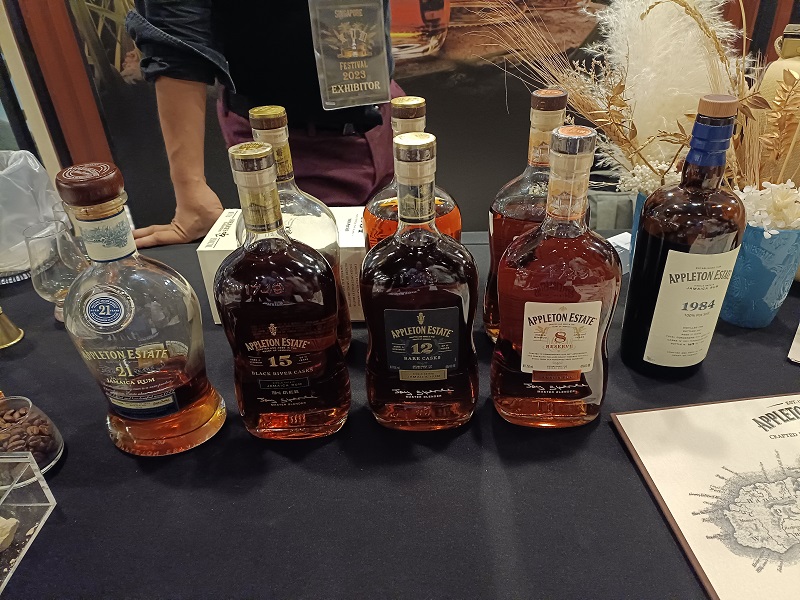 The appearance in the glass presents a visual delight, pouring a dark, mahogany hue that hints at its long maturation period. The experience then proceeds to the nose, where the presence of its years in the tropics truly comes to the fore. It unveils a rich tapestry of aromas that encapsulates the essence of the land of its origin.
Upon the first sip, the rum instantly announces its robust character. It carries an unrivalled depth of flavour, a testament to its decades-long maturation process. Each note unearths a layer of its past, revealing the true craftsmanship that went into creating this magnificent spirit.
The Appleton Estate 1984 is a true testament to the art of rum-making. Its allure lies not only in its remarkable age and the depth of its flavours but also in the stories it holds within. A sip of this rum is not merely a taste of a spirit, it's an experience that delves into decades of heritage, craftsmanship, and tropical splendour.
Appleton Estate 1984 sells for over £1,000 online! I think we can safely say we got our monies worth even buying tickets at full price!
What did I learn that's worth passing on?
In the world of rum production, there are two fascinating terms that capture the intricacies of the aging process: the "angel's share" and the "devil's cut." Let's explore these concepts.
The angel's share refers to the portion of distilled spirits that evaporates from the barrel or cask during the maturation process. As rum ages, it interacts with the porous wood of the barrel, causing expansion and contraction with the changing seasons. This natural phenomenon allows small amounts of the liquid to escape into the atmosphere through evaporation. The angel's share is influenced by various factors such as barrel size, environmental conditions, and location within the warehouse.
On the other hand, the devil's cut refers to the portion of the distillate that is absorbed by the wood of the casks during aging. Unlike the angel's share, which evaporates into the air, the devil's cut represents the rum that becomes trapped within the barrel. This absorbed liquid remains in the wood, contributing to its character and influencing the maturation process. The devil's cut does not affect the alcohol content of the final product but is instead dependent on the porosity of the wood used in the casks.
Both the angel's share and the devil's cut are integral aspects of rum production, showcasing the dynamic relationship between the spirit and the barrel. The angel's share represents the ethereal loss of rum to the heavens, while the devil's cut represents the liquid retained by the wood, creating a balance between what is given and what is kept during the aging process. These intriguing terms add depth and mystique to the craftsmanship and artistry behind the production of aged rums.
Beyond Tastings: Masterclasses with Industry Experts
The Rum Festival wasn't just about tasting and appreciating rums. It's also an opportunity to learn about this beloved spirit through curated masterclasses with industry experts. Those sessions provided a wealth of knowledge about the history, making, and characteristics of rum, making you a more informed and discerning rum enthusiast. If you missed it this year don't worry because according to Edriane Lim Manager at 15 Stamford's Bar next year will be bigger and better!
Thanks for the much needed Cuban Sandwich Edriane!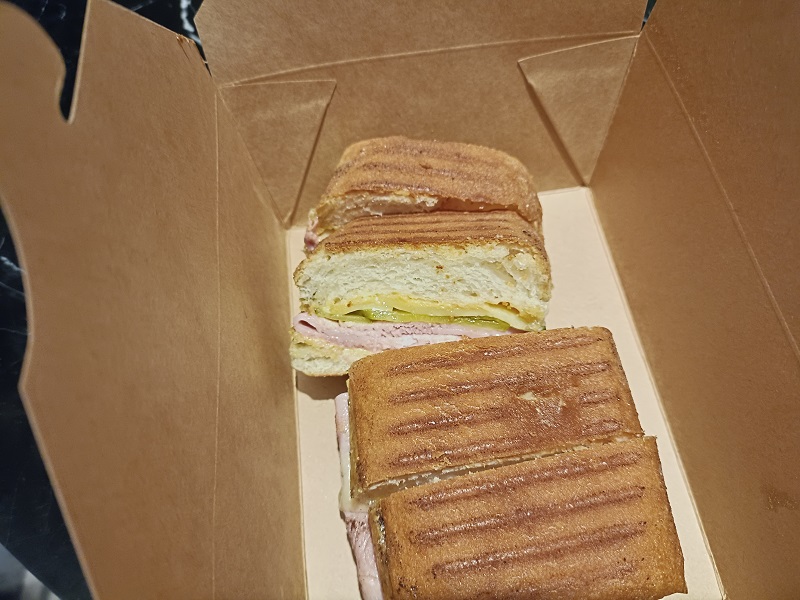 Final Conclusion on my Rum Festival Review
It would be worth while getting a ticket for 2 days and pacing yourself unlike like me who went hardcore 7 hours and tried practically every stall exhibiting at the event, what didn't help was Steve pouring his samples in my glass when he didn't like them! Invite friends that don't know about Rum like my Filipino mate Rob who turned up late and left early but was totally schooled on how good Philippine rums are!
The Rum Festival Early Bird special deal is worth while so do sign up the The Capitol Kempinski Hotel for those updates (we missed that deal).
Last but not Least!
Big shout out to Rubina, Edriane and The Capitol Kempinski Hotel team for a Rum Festival event well done! Looking forward to next years event already (however my liver is not)!