Platypus Cantina Siglap: new to the East Coast in my home-suburb of Siglap. Time for a review!!!
 Platypus Cantina Siglap: I was just back from a business trip to Seattle, mightily jet-lagged and not wanting to meander too far from home for dinner. I know, I said to the family, let's check out the new Platypus Cantina Siglap, that replaced Al Forno Siglap late last week, its a couple of doors down from The Malt House… A resounding yes was received. Sadly, the food and service were a little disappointing as I will explain more in the blog.
I'll give them the benefit of the doubt as they have not been open long: teething problems, staff bedding down and so on: but surely such a well-established restaurant chain should not need the benefit of the doubt with such experience, and a generic menu across all branches. You make your own decision, folks.
They currently have no menu to share online, the link below is to another branch, but that gives no details or pricing even. In fact, they don't even have an active Website for me to share here.
ISLIFEARECIPE will commit to updating all this information as and when it comes to fruition, and perhaps when we review the place a second time once it has 'settled down'. They are one of our 'locals' now.
I will call out the decor, the cocktails, and mocktails as exceptional though. You simply have to try the Passion Fruit Margarita: WOOF!!!
In the spirit of ISLIFEARECIPE though we welcome you to the flavourful world of Platypus Cantina Siglap, where tacos dance with tequilas, and every bite is promised to be a fiesta in your mouth! 🌮🍹 Truly, imagine a place on the East Coast where Mexican-inspired cuisine meets a fun and colourful setting, where margaritas flow like waterfalls (especially when I'm drinking them), and where the joy of dining is as spicy as the salsa. 
ISLIFEARECIPE will dive into the realm of Platypus Cantina Siglap, sharing insights into its menu, ambiance, and why it's becoming one of the go-to spots for affordable tacos and tequilas – or even just a local to grab an affordable pint or two.
Is Platypus Cantina a must-visit destination for food and tequila enthusiasts seeking a taste of Mexico in the heart of Siglap? Read on, folks, and make your own minds up. 🇲🇽🎉
The decor at Platypus Cantina Siglap
I'll give them top marks for this, truly what the transformation from Al Forno to this. A light airy patio cum bar, and the coolest of interiors including dining booths. It eeks quality and pumps out cool toonz to get you in the mood. I'll definitely be using this as one of my Siglap 'office number 2'. It really is quite incredible to see this vibrant locale now in Siglap. Great job guys for that. I even love the sombrero lamp shades: genius!!!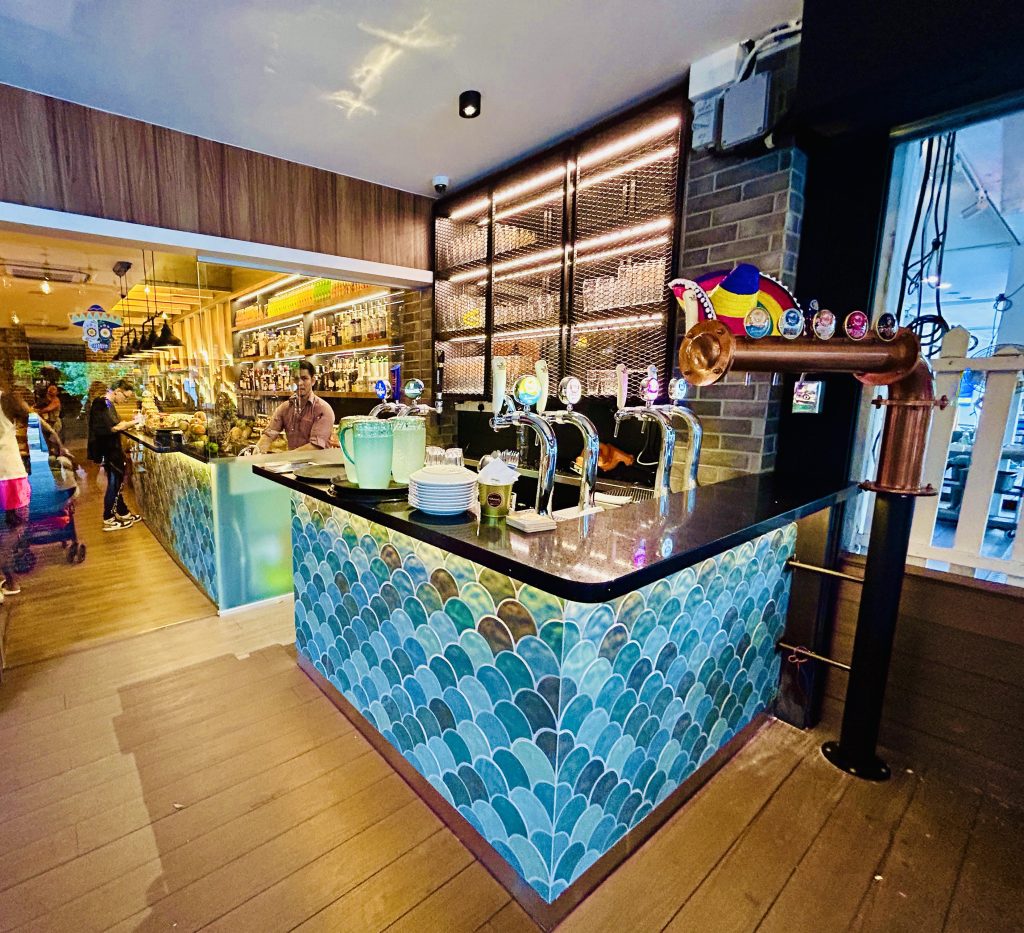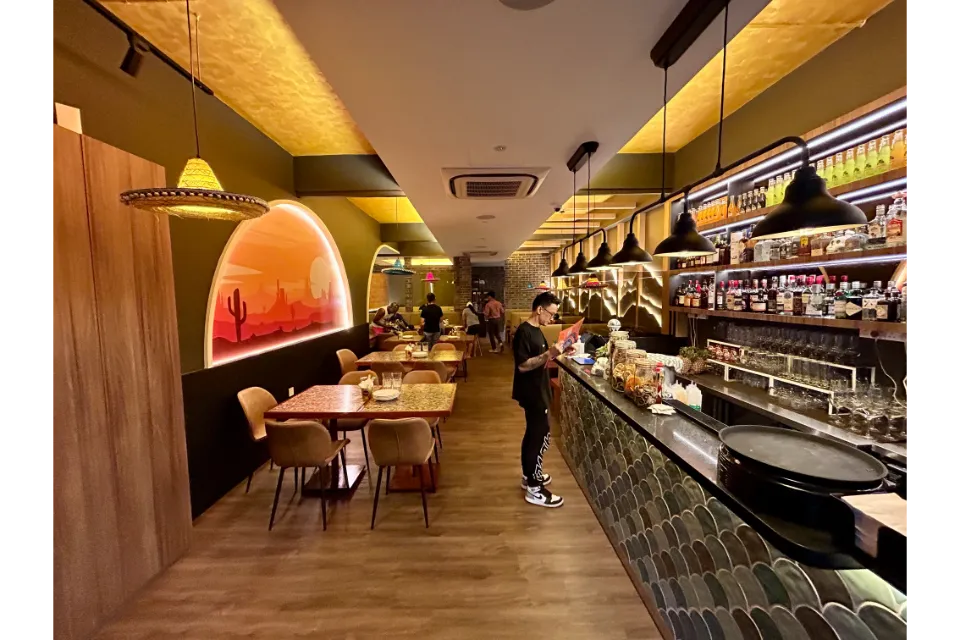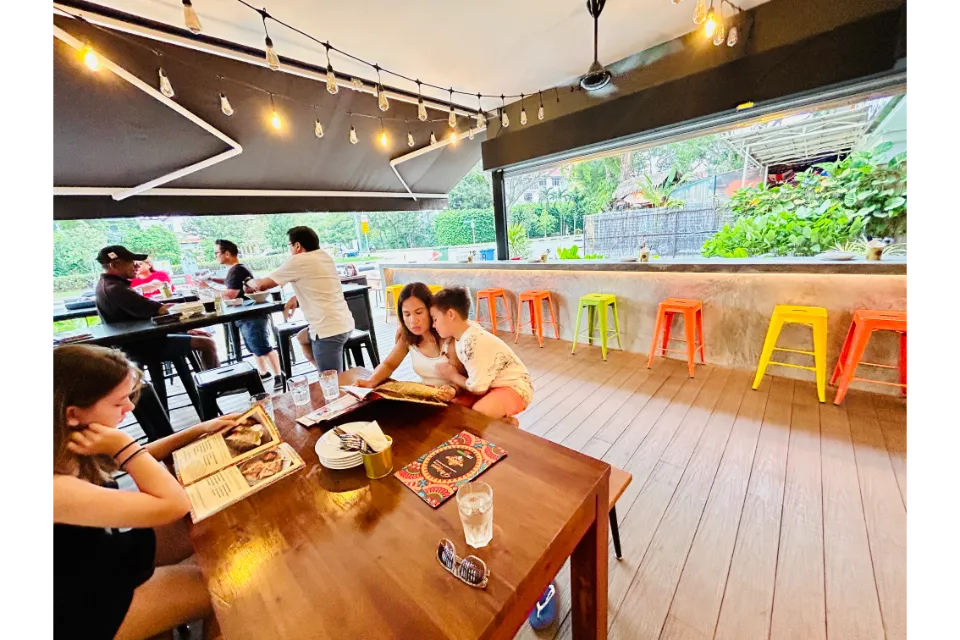 The Drinks at Platypus Cantina Siglap...
The negatives first, to get them out of the way:
15 minutes wait for one refill of my Tiger (reasonable @ $9++ per pint),
When I got said refill it was a major underpour, as per the picture below (you're not going to win any repeat visitors),
Great they have Guinness on tap, but then sacrilege to watch the bartender pour a pint straight… no pour to 3/4, rest, and top up. OMG!!!
On a positive:
The margaritas were excellent, both the Lime Classico, most especially the Passionfruit: WOOF!!! @ $12++ each,
The mocktails were equally good and Amy fell in love with the Japanese Peach and Mango Lemonade. @ $8++ each.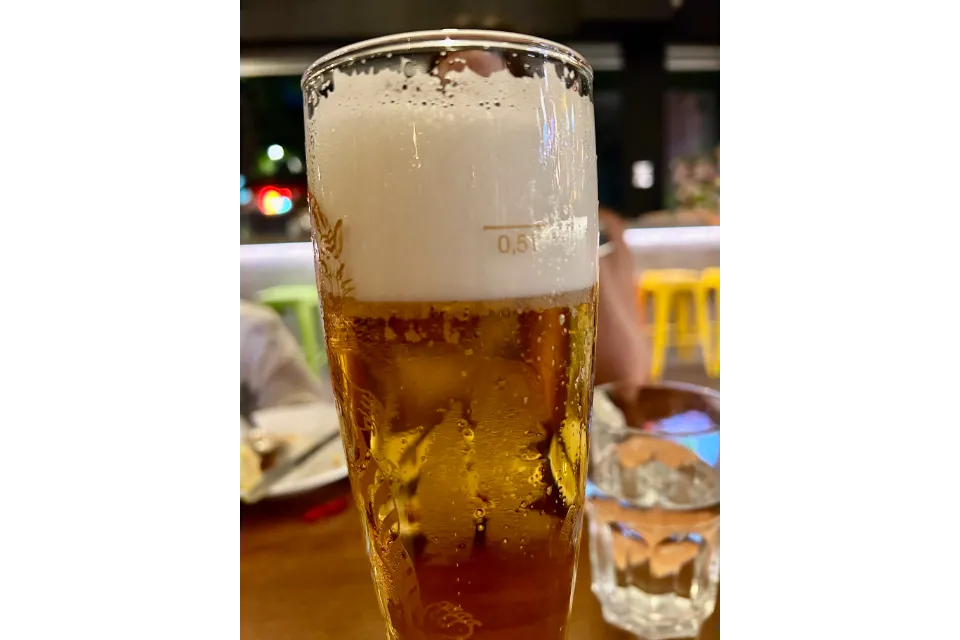 To the food at Platypus Cantina Siglap...
The food surprised me. We have eaten at Platypus Cantina Katong many times, and it has been solidly good food. How that can not extend to a new branch is sort of beyond me. In fact, if I were the owners I'd be throwing my very best crew at the opening of a new locale. It does not appear to have happened here: at least for half the dishes we dined on. Let's break that statement down:
Angry Wings @ $13.90++
These we all really enjoyed, loved the spice dusting and the little bit of theatre table-side with the shake and shake in the bag to coat the chicken. The spice dust is lush: sour from preserved fruits, with a lovely chilli warming throughout as well. Real good.
But hey, again, how could you mess this up? I bet frozen chicken wings that get deep-fried and then have the powder put on. No chef magic here, it's all in the spice mix.
Mexican Street Corn @ $5.90++
Not bad at all, but it's such a simple dish to make. This charring should be on the octopus. 
Truffled Bacon Broiled Mac n Cheese @ $20.90++
We all enjoyed this. Nicely truffled, with some delish Tex-Mex cheese and bacon bits. But how could you get this wrong, really..? This mac and cheese is worth an order.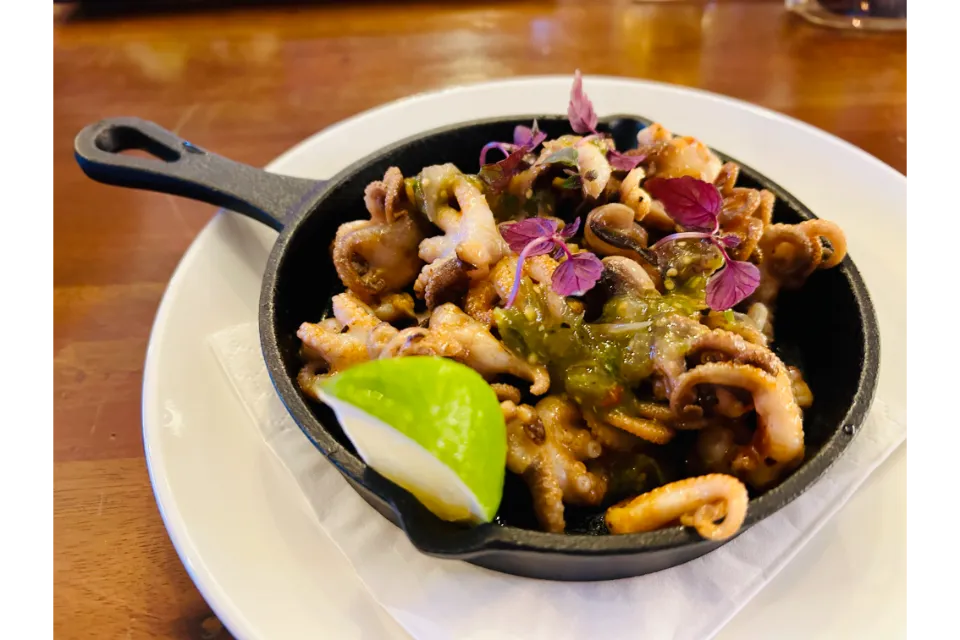 Flame Charred Baby Octopus @ 18.90++
The Baby Octopus was way below par. I can't see a single char on there, and throwing some flowers on top doesn't hide that fact. One other customer even walked up to me to explain his wife ordered this and it arrived frozen still… Dear me. This will not be being ordered again.
NEVER AGAIN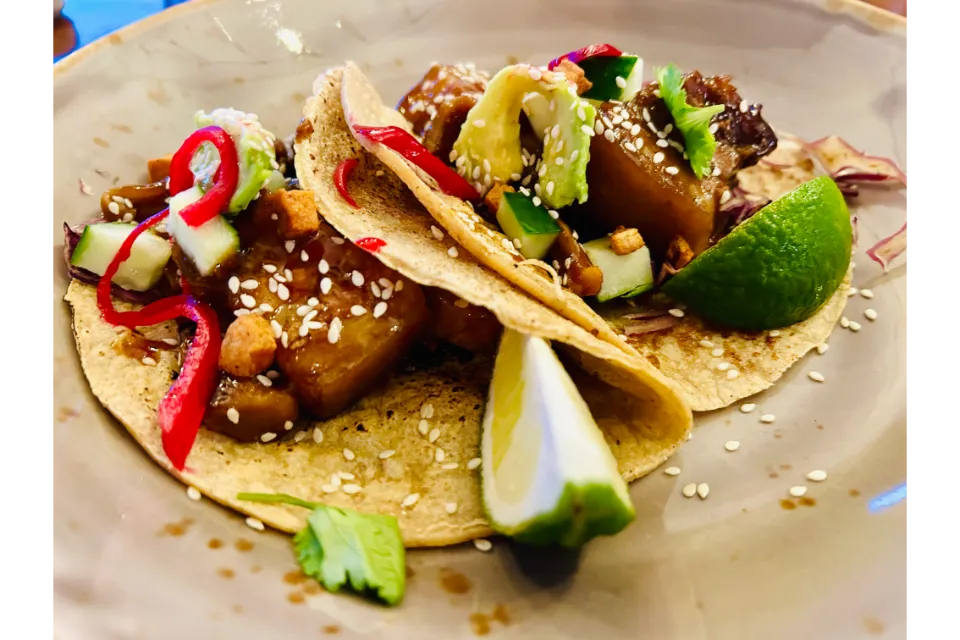 Pork Belly Mese Corn Taco @ $13.90++
Amy really enjoyed this. So this is one of the saviour dishes for the entire meal. She wolfed this down. Next time I think I'll steer clear of the mutton and perhaps try the pork.
Braised Mutton Masa Corn Taco @ $14.90++
Unedible. Toughest meat I have ever had in a restaurant. It was so hard it was literally impossible to chew, maybe better for resoling a shoe.
I even took the 'mutton' out of mine, broke down one of the Angry Chicken Wings, added some Mexican Street Corn, and made my own Taco. Which was delicious by the way. I am copyrighting that Taco…
NEVER AGAIN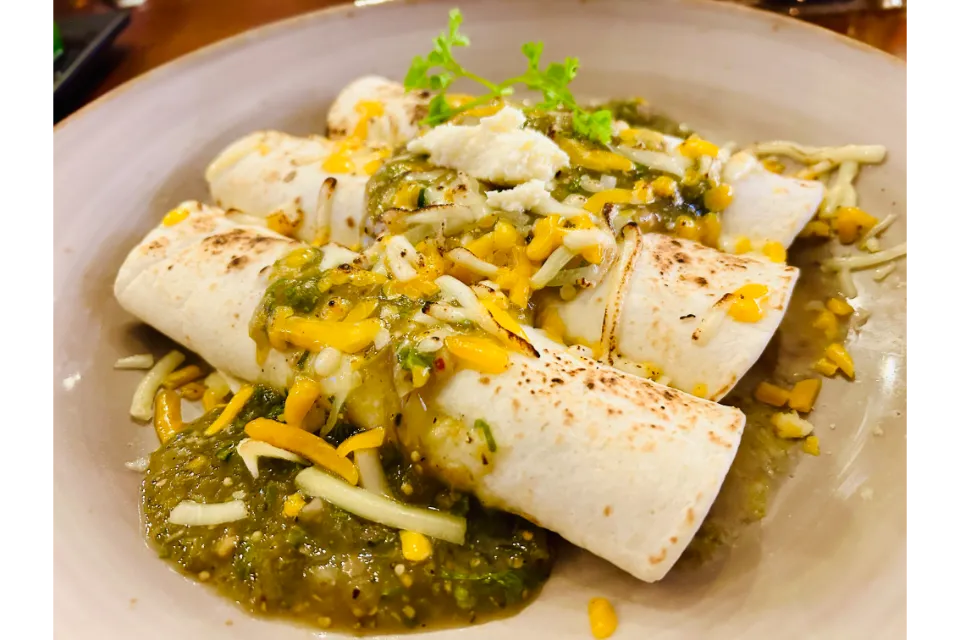 Braised Mutton Enchilladas @ $19.90++
Unedible. Toughest meat my Wife has ever had to eat in a restaurant. Cheese is not melted even. It reeks of being frozen and microwaved food consistently.
NEVER AGAIN
Tex-Mex cuisine is an American culinary style that originated from the culinary traditions of the Tejano people of Texas. It has since spread to various parts of the United States, particularly in the Southwestern states. Tex-Mex cuisine is characterized by its distinctive use of ingredients and flavours, blending elements from Mexican and American cooking.
So when you see a restaurant like Platypus Cantina with Mexican Inspired Cuisine, you can guess it is going to be TexMex.
Key characteristics of Tex-Mex cuisine include:
Heavy use of shredded cheese.
Incorporation of beans, particularly black beans.
Utilization of various meats, such as chicken, beef, and pork.
Inclusion of chili peppers and spices for flavour and heat.
Common ingredients like wheat flour and yellow cheese.
Iconic Tex-Mex dishes like fajitas, nachos, queso, and enchiladas.
Tex-Mex is known for its bold and savoury flavours, often featuring dishes that are hearty and satisfying. While it shares some similarities with Mexican cuisine, it has developed its own unique identity over the years, characterized by a fusion of American and Mexican culinary traditions.
Our conclusions of Platypus Cantina Singapore
In conclusion, Platypus Cantina delivered an OK dining experience. 
Reviews note variations in food quality, and staff: 3.6 out of 5 on Google. We experienced this exactly with ONE HOUR wait for the most basic sweet potato shaker fries (despite 5 attempts to chase the staff up), inedible mutton, under-pours on the beers, and so on. 3 out of 5 from us this day.
The ambiance was cool though, and I loved dining on that patio with the cool toonz wafting around your ears. They have got that so right.  The service staff are friendly enough but need to up the service ante (one hour for some sweet potato fries… really), how to pour pints is a must, and general attentiveness, which would add to the overall positive experience.
I'll give them this as 'opening teething problems'.
But, Platypus Cantina consistently impressed me with its lively atmosphere and decor though. It's a place where you can savour Mexican-inspired dishes in the heart of Siglap: they just have to get the food quality and drink service on par with the decor and cocktails. I am certain it would then become a must-visit destination for Tex Mex food enthusiasts from across Red Dot.
What does Platypus Cantina Siglap have to say about itself?
What is the address of Platypus Cantina Siglap and Contact Details?
Address: 693 East Coast Road, Siglap, 459058
What are the opening hours of Platypus Cantina Siglap?
Monday 4 pm–12 am
Tuesday 4 pm–12 am
Wednesday 4 pm–12 am
Thursday 4 pm–12 am
Friday 4 pm–12 am
Saturday 11 am–12 am
Sunday11 am–12 am