New Zealand Fresh Mussels and MonkFish with Japanese A5 Wagyu: Best Recipe
Monkish Best Recipe: My second to last day of freedom from work (well 3 calls only today on my day off) and I decided to splash out with a big family dinner. A big family dinner I was finishing off as I had an audio call with a colleague and client through my Earpods.
I kid you not haha. This is a BIG one. This was a belter of a dinner for the family, an absolute belter. Majoring on quality ingredients with Japanese Wagyu, A5 no less, mussels, and Monkfish from New Zealand. WOW!!!
Monkfish, is often referred to as "poor man's lobster" due to its sweet, lobster-like flavor, is a versatile fish that can be prepared in various ways. One popular recipe is the "Poor Man's Lobster" – Monkfish with Herb Brown Butter. This dish involves pan-searing monkfish fillets, butter-basting them, and serving with a flavorful Herb Brown Butter sauce.
Monkfish is known for its sturdy flesh, and it's crucial not to overcook it, as overcooking can make it rubbery. To test for doneness, insert a knife into the thickest part of the fillet; it should be firm and slightly springy.
I sliced off one 1.5″ deep steak off the Japanese A5 Wagyu Rib I bought from my mate Chef Greg. Have a look at how beautiful that is. That is some intense marbling folks. This is going to be so very good.
All I did with this was bring it to room temperature. Quite a good dusting of sea salt & cracked black Kampot pepper all over. I used my skillet as too lazy to fire the BBQ and also 2 other quite complex dishes going on and the rice to cook too. Get the skillet piping hot on the hob and throw in the steak. No need for oil as that fat is going to render out.
I cooked this for like TOPS 5 minutes per side and then popped in a little knob of salted butter and basted for a minute. Out she comes, she rests a little and then sliced thinly and season more with sea salt & cracked Kampot black pepper.
Pink2Pink Perfection, medium-rare, beef buttery goodness. Holy cow this was an INCREDIBLE steak.
This was so good even Wifey & Strawberry Blonde were eating medium-rare – now how about that…? She does look amazing right? You didn't really need to chew this and the beefy flavour was just intense. Goodness me, a beef WOW moment indeed with this bad boy.
Up next two new dishes using ingredients from our new partner BFF's at New Zealand Fresh – check the partner list on the home page and click the link. Seriously have a look at some of the produce there. These guys always inspire me to create. And today was no different. 
Let's hear from them (I love this stuff as you know):
"We are proud to say all our New Zealand imported meats are airfreighted, never been frozen before, are 'organic' in their nature i.e. Grass-Fed (fed on natural pasture), Antibiotic Free, Hormone Free, Farmed Ethically and Sustainably – Non-GMO, Fully Traceable, Range-Free Outdoors, with Pure and Natural Water.
Our pillar products are; beef, lamb, venison, chicken, salmon, fish, sausages, burgers, eggs, pies, wine however we also supply; pork, veal, bacon, pulled pork, ham, salami, dips, salads, wine, shellfish, crab meat, prawns, langoustine, turkey, berries, honey, burger/hotdog buns, sourdough, condiments & last but not least. amazing bbq chefs."
He had me at hello…
NZ Fresh Mussels and MonkFish Recipe with Japanese A5 Wagyu
Check out these live New Zealand Fresh Green Lip Mussels – monsters they were, like HUGE. All you could smell was the sea when I opened the packet. A quick rinse in cold water and pull the beard out and we're ready to go…
You will need for 2-3 PAX;
1x pack of the amazing NZ Fresh Mussels – you get about 10 of these monsters
4x finely sliced shallots
1x cup white wine
2x sprigs of fresh thyme
2x Tbsp finely chopped garlic
1x 2″ knob butter
Sea salt & cracked black pepper
3x sprigs of fresh thyme with the leaves pulled off the stalky bits for a garnish at the end
And we're off;
Take a pan with a lid and pour all those ingredients in, including a good pinch of sea salt & fresh cracked black pepper
On the heat, and cook that down until the shells all pop open;
Occasionally give it a good shake to get those juices all over the mussel meat;
When they have all fully opened you are ready to rock 'n' roll and plate;
With tongs take out the individual mussels and plate them up;
Stir in another 1″ knob of butter to the liquor and let that melt in and then stir it through until it melts;
Spoon over the liquor, making sure it gets in the shells to the mussel meat;
Sprinkle over the fresh thyme leaves;
Pour the remaining liquor into a serving bowl as this stuff is GOLD for flavour-dipping – it's got Umami written all over it;
I served this with a thinly sliced baguette that I drizzled with olive oil and a sprinkle of sea salt & then baked in the oven until golden and crispy.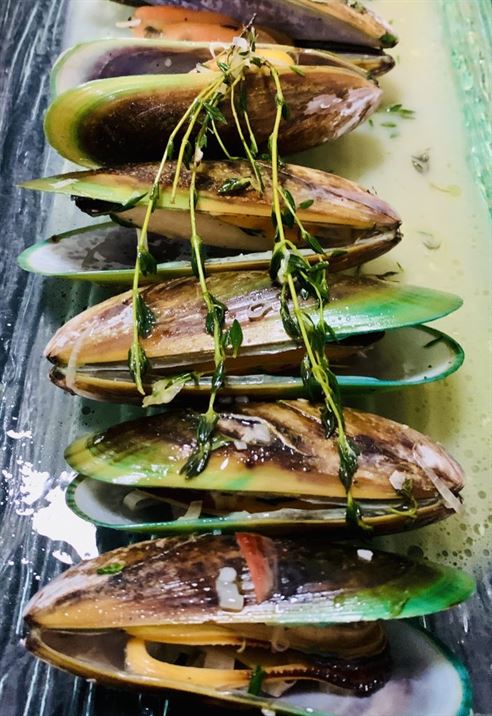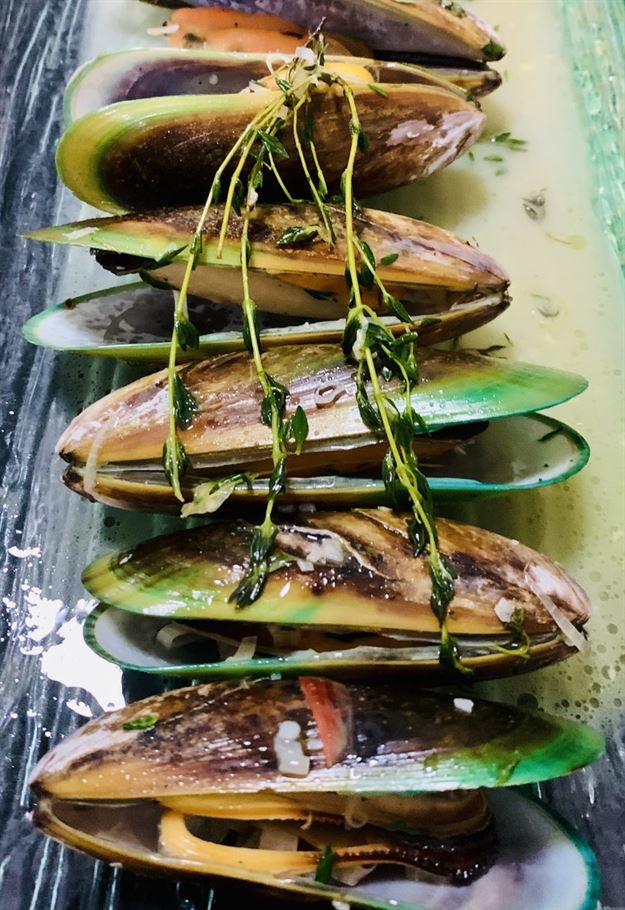 Best Baked Monkfish Recipe
And then he shared with me the Monkfish. Holy moly this had me drifting back to days in Brussels in the Medieval market square sipping beers watching the world pass by and having Monkfish & Mussels served up with crusty bread. It was just beautiful. So today I did exactly that Monkfish & Mussels.
That beautiful fillet comes from a fish that only its mother would love – AKA star-gazer because its eyes are on top of its head. Man, it is an ugly fish. A MASSIVE head with huge sharp teeth and boggle top of head eyes. But then to the tail and this amazing white and firm fillet like the best cod you have ever seen. Huge firm flakes of super-white firm fish. Monkfish is just beautiful for cooking with. Today I fried and baked it as you'll see.
You will need to do the following for 2-3 PAX;
250g of the amazing NZ Fresh Monkfish – this is like the Hanger Steak of the sea – I'd call this the Chef Cut of fish;
Give the fillets a rinse in cold water and pat dry with a kitchen towel;
Throw them in a zip-lock bag and add in;

A good glug or two of virgin olive oil;
1/2 cup lemon juice;
2x Tbsp finely chopped garlic;
3x Tbsp finely chopped English parsley (keep 1x Tbsp for the sauce);
Sea salt & cracked black pepper;

Zip it closed and mix the marinade around to coat the fish and throw it in the fridge for an hour or so;
When you are ready, get a pan hot on the hob and throw in a knob of salted butter (use a pan that can go in your oven);
When melted use tongs to lift the fish fillets into the pan – discard the marinade;
Cook for 5 minutes per side to seal in the flavour and the juices and then transfer to a pre-heated oven at 180 degrees;
Cook in the oven for another 10 minutes and out to rest a little;
Take a small pan and melt a knob of butter, add in 2Tbsp of lemon juice and carefully cook that until the butter starts to brown;
Stir in the finely chopped 1x Tbsp of fresh parsley and stir it through;
Plate the fillets on a platter and drizzle over the butter lemon sauce… WOW!!!
All this was served with some sushi rice & crusty bread for the mussel liquor dipping. The sushi rice is awesome rice just to have plain. You cook the sushi rice like normal in your rice cooker add about 2-3 Tbsp of sushi rice vinegar and stir it through.
Our conclusions of the Best Monkfish Recipe
It gives it a nice edge and goes perfectly with what I was serving today as the mains NZ Fresh Mussels & MonkFish with Japanese A5 Wagyu. A very happy family today. The food was demolished in seconds.
It was gone very quickly. I am a happy cook. Get some fun ingredients, get creative, and have a go. These recipes are killer according to family feedback (my biggest critics). Hope you – ENJOY!!!
People also asked about Best Monkfish Recipe
Some people call out Rick Stein Monkish Recipes as the best Monkfish Recipe, and that includes Mediterranean Monkfish Recipes, and a Baked Monkfish Recipe. However, I think our Monkish Recipe is up there with the best.
| Question | Answer |
| --- | --- |
| 1. What is a popular monkfish recipe that highlights its flavor? | One popular recipe is the "Poor Man's Lobster" – Monkfish with Herb Brown Butter, featuring pan-seared monkfish fillets and a flavorful Herb Brown Butter sauce. |
| 2. How can I avoid overcooking monkfish? | To prevent monkfish from becoming rubbery,avoid overcooking by testing for doneness with a knife inserted into the thickest part; it should be firm and slightly springy. |
| 3. Are there any monkfish recipes with a tomato-garlic sauce? | Yes, a Roasted Monkfish recipe served with a simple Tomato-Garlic sauce is a delightful option that can be prepared in just 40 minutes. |
| 4. Can you recommend a monkfish recipe with ginger and garlic? | Certainly, the Monkfish Recipe with Tomato, Ginger & Garlic sauce offers a piquant and complimentary flavor to the hearty monkfish fillet. |
| 5. What is a quick and easy monkfish dinner recipe? | Try Pan-Fried Monkfish sautéed in olive oil and butter with garlic and lemon for a delicious and quick fish dinner. |
| 6. Is there a monkfish recipe that involves roasting? | Yes, you can explore a Roast Monkfish recipe, such as the one demonstrated by Jack Stein on YouTube, which highlights the meaty texture of monkfish. |
| 7. Are there any monkfish recipes with lemon butter sauce? | Yes, Pan-Fried Monkfish with Lemon Butter Sauce is a flavorful option that brings out the natural taste of monkfish. |
| 8. Can monkfish be used in curry recipes? | Absolutely, monkfish curry is a popular choice, and you can find various recipes that incorporate this versatile fish into curry dishes. |
| 9. What is a unique monkfish recipe recommended by chefs? | Chefs often recommend trying Monkfish with Tomato, Ginger & Garlic sauce for its unique and delightful combination of flavors. |
| 10. Are there any monkfish recipes that mimic the taste of lobster? | Yes, monkfish is known as "poor man's lobster," and recipes like the "Poor Man's Lobster" highlight its similar sweet and lobster-like flavor. |