Wagyu for Brekkie
Out from the fridge comes some beautiful Australian StoneAxe Wagyu from Shaun at Butcher Box. The 6-year-old is craving meat today for his brekkie and today he got his wish with StoneAxe Wagyu for Brekkie. It's so simple to do, but the results are just some of the most stunning beef ever. This is beef flavour in steroids, believe me. It's a WOW for breakfast and the little man loved it.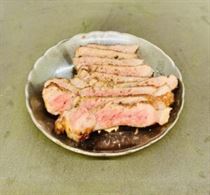 StoneAxe Wagyu for Brekkie
Here we go – enough for one hungry six-year-old;
Make sure the steak has been out of the fridge and up to room temperature;
Season it well with sea salt & cracked black pepper;
In a pre-heated oven at 220 degrees for 5 minutes on one side, flip and again 5 minutes (medium/medium-rare);
Out of the oven and let her sit a little bit, like 5 minutes to rest;
Frypan out with a knob of butter and get that hot and throw in the steak;
Sear that off until there is a brown crust, flip and repeat and off the heat;
Slice thin and plate – when plated sprinkle a little more sea salt & cracked black pepper on top.
That's it. That is all you need to do in our house on a Sunday morning to have a very happy six-year-old who is set up for the day ahead. A beautiful lump of StoneAxe Wagyu full blood 9+ Sirloin. Hell yeah. Stunning to look at, smell and of course, eat. It's a beauty. StoneAxe Wagyu for Brekkie!
Be sure to check out the StoneAxe Wagyu MB9+ 'w' Beef-fat-fried Edamame post
ENJOY!!!
Connect with Us on Social Media