Boracay, Philippines Review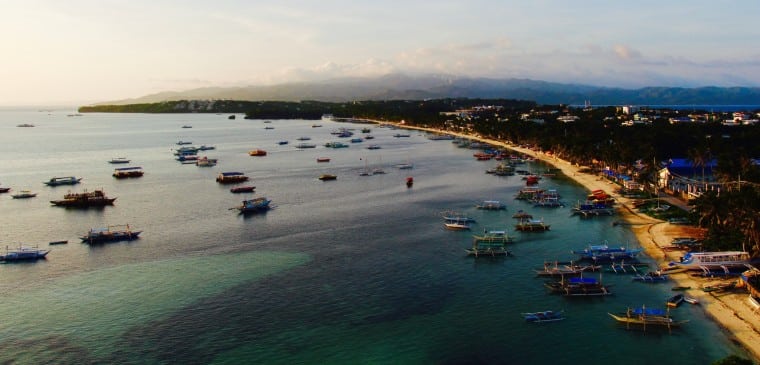 No this not The Hangover folks, this is The Honeymoon. This is Boracay, Philippines Review.
At some points it may have felt a little like The Hangover ha ha. So The Semi-Naked Chef and his new wife and the kids of course, decide to have a few days away in paradise on the small island of Boracay, just off the main island of Panay, and the Province of Aklan right at the very tip of Panay. Our first time away together for 12 months because of the visa issues as you know (if you are a regular reader). So we are indeed calling this honeymoon, but also the first Great Escape that is a guaranteed return.
Now this one is going to be rather large and I apologise in advance for that. But this place is heaven and you can't stop taking photos of the place believe me. Refuted to be one of the most beautiful islands in the world, renowned for diving with many wrecks around the shore, topaz seas and visits from whale sharks at certain times of the season. It truly is a beautiful place. This is Boracay, Philippines Review.
Because it is The Philippines you'll need to get your tuk tuk face on, or as more affectionately known locally as a tricycle. Great for zipping around, weaving through the traffic, wind in your hair style – and CHEAP!
A couple of bits of advice now from The Semi-Naked Chef – learnt the hard way as the newbies to Boracay – as I stated this is Boracay, Philippines Review. Clearly when we come back, and we will, we'll also be leveraging this advice ourselves;
We were staying at Karuna Suites – check the blog
Back to the advice – check your seasons. Now if you were here for a diving only holiday, you clearly are not going to see much down there with all this rain. For us this was fine. We sat on the balcony watching this storm come and go. Lightening lighting up the sky – actually very beautiful. And in 10 minutes all gone, sun out and all dried up.
This really shows you how narrow the island is – literally like that dog bone shape I mentioned.
Loved this place. Meats, fish, herbs, spices, vegetables all out on display.
This is also the wet market where we visited Smoke Restaurant.
Oh my God – check this out – we love Boracay, they even have a hotel named after Jude. How cool is that!!!
Eyes to the right during day time this time – not a bad view I think you'll agree.
See the screen all the way down – purely there to stop the wind blowing the sand into the restaurants.
Again not too shabby and hold on a minute there's also family Kennett. Loving the beach. Our first day here a wandering. Again recommendation for the main, White Beach, is that the sun loungers come free with the hotel you are staying in. Whereas if like us you were on the other side of the island you have to fork out quite a few Peso to enjoy a relaxing spot, in the shade with a cold Pilsen and other such refreshments.
I hope you are all picking up on this topaz sea and white sandy sandy beach.
Now this is choppy at the moment due to the storms, but normally this is flat as a pancake cause by the coral reefs not far off-shore causing the waves to break there, keeping the seas pristine and crystal clear!
Amy said; "Sod Tom Hanks, I'll be your Castaway here!!!"
Yeeeeehagggggh cowboy.
Come on, come on – cheap hat to keep the sun off one's sensitive nose is all…
I am now thinking about how I can afford to instal a White Beach into the condo back in Singapore – have you noticed a common theme? Yep not an iPad, Samsung, Facebook, What'sApp etc in sight. Well worth the money!!!
Here we go on a boat trip from our side of the island – a little island hopping and to do some snorkeling. I tell you life is not bad sometimes is it.
Then you get to that point when you have to ask yourself; "How hard is it to get you three to look at the camera?
Yep not sandcastle, but a sandboat. I used to make these during the summer with my sister down Westgate Beach when we were kids, Now time to hand that skill down to my three.
A beautiful day out – we booked one of these little boats with out-runners for the day to go exploring. A little snorkeling and a visit to Crystal Cove – all incredibly beautiful and stunning.
So off the boat to explore this little island. A gorgeous little thing. A little bar for refreshments, 2 coves that you can explore, white sandy beaches to laze on and many many locations to get some family snaps at.
Now I can't really show you much of the cove as much was filmed on my waterproof camera – which has now decided to go pop and not download – deep joy. But basically down a rather steep stone set of steps into a dark grotto. Paddling pools in the cave for the wee ones and more adventure for the big ones.
Ollie and I managed to swim out of the little cave and into open water. We also managed to clamber on this bamboo raft to have a few dives off it, before a nice cool refreshing swim back to the cool interior of the cave.
Not the next of video quality – but keep going to tend for a special guest.
And that was that Boracay, we finally have had to say goodbye.
The Semi-Naked Chef is hopeful that you like Boracay, Philippines Review. It may give you some tips, some advice, and hopefully an incentive to come, it is beautiful here – ENJOY!!
Connect with Us on Social Media