Karuna Suites, Boracay
For our recent family trip to Boracay, I did a search for family rooms using booking.com.
Now we have not been here before so to be honest I had no idea where was good/bad/indifferent.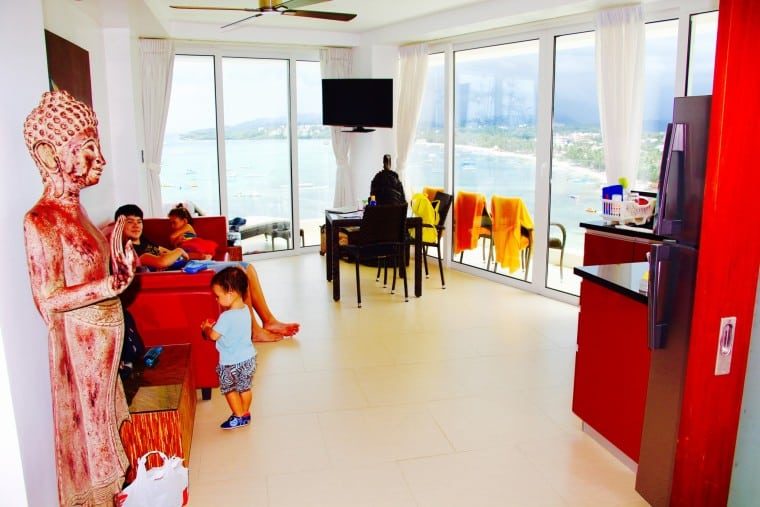 There weren't many family rooms at the bigger White Beach, so we ended up choosing Bulabog Beach. We found a real nice placed called Karuna Suites, Boracay. A seriously nice place, 2 bedroom and bathrooms, living and dining area, kitchen and a monster balcony. This place was really really nice. Now have a look at the video from the very top floor and read the last bullet point below. It's all relevant – but seriously what a view and when this restaurant opens can you imagine sitting there at night with all the stars and twinkling lights in the boats – hell yes!
Now I am not going to slate this place at all, but let me just explain a few things;
Bulabog Beach has one restaurants/bar from what I could see, and that was empty every night;
We were literally on a cliff – no tuk tuk could make it up, so we were reliant on shuttle buses, or fixing a time for a personal shuttle, or finding the new electric tuk tuks – not really ideal with a 2 year old who doesn't live to a schedule;
Karuna Suites, Boracay has nothing to offer for refreshment – no bar, no restaurant – so you HAVE to exit the place continually unless you do want to buy your own food and cook. Not ideal when on vacation of course to be cooking;
Karuna Suites, Boracay does offer breakfast though, but only in your room – now that was really nice, albeit it took ages, and that is probably because of the next bullet point;
We were put in Olango Suite – seriously beautiful, I mean seriously – check the snap above. Amazing views. BUT it is a 4th storey walk-up. Yes folks no lift. So we just left our walk-up condo in Singapore on 3rd floor at Finland Gardens to come on vacation and we move to another walk-up, but 4 floors – not ideal;
These guys could really do with a small bar down by the pool offering refreshments, especially as they're offering baby-sitting;
Karuna Suites, Boracay – believe me this is not a slate at all as you really do have a beautiful place, and really nice staff – but I think on TripAdvisor etc you should call out the fact you have no facilities and clearly the walk-up issue;
I will keep the above in this blog, as this was actually our experience this trip; but
When we come back I may remove it all as Mary heard from one of the guys on duty that within the month they will be opening a roof-top restaurant and within a few months a bar at the poolside – so Karuna Suites, Boracay I hope you take the comments above in the bullets as observations of now and personal desires for our trip of now, and that if we do come back and stay at yours again it sounds like we'll be rocking.
Again you have to agree – pretty damn good. Lovely little pool and spectacular views of the beach.
How about that view from the balcony at 0530am – well worth an early rise to see this. Stunning from the balcony.
Seriously check this place out – this is the view from our little boat trip, looking up at the cliff to where Karuna Suites, Boracay are located. Seriously impressive. We were up on the 4th floor, and check the roof-top where the restaurant is going to be built later this month once they get the licence sorted. I'd eat there for sure!!!
All packed and ready to go get the ferry – sadly leaving the wonderful Boracay.
So Karuna Suites, Boracay we loved your place and will 100% be back if that bar and restaurant get constructed. With a family in tow you really could not do much better than here – The Semi-Naked Chef says so – ENJOY!
Connect with Us on Social Media