Thai Egg Baskets
Get your steady hands ready for this recipe. This is one of the trickier recipes I have ever written for you guys to make. These Thai Egg Baskets, are complex. But still please have a go, so bloody nice when you finish them as I think you'll agree from the photo.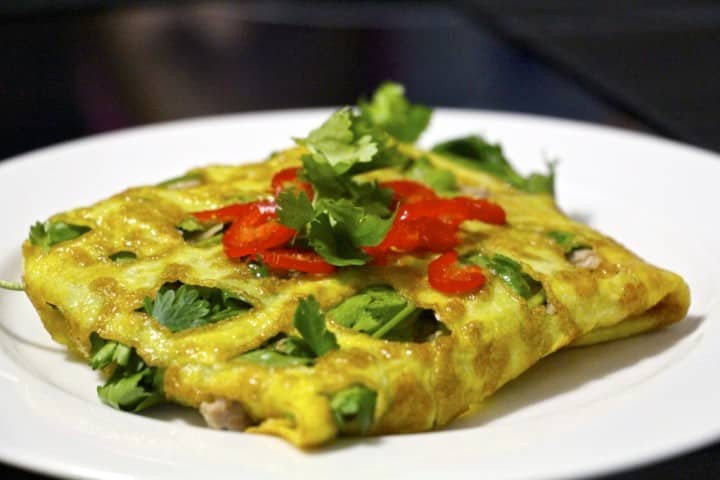 This is a Thai recipe, that I have messed about with a bit. In Thailand they'll have a special dispenser that is cone shaped to draw out the egg basket criss cross. I simply used an oil dispenser as that worked a dream to create my Thai Egg Baskets.
I made 4 big Thai Egg Baskets for my gang with the following ingredients, and had just about enough left over to make one more. So as a main course dish, this will comfortably be enough for 4, or if making this as a starter you'll easily get 8 from these ingredients;
Filling;
4 roughly chopped coriander roots (buy the Chinese parsley at your supermarket to get the roots on still);
3 cloves of roughly chopped garlic;
A good pinch of cracked black pepper;
A good pinch of sea salt;
2 roughly chopped small red onions;
3-400g of minced pork, or chicken – or even a mix of the both;
5 tablespoons of crushed up roasted peanuts;
1 tablespoon of palm sugar or equivalent (brown sugar);
1-2 tablespoons of fish sauce (to your personal taste); and
1-2 teaspoons of lime juice.
Baskets;
6 beaten eggs;
2 teaspoons of fish sauce in to the beaten egg mix;
A handful of chopped coriander and some sliced red chilli for garnish.
In a pestle and mortar bash up the garlic, coriander roots, pepper and salt. You want to bash that to a paste. You'll smell this immediately as you bash it – this is going to be good, believe me;
Heat up your wok, splash in some oil and add in the paste you just made. Now fry this off very briefly just to release the fragrance;
Add in the meat, and the onions and fry off until the meat is cooked through;
Add in the peanuts, palm sugar, salt, lime juice and fish sauce;
Keep cooking this until the liquid thickens a little.
All good on your filling. So off the heat and stand this aside whilst we move the tricky little baskets.
You will need a squeeze bottle or an oil dispenser as you really do need thin thin egg lines, or 'stripes' across the pan. See below one of mine well under way. Basically all I did was make a circle then cross it horizontally and vertically – you need be quick as it is think and will cook very fast. Flip it if you need, but I found because it was so thin it cooked through from the bottom to the top with no need to flip. Amazing! Loving these Thai Egg Baskets.
Once it is browned on the one side slip it on to a chopping board or work top;
Add a good bunch of coriander leaves in the middle of the basket as this will give a lovely fragrance and fresh herb punch when you bite it;
Then spoon on 3-4 tablespoons of the meat filling on top of the leaves;
Then turn in the edges of the omelette to make a neat square;
I then placed an overturned plate on top of this square, and flipped the board upside down;
Tah Dah there is your Thai Egg Basket ready for garnishing on the plate.
I simply sprinkled a few chopped chillies and a coriander leaf or two. Job done. Serve it up – and receive the "oooohs!" It's impressive in looks and flavour – believe me! These Thai Egg Baskets are just amazing to look and and to eat. Just so very tasty, all the things I love about Thai food in one little egg basket – ENJOY!!!
Is Life a Recipe YouTube Channel
(Visited 115 times, 1 visits today)