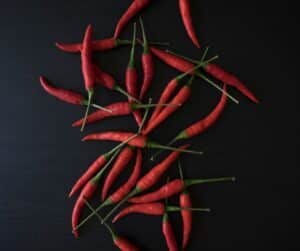 Tom Yum Cocktail Recipe - a Spicy Cocktail
With this Tom Yum Cocktail Recipe​ Is Life a Recipe is now re-entering the world of drinks, knocking out a cocktail that was a massive hit at a recent party.
In fact, 6 batches were produced, and I had to move from vodka to gin, adding in cranberry juice as a sugar supplement etc. because we ran out of initial ingredients.
But it absolutely started as my original Tom Yum Cocktail Recipe, and taking a Singaporean favourite stable food item (originating in Thailand) and turning it into an alcoholic drink.
You are really, really going to like this one, and if you want the endorsement of that, ask the 20 or so PAX at the recent BBQ that polished off about 6 litres of it.
Nuff said!!!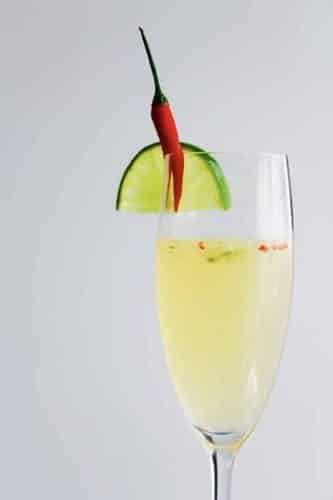 Come on now, seriously how could you not a little slurp on this bad boy? It looks uber-cool right and rather intriguing. And it is a really simple Tom Yum Cocktail Recipe to flow. 
But what is Tom Yum anyway?
What's the flavour of Tom Yum? What are the origins of Tom Yum?
Tom yum is a spicy and sour Thai soup that is generally made with shrimp (prawn). Tom yum originated in Thailand.
The words "tom yum" are a combination of two Thai terms. Tom alludes to the act of boiling, whereas yum means 'mixed.'
Tom yum is distinguished by its characteristic spicy and sour flavours, as well as the copious use of aromatic spices and herbs in the broth. Fresh components include lemongrass, kaffir lime leaves, galangal, lime juice, fish sauce, and crushed red chilli peppers.
Here comes the Tom Yum Cocktail Recipe
I think you'll find this is a relatively simple recipe, as you would expect from me.
But it is VERY complex in flavour and with a few amazing flavour-pop surprises like; "Is that chilli in there….?" type thing.
This is great, it truly is, and so much was quaffed, litres of it in fact.
Let's take this iconic Singaporean dish and turn it into a drink. How the hell do you do that I assume you are asking? Well here we jolly well go.
This will make about 1.5 litres or so
Take a big 2 litre drink serving jug and throw it all in together….
With a rolling pin give that a good bash in the serving jug. You are mixing and muddling all the flavours together. Make sure the Gula Melacca is nicely dissolved, and all the 'fruit' is bashed. You want all that goodness in the mix.
Now adding in the Good Stuff!
2 good handfuls of ice
1/2 litre of vodka
2/3 litre of Sprite
Give that a good stir around so all is nicely mixed and ensure that Gula Melacca is dissolved.
Stick it in the fridge for at least 2 hours to really get the flavours all muddled up nicely.
Tom Yum Cocktail Recipe Serving time...
Ready to serve?
Not quite. Hold on, hold on.
Throw in 2 Jalapeno peppers, simply slice in half lengthways.
Add in 3-4 more whole Kaffir lime leaves.
Stir again. And now you are ready my friends. To serve you will need a strainer as you don't want all the bits in your Tom Yum Cocktail because there is nothing worse than a chewy cocktail.
I strained each serving, and then returned the bits back into the jug for further reuse. And man did it get reused.
Go artsy as per the pic with slices of limes and chilis in a fluted Champagne glass. It looks stunning with the colours…
This is my Tom Yum Cocktail Recipe. It's sour, sweet, spicy all in one, this sure is a savoury cocktail. An absolute winner in my humble opinion. I loved this Tom Yum Cocktail. I hope you do too.
ENJOY!!!
Connect with Us on Social Media
**Disclaimer**
Drink Responsibly
Islifearecipe does not propose that those who abstain from alcohol should start drinking in order to improve their health. In both the short and long term, excessive alcohol use may be harmful. Additionally, you may want to look up the health advantages and dangers of alcohol use on the websites of reputable national consumer organizations. If you have any concerns about the effects of alcohol on your health or medicine, you should speak to your doctor. This website is only for educational reasons, and the writers have gone to great lengths to ensure that the information provided is in accordance with the regulations pertaining to the drinking of alcohol.