My Little Spanish Place, authentic Spanish cuisine
Looking for a slice of Spain in the heart of Singapore? Look no further than My Little Spanish Place! This charming restaurant is the perfect spot for a cozy date night or a night out with friends, with its warm and inviting atmosphere and delicious Spanish cuisine. But what sets My Little Spanish Place apart from the rest? The answer is simple: authenticity. From the rustic decor to the traditional dishes, every element of this restaurant has been carefully crafted to transport diners to the heart of Spain. Keep reading to learn more about My Little Spanish Place's delicious menu, friendly service, and all the reasons why you should pay a visit to this hidden gem. Short answer: My Little Spanish Place is an authentic Spanish restaurant in Singapore, that offers delicious cuisine and a warm, inviting atmosphere.
My Little Spanish Place Bukit Timah
https://islifearecipe.net/back-to-our-friends-at-my-little-spanish-place-eating-again-with-chef-edward/
My Little Spanish Place, families and Boxing is the title, and you may be wondering why? Well, it's as simple as we did all these things today. Amy was off on a camp so we went to Decathlon to procure her needed attire, sleeping bags etc. Prior to that was lunch, and after that was dinner. The usual jam-packed day for us. And the usual Benetton Advert family photos. We should so get sponsorship from them haha. Walking advert models. Here we go. How did all this begin…?
I would absolutely recommend you book though guys. They were turning people away the night we went. I kid you not.
Address for
My Little Spanish Place
; 54
Boat
Quay
Telephone number for My Little Spanish Place; 6532 0665
My Little Spanish Place, families and boxing – book it to save you from having to box for your seat perhaps???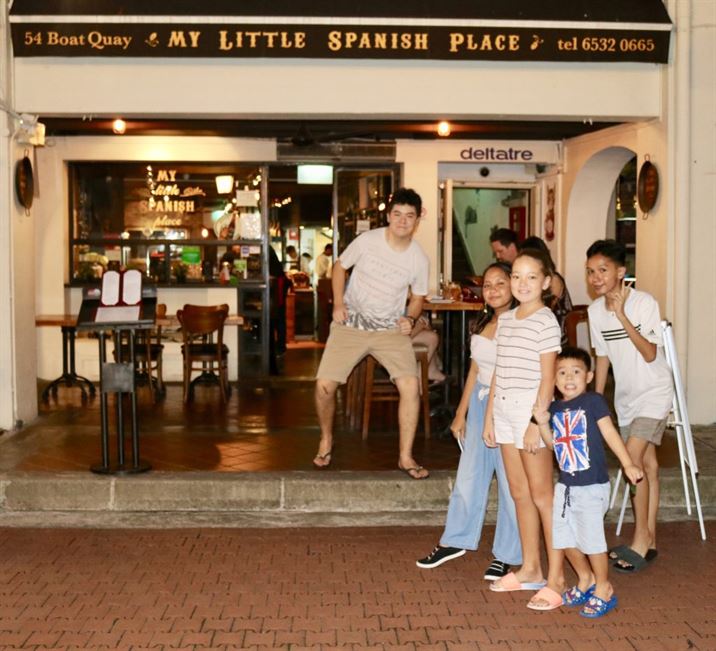 There we go what a lovely day today was. A funny title, but you get the meaning now, right? My Little Spanish Place, families and boxing. So lovely to see our mate Chef Edward. Funny that Amy and I bumped into him only a short while ago in Siglap when he was catering for some friends at one of the wine bars. This time it was our turn to be catered for and it was damned good I can tell you. Amy is fully packed and ready for camping adventures leaving on Monday. Massive fun with the whole family today. And my little Jude cracks me up yet again with his boxing antics. Just too funny. So my friends if you want a lovely family day out, perhaps ignore the Decathlon shopping ha ha, but get down for some tapas as you will – ENJOY!!!
Other ISLIFEARECIPE.net reviews of My Little Spanish Place
History and Background of My Little Spanish Place:
My Little Spanish Place is an authentic Spanish restaurant with two locations in Singapore: one in Boat Quay and the other in Bukit Timah. It was founded in 2010 by Maria Sevillano and Edward Esmero, who wanted to bring a taste of their Spanish heritage to Singapore. The restaurant's warm and inviting atmosphere, coupled with its delicious cuisine, quickly made it a popular destination for locals and tourists alike.
Signature Dishes and Must-Try Items on the Menu:
My Little Spanish Place offers a range of traditional Spanish dishes, from tapas to paella to grilled meats and seafood. Some of the restaurant's signature dishes include the Gambas al Ajillo, which is fresh shrimp cooked in a dish of boiling olive oil with garlic and chili pepper, and the Pulpo de la Casa, which is a grilled fresh octopus leg seasoned with pimento, sea salt, and olive oil, served with red pepper and potato purees. Other must-try items on the menu include the Croquetas de Jamon, the Tabla de Quesos, and the Paella de la Casa.
Chef Edward and His Culinary Journey:
Chef Edward Esmero, the co-founder and head chef of My Little Spanish Place, has had a long and impressive culinary career. He began his training at the age of 18 in the Basque country of Spain, where he learned the traditional techniques and flavours of Spanish cuisine. He has worked in several Michelin-starred restaurants in Spain and Singapore and has been recognised for his exceptional culinary skills. Chef Edward brings his passion for authentic Spanish cuisine to My Little Spanish Place, where he delights diners with his delicious and flavourful dishes.
Reviews and Testimonials from Customers:
Customers rave about My Little Spanish Place's authentic Spanish cuisine and warm, inviting atmosphere. Many have praised the restaurant's friendly and attentive service, as well as its reasonable prices. One reviewer on TripAdvisor wrote, "The food was amazing, service was fantastic, and the atmosphere was perfect. Highly recommend!" Another customer wrote, "We had a great experience here. The food was delicious and authentic, and the staff was very friendly and helpful."
Special Promotions or Events Hosted by the Restaurant:
My Little Spanish Place regularly hosts special events and promotions for its customers. These include themed dinners, wine tastings, and seasonal menus. The restaurant also offers catering services for private events and parties. Customers can stay updated on upcoming events and promotions by following My Little Spanish Place on social media or signing up for its newsletter.
My Little Spanish Place Boat Quay
My Little Spanish Place Bukit Timah
Follow Us on Social Media for More Updates