Gaig @ Stanley Street for Menrva Xmas Lunch
My mates Ruthers and Ranners invited me to their Company Xmas lunch because I have helped them with work-related matters. And they surely know how to throw a Xmas lunch, because this restaurant is insanely good. Like seriously off-the-charts good. I had a number of new Death-Row meals served up here today. An incredible looking menu, with just the very best ingredients, prep, cooking and plating. #besttapasever and I truly mean that. This is Gaig @ Stanley Street for Menrva Xmas Lunch.
I would absolutely suggest you book as this place was jammed, and they have just doubled their size. Book and don't be disappointed. And believe me, you don't want to miss eating here. Protect your taste buds and give them a call. This is fine dining and a half, so put this place on your next 'treat yourself' list.
16 STANLEY STREET 068735
Tel: 6221 2134
At Gaig @ Stanley Street for Menrva Xmas Lunch we were treated like royalty having the owner's daughter serving us the whole time. So we were able to ask a lot of questions about produce, the food, Spain, her Dad and the like. I love lunches like that. She is an amazing lady, so passionate about her food and restaurant, and she is also the Sommelier. Talk about multitasking. All I could manage was to eat and drink. A funny start to lunch though was the waiter popping our Champagne and spraying literally everyone in the restaurant with it. Whoopsy, but very refreshing. HaHa!!!
I would say this is Daddy-pedia but I'd be lying. This is from their FaceBook site but has to be said. I love this stuff. I need to know this stuff. Things like where does their recipe for Cannelloni come from in 1869? Read on folks.
Carles Gaig was destined to be a chef from birth. He was raised in Barcelona where his family owned the Taberna d'en Gaig since 1869. His mother and great-grandmother's influences are still visible today, in the great care with which he prepares their classic recipes – especially the cannelloni, one of his star dishes that has been on the menu since he started the business. Restaurant Gaig was awarded a Michelin Star in 1993. And many more accolades followed.
The Gaig family philosophy is the blending of avant-garde and market cuisine, always looking for the best product and respecting it. One of Carles Gaig passions is resurrecting traditional Catalan recipes and bringing them to the current moment. That is why in 2008 the restaurant received the award from Los Premios Nadal de Gastronomia for the Preservation of Catalan Cultural Heritage.
Further expanding the family vision, they open another 2 restaurants, Gaig a Casa in Barcelona and Gaig Restaurant in Singapore. The one in Singapore is run by Nuria Gibert (the daughter) as manager and Marti Carlos as head chef. Nuria explained that all their produce comes from the very same place as Dad's restaurant. You know this is gonna be good. Be proud Dad you daughter is doing an AMAZING job, as is Chef Carlos. STUNNING JOB!!!
I reckon we had about half the menu at Gaig @ Stanley Street for Menrva Xmas Lunch. So there's a reason to come back right there. Yep, the other half of the menu. This was a foodie dream. An incredible lunch with incredible friends. Photos to follow. Brace yourself, folks, I'm going in.
After a few glasses of this were consumed toasting various things, Ranners took the mickey of his very own Company name. Saying it sounds like something a French driving instructor would say; "Mirror, signal, Menrva…" GENIUS!!!
On the menu, they have 2 sides. One is Always With Us and one is New Entries. Basically the favourites and the specials. Must come back for more specials. In fact, I am debating Xmas family lunch here Catalan-style.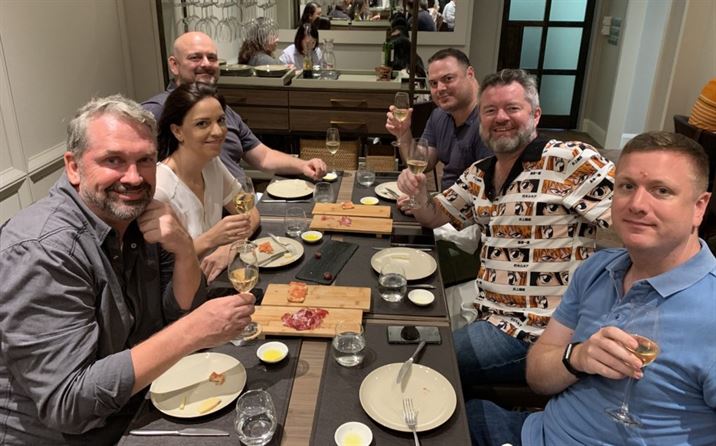 I was thinking about giving you a 'must-try' list. But it is all so very good I don't feel the need. Order everything and anything. It is guaranteed to be amazing.
Gaig @ Stanley Street for Menrva Xmas Lunch was just an exquisite lunch. Thanks to my BFF's from Menrva, Mr Rutherford and Ranahan. Hopefully, I help them again in 2020 and they bring me back for Xmas lunch here. And to Stacy, Jim and Guy for the fun and laughter. And of course to Nuria, Chef Carlos and the Gaig crew. You guys absolutely rocked. Be seeing you again VERY soon with the entire Kennett-clan of foodies so we can do some serious damage to the other menu options too. A simply stunning lunch. #foodieheavenisgaigrestaurant Don't forget to book folks. Get your bums off your seats and get down here. I absolutely and categorically know you will – ENJOY!!!

If you enjoyed this Blog Post and want to keep up with the channel be sure to Like and Subscribe to Is Life a Recipe below for more updates!

[wpforms id="15826″ title="false" description="false"]
Connect with Us on Social Media

Facebook


Twitter


Youtube


Instagram


Tumblr


Pinterest

The Angmo Cooking Show
ChillaxBBQ Facebook