Esquina Restaurant: Savouring Spanish Delights, and Exploring the Culinary Wonders of one the ICEX accredited Restaurants of Spain in Singapore
Esquina Restaurant: Hungry for a Spanish / Catalan foodie adventure? Imagine strolling into a tapas paradise where Barcelona vibes meet contemporary modern flair. Welcome to Esquina, folks, where Spanish flavours dance on your palate and plate!
From daring dishes to Michelin whispers at Esquina Restaurant (yes, I reckon that will be coming soon for Chef Carlos), we're about to uncover the Esquina Menu secrets of this culinary haven on the corner. So, grab your fork and sense of wanderlust, because we're diving into a world where Spanish traditions meet modern culinary artistry from Chef Carlos. Ready? Let's feast on the tables of Esquina!
I highly recommend getting seated at the countertops inside Esquina Restaurant to watch the action unfold in front of your very eyes. We had 10 eyes transfixed on the action this night. It was literally like being on the set of The Bear, just with a Spanish accent. As a foodie, I was literally in heaven!!!
Islifearecipe-dia: What's the meaning of Esquina?  
(= vértice) corner
a la vuelta de la esquina
(

literal

)
around the corner
; 
(

figurative

)
just around the corner
When you arrive here at
Esquina
, you'll certainly understand where the naming convention comes from. I hope they don't move location… Maybe they'd have to be renamed to:
N

o en la Esquina.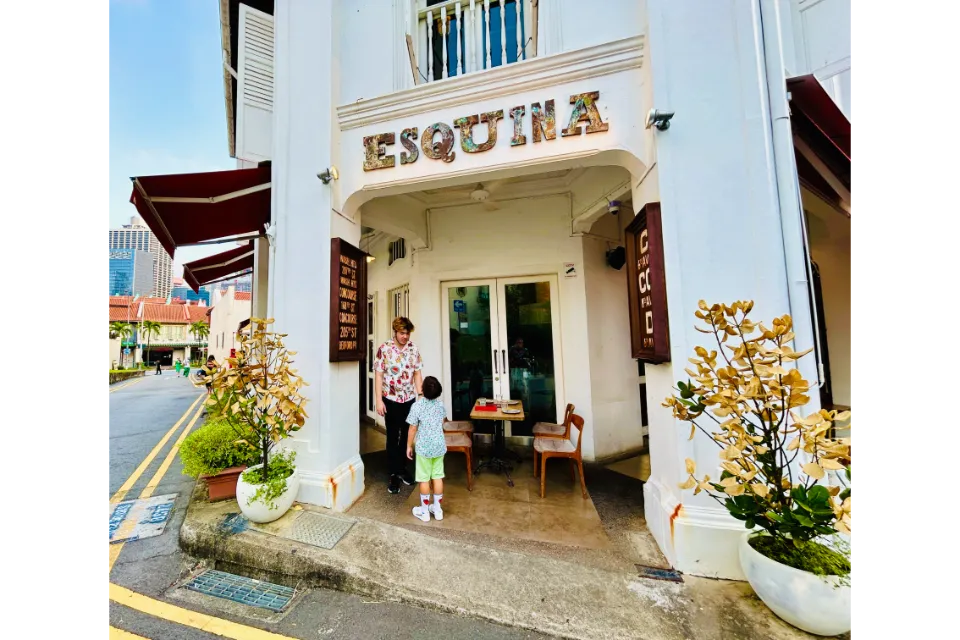 Esquina Restaurant is one of the Spanish Ambassador's accredited/recognised Singaporean ICEX Restaurants of Spain, and rightly so. The ICEX (Spanish Institute for Foreign Trade) certification ensures that these establishments uphold the authenticity and quality of Spanish gastronomy. From tantalizing tapas to flavorful paellas, these SIXTEEN restaurants bring a slice of Spain to the Lion City. Join us as we explore the ICEX Spanish restaurants in Singapore.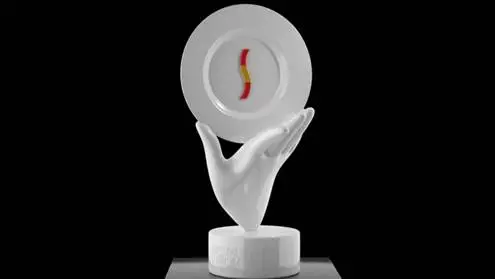 Where to sit when you dine at Esquina Restaurant?
If you're a fellow foodie and want to be in the action at Esquina: make sure you book the table-top seating area inside. It was a kitchen coordinated to perfection, but to an untrained eye perhaps looks completely and utterly chaotic. Bells dinging, much shouting, bustle, just so much bustle and hustle. It was beautiful food theatre to engage with as we dined: and I am hungry for more (as Mr Bourdain would say). Chef Carlos is in the middle with the blue 'flat-cap.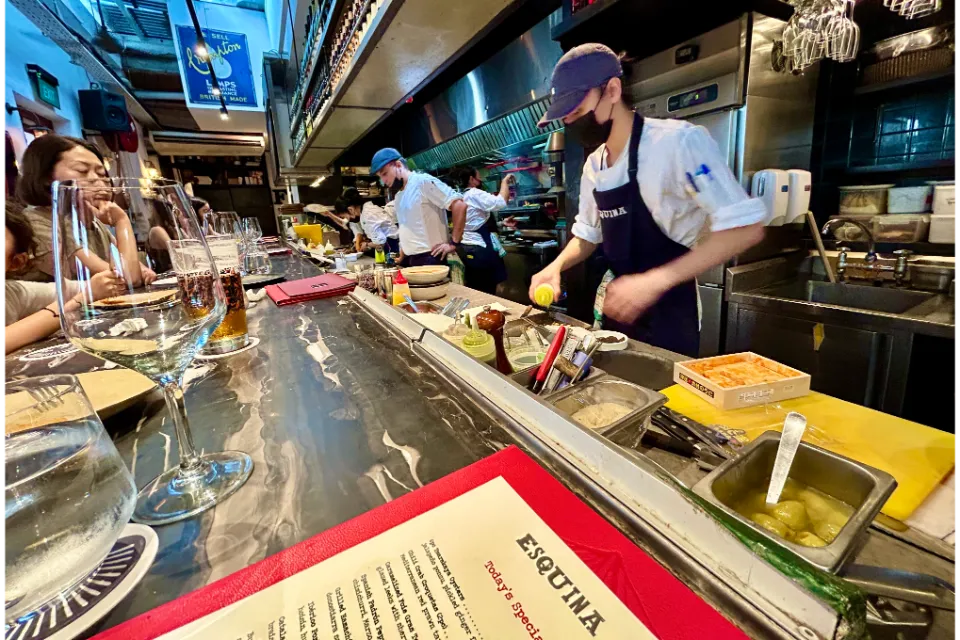 What does Esquina Restaurant have to say about itself?
What's on the Esquina Menu?
Let's be having you of amazing food from Esquina Restaurant...
Marinated Gordal olives, Anchovy Pesto, Olive Oil Caviar
@ SGD $10
Wow, what a start. I watched the Chef right in front of me prepping these beauties. A cut to flatten the olive base to stand it up, pipe in some of the anchovy pesto, and spoon on some sphericated olive oil. Boomski!!! Man alive, best olives you'll have in my humble opinion. Flavour explosions popping off all over the place. I would have ordered more, but knowing what was to come I decided to leave some room.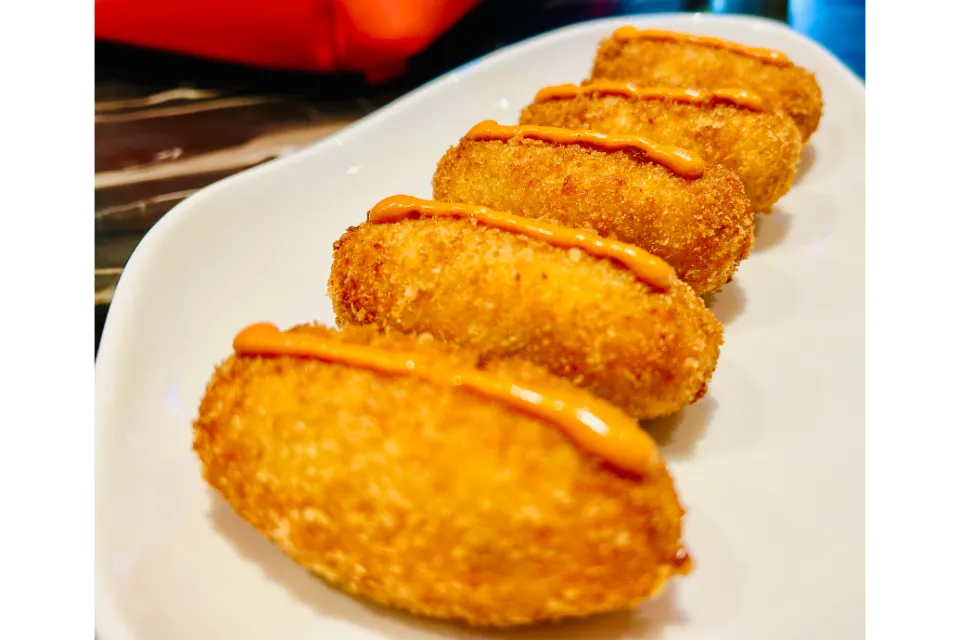 Croquetas: Chorizo Ibérico, Piquillo Pepper Salsa 
@ SGD $10 (2pc)
Beautiful croquetas. Creamy and super-savoury with an incredible crunch of the breaded outside. As good as any I have had before. The little hit of spicy salsa on top was a great addition to lift these bad boys up even further.
Thyme & Onion Bread Smoked Sweet Paprika Butter
@ SGD $12 (2pc)
Bread as I have never had before, totally unique in look, texture, and taste. Incredible bread in fact (increbreadible?). More like a buttery croissant in texture, so light, and fluffy. Then spread some of that sweet paprika butter on and you're up there with the bread Gods.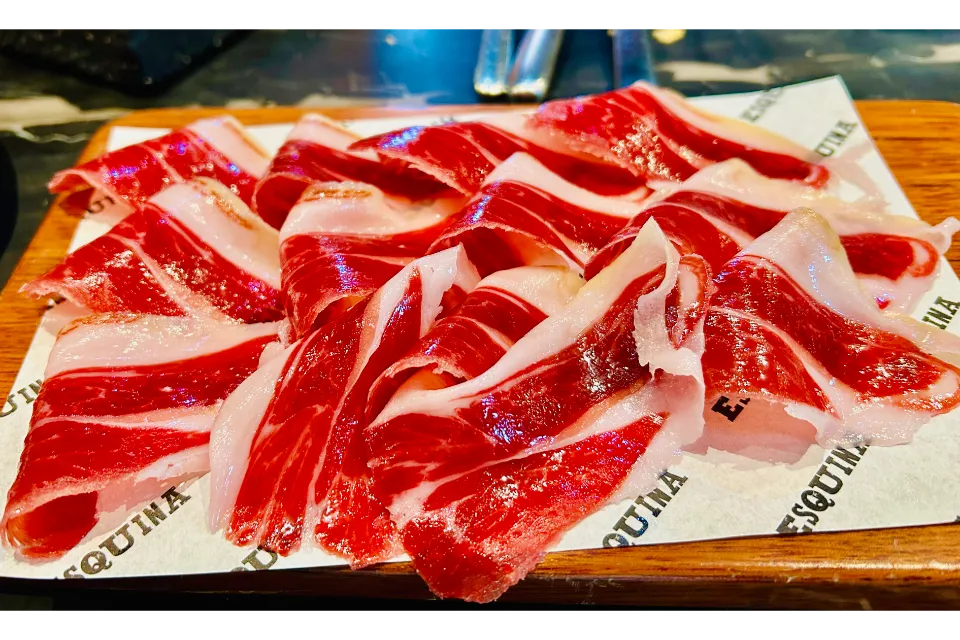 Ibérico ham "de Bellota" Arturo Sánchez
@ SGD $32 (80gm)
You just can't go wrong with Iberico ham. I would assume this is something like 36 months aged due to the burgundy colour. Deep intense flavours, yes to the acorn intenseness – usually what the free-range piggies are dining on. Oh yeah, pop some of this onto the  bread and butter and sit back and listen to those food-angels singing.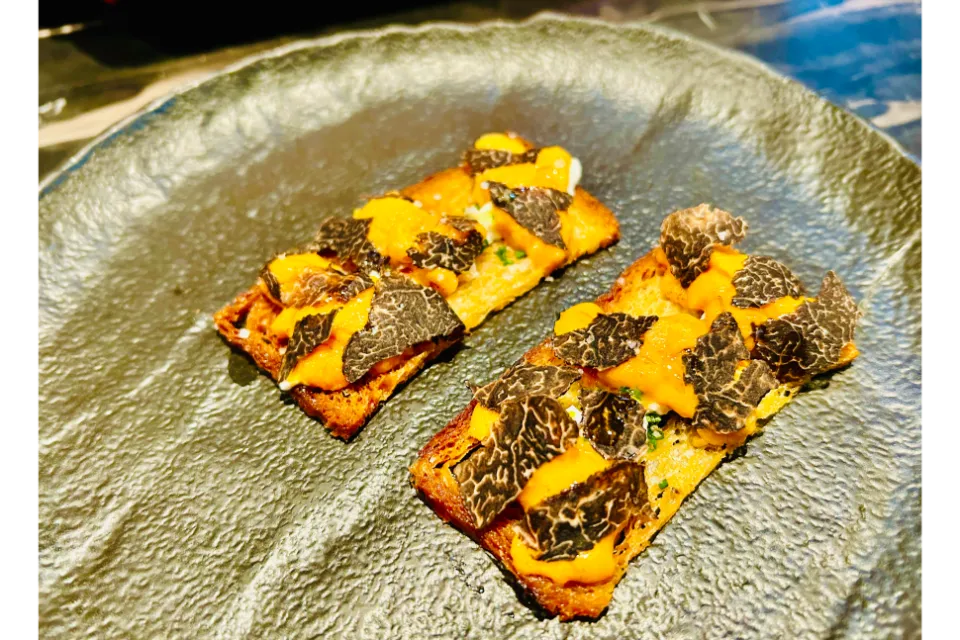 Sea Urchin Toast: Bafun Uni, Burrata, Kristal Caviar
@ SGD $22 (pc)
Not in my wheelhouse as you'll know from previous blogs, but the piscatorial elements of the family RAVED about this dish. Wifey literally could not stop talking about it before serving, during eating, and even into the taxi-ride home. Great work @Esquina, this one is a WINNER. Must-have if you come here.
Charcoal-Baked Sweet Potato Ají Amarillo, Smoked Quail Egg, Puffed Quinoa
@ SD $16
Oh my goodness, never before have I had such a presentation of sweet potato. It's seriously impressive to have come up with such pairings with the humble potato. It all just works You can taste all elements individually and then combined, and then the variety of textures. True genius. And they look like little sandcastles which I love.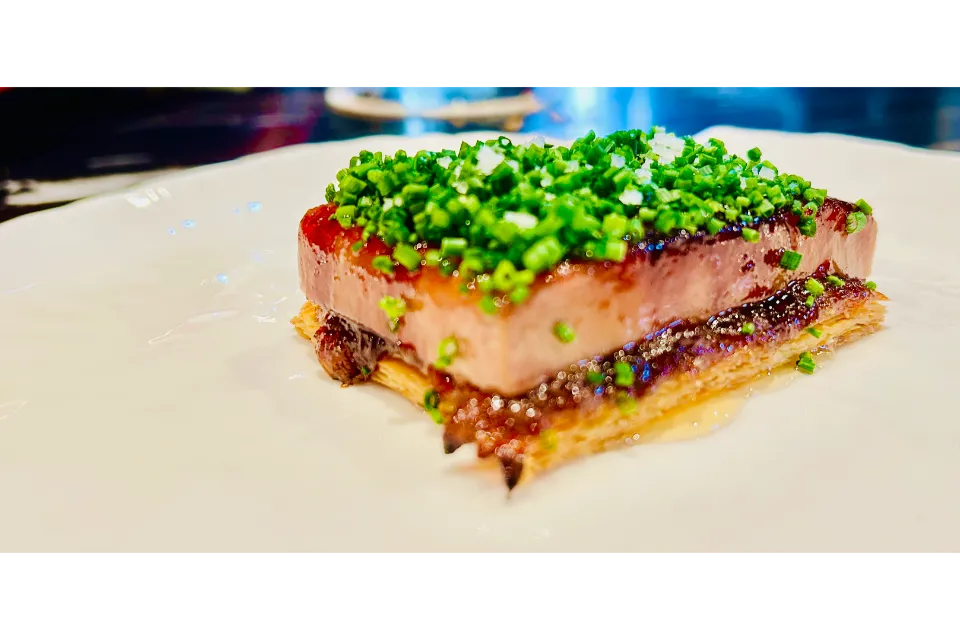 Caramelized Foie Gras Terrine Glazed Leeks with Sherry Vinegar, Puff Pastry
@ SGD $26
Bring on the unctuous. Oh my, this was soooo good. We only ordered one between for of us, damn: schoolboy error. Yeah, this was seriously good foie, with all those little accompaniments to jazz up the flavour pops and texture hits. I could have destroyed one of these all to myself in the blink of an eye, but being a caring and sharing parent and husband… I wish I had come alone now haha!!!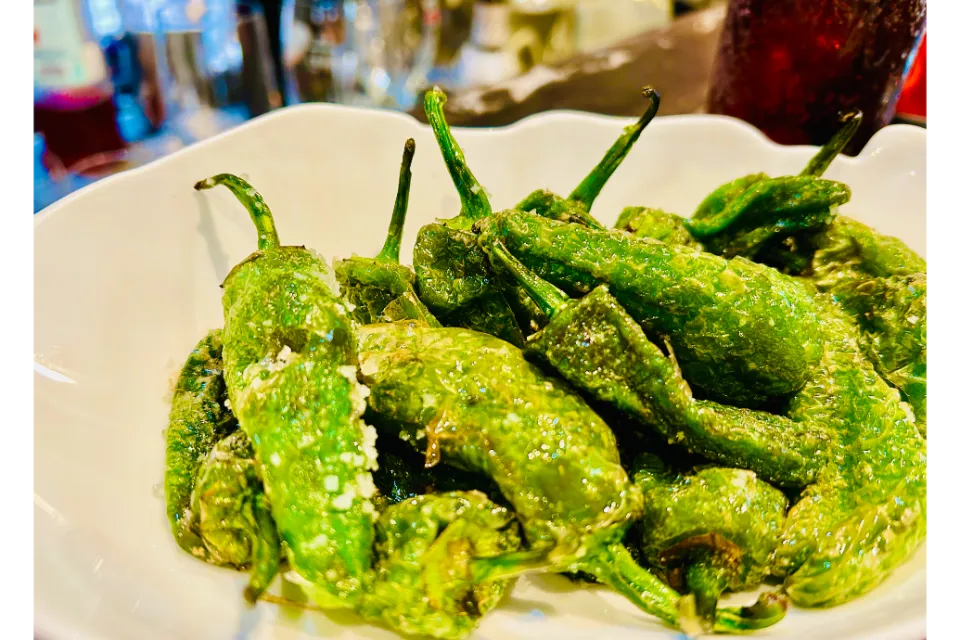 Spanish Padrón Peppers Chimichurri, Marzo Heat "Rioja Edition"
@ SGD $15
Best yet. I am an upper salty palate, and the Esquina crew nailed these Padrons to my palate and some. The olive oil on these babies was off-the-charts as well. Combine those two, and yes, these were likely the best I have ever eaten. But, then have a little dip of the Padrons in the Chimichurri and Sriracha sauce… OMG, what just happened… Another level, and some! Brilliant dish Chef Carlos.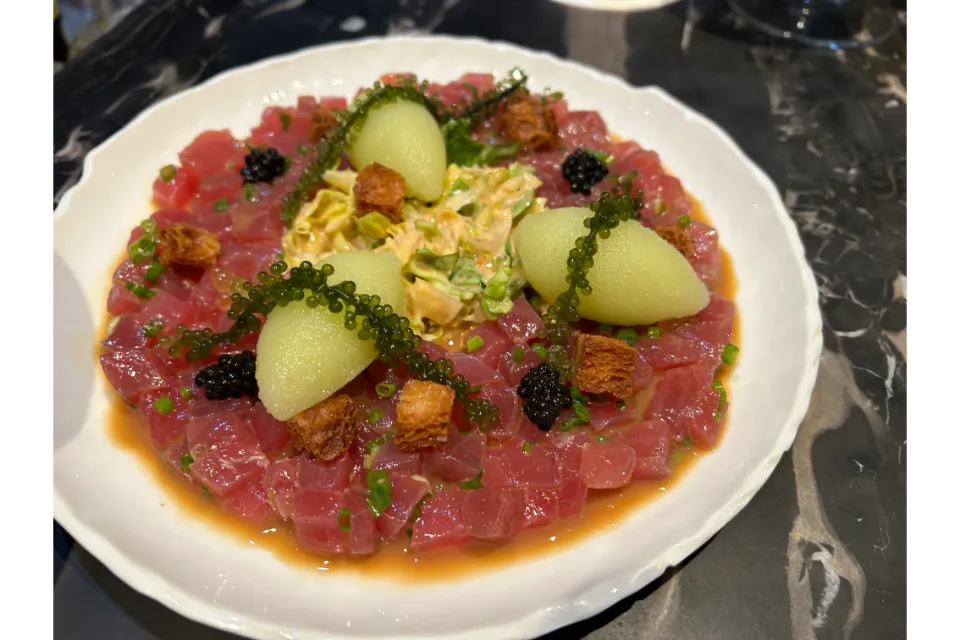 Tuna Tartar Mentaiko Salad, Celery Sorbet, Sea Grapes, Avruga Caviar
@ SGD $28
Must-try. This is truly up there with the imaginative and best of the best. Like no tuna tartare my crew has ever tasted, or even seen. I watched them plating this using stacker rings, intrigued to see the outcome. And then the additional plating elements of quenelles of celery sorbet (legendary) and the little pops of caviar and sea grapes. You have to get some of this in your life.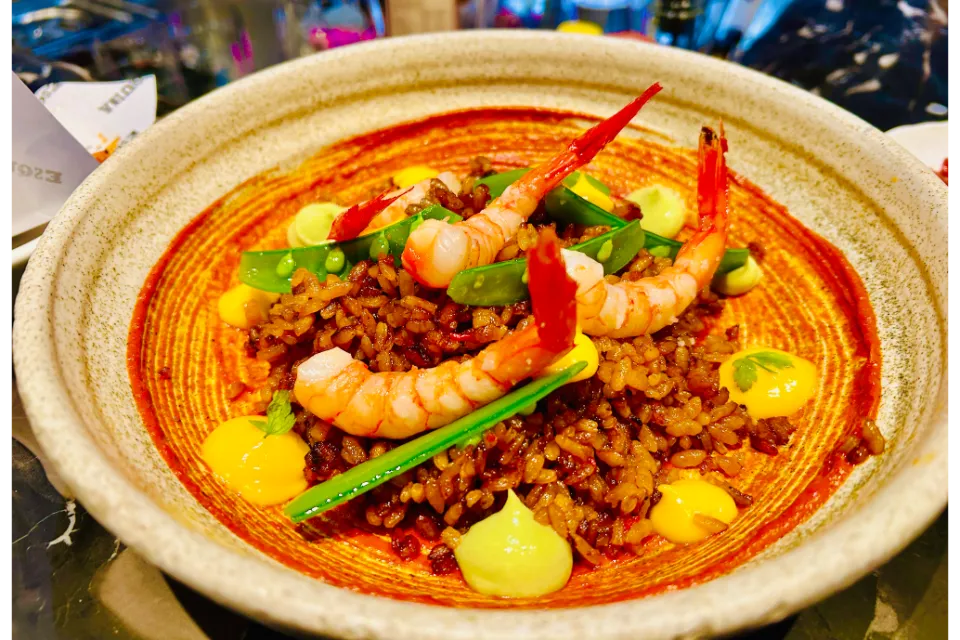 Carabinero Prawn Paella Lobster Rice, Spanish Carabinero, Saffron Allioli 
@ SGD $58
I did not frequent this dish, but from the ooos and aaas coming from the end of the table, and completely 'licked-clean' plates I am going to make a bold assumption that all was well with the paella. Joking aside, yes, the fish lovers raved about this. The only disappointment coming from their mouths was the disappointment that this was choice #2. Our primary paella choice was the uni, but that had run out sadly. Yes, Wifey was distraught. But, my love, therein lies a reason to return. Every cloud…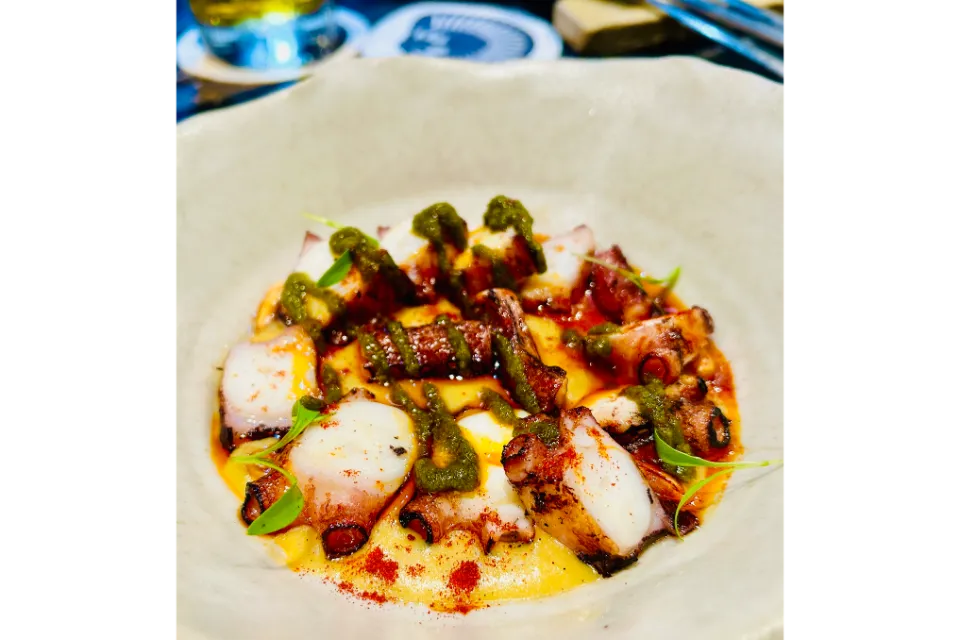 Spanish Octopus Grilled Corn Sauce, Chimichurri, Chorizo Oil
@ SGD $36
Lavo keeps the top spot for the best Pulpo in Singapore still. At one moment I wasn't sure from the facial expressions of Wifey. This is in the top five easily though, so be proud of that Esquina – she really is one picky Pulpo judge. Stunning plating, yet again, and so complex with the flavour mix. I loved that this is all charcoal grilled to give the Pulpo that extra intense smokiness – yes I was watching Chef Carlos personally finish this off and carve her up for plating.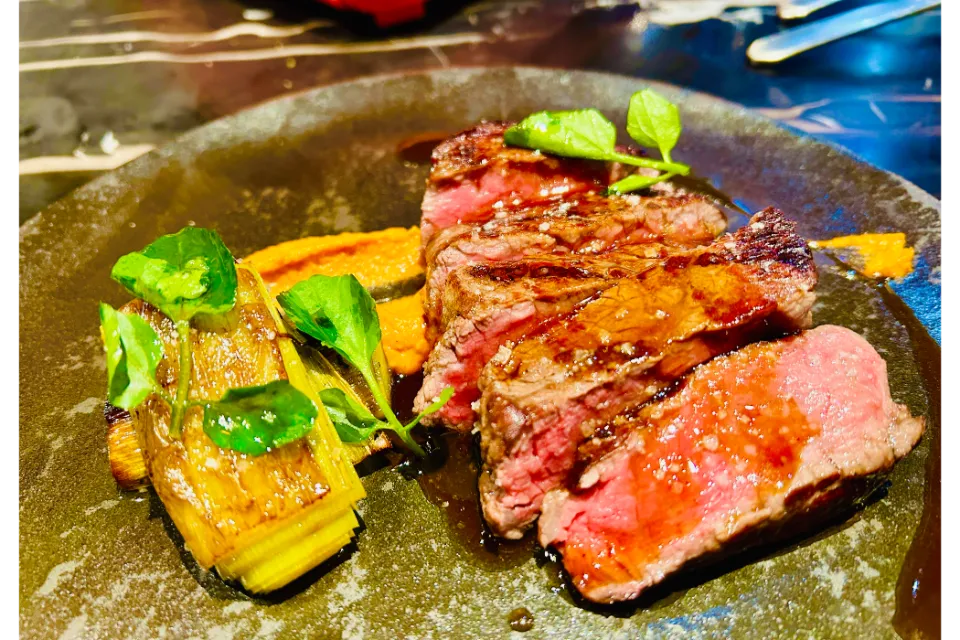 Black Angus Tenderloin Catalan Romesco, Charred Leek, Watercress
@ SGD $34
Back to my wheelhouse now. I tell you I am one picky mother when it comes to steak. It annoys me that we spend a fortune on steak in Singapore and sometimes a restaurant seems to have no idea how to basically season. No such issue here at Esquina.
This bad boy was perfectly seasoned. I did not need a steak knife, I could have cut this with a blunt spoon. They should call this the who needs teeth steak. I kid you not, this just melts in your mouth. This is a beauty and a true must-try when you come here. Not forgetting the leeks for an added OMG moment. Absolute quality!!! And, at $34 it's an absolute bargain.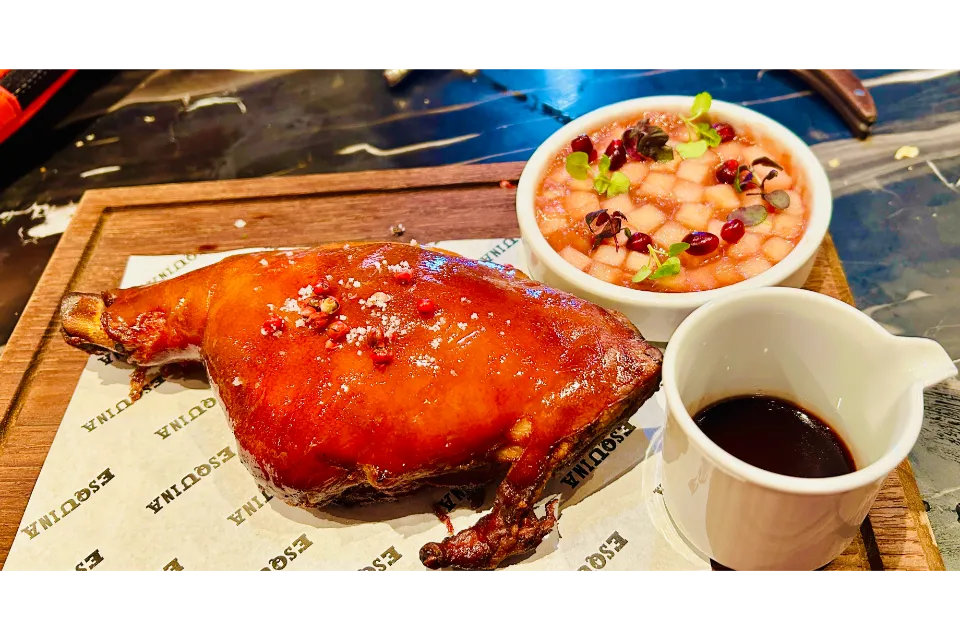 Spanish Suckling Pig Rhubarb and Apple Chutney, Mulled Wine Jus, Shiso
@ SGD $58 (500g)
Saving my best to last. Next time we come I'll be doubling down and getting the 1 kg. This humble-looking little plate of porky goodness is, without a doubt, the best I have ever had. If you try any dish when you come to @Esquina, make sure it is this one.
The skin is paper thin and has the ultimate crunch and flavour. Oh man, I am salivating now as I write this. Then the meat. It was literally dripping with juiciness. The melt-in-the-mouth experience happening yet again. I'm ignoring the chutney and jus (which were truly wonderful in their own right), because the absolute star of the show was piggy. I will come back to Esquina time and time again just for this. MUST-TRY!!!
Spanish Strawberries Sweet Basil Sorbet, Burnt Marshmallow, Vanilla Chantilly
@ SGD $18
Stunning combination. Jude Jude was covered in melty marshmallows. Basil and strawbs = match made in heaven. The major standout for me was that basil sorbet, floral to the hilt. 
BBC: Beer Stout Ice Cream, Textures of Banana, Salted Caramel
@ SGD $16
Genius inspiration. An ice cream made from Guinness. Wow. It's malty and super-savoury, and then you get the sweetness from the banana and saltiness from the caramel. This is a bonkers good dessert. And I love the BBC being British. The Aunty Dessert.
Our conclusions of Esquina Restaurant Singapore...
In a city brimming with gastronomic gems, Esquina Restaurant shines as a true Spanish masterpiece. From tantalizing tapas to Chef Carlos' modern culinary creations, each dish will literally lift you up and transport you to the heart of Spain.
The multi-tiered ambiance from al fresco calm to traditional dining on the 2nd floor to the edgy underground charm in the kitchen hightop, adds a layer of enchantment and surely theatre to the dining experience.
With a commitment to pushing culinary boundaries, Esquina and Chef Carlos leave an indelible mark on Singapore's vibrant food scene. Who knows in 2024 that Michelin Guide sticker might have a sister sticker with a * on it.
So, whether you're a passionate foodie or a curious explorer, Esquina is a haven where Spanish flavours and contemporary flair intertwine, leaving you with a memorable food experience, that will have you hunkering to come back for more. Of that, I am certain!!! ENJOY!!!
People also asked about Esquina Restaurant...
Is Esquina Restaurant known for its Spanish cuisine?
A: Absolutely! Esquina is renowned for its modern Spanish culinary creations, offering a delectable fusion of traditional and contemporary flavors.
What are the operating hours of Esquina Restaurant?
A: The restaurant welcomes guests for dinner service from Tuesday to Thursday, 6pm to 10.30pm (last seating at 9.30pm), and on Friday & Saturday, 6pm to 11pm (last seating at 10.30pm).
Does Esquina offer a tasting menu?
A: Yes, they do. Esquina presents a Tasting Menu alongside its A La Carte options and Wine List, providing a diverse dining experience.
Can I make a reservation at Esquina Restaurant online?
A: Certainly! You can make reservations through their official website or platforms like SevenRooms for your convenience.
What makes Esquina stand out from other restaurants in Singapore?
A: Esquina stands out with its innovative approach to Spanish cuisine, the vibrant atmosphere, and a blend of Spanish and Catalan flavors that create a unique dining adventure.
To close, a really nice post-dinner 'touch' from Esquina Restaurant
The little things count, right? I totally get that this is auto-generated (and I know by what platform as they are a partner of ours…). But, it has to be said, that to get this email was a warming customer service moment. Nicely done the Esquina crew.
Hola Brian,
We hope this email finds you well.
On behalf of the entire team at ESQUINA we wanted to express our sincere gratitude for choosing us for your dining experience yesterday. It was an absolute pleasure having you as our guest, and we truly appreciate your patronage.
We hope to welcome you back soon, whether it's for a romantic dinner, a celebration, or a casual gathering. Your satisfaction is our top priority, and we would be honored to serve you again.
Please, if you have any feedback or suggestions, we would love to hear from you. Feel free to reach me out at: xxxxx@esquina.com.sg
Saludos y hasta pronto!
Carlos Montobbio
Chef Patron
What are the contact details and address for Esquina Restaurant?
Telephone:
6222 1616
Reservation: sevenrooms.com
Order: esquina.com.sg
Service options: Dine-in · Kerbside pickup · No-contact delivery
What are the opening hours for Esquina Restaurant?
| | |
| --- | --- |
| Monday | Closed |
| Tuesday | 12–2:30 pm, 6–10:30 pm |
| Wednesday | 12–2:30 pm, 6–10:30 pm |
| Thursday | 12–2:30 pm, 6–10:30 pm |
| Friday | 12–2:30 pm, 6–11 pm |
| Saturday | 12–2:30 pm, 6–11 pm |
| Sunday | Closed |