Best Mexican Food in Singapore
Comida Mexicana Restaurante
East Coast
Comida Mexicana is roughly translated to simply mean "Mexican Food."
This is certainly not the cheapest on East Coast, but also not the most expensive. It certainly has just moved in to the top rankings of my family and I though. Comida Mexicana Restaurante, East Coast, is serving some of the absolute best Mexican fare to cross this families lips. It really is exceptional, and should be a die die must try for you, even if just once.
A small place located near Al Forno's on East Coast Road, with all seating inside. Get along to 404 East Coast Road, or call them to book at 64408030. I reckon this place will be mobbed as the word spreads, so maybe a call and book will be sensible.
We are 100% certain going back to Comida Mexicana Restaurante, East Coast. We ended up there today because of my arm operation, and no desire to travel far. So two stops on the bus, to the junction of the road where the hospital that did my operation is. How good is that? Yet another new restaurant on East Coast, but our first Mexican and an absolute cracker to boot. It's quite a small menu, with limited specials, which I love, as you know. None of this 400 pages of choice and shit outcomes, but rather a superb selection of fantastic outcomes.
What did we eat, OMG here we go:
Enrollados.
This is an appetizer, and a beauty at that. Deep fried tortilla rolls with chicken, jalapeños and cheese stuffing. Topped with fresh guacamole, salsa and sour cream. So so filling, and so so many of them, but a must try.
I will pause here for a recommendation, and hope that Comida Mexicana Restaurante, East Coast don't mind this. As you can see from above the servings are immense. So when you look on the menu and think, $18 for a starter is expensive, have a think. This is easily enough for 2-3 as a starter. In fact we ordered 2 starters, and 4 mains, and still packed food home – that was between 5 of us. Immense portions here folks!!!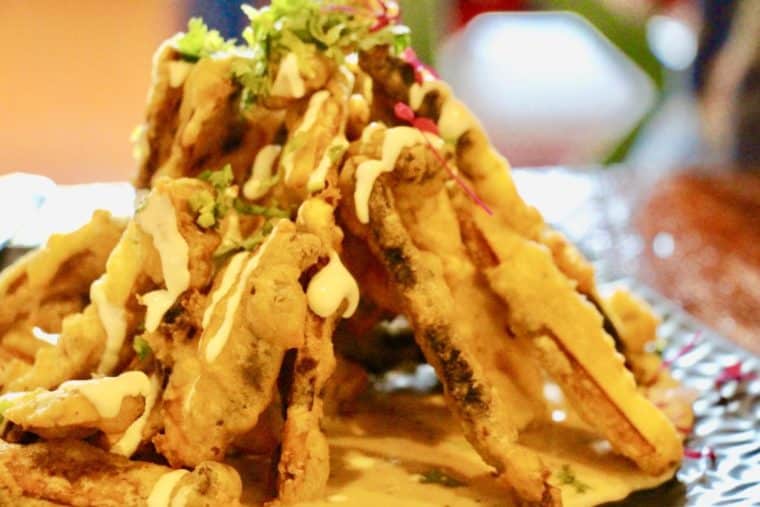 Or lightly-battered, as in Tempura style, mushrooms, deep-fried and served with light garlic sauce. I tell you folks, some of the best deep-fried mushrooms you will ever consume. I stake my name on it. We had to bring some home, you just get some many. Bloody brilliant dish!!!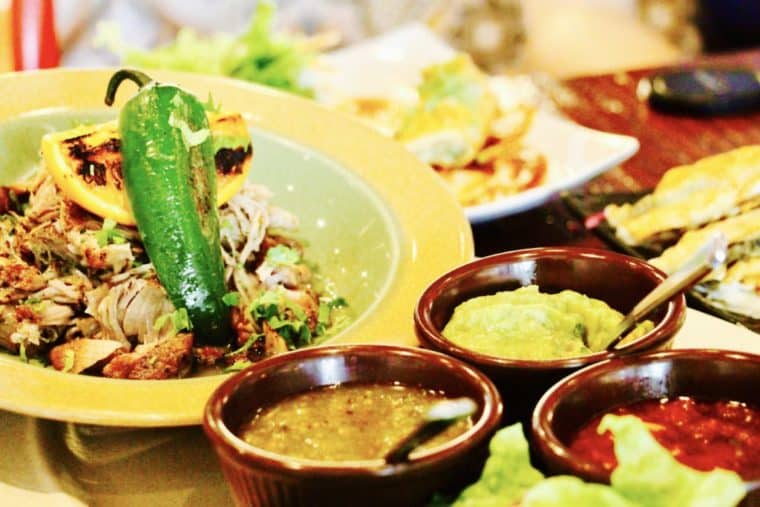 OMG. Mexican pulled pork done the "traditional' way. Served with warm tortillas, salsa rojas, salsa verde, and guacamole. The pork was touch and melt. With it came a chargrilled orange. A quick squeeze of that over the pork, and harps start playing, and angels start singing. It was just the best. I will be back again and again for this. Carnitas at Comida Mexicana Restaurante, East Coast, is a MUST HAVE!!!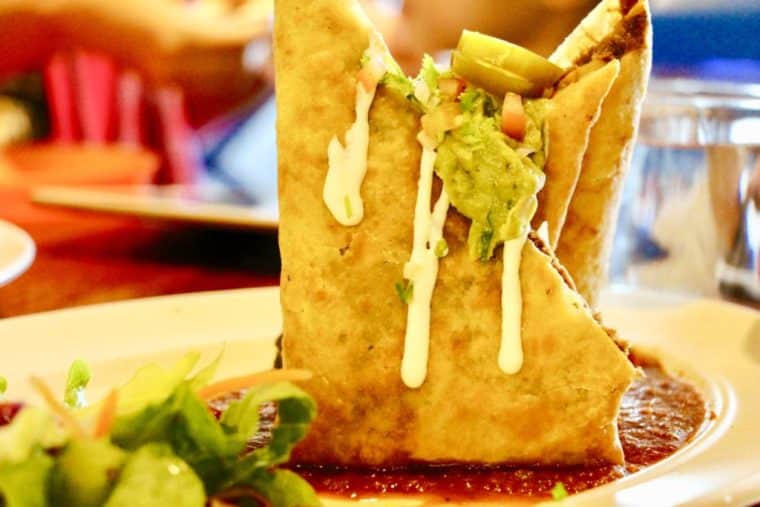 Beef Chimichanga is a wheat tortilla stuffed with refried beans, cheese, and pulled beef (let me just say, amazing pulled beef). Deep fried until crispy, and topped with special enchilada sauce, and sour cream. Ollie would just like to add that the beef was awesome, so juicy and flavoursome. The tortilla was nice with a crust with chewy interior. it was awesome! And final call out to the enchilada sauce. This is a MUST have. Deep and rich, with think with Chipotle chilis, an absolute stonking sauce.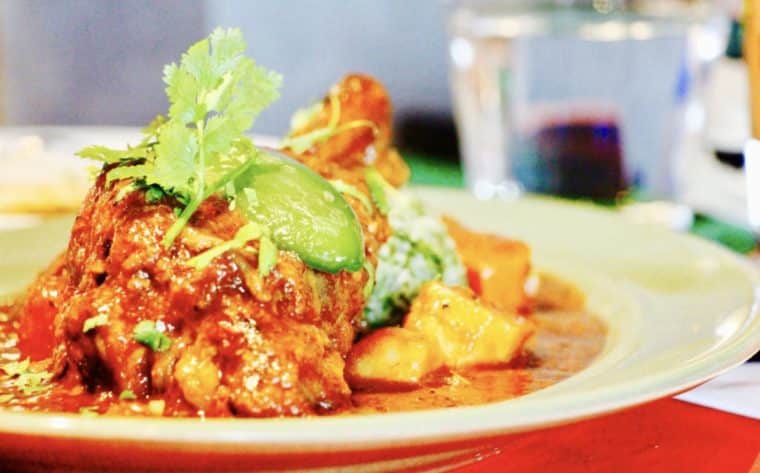 Goodness gracious me. I had one little fork-full of this. I will likely have this next time. Slow cooked to butter-like lamb consistency. Seriously some of the best shank ever. The Chipolte peppers are in there again. They give the smokiness to the spicy accompanying sauce, and the flipping Mexican rice was just off the charts. My Mary says; "Very tasty, with so so soft meat, the sauce was the texture of chili crab sauce, but it was smoky (yes babes that is the Chipolte. To the rice, I just don't know how to explain it. It was just so good!" Wow there you go Comida Mexicana Restaurante, East Coast, much praise from The Philippines.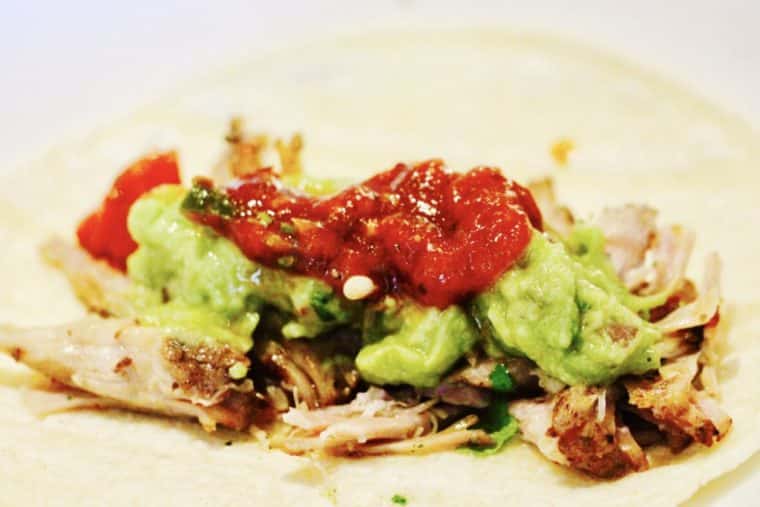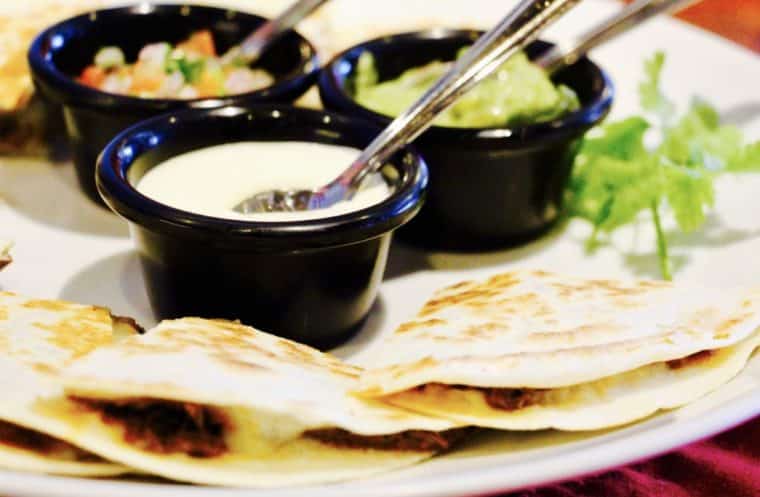 Amy says; "It really awesome. The way they cook the beef was really nice. So soft."
I had a bite, so let me give some further colour. This was pulled, slow-cooked beef. Melt-in-mouth. It was incredible. Accompanied by a real nice cheese, in toasted tortillas. Steve Rutherford – see what I mean re a good ChillaxBBQ idea. These will be perfect.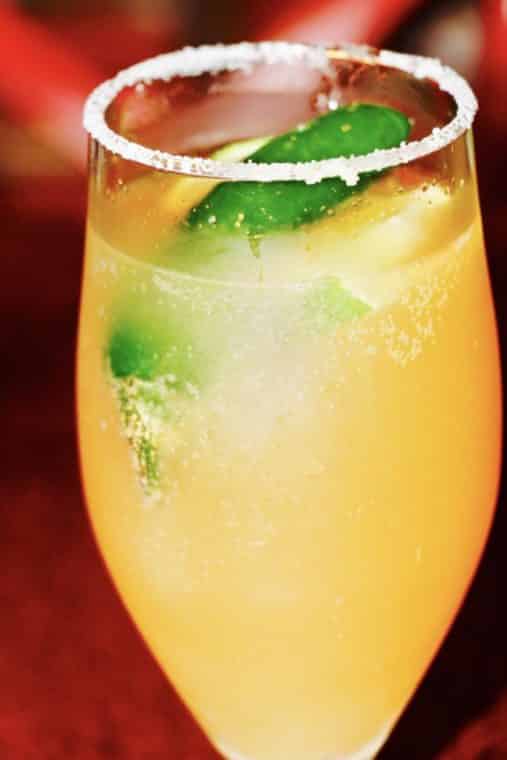 I tried both;
Michelada; Corona, lime juice, Worcestershire Sauce, hot sauce and salted rim; and
Chile Beer; Corona, lime juice, hot sauce, salted rime, and a fresh Jalapeno.
I know, I know. I am on pain killers etc, but I could not help myself. These were ACE. Thanks os much for the intro to these Comida Mexicana Restaurante, East Coast.
And when it was finished we could not resist the Churros. Again, I have to say, best I have had. So savoury. Served in shot glasses with delicious chocolate sauce in the bottom. Absolute crackers, believe me.
To finish folks, you would be fools not to come to Comida Mexicana Restaurante, East Coast, at least once. And I am pretty confident that having been once, you'll certainly be back for more of that menu. It is right up there now in Kennett's preference list for East Coast, and being two bus-stops away is a NO BRAINER. So get yourself down here, you will absolutely, categorically – ENJOY!!!
Address & Contact Details
404 East Coast Rd
Singapore 428998
+65 6440 8030
comidamexsg@gmail.com
If you like Mexican Street Food check out the Blog Post Papi's Tacos | Seah Street | Singapore
Connect with Us on Social Media
(Visited 91 times, 1 visits today)