Delicious Cheese Fondue Recipe With Iberico Chorizo
I've been at it again, working with the wonderful team from The Cheese Shop, on Joo Chiat Road. This time to create a new signature fondue dish for ChillaxBBQ, this is ChillaxBBQ Three Cheese Fondue With Iberico Chorizo. Decadent is the best word to use for this. Or, Holy moly this is amazing, would be a good phrase to use for Delicious Cheese Fondue Recipe With Iberico Chorizo.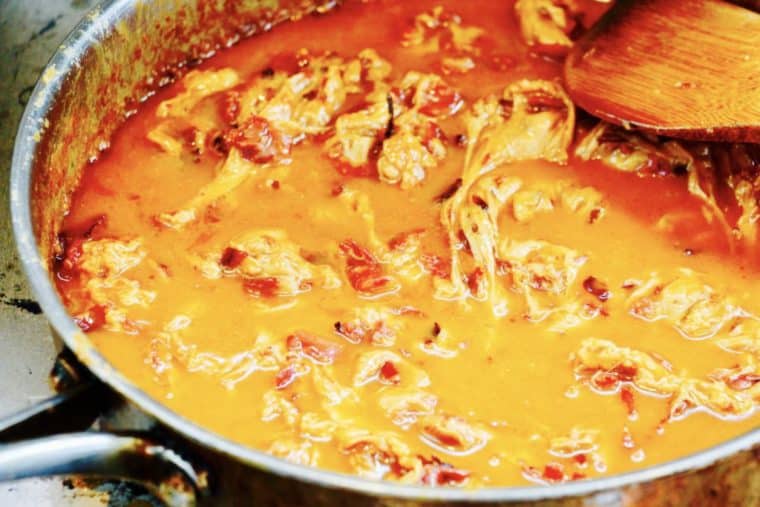 ChillaxBBQ Three Cheese Fondue With Iberico Chorizo is another simple dish. Just for you. Don't forget, as always, that you can save yourself any hassle of prep and cook by hiring us to come and do it for you. I am also going to the incentive by only saying three cheese, and not what three kinds of cheese I used. There's a gamble for you. But the three I used worked in perfect harmony with the chorizo – BOOM!!!
2oog of sliced Iberico Chorizo (from The Cheese Shop) in a copper bottom pan;
Get it on high heat and dry fry the Chorizo until the oil starts to come out and the Chorizo crisps slightly;
In goes the three kinds of cheese (cut into cubes to assist the melting), about 1.5Kg in total;
Keep stirring it around until all the cheese has melted and mixed with that Chorizo oil.
There you go, Delicious Cheese Fondue Recipe With Iberico Chorizo. Told you. How easy was that? The trick is to choose your cheeses well folks to make Delicious Cheese Fondue Recipe With Iberico Chorizo. I served from the pan, with some cubed bread pieces. I would have used French stick bread, sliced and cubed and roughly toasted, but there was none in the supermarket. But use that if you make this dish. This was a belter, and an absolute belter – ENJOY!!!
The History of Cheese Fondue – now you have our Cheese Fondue Recipe
Swiss cuisine known as cheese fondue dates back to the 18th century. A pot of melted cheese is kept warm over a low flame during this shared dinner, and guests use long-stemmed forks to dip pieces of bread, vegetables, or meat into the cheese. In order to give the cheese a rich and flavorful taste, it is usually blended with Swiss cheeses like Gruyere and Emmentaler and spiced with wine, garlic, and other herbs and spices.
A fun and engaging meal to share with friends and family, cheese fondue first gained popularity as a dinner party fad in the 1960s and 1970s. It has also been modified in various regions of the globe with various cheeses and toppings. Some people enjoy dipping fruit, crackers, or even chocolate into the cheese fondue in addition to the customary bread and veggies.
In addition to being a delectable dish, cheese fondue has cultural importance in Switzerland. The kinds of cheese that can be used in traditional fondue are strictly governed by Swiss law because they view it as a national dish. As the communal pot and shared dipping foster a feeling of community among diners, it is also a symbol of friendship and solidarity.