ChillaxBBQ Stay@Home Recipes: with Japanese A5 Wagyu
The delivery Gods shone in our favour and the RedMart Angels sang. Yes, folks today on day #5 of solitary we had a food delivery. And in that delivery were the ingredients for my Jude Jude's lunch that I had promised him, and that is how ChillaxBBQ Stay@Home Recipes came about today.
And it was a cracker of a lunch today I can tell you. Jude Jude was in foodie heaven bless him. Not a word all lunch. What did I cook?
Tochigi Grade A5 Japanese Wagyu Mookata with Steamed Rice
Yes indeed, I was really pushing out the lunch agenda today as a very special treat for my little man, and the rest of the family crew too. It's a really quick dish to do as well so it was literally prepped, cooked, and eaten all in a normal lunch-break window.
That's why I am doing these ChillaxBBQ Stay@Home Recipes #8, I am trying to keep them simple but delicious and something that the whole family can get involved with or at least just to eat together whilst we're all crammed into the house or condo together. This is something I really hardly ever did due to working in the evenings and nights with calls to Europe. One positive from Covid-19, thank you!!!
So I am embracing this stay@home and having a wonderful time with the family, whilst still doing the calls at night, just in a noisy environment which everyone is cool with now because of the global situation we're all in. I am getting inspiration and ideas from the Kennett crew.
Strawberry Blonde is my videographer. The fridge and cupboards and sporadic deliveries are making my creative juices flow in a big way to keep variety and interest.
I am also delighted the Wagyu showed up because, as Bill Wallace knows, I am a terrible parent to the kids if I don't do Wagyu and he will start to call Child Welfare if I don't. So ChillaxBBQ Stay@Home Recipes #8 came at a perfect time. Let's have a sneak peek, including a little Flog to show this amazing stuff on the Mookata.
For those that do not know what Mookata is here is Islifearecipe-dia time; Mu kratha means 'pan pork' in Thai (mu is 'pig' or 'pork' and kratha is 'pan' or 'skillet'). Mu kratha can also be coined as Mookata and seems to have an origin as a hybrid of Korean BBQ and Chinese Hot Pot. The Thai version uses charcoal usually, or more modern like mine is non-stick and electric.
This concept has spread throughout Thailand into Malaysia, Indonesia, and Singapore. We have a Mookata at Katong for example. I love this way of cooking as guests can completely DIY and cook themselves, or opt to have the Chef cook table-side.
Of course, I am cooking today, or expect a pinch from my tongs if you try and touch anything.
That is what Grade A5 Togichi Wagy looks like my friends. I reckon you could breathe on this and it would start to cook. Super-marbled and amazing fat content that you know is just going to melt. FAT IS FLAVOUR!!! That's why Wifey loved me so much haha!!! I literally gave this a good sprinkling of sea salt and Kampot cracked black pepper on both sides and that is that.
NO oil is needed due to the fat content. Make sure before you cook this that you have it out of the fridge and warmed to room temperature. I cut to bite-sized strips as this is hitting the Mookata grill as is. I cannot wait. OMG.
Let's go to some Vlogging guys. Have a look at the video clips here to see this stuff going down on the Mookata. Watch at your pleasure. CLICK HERE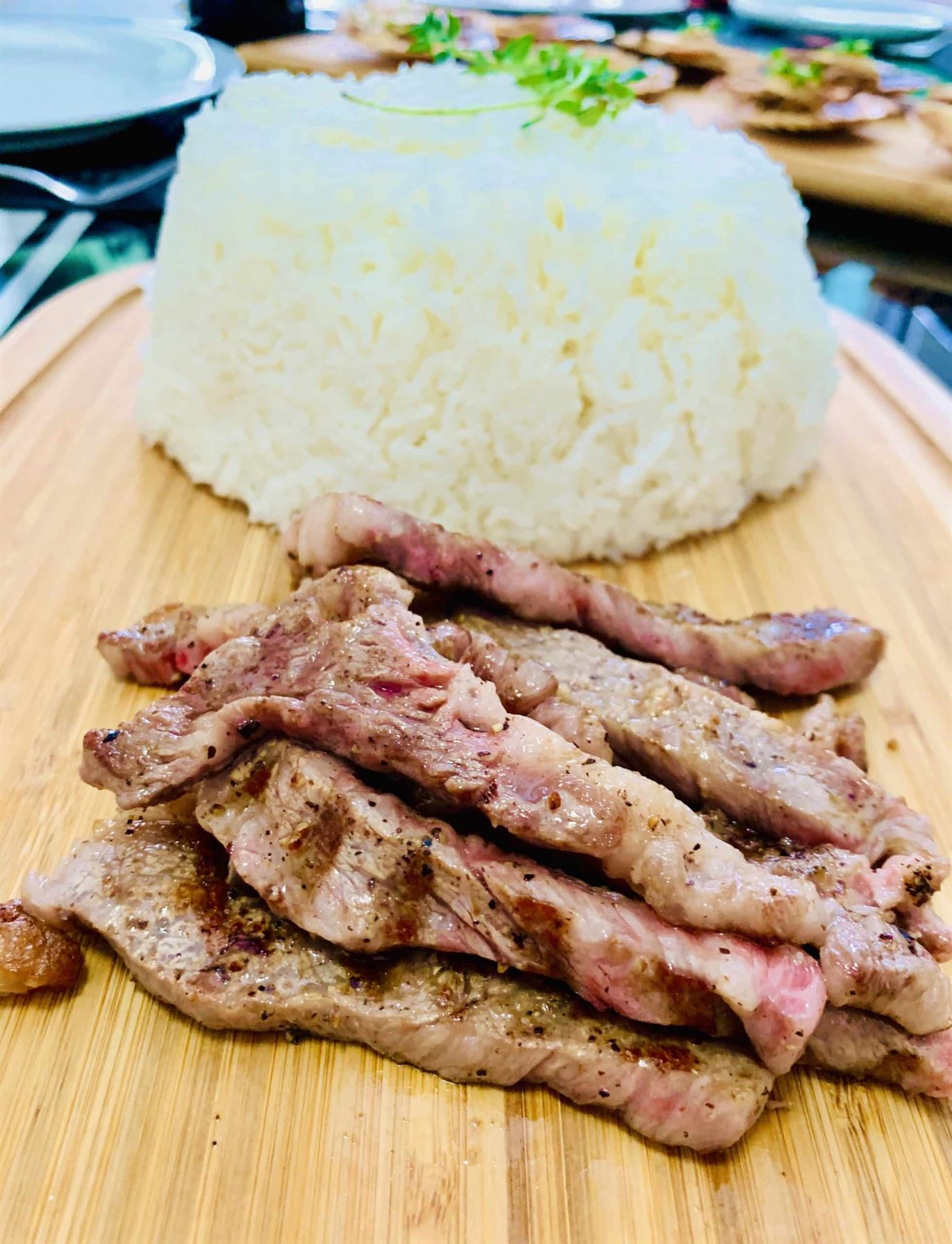 And here is that medium-rare Tochigi Grade A5 Japanese Wagyu Mookata 'w' Steamed Rice. Have a look at that. Something like 30 seconds to a minute on each side and on the. platter. That was that!!! I wish you could have tasted this.
I kid you not, some of the best beef I have ever eaten in my life, and I did get a similar kind of commentary from the whole family, so that works for me!!!
Then #1 looks at the beef fat that has dripped into the soup tray. Yes, Mookata is like hot pot, but as the meat cooks on the heat, all the juices pour into the soup making it the best soup you will ever have. Anyway, I was not doing soup today, but a brain wave hit me. I de-crusted some white bread.
I fried this in the Tochigi Grade A5 Wagyu beef fat until golden and crispy, placed a piece of the Wagyu itself on top, and gave a little dollop of Sriracha Mayo. What a combo. Wagyu Fried Slice 'w' Sriracha Mayo. This is 1000% going into the ChillaxBBQ menu options.
It is an INCREDIBLE dish. Well done #1 for highlighting the potential to use something so tasty, not waste it. It got my creative juices flowing. What a lunch this was!!!
Wow, there you have it. One of the best yet cooked from solitary. ChillaxBBQ Stay@Home Recipes, was a very special lunch courtesy of demands from the 6-year-old, pressure from Bill Wallace and his Child Support mates, and RedMart for actually making a delivery. This was special folks. The easiest thing to do is to get ChillaxBBQ round and cook this for you.
I'll even bring my Mookata and do a Chef's table. I just need power. The BIG surprise for me was the unknown outcome of the Wagyu Fried Slice 'w' Sriracha Mayo, which was KILLER. If ever you get the chance post-Covid-19, get your bums round and I'll cook it as a 'freedom' celebration. You will – ENJOY!!!