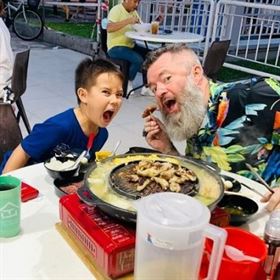 Right down to the back of the hawker and on the right. Go grab a pencil and the menu, select your food choices and let the smorgasbord begin.
Mookata is Thai BBQ. Similar to Chinese grill/hotpot. You get a hob burner and a beautifully designed appliance sat atop for grilling meats and seafood. And then there is the trough surrounding it for the broth. The broth intensifies in flavour as you cook because all the juices drip down into it.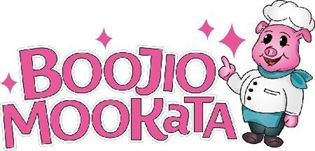 It also comes with some of the very best chilli sauces you'll find on Red Dot, in my humble opinion. Stellar in fact.
A very unique thing about the stall is that they have A5 Japanese Wagyu & Kurobuta Pork on their menu of choices. How insane is that? In a hawker folks. And it is so reasonable on the $$$ for a massive feast.
Today Jude Jude and I had;
– A5 Wagyu
– Bacon (soooooo good)
– Spam (best I have ever had) –
Chicken cheese sausages
– Garlic marinated chicken
– Chinese cabbage
– Golden mushrooms
– Prawns
Today we even brought our own sea salt & cracked black pepper to raise it up even higher. We are such #foodies haha.
So folks, get your bums down to 936 FoodCourt @ Siglap. Visit the crew and have a super-special dining experience, with A-grade quality ingredients (not usually found in a hawker) and also have fun cooking for yourself. It's fun in 2's, but even more fun when we can cook and dine as families again.
Boojio Mookata @ 936 Food Court Siglap. WINNER!!!
ENJOY!!!