ChillaxBBQ Chef Table 3/10/20 – Spencer
With this continued Covid-19 shit ChillaxBBQ has been rather quiet. I have taken and achieved my certifications for food handling & hygiene so can officially cook for others and can even cook in a kitchen now. I have been doing some home deliveries which was fun. Big roast lunches and dinners delivered to perfect doneness by applying some 'science' to taxi duration and cooking times. That really has been quite fun. Lot's of practice cooking for the family too, I think I got to just shy of 40 or 50 net-new recipes during the fill on lockdown. Recently I got asked to join #Anynightin as one of the Chefs which was rather cool and to write a few recipes for #ExpatLiving.
But, I still await that big 40/50 Pax BBQ, like the good old days pre-Covid. And I don't think I can expect to be doing that sort of event any time soon sadly. So tonight I tried something new. Something I have not done since before ChillaxBBQ existed and I did a ChefTable for 8 to raise money for the Tabitha Foundation in Cambodia. Remember that?
CLICK HERE FOR A LOOK BACK IN TIME
Tonight Strawberry Blonde and I donned the aprons and cooked a four-course finner for four round their condo. Tiny wee kitchen, very hot, but I think we nailed it. The dishes came out pretty good. I am happy with what I cooked this night. Strawberry Blonde was brilliant too owning front-of-house and adding to the guest experience of fine-dining at home. The client asked for 3 dishes to be individual platings and the 4th dish to be sharing platters, at which point we clear up and disappear having done our job for the night and to allow them to 100% relax and enjoy.
This might be something to continue with? Let's have a look @
ChillaxBBQ Chef Table 3/10/20 – Spencer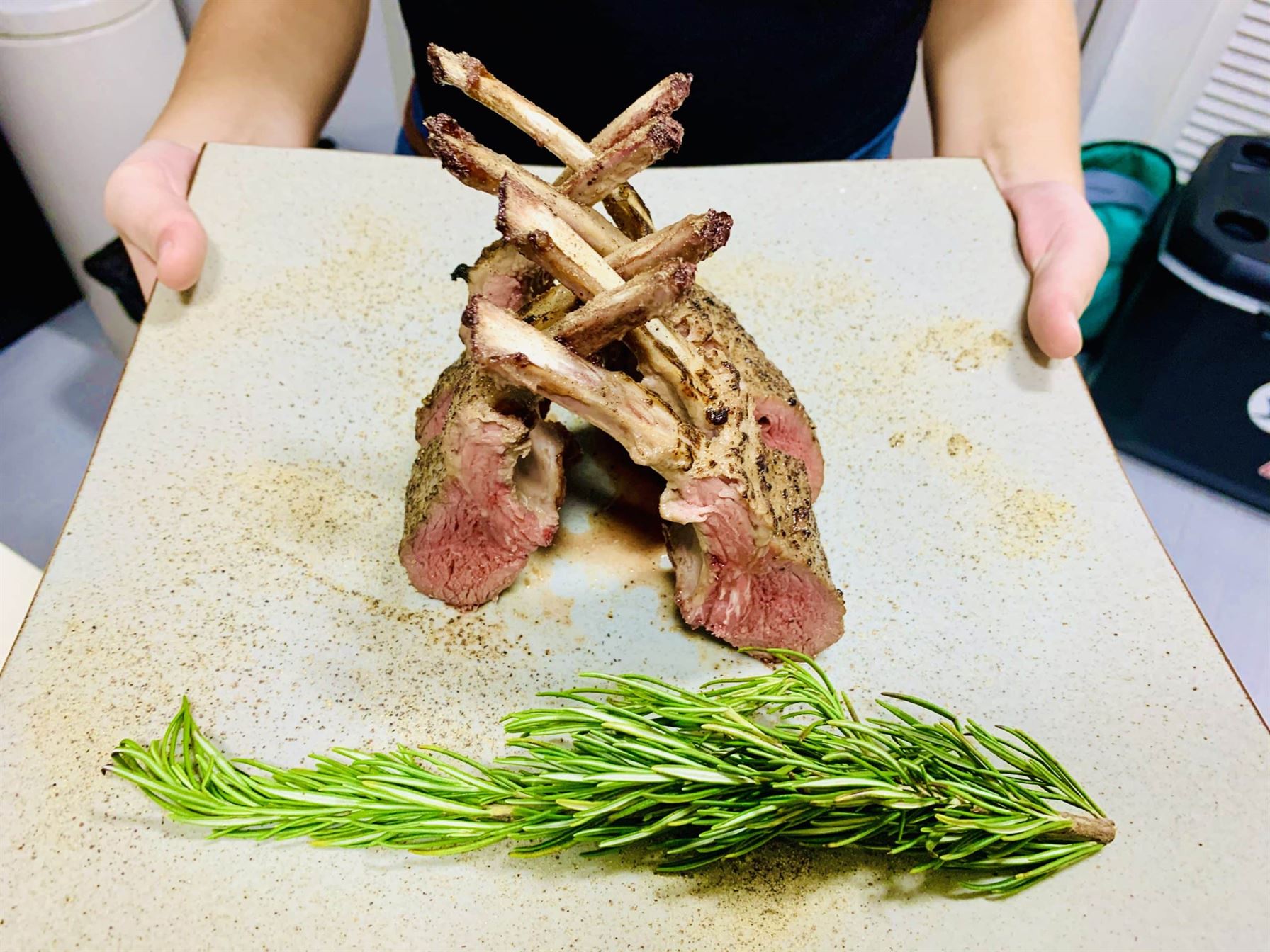 A tough little bugger to cook to the same timing as the other rack, I found out tonight as I was plating, as the marinade delayed this one by about 5 minutes. A quick emergency moment with myself… WTF to do? OK serve the sides 1st and then the 2nd Lamb Rack. Makes it look like I did it on purpose as a plating order haha. I think I got away with it…
But what did the client say? And this is extremely humbling believe me;
"So we had some very special friends over for dinner and wanted to push the boat out a little so I discussed this with Brian over some beers and we crafted a menu based on our personal tastes and his creativity, the end result was incredible, We decided and finally approved on two appetizers, a starter and a main course and for the main I needed it to be Lamb! From here we let Brian go to work on creativity and I hasten to add he did not let us down.
Amy worked front of house and was incredibly professional despite some early-stage nerves and boy did she pull through like a champion! Everyone was so impressed from start through to the finish where she even introduced the Chef and presented his business card! Great work Amy!
Brian conjured up an incredible array of dishes kicking off with these tiny prawns, deep-fried and dusted with paprika and left us to squeeze fresh lemons to taste, on that alone I could have dined all night but alas there was a veritable banquet ahead and we needed to save our stomachs. Next up was the 2nd appetizer which was Lump Crab pulled together with scrambled eggs and butter and adorned with this crunchy beetroot and some dainty flowers, the Nike-like swoosh of Lemon Pepper Mayo danced on the taste buds like a Bolshoi ballerina! By now we are already looking like we won't make it to the main course with the Tuna Tataki starter placed in front of us, portion sizes were American in nature but flavours were so incredible that even licking the plate would not have been considered rude at the dining table!
Bloated by now we had to take a breather because we really need to make room for the two racks of lamb, yes 2 you read that right, my fault really, just love lamb and there is never enough but on this occasion, I just had hungry eyes. Two racks were done two ways, I threw Brian a curveball the day of the dinner and he had to rush out and get the new ingredients to make one rack Moroccan, something he had never done before but was keen to take up the last-minute challenge! The only bad thing about the Moroccan lamb was that it embarrassed the Honey & Rosemary Lamb simply because it was just that good and won everyone over, that's not to say the latter was bad, far from it but the Moroccan lamb was just that bloody good!
To finish up this personalized review all I can say is Bravo to Brian and Amy for making it a special occasion and one that we will cherish, our friends will most certainly be looking to booking your service in the near future that's for certain."
And there you have it. My first 'proper' Chef Table cooking round someone's actual residence apart from the charity gig many years ago. Also properly certified now. This was ChillaxBBQ Chef Table 3/10/20 – Spencer. I was very proud of what was tabled and of Strawberry Blonde's 1st endeavours as front-of-house. But at the end of the day, the client's comments say it all. Give us a tinkle if you're interested too, looks like you might just – ENJOY!!!
Connect with Us on Social Media