Brotzeit, Katong
I really fancied Western food today for lunch. A decision made, and agreement received from all the family too. Off we trot today on the bus to have a German feast, a feast consumed at Brotzeit, Katong @ 126 East Coast Road, on the corner opposite I12. This place has a number outlets across the island, and I have been to a few – Suntec, VivoCity etc. but this was a first for Katong. I informed the Kennett-clan to get their eating heads on as this was going to get LARGE!!!
Here we go; what did we eat today at Brotzeit, Katong?
No.1; Smoked Cured Sausages with Pickles & Mustard.
These were like little pork jerky bites. Dry cured bite sized pieces of smoky sausage. Cut through the smokiness with a little pickle acidity and then top it off with some delicious mustard too. Beer food on steroids this one, so nice with a pint of Pilsen. Oh yes!
No.2; Meeresfruchtesalat 0r Seafood Salad.
This is a mixed salad with smoked salmon, seared tuna, prawns, semi-dried tomatoes, olives, grilled zucchini, orange wedges and sour cream tossed with the Brotzeit house dressing. Not being a seafood lover, as you know, I did not try this but I have it on good authority from both Mary and Amy that this was a cracking salad, potentially the best they have had ever!
No.3; Meat Platter.
Last dish for the day at Brotzeit, Katong was THE PLATTER. Check this bad boy out. A huge lump of tree full of food. Left to right: the best of Brotzeit sausages, pork knuckle with gravy, pork schnitzels and two side dishes for which we had potato roti and fries… Wow this was a beast of meaty goodness, it was fantastic. A variety dips accompany this dish as well as you can see below. Yummo!!!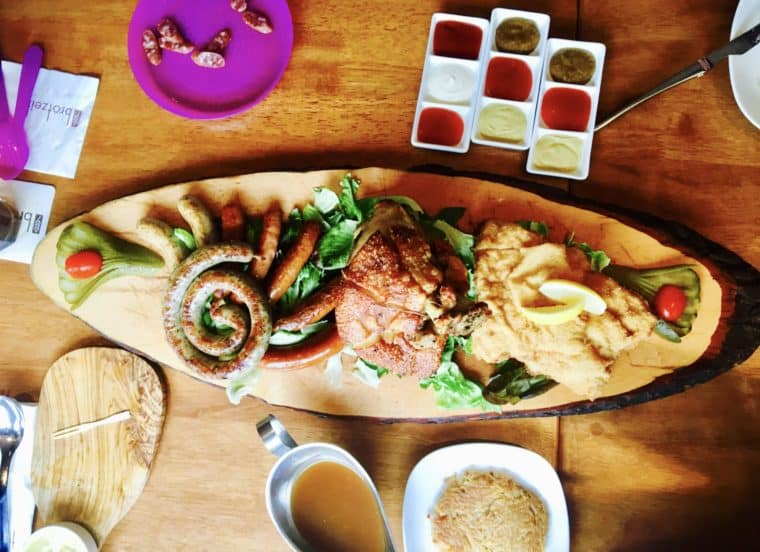 Not the cheapest of lunches it has to be said, but value for money I would say yes. It was delicious food, and there was a lot of it, believe me. I'd definitely come back here for more of this when the Western food bug bites. You should too, Brotzeit, Katong is a good one for the family (and the football is on too) – ENJOY!!!
Is Life a Recipe YouTube Channel
(Visited 99 times, 1 visits today)