Duck Tours in Singapore offers a unique and exciting way to explore the city. These tours utilize amphibious vehicles that can operate on both land and water, providing a comprehensive city experience.
Duck Tours Singapore, also known as DUCKtours, offers an exciting amphibious tour experience in Singapore. The tour begins on land, taking you through various iconic landmarks in the city, and then transitions into the water for a unique river cruise experience. Here's what you need to know:
We did this trip, wrote up a little blog, and did the video. Duck Tours Singapore liked it so much that they asked us to review The Big Bus Christmas Lights Tour. How good was that?
Duck Tours Singapore provides a fun and informative way to explore the city's key sights while enjoying the thrill of transitioning from land to water on their unique amphibious vehicles. For specific tour details, including schedules and pricing, you can visit their official website or use travel booking platforms for convenient ticket booking.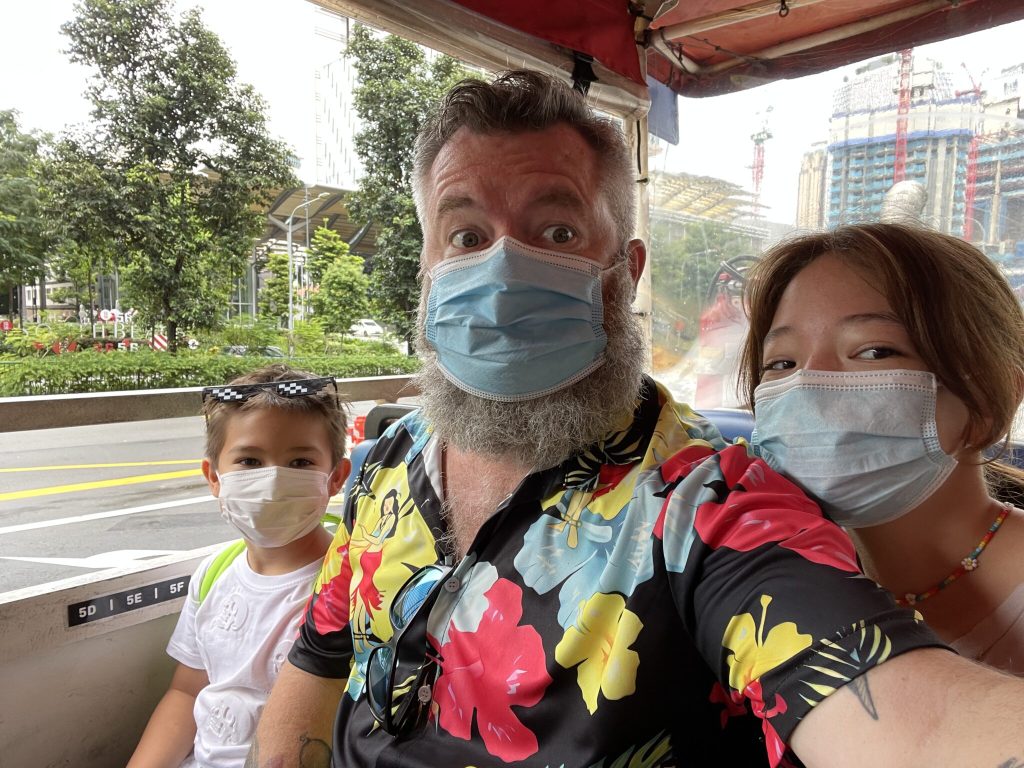 Here are some key details:
Official Website: The official website of Duck Tours Singapore, Ducktours.com.sg, is a great resource for booking and obtaining information about their tours.
Types of Duck Tours: Duck Tours Singapore offers a variety of tours, allowing you to see the city's major landmarks and attractions. You can start on land and transition into the water for a memorable aquatic experience.
Ticket Booking: You can book tickets for Duck Tours Singapore through their official website or through trusted platforms like Klook. This provides convenience and flexibility in planning your tour.
Unique Experience: Duck Tours provide a unique perspective of Singapore, taking you from the city streets into the scenic waters, making it an exciting adventure for tourists.
What's the address of Duck Tours Singapore?
What are the contact details for Duck Tours?
EMail: sales@ducktours.com.sg
Telephone:+65 6338 6877
What are the DuckTours Singapore Opening Times?
| | |
| --- | --- |
| Saturday | 9 am–6 pm |
| Sunday | 9 am–6 pm |
| Monday | 9 am–6 pm |
| Tuesday | 9 am–6 pm |
| Wednesday | 9 am–6 pm |
| Thursday | 9 am–6 pm |
| Friday | 9 am–6 pm |
Quack-tastic Adventures Await: Dive into the World of Duck Tours Singapore!
Picture this: You're in a bustling metropolis known for its towering skyscrapers, lush gardens, and vibrant culture. The city, you guessed it, is Singapore! Now, imagine exploring this captivating city not only on land but also on water. No, we're not talking about becoming a secret agent with a sleek amphibious car, but something just as exciting – Duck Tours Singapore!
This awesome adventure offers a whimsical blend of land and water sights and scenery. Get ready to quack with laughter, soak in stunning views, and dive headfirst into an unforgettable experience that'll make your trip to Singapore truly "duck-tastic!
Duck Tours Singapore is the ultimate way to explore the Lion City. So, grab your virtual quackers (just kidding, we'll provide all the quacks you need), and waddle into the wonderful world of Duck Tours Singapore!
People also asked about DuckTours Singapore /FAQ
1. What is the duration of the DUCKtours Singapore ride?
The DUCKtours Singapore ride typically lasts approximately 60 minutes.
2. Where does the DUCKtours Singapore start from?
DUCKtours Singapore usually departs from the Suntec Tourist Hub, offering both land and water adventure experiences.
3. How can I purchase tickets for DUCKtours Singapore?
4. Are there any discounts or promotions available for DUCKtours Singapore?
Yes, DUCKtours Singapore often offers promotions and discounts, especially for children's memberships. It's a good idea to check their official website for the latest deals.
5. Is the DUCKtours Singapore ride safe?
Yes, the DUCKtours Singapore ride is known for its safety. It has an excellent safety record with 18 years of perfect safety and is rated number one in Singapore for its amphibious-themed attraction.
6. What are the top attractions covered during the DUCKtours Singapore?
DUCKtours Singapore typically covers iconic attractions such as Marina Bay, Gardens by the Bay, Singapore Tower, and other notable landmarks in the city.
7. Do I need to make a reservation in advance for DUCKtours Singapore?
While it's not always necessary, it's advisable to pre-book your tickets, especially during peak tourist seasons, to secure your spot and avoid long wait times.
8. Are there any age restrictions for DUCKtours Singapore?
DUCKtours Singapore is generally suitable for all ages, but it's a good idea to check their website or contact them directly for specific age-related guidelines and recommendations.
9. What should I wear for the DUCKtours Singapore ride?
It's recommended to wear comfortable clothing and footwear suitable for both land and water travel to ensure a pleasant experience during the tour.
10. Can I bring food or drinks on the DUCKtours Singapore ride?