Best Pork Loin Recipe with Bacon & Duck Rillette 2023
This is the Best Pork Loin Recipe with Bacon and Duck Rillette. Can you believe it? This takes minutes to prep, the same to cook, and within minutes it will be off the plate. It is so so good. What a recipe this is. I actually did a version of this at my mate's BBQ, but I used foie gras, not duck rillette. I literally had people queuing to get more of it as I was cooking it. So this time, on a BBQ Sunday with the family, I thought I'd have a little change to some of the key ingredients, well one. And there was born;
The Best Pork Loin Recipe with Bacon & Duck Rillette.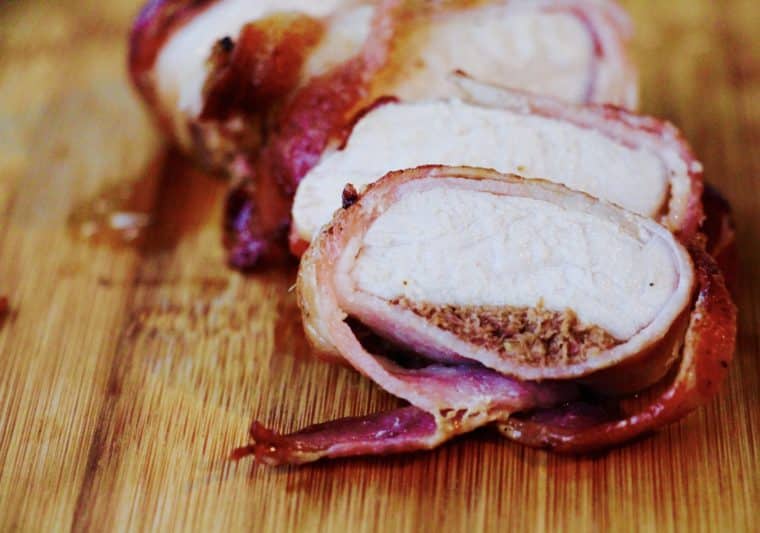 This really is just so simple – and is easily enough here for 4-5 people;
Take 6 pork loin fillets, pat them dry and rub with Olive oil, and then give them a sprinkling of sea salt & cracked black pepper;
On one side of the pork spread some duck rillette (or foie gras), a good dollop of it;  
Take some rashers of streaky bacon and wrap them around to cover the pork and the rillette, repeat this until the pork is evenly covered in bacon;
You might need to skewer these to keep the bacon on the pork.
Then bash those bad boys on the BBQ until the pork is nicely cooked through and the bacon is nice and crispy. Slice on the angle and serve that up, stand back, and watch out for snapping teeth. These will fly off the plate, I absolutely guarantee it. This is a must-try, folks… The Best Pork Loin Recipe with Bacon & Duck Rillette. Deliciously simple – ENJOY!!!
Rillette de canard is a French meat preparation that is spreadable and is created from shredded duck flesh that has been slow-cooked before being blended with fat, herbs, and seasonings. As an appetizer or snack, it is often served chilled and spread on bread or crackers in order to be consumed. It is unctuous and damned fine fare.
Duck rillettes, often spelled as "Duck rillette," is a traditional French dish made from duck meat that is slowly cooked in fat until it becomes tender and easily shredded. The meat is then mixed with some of the rendered fat, herbs, and spices to create a flavorful spread or pâté. Duck rillettes are typically served as a savory appetizer, either on crusty bread or toast points.
To make duck rillettes, the process involves slow-cooking duck legs or other parts of the duck in duck fat until they become very tender and can be easily pulled apart. The cooked meat is then shredded or chopped, mixed with the rendered fat, and seasoned with various herbs and spices such as thyme, garlic, salt, pepper, and sometimes brandy or other spirits for added flavor.
The dish is allowed to cool and set, which helps to preserve it and enhance the flavors. Once cooled, it can be stored in jars or ramekins, sealed with a layer of duck fat on top to keep it fresh. Duck rillettes can be refrigerated and enjoyed over several days, and the fat cap can be melted before serving to reveal the tender meaty spread.
Duck rillettes are known for their rich and indulgent flavor, making them a popular choice for special occasions or as a gourmet treat. They are often served as part of a charcuterie board or paired with pickles, mustard, or chutney to balance the richness of the dish.
Foie Gras is the liver of a duck or goose that has been deliberately fattened through the use of force-feeding is what is used to make the luxurious food product known as foie gras.
The liver that is produced as a result has a flavor and consistency similar to that of butter, and it is frequently offered as a specialty dish in restaurants that specialize in gourmet cuisine, especially French cuisine. The production of foie gras is fraught with controversy due to concerns regarding the well-being of the animals involved and the method of force-feeding, which is prohibited in several nations.
One of the cuts of pork that originates from the back of the animal is called the pork loin. It is possible to bake, grill, or fry the meat, but it has a low-fat content and is soft. The pork loin, which may be purchased either boneless or with the bone still attached, can be cut into chops or roasted whole for a more substantial meal. It is a versatile cut of meat that is commonly used in a wide variety of cuisines and may be seasoned and flavored in a number of different ways, including my Best Pork Loin Recipe above.