Lush Platters knock it out of the park with the Cheese Shop at UE Square, for an incredible grazing soiree in April 2023
Lush Platters; take a pause and think about what image that conjures up for you. 
Are you looking for a fun and delicious way to impress your guests at your next party? Look no further than Lush Platters! These mouth-watering platters are a feast for the eyes and the taste buds, featuring a variety of fresh and flavourful ingredients.
Whether you're a seasoned host or a first-time entertainer, Lush Platters are sure to wow your guests and leave them asking for more. In this article, we'll explore the world of Lush Platters, from their origins to their popularity at events across Singapore. So sit back, relax, and get ready to indulge in the ultimate party food experience.
The short answer? Lush Platters are the perfect addition to any event or gathering, providing a visually stunning and deliciously satisfying array of food that will leave your guests talking for weeks to come. Keep reading to discover why Lush Platters are the must-have food trend of the year.
Well, on this day in April, the ISLIFEARECIPE.net crew took a wander, to a personally paid-for event. Yes, folks, nothing sponsored here. Back to our pride and tenets of providing honesty, not skewed paid-for truths and reviews… We tell you as it is, our personal feedback of an event, the food, the service. We're not sponsored to give a 'loaded' answer. 
Back to the event; coined a Grazing Soiree from Lush Platters, hosted at The Cheese Shop at UE Square. Now, there's a match made in heaven. Two artisanal practitioners in the same room. Oh yes, this is going to be spectacular.
And, Lush Platters did not disappoint. Read on…
When it comes to event catering in Singapore, go no further than Lush Platters, a company that focuses on preparing artisanal food platters, themed boxes, and grazing tables. They're relatively new to the market being 5 years old, yet their products stand out for their innovation and quality. Their magnificent works of art are a reflection of their dedication to excellence. just check those photos above and below. It's quite spectacular.
Lush Platters has an active Facebook, and Instagram page where customers may view photos of their gourmet appetizers and grazing tables. It's clear from the Lush Platters posts that they put in a lot of work curating and styling their items, employing a wide range of seasonal ingredients and tasty extras to make an inviting and decadent meal. Lush Platters' platings draw you, you just can't help but 'graze'.
Lush Platters is a catering service that places a premium on originality, opulence, and excellence. When compared to other Singapore catering services, they stand out due to their emphasis on artisanal cheeses, fresh produce, and beautiful accompaniments. Lush Platters could be the best option for your gathering if you want to wow your guests with a visually gorgeous and delectable buffet. You'll see that as you read on.
Lush Platters' cheese platters and charcuterie platters are not like any other you've had. In each grazing box or platter, you'll find high-quality, freshly-prepared foods including artisan cheese, charcuterie, fresh fruits, and vegetables. There's a great variety of vegan and vegetarian plates to choose from if you're trying to cut back on meat. The baked camembert fondue and luscious chutney on bread are a favourite, and I totally agree with that, having sampled everything this night.
They are clearly being recognized for this focus and attention to quality products, and stunning presentation.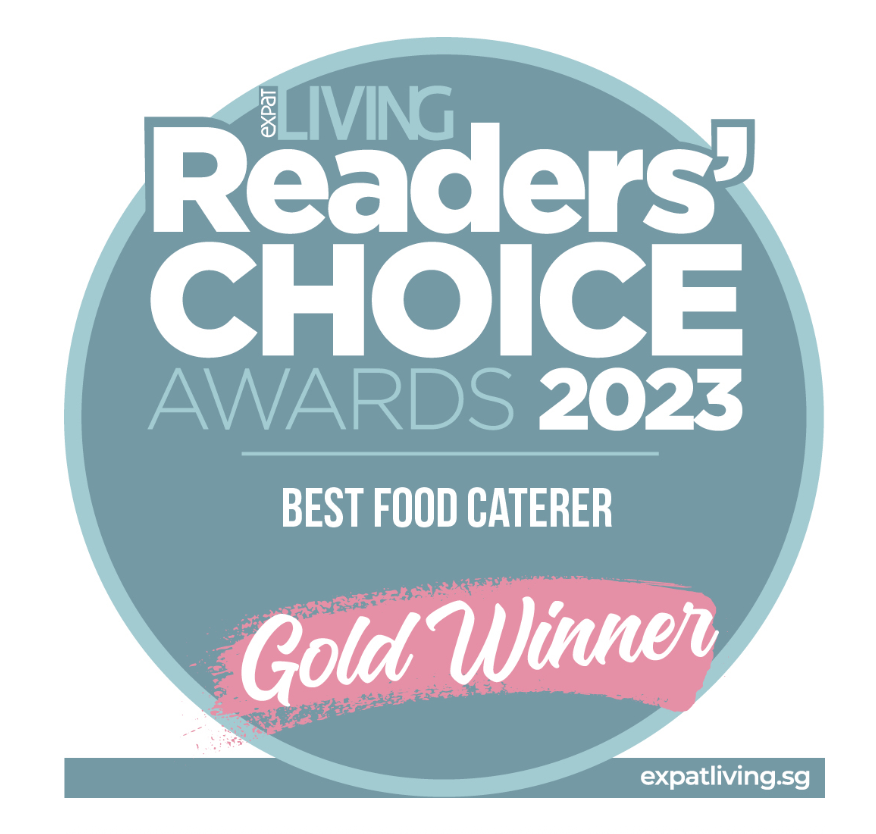 Grazing. It's not a term only used in reference to farm animals and open pastures, aka herds of cows. It's not even limited to the lettuce we use to fill our salad bowls. The term "grazing" has become more popular in the world of food to describe the practice of eating little bites from a variety of dishes. Imagine having a wide variety of options from which to choose the one that best suits your needs. This food craze has been growing in popularity Down Under, strangely enough where the founder and creator of Lush Platters, Wynona, is from.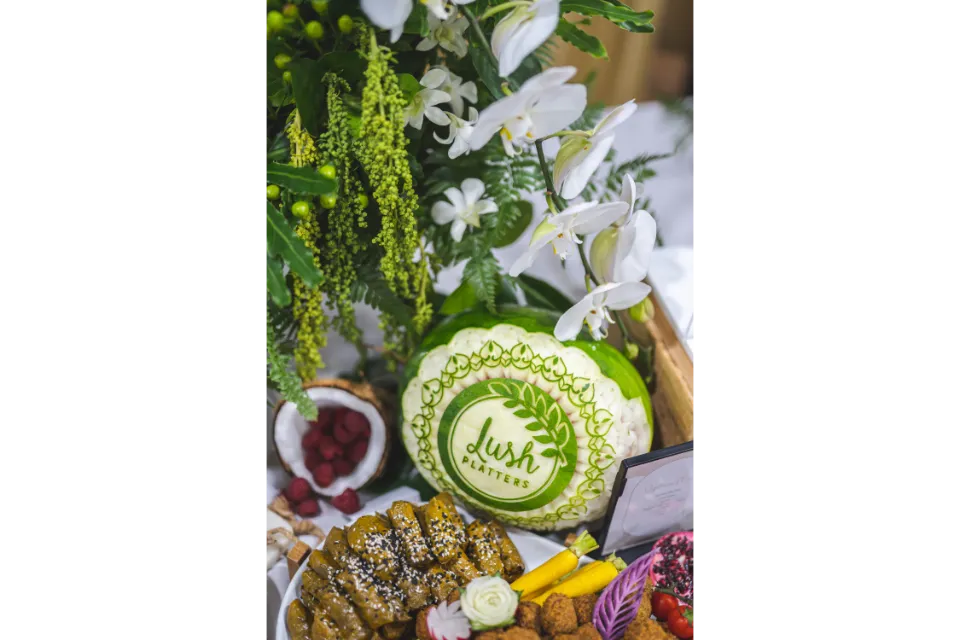 But what is a grazing soiree?
A grazing soiree is a dinner party or reception where guests nibble on small portions of many different foods throughout the night. Cheeses, cured meats, crackers, bread, fruits, vegetables, nuts, and other finger foods are typical components of grazing tables or boards. The point of a grazing party is to snack on a wide selection of tasty and aesthetically pleasing foods all night long.
A grazing soiree is a type of evening celebration that combines the formality of a typical soiree with the relaxed elegance of grazing tables, platters, or boards. Any kind of social gathering, from weddings to company parties to birthday celebrations, may be transformed into a grazing soiree.
The goal is to create a spread that is both visually appealing and appetizing so that guests may linger over their food and drink and enjoy each other's company as the evening progresses. That was a major tick-in-the-box this night. Every single attendee was beaming and enjoying themselves.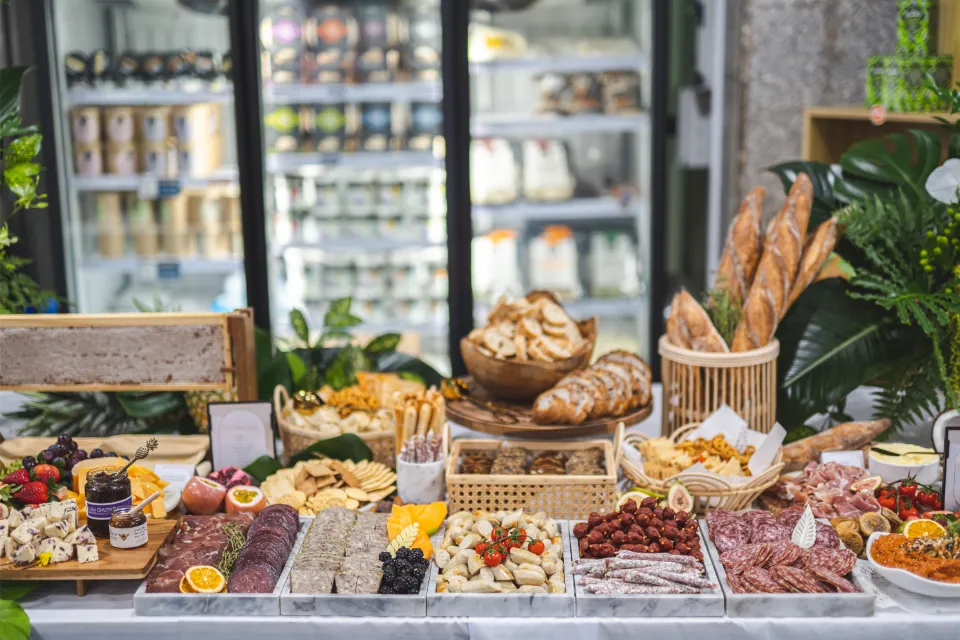 Let's just zoom in there a little and lean in to the platter. Just look at the variety there. It's truly a foodie heaven. It's a massive tapas staring you in the face. How can you not want to try one, or more, of everything? It's impossible. You will binge. I guarantee it. This is not the soiree to come to and lose weight…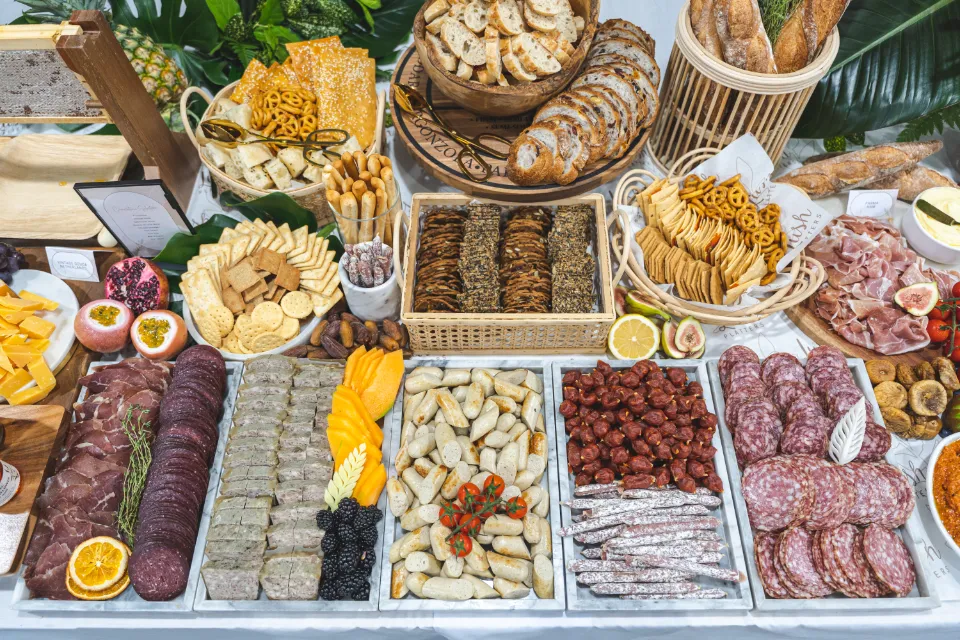 Luxury platters, curated gift boxes, and extravagant feasting tables are what Lush Platters is bringing to your table or home. They've already thrown away the boring old cheeseboard and replaced it with gourmet fresh food and tasty extras. The concept of abundance is essential. Any celebration, from weddings to birthdays to corporate events, would benefit greatly from one of Lush Platters' table-top alternatives as a focal point. Lush Platters products are edible art installations. 
What is the origin of 'platters'?
Platters of food, that offer a wide selection to please everyone, have become standard fare at parties and other social gatherings. Where, though, did the idea of serving meals on a platter first appear? Was it Lush Platters in the Singaporean market?
Platters have been used to serve meals since prehistoric times. Serving dishes at banquets and festivals was traditionally presented on platters in ancient Greece. Silver, gold, and bronze were common materials for these elaborate serving plates. Meats, fruits, and vegetables were just some of the items that adorned the platters. Guests were expected to help themselves, therefore they were set out on a table.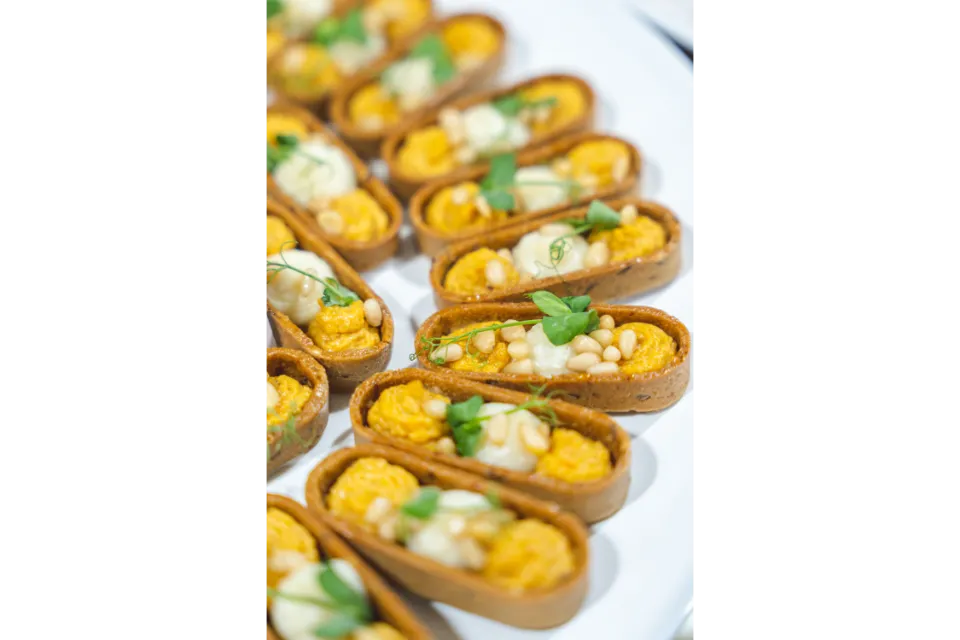 In fact, this is where ChillaxBBQ came up with our servers, platters, and single-spoon concept. The last thing you want is a plate, knife, and fork. Make grazing easy. Remove hassle. One hand to graze, and one to drink. For this ChillaxBBQ is in perfect unison with Lush Platters.
Large serving platters of food were common at medieval banquets. Bread was used to make these plates, which were known as trenchers. Food was served on top of the bread, which served as the dish. The bread platter was either thrown away or given to the poor when the dinner was over.
More and more people in Europe and the United States began serving food on platters in the 18th and 19th centuries. They were typically used as a means of presenting snacks such as fruits, cheeses, and crackers. Platters are usually available in a wide range of sizes and can be stacked full to the brim with overflowing foodie goodness.
Platters of food are now a standard sight at social gatherings such as weddings and parties, and clearly Lush Platters' events.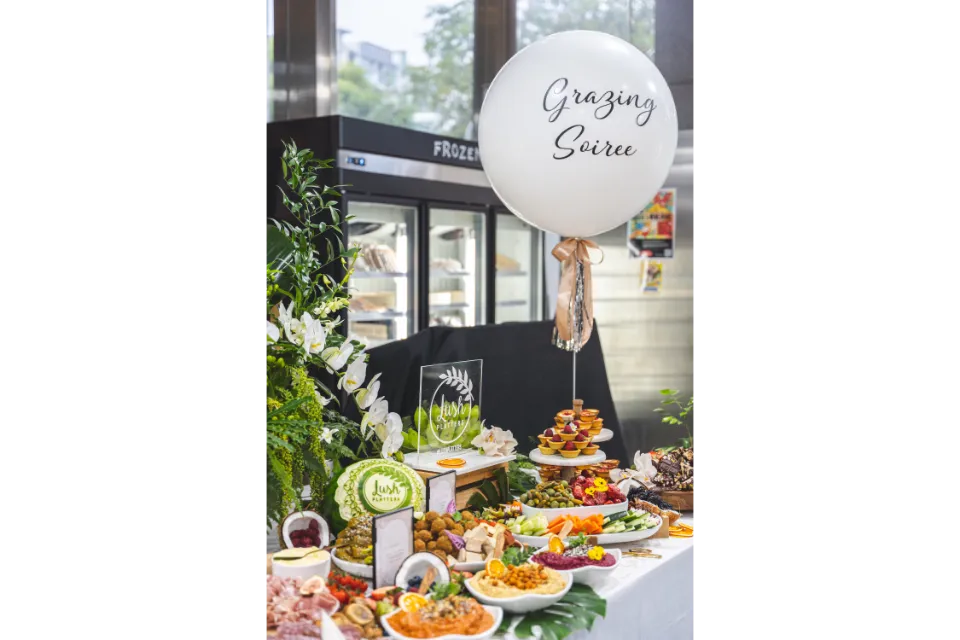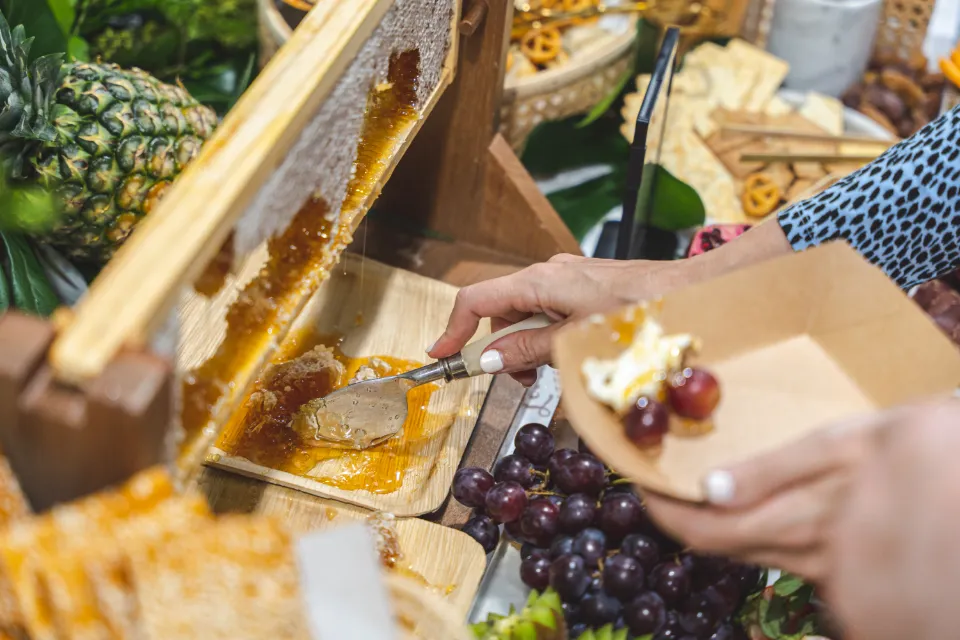 The foods on the platters are usually placed so that their colours and textures complement one another, making for an appetizing presentation. Lush Platters are MASTERS at this as you will see from the plethora of photos in this blog review.
The objective of a food platter has changed little over time: to provide a selection of dishes that will appeal to as many people as possible. Platters of food, whether they consist of a few simple items like cheese or a more sophisticated arrangement of fruits and meats, are always a welcome addition to any celebration. Lush Platters excel at this food eye-candy, that then becomes a pleasurable assault on your mouth, resulting eventually in the inevitable 'food coma'.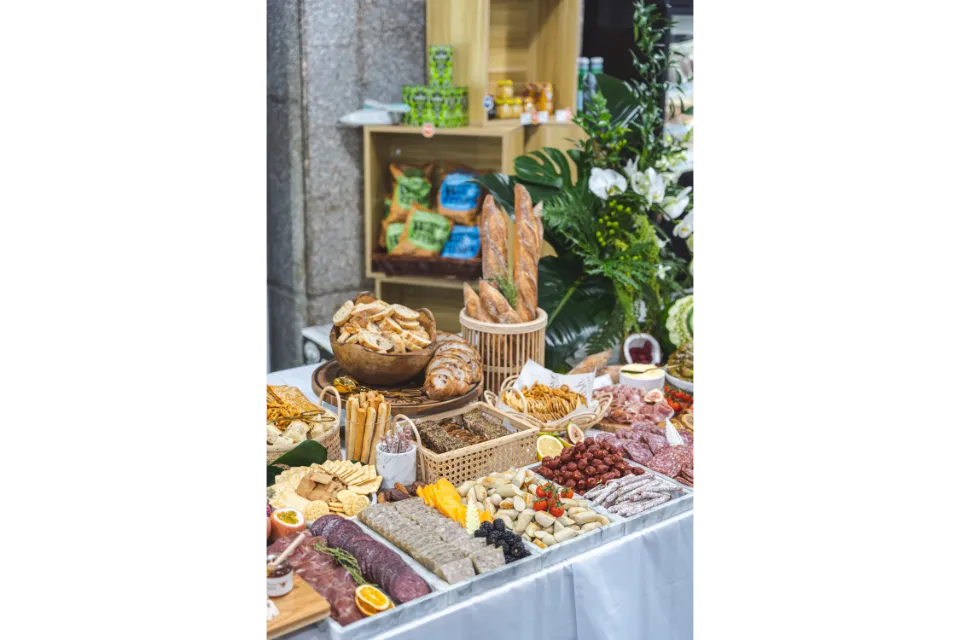 For once I don't mind heading to the exit when there is free-flow wine and food right there. What's that song; "You'll always find them in the exit at parties…"
Nothing like a bit of healthy competition. ChillaxBBQ has been doing monster cheese fondues for years with the Cheese Shop, and Chris still has our 'secret blend'; just add white wine, thyme, corn flour, sea salt, cracked Kampot black pepper, and oven-baked bread with Olive Oil. Bring it on Lush Platters…
ChillaxBBQ exquisite cheese fondue recipe for 2023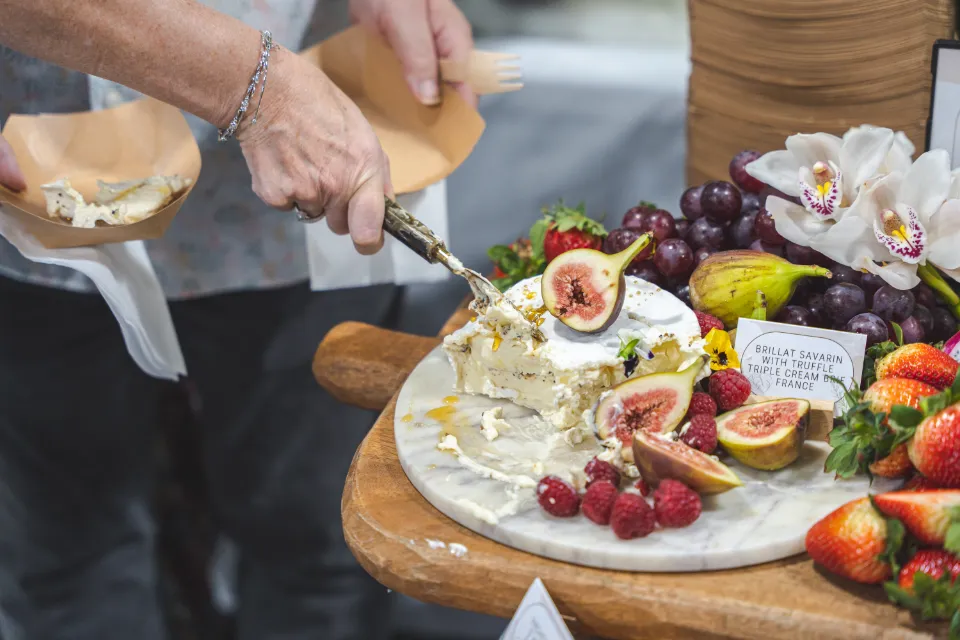 Some of us were fortunate enough to have gained 20 kg tonight...
What does Lush Platters have to say about themselves? Quite a lot it seems... read on...
What's the pricing like at Lush Platters if you fancy a flutter for your next soiree?
Here is where you will find Lush Platters, pop in and say hi to Wynona and the crew...
In the middle there with the black jacket is the founder and owner of Lush Platters, Wynona Leach, and behind her is the CTO, Wyn's husband, and my mate Damian Leach. To the right of Damian (looking at the photo), is the wonderful and truly amazing Head Chef of Lush Platters, Issy. What a cracking snap.
What are the contact details for Lush Platters?
Email: hello@lushplatters.com 
Telephone: +65 87004150 
(Their phone is not always manned as they are mostly busy in the kitchen prepping the platters, maybe email is best…)
What are the opening hours of Lush Platters?
They are open 6 days a week. Self collection of orders by appointment only. For corporate or bulk orders, please email them as above.
Online Shop delivery/self collection hours:
Tuesday to Saturday 10am to 6pm
Sunday 10am to 5pm
Closed Mondays
Here's the Cheese Shop at UE Square
And, here is the Cheese Shop at Joo Chiat Road
Lush Platters: A Comprehensive Guide to the Ultimate Party Food
Lush Platters are the latest trend in party food, offering a visually stunning and deliciously satisfying array of cheeses, fruits, meats, and more since 2018. In our blog, we'll hopefully have explored everything you need to know about Lush Platters. So let's dive in and discover the world of Lush Platters together.
Details on the Specific Types of Cheeses, Fruits, and Meats Used in Lush Platters
One of the key components of Lush Platters is their selection of incredible cheeses, fruits, and meats. From creamy brie and tangy blue cheese to sweet grapes and juicy strawberries, Lush Platters offer a range of flavours and textures to please any palate. We'll take a closer look at the specific ingredients used in Lush Platters and how they work together to create a truly mouth-watering experience, plus bringing in artisanal partners like The Cheese Shop.
Information on the Origins and History of the Grazing Platter Trend
The grazing platter trend has taken the party scene by storm in recent years, but where did it all begin? We'll delve into the history of grazing platters and how they evolved from traditional charcuterie boards to the elaborate, Instagram-worthy spreads we see today. Plus, we explore how Lush Platters are putting their own unique spin on this trend.
The Nutritional Value of Lush Platters, Including Calorie Count and Recommended Serving Sizes
While Lush Platters' offerings are undeniably delicious, they're also packed with nutrients and can be a healthy option when enjoyed in moderation. 
An Interview with the Creators Behind Lush Platters, Discussing Their Inspiration and Creative Process
What goes into creating the perfect Lush Platter? Read our section on What does Lush Platters have to say about themselves. Learn about their favourite ingredients, how they source their produce, and the secrets behind their eye-catching presentation.
Customer Reviews or Testimonials of Lush Platters from Previous Events
Don't just take our word for it – hear from satisfied customers who have enjoyed Lush Platters at their own events. Read real reviews and testimonials from previous Lush Platters events, so you can get an idea of what to expect and how they've been received by others – CLICK HERE.
The Art of Styling and Arranging Lush Platters, Including Tips and Tricks for Creating a Visually Appealing Spread
Half the fun of Lush Platters is in their presentation – after all, we eat with our eyes first. Lush Platters' visually appealing spreads will have your guests reaching for their phones to snap a picture.