Rabbit Carrot Gun Katong Restaurant & Bar
Rabbit Carrot Gun Katong; March 2022 update. Yes, with sadness, we announce the closure of Rabbit Carrot Gun Katong, an icon of Katong food and drink scene that will be forever missed. Good luck in new ventures Huggie and Tricia.​
After a beautiful day with friends at a beach bar with a pool (see SandBank blog review HERE), we walked home via Katong and East Coast Road to one of our occasional favourites; Rabbit, Carrot, Gun – East Coast Road, Katong. A fine bar, come eatery, cum hotel. The food here is great, and I'll tell you why. Great quality, value, portions, and selection. You get a chance to have good old British food, and British food that is very oriented towards England and you'll see why below.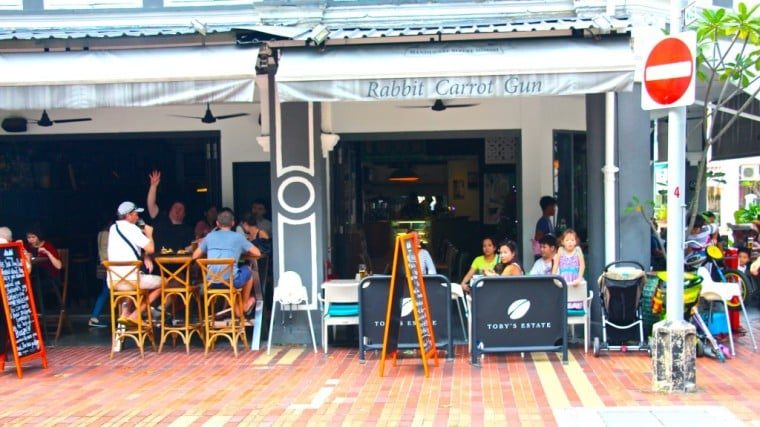 Here she is in all her glory, a really great place split into three areas. Probably the one and the only downside is the main road location. Constantly checking on the kids to make sure no one is running about near the traffic. But there is inside seating of course, and there is the side street to locate yourself and munchkins. The waving hand you can see is my BFF, Mr Scott Copeland.
Have a look at our Rabbit Carrot Gun Vlog Review here;
Plus have a look at a previous blog I did – have a look HERE – we ate different food that day!
I love the slogan they use on their website
Eat, Drink, Sleep.
Or as they say;
"Manducare Bibere Somno. A smile or two, with a morsel or three, and a tipple or four. And a fine feathered pillow in a burrow made of dreams. That's just scratching the surface here at this fine establishment. The one the rabbit calls home."
Did you know you can sleep at Rabbit, Carrot, Gun – East Coast Road, Katong? Well yes, you can. They have three rooms above Rabbit, Carrot, Gun, and 2 rooms above The Trenchards Arms next door. As you look at the photo above, Trenchards Arms is to the left of the pillar (where you can see my mate Scotty waving), and Rabbit, Carrot, Gun is to the right of the pillar (where you can see my gang sat down eating).
Now to the food that we consumed this glorious day with our great friends; The Copelands and The Rutherfords. Of course, this was washed down with some cleansing ales, quite a few in fact, which is an absolute must when you see the plates below. Now, this is where they do get a tad $.
I missed one fantastic photo opportunity sadly, which was of a special treat from the owners/chef. A couple of taster plates of their black pudding. It has been so long since eating this cracking blood sausage and I believe because of some dodgy Chinese blood imports, killing this delight for the rest of us. A few little slices were all we needed to take you to that special food heaven place.
Rabbit, Carrot Gun Review
The British Platter – pork pies, Scotch eggs, English mustard etc. Yummo!
The famous British platter. Oh my gosh, I love this dish. Scott eggs (divine – sorry Mum, but I think these may be best I have had), Melton Mowbray Pork Pies, Sublime sausage rolls and mini bacon sandwiches. All served with English mustard and Branston pickle. OMG, we love you Rabbit, Carrot, Gun – East Coast Road, Katong!!! I mean come on, if you're British how could you not love the content of this platter, and if you are not British get yourself down here tout de suite (hold on that is French), bloody fast to experience really solid British fare. You will not be disappointed.
So good they are – in fact, we'll have another whole Pork Pie Platter Please – wow all the p's. But no veg with this, haha, just the pies. Delicious. So more-ish. So SHIOK.
Oh yeah, baby. Beautiful thick-cut ham, with a fantastically strong but smooth Stilton cheese. Served up with this bread which I don't think I have ever had before. Really really good with the ham and cheese, almost doughy in texture and a lovely nutty flavour.
One for Mary. I ordered the smoked salmon and cream cheese sandwich. Again this bad boy comes served in that amazing bread. Girls commented that this was simple and simply tasty. Have to say it looks really pretty too.
Rabbit Carrot Gun Reservation
If you are going at the weekend I would very much suggest you book. Give Richard & Tricia a bell on 6348 8568, or drop a line to info@rabbit-carrot-gun.com – or try your luck and walk-in at 49 East Coast Road.
I seriously recommend you do book though to avoid any disappointment, especially if you are going to try and sample their Rabbit Carrot Gun Sunday Roast.
Rabbit Carrot Gun delivery
You can indeed get a delivery of food, drinks and even Rabbit Carrot Gun flowers. Yes, Huggins himself tool lessons to enable him to provide stunning flower bouquets and arrangements.
Rabbit Carrot Gun Menu & Pricing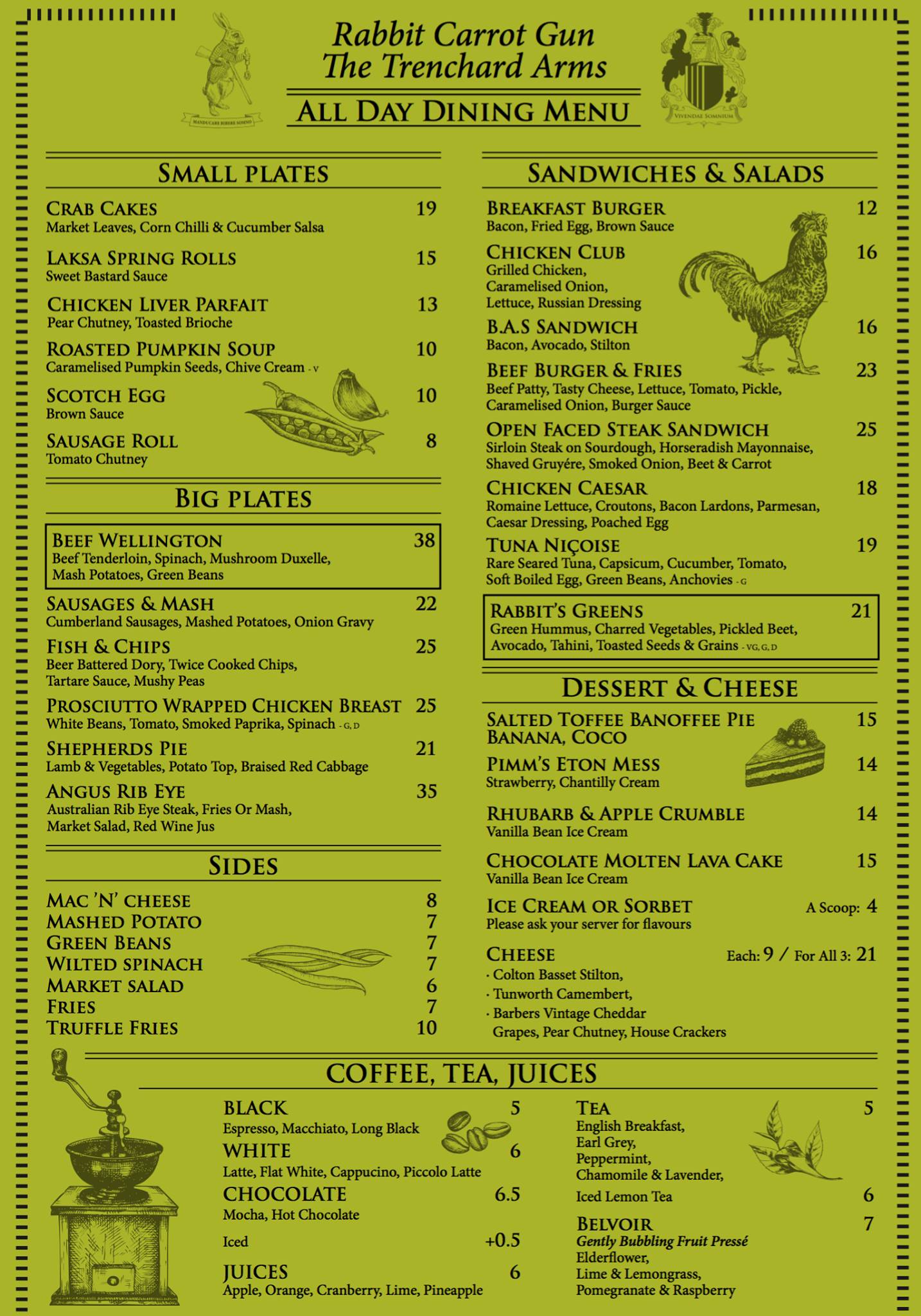 Rabbit Carrot Gun Open Times
Or, as they quirkily coin it, Quaffing & Troffing hours.
8.45am – 10.30pm, Monday to Sunday
So there you go folks, a little write up for Rabbit, Carrot, Gun – East Coast Road, Katong. A few buses stops away from us Siglappers. A great restaurant indeed. Sit outside and watch the world going past, enjoy a platter of two, and some cold ales. I am very confident to say you won't be disappointed and if you do go – ENJOY!!!
Share this Blog Post on Your Socials
Connect with Us on Social Media