March 2022 update. Yes, with sadness, we announce the closure of Rabbit Carrot Gun - and icon of Katong food and drink scene that will be forever missed. Good luck in new ventures Huggie and Tricia.​
Rabbit Carrot Gun Katong for Sunday Lunch
Where to go for a lovely Sunday lunch today? Well, how about we go to the cinema to watch a film at Katong i12 and then let's go see Ollie followed by a cheeky Sunday lunch at the Rabbit, Carrot Gun in Katong. 
Wifey was a little delicate the morning after the night before, so Daddy duty kicked in for babysitting Jude and Amy. Off we went for a lovely long lunch being served with Ollie and the crew at Huggy's. Even Dave the parrot came along with us.
Rabbit Carrot Gun Reservation
If you are going at the weekend I would very much suggest you book. Give Richard & Tricia a bell on 6348 8568, or drop a line to info@rabbit-carrot-gun.com – or try your luck and walk-in at 49 East Coast Road.
I seriously recommend you do book though to avoid any disappointment, especially of you are going to try and sample their Rabbit Carrot Gun Sunday Roast.
What do they say about themselves?
Since 2012, Rabbit Carrot Gun has been serving residents and visitors alike with a casual dining experience, a bar, and a place to sleep.
 Rabbit Carrot Gun owners Tricia Goh and Richard Huggins, want to provide traditional British meals and lodging to the Katong neighbourhood. Rabbit Carrot Gun is a group of people that work together to provide the best cuisine, beverages, and experiences to everyone who comes through our doors… and to those who order via our delivery partners.
Since its inception, Rabbit Carrot Gun has grown to include an online grocer, fresh flowers, and a second location in Marina One (temporarily closed)."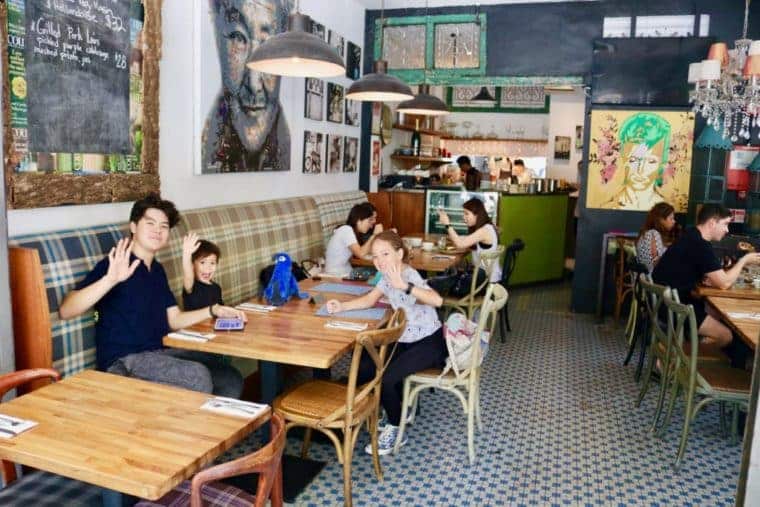 You have to love it here – it's so open and airy. Sit here all afternoon and watch the world go whizzing by, whilst supping a few cold ones. Kids and Dave the Parrot were very happy as you can see.
See what I mean, it's just so bustling inside and out and even the servers are in a blur!!!
Amy goes traditional with a cracking bacon and egg sarnie. You know sometimes you just have to have that food from home and this is THE place to come and how good does that look!!!
I will have to have one grumble guys because this is more like a load of chunky roast vegetables than the bubble and squeak I am used to. I have previously had veg, potato, bacon and other leftovers, mashed it, fried it and served with sauce and egg. It was tasty don't get me wrong, it just threw me a bit when I'd ordered bubble and squeak is all…
But what a way to make up for my moaning because this is DIE DIE must try. Black pudding Scotch egg with homemade Piccalilli is a hell yeah! What a dish. Scotch Egg of the Year 2017, from the competition I believe Richard held because it is a stonker and I LOVED it. More please, more, more!!!
Jude Jude goes for the sublime Croque Monsieur. I had a wee snaffle of this, and it was bloody good. Love it and such a good choice made by Jude Jude and Dave the Parrot.
A quick break for Ollie to show off the kitchen to Jude.
And let's finish off with a cracker of a creme brûlée. Hell yes!
Rabbit Carrot Gun delivery
You can indeed get a delivery of food, drinks and even Rabbit Carrot Gun flowers. Yes, Huggins himself tool lessons to enable him to provide stunning flower bouquets and arrangements.
Rabbit Carrot Gun Menu & Pricing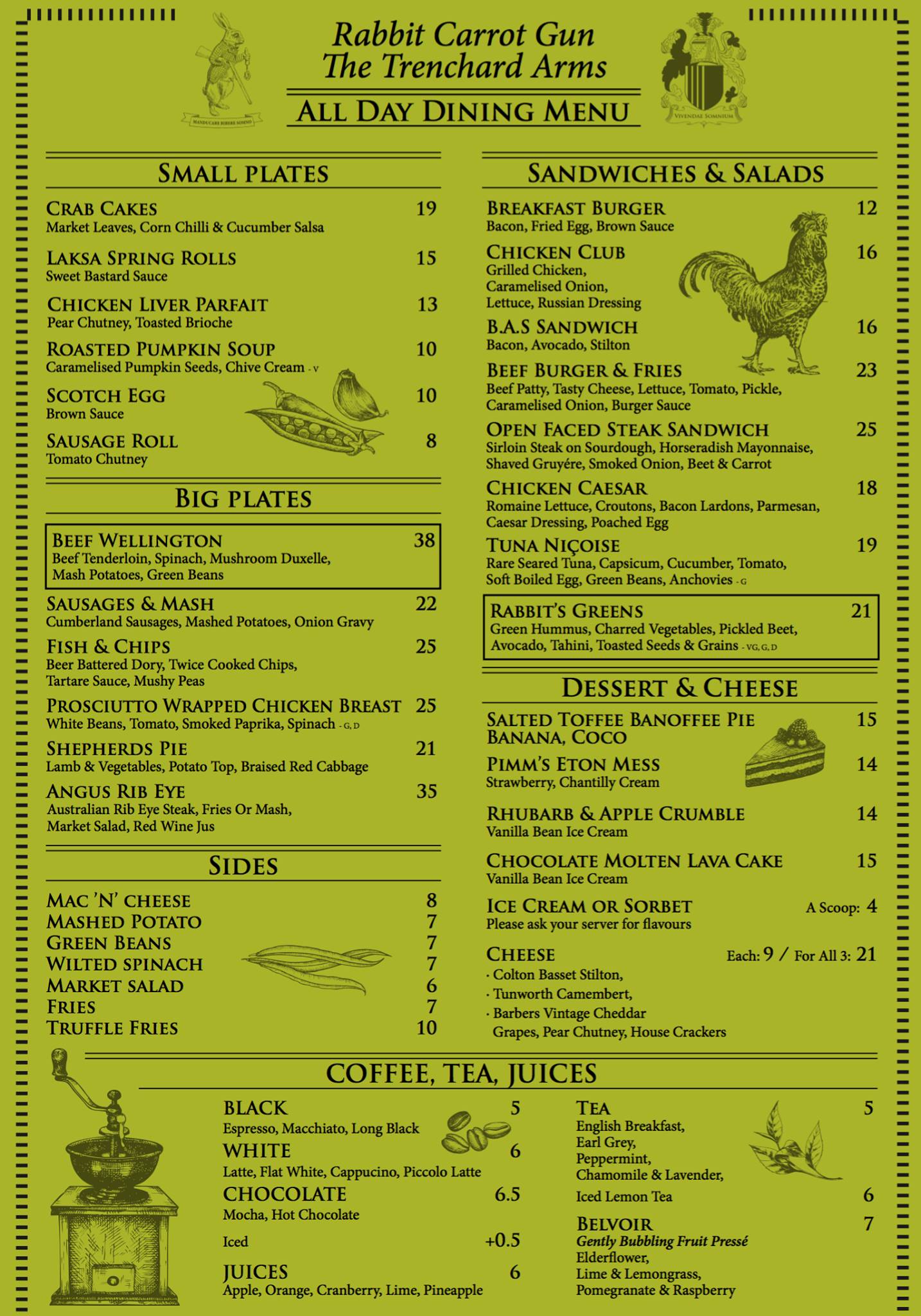 Rabbit Carrot Gun Open Times
Or, as they quirkily coin it, Quaffing & Troffing hours.
8.45am – 10.30pm, Monday to Sunday
Rabbit Carrot Gun Hotel
Yes, they are a boutique hotel as well. Did you know that? You can book them through most of the usual hotel booking channels.
So there you have it, folks, our delicious Sunday lunch at Rabbit Carrot Gun in the East Coast. It really is a must-try location on East Coast so pop in and say hello to Richard and Tricia and maybe even have #1 son Ollie serve you. He's the 6′ ++ tall one with a mop on his head. Like a walking lamp-shade.
It really is a cracking restaurant. Get some proper British food down your neck, at really reasonable prices. It's a Brit-Fix. Hey why not even grab one of the boutique hotel rooms upstairs and do a stay-cation, I sure am with Mary one day. So get yourself down folks to Rabbit, Carrot Gun in Katong, even if it is just to try that Scotch egg because I guarantee you will Love it!!!
ENJOY!!!
Share this Blog Post on Your Socials
Connect with Us on Social Media