If you're interested in booking a room at La Residence Blanc D'Angkor, you can find prices and availability on Booking.com on the Blue tab below.
La Residence Blanc D'Angkor is a 4-star hotel located in Siem Reap, Cambodia. It is situated just 5 minutes away from the lively Pub Street and 10 minutes from Siem Reap International Airport. The hotel offers spacious rooms ranging from 40 to 60 square meters in size. It has received positive reviews, with a rating of 5 out of 5 based on 1,271 reviews on TripAdvisor. The average nightly rates for a standard room at La Residence Blanc D'Angkor start from $33.
The property amenities at La Residence Blanc D'Angkor include free Wi-Fi, free breakfast, free parking, an outdoor pool, and laundry service. The hotel features a restaurant where guests can dine. The rooms are equipped with air conditioning and large bathrooms. Some guests have mentioned that the cleanliness and maintenance of the rooms could be improved, while others have praised the friendly staff.
The hotel is located close to popular attractions like the Angkor Wat temple complex and the Angkor National Museum. It offers a comfortable and convenient stay for travelers visiting Siem Reap.
La Residence Blanc D'Angkor, Siem Reap
We arrived early evening for our first time in Siem Reap, and were staying at La Residence Blanc D'Angkor, Siem Reap. So where better to eat on this first day, than our gorgeous colonial boutique hotel. A quick unpack, and change to swim stuff. Some pool fun, some happy-hour beer and then in to the main event. Dinner.
As I mentioned I did partake in a few Happy-Hour beverages. Every time you order you get these incredible peanuts. A match made in heaven. They basically fry the main ingredients separately and then mix them together with a little salt and sugar. So you would need to fry off some peanuts, lemongrass, Kaffir lime leaves and chili padi. Oh yeah baby, extend that Happy-Hour please!!!
Jude chose his first dinner at La Residence Blanc D'Angkor, Siem Reap. He went for beef fried rice. Check it out, they even used stackers for plating – nice. This was so so smoky, and so so delicious. This gave me floods of memories to breakfasts in Phnom Penh when doing the house building for The Tabitha Charity.
I like the look of this, but not the taste of course due the fish. Mary said this was very delicious, and called out that the fish was incredibly fresh too. A big thumbs up for the hotel from The Philippines.
Ollie went for the fish Amok. A very local dish indeed. I have made this myself with my Mary at a Cambodian cooking class in Phnom Penh. That was with great mates too, and a teacher who was taken from the street, trained as a Chef and ended up cooking for the King of Cambodia. What a success story. Have a look at my experience of making this here. You make the paste first, or Kroeung as known, and then add that to the other ingredients of your choice to make the Amok. It's a coconut curry custard that is steamed in a banana leaf cup.
Ollie gave La Residence Blanc D'Angkor, Siem Reap's version a rather large tick in the box. His first time of consuming the dish, so nothing to compare too, but he did say it was wonderful with deep flavours and such fresh fish. Quite a complex dish with the flavours, textures and serving style.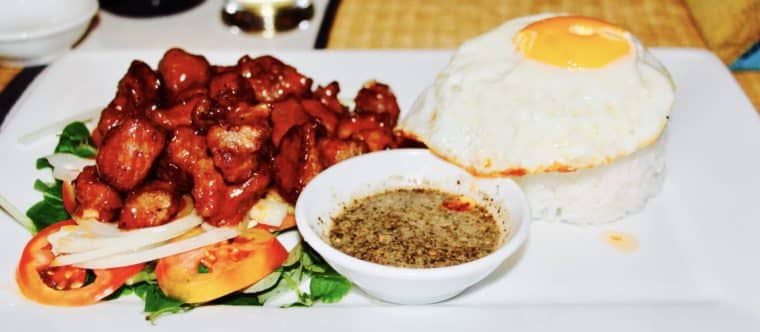 I decided that on day one, that I had to be a local choice too. I went for Cambodian Beef Lok Lak. This is a sweet and sour beef dish. I believe the beef is lightly floured before frying and having the sauce applied. One negative here toLa Residence Blanc D'Angkor, Siem Reap though. The taste is excellent, but man oh man is your beef chewy. This is the only criticism I have of the food served. It was just SO chewy!!!
The beef also gets served with the infamous Kampot pepper dipping sauce Tuk Meric. I have to say La Residence Blanc D'Angkor, Siem Reap's is up there with the best ever of this sauce. They have a secret ingredient, which they even shared with me. Mix together the following; Freshly ground Kampot pepper (just smell that), sea salt, lime juice, sugar and chicken stock powder. BOOM!!! I will be making a recipe from this soon, watch this space – a spin oh the Thai BBQ Mookata.
We then move from Day #1 for dinner, to Day #4 and our final dinner before we disappeared to the Circus. It was easier to eat at the hotel, as the Circus is 5 minutes away, so it would have been harder to go to the city and then back out again. So we dined again at La Residence Blanc D'Angkor, Siem Reap.
Looks great doesn't it! Ollie and I asked for extra spicy, and our wish was granted. This was spicy, sweet and sour, with toasted peanuts for flavour and crunch, lightly stir fried vegetables (capsicum, onion, tomato) so again crunchy to the bite, and finished with deep fried fresh herbs – which immediately release the flavour and again comes with a crunch. Simple and simply delicious. "Is it still Hour-Hour my good man? Another Angkor please!"
I just cannot remember the official name for this dish. It was Bot something or other, but anyways Cambodian Beef Skewers will do. As you can see they cut a slit down some bamboo and use that as the virtual tongs/skewers to hold the meat. The meat has been marinated in all variety of Kroeung I am assuming. Although again I'll be honest La Residence Blanc D'Angkor, Siem Reap, this was a little bland. Ollie had to ask for some accompanying Tuk Meric to jazz this up a little.
My dish is the final one for review at La Residence Blanc D'Angkor, Siem Reap. And what an absolute belter to finish up with. This soup is incredible. We had it at a few places on this trip. I believe it is vegetable stock, lime juice, Kaffir lime, lemongrass, Spring onion, garlic and heaps of mushrooms. Yes I will be re-creating this dish also.
The hotel is located at St.194, Krous Villaga, Svaydangkum Commune, Siem Reap.
+855 63 963 332.
There you have it folks, my review of our two meals at La Residence Blanc D'Angkor, Siem Reap. Our hotel, so perhaps a little biased? Absolutely not. You know me, there are only honest reviews here on this blog. The food was truly excellent. So if you do happen to be in the neighbourhood, or even staying at said hotel, the above dishes would make you a very happy consumer. I hope you truly do – ENJOY!!!