This is a brand new recipe for me!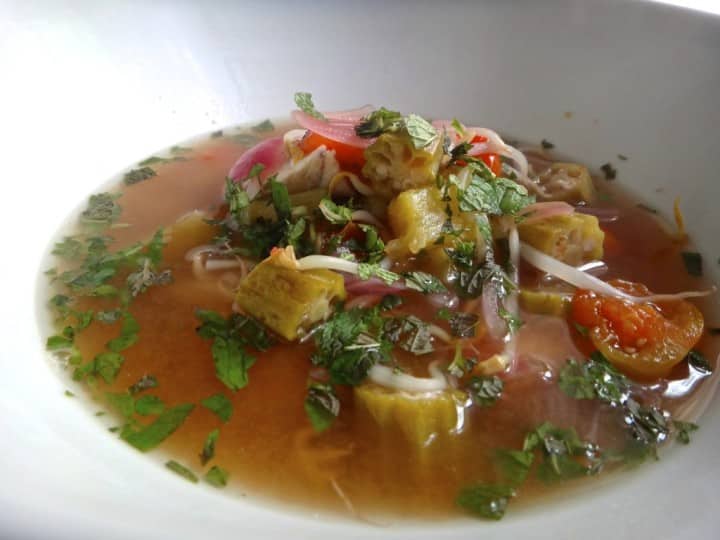 I have cooked my fair share of Tom Yams, but not like this, this is completely different.
No lime juice, no fish sauce, no lemon grass, it's just different.
I am giving this one the country of potential origin as Vietnam, as I did see a similar dish in a menu during a recent restaurant trip there. I thought that sounds interesting I'll have a go. Could be something good to create. I believe the Vietnamese may call this a version of Canh Chua Ca. This is my version. I hope you enjoy making and eating it.
This is enough soup for 4-5, you'll need:
2 litres chicken stock, or fish stock – your choice;
2 fillets of firm white fish sliced to bite sized pieces – cod/snapper is ideal;
Half a cup of cubed pineapple;
3 shallots roughly chopped;
4 garlic cloves roughly chopped;
1 chili padi chopped finely;
1 cup of Tamarind water (how sour do you like? Add more if you like). This may be tough to get outside Asia, but you can also use Asam Paste, or as a last resort lime juice;
4-5 sliced ladies fingers;
5 tomatoes cut in to quarters;
1/2 pack of bean sprouts;
1 tablespoon sugar (any sugar to be honest);
A pack of your choice of noodles or even rice; and
A handful of ripped fresh mint for garnish.
First thing is to get your tamarind water prepared – to do that add half a pack of tamarind or Assam paste in to a small bowl with a little water. Then get your hands in and sort of "massage" the flesh away from the seeds. Discard the seeds once you are done and there is your tamarind water, a brown murky pool – but dip a finger and have a lick, or have a little smell, and immediately you'll pick up the tartness. This is THE ingredient of this soup.
Take a large stockpot, add the stock and get it on the heat. Once on the heat I started the prepping, and added ingredients in the order of chopping. It goes like this – shallots, garlic, chili, tomatoes, ladies fingers, pineapple, tamarind water and sugar. Let it bubble away for a few minutes.
Have a taste, if you want sour add more tamarind.
Then add in the fish and beansprouts and bring to boil again, it should take only 5 minutes for the fish to cook.
Into nice clean white soup bowls I laid some blanched (dipped in boing water for 1 minute) noodles.
Then with a slotted spoon apportion equally the fish and veggies, and then with a ladle spoon over the actual soup itself. I garnished each bowl with a little chopped mint.
Simple and simply delicious.