Hainanese Chicken Rice
This is one of the quintessential dishes of Singapore. Dare I have a go at recreating my own version of Hainanese Chicken Rice? Is it like stepping on the toes of Singaporean food authenticity? I tell you what, who cares, as here comes my version for you to try.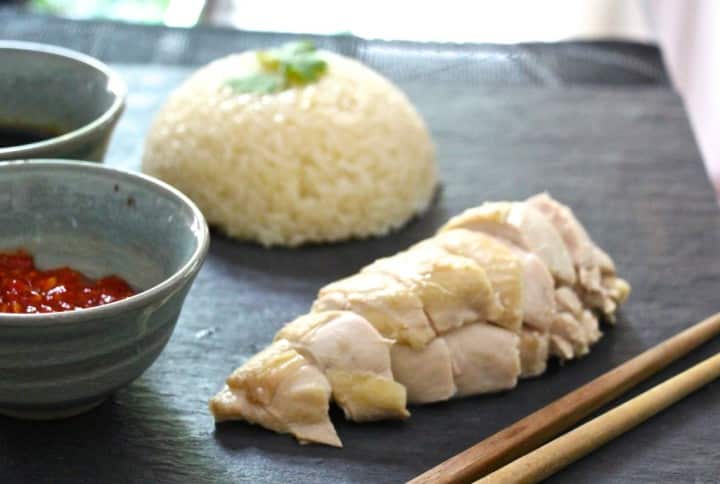 This is also one of Bourdain's favourite Singaporean dishes, and he has it every time he comes. Also don't forget Ramsay had a hawker challenge to compete against a local chef, and lost. I tell you Hainanese Chicken Rice is a tough one to compete against, due to the years of hand-me-down recipes out there.
It is so simple and yet so complex. Hainanese Chicken Rice is clearly Chinese in origin, originating from the Hainanese region, but is also very closely linked to Malay and Singaporean cuisine. It truly is such a well loved dish in Singapore. How can I get away with it? Maybe because in the 20th century, Chinese immigrants went to Bangkok and took the dish with them. There we have it, this Angmo brought his version to Singapore.
Just one note. I really should have been using stocks made from chicken bones and rendered chicken fat. But I didn't have any of those, or the time to make them. So I just used what was readily available from the local supermarket to make my version of Hainanese Chicken Rice.
Here we go;
Phase I – the cooking stock;
2 litres of chicken stock;
2 inches of peeled and toughly chopped young ginger;
3 peeled garlic cloves;
3 roughly chopped coriander roots; and
3 knotted pandan leaves.
Pop all of these ingredients in to a soup pot and set aside.
Phase II – prepping the chicken;
Rub the chicken with the vinegar and salt;
Rinse and pat dry with some kitchen towel;
Set aside;
This will keep the chicken skin, and meat nice and white as you see in the hawker centres;
Place this in the cooking stock, and bring to the boil;
Reduce to a simmer and keep going until the chicken is fully cooked through;
Not over-cooked though as you want moist and juicy chicken; and then
Take out the meat and keep the stock as you need that stock for the rice.
Phase III – the paste for the rice;
3 roughly chopped coriander roots;
3 roughly chopped garlic cloves;
1 inch of peeled and copped young ginger; and
A good pinch of sea salt.
All of this goes in your pestle and mortar, and then bash them until they form a paste. Set aside.
Phase IV – the rice;
4 cups of washed Jasmine rice;
Goose fat – about 3 tablespoons; and
1 pandan leaf.
Take a big pan that has a tight fitting lid.
In goes the goose fat and the paste (Phase III) and fry that off until it browns and releases it's amazing aroma;
Add in the rice and fry that off for 5 minutes or so;
You'll see that it should soak up all the fat and juices;
Ladle on some of the soup stock up to say half inch and bring to the boil, reduce to simmer and stick on the lid;
Every 10 minutes or so check on the rice, give it a stir and add in some more stock;
The rice will fluff up eventually;
But just keep adding a little more stock, and cooking it down until the rice is softened;
Add in a pandan leaf and stick the lid back on and let it steam for 5 minutes on a low heat..
Phase V – plating up;
Take a small bowl and pack it with rice. Then turn it upside down on the plate. Just like making sandcastles;
Place a sprig of coriander on top;
Cut the chicken in to bite sizes pieces and lay down on the plate;
I served this with some chill sauce and dark soy sauce.
This recipe got rave reviews from my family. I even got a suggestion from the family that 'it was better than the hawker. I have impressed myself. I wonder how I would have done against Ramsay? I just have to say why bother making your own Hainanese Chicken Rice? Just pop down your local hawker and buy one for 4 bucks, accompanied by a 7 buck beer. This version did come out well if you want to try – ENJOY!!!